Most popular premium gaming chairs cost over $300. That buys you better adjustability, nicer upholstery, and a longer warranty. In contrast, gaming chairs priced under $300 cut corners. Even so, they also support good posture for long periods of sitting. So why pay more? Who benefits? This article explains the important differences between cheap and expensive gaming chairs. Often, paying less delivers better value and greater user satisfaction.
Many first-time ergonomic chair users overestimate the complexities of healthy sitting. As a result, newbies often spend more than they need to on a gaming chair.
In fact, healthy sitting mechanics are simple, intuitive, and easy to grasp. Without support, the spine distorts while sitting. A distorted spine drains energy, overworks muscles, and leads to chronic pain.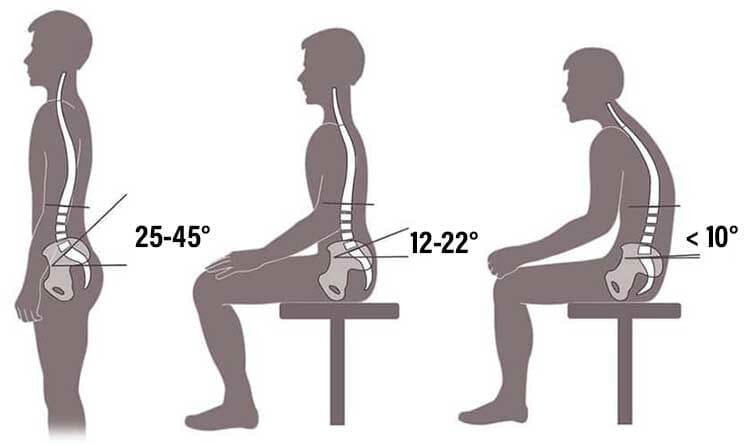 The point of an ergonomic chair is to keep the spine in a healthy alignment while sitting for long periods. In all types of chairs, a healthy alignment looks the same. This is called a neutral sitting position.

Whether you pay $100 or $600, you'll get the support you need to sit comfortably in neutral positions. To be clear: paying more money for a gaming chair does not guarantee you better back support.
Rather, it gives you more luxury. If you can afford to pay for more luxury, enjoy it and have fun! If you can't, the benefits of healthy sitting are still yours!
Cheap Vs Expensive Chair Differences
To qualify as 'ergonomic', a chair needs three essential features. Adjustable lumbar support aligns the spine. Adjustable arms provide extra bracing to hold the torso upright. A reclining backrest helps the body move while sitting.

These days, even a cheap $120 gaming chair offers the basics with a few extra luxuries. If you level up to a premium chair, you also get the basics, plus more extras.
Premium extras include better adjustability, nicer upholstery, and prettier aesthetics. These enhance the sitting experience the same way a premium pair of boots does the hiking experience.
If you're just walking to the dog park, any pair of cheap boots will do the job. But if walking the Appalachian Trail, a $500 pair of leather hiking boots would serve you much better.
Gaming chairs work the same way. Part-timers and casuals can get great value from a cheaper chair. In contrast, those who sit full-time at a desk can get better long-term value by paying more.
Superior Features In Expensive Chairs
All gaming chairs come standard with adjustable arms, backrest, and lumbar support. Those features are what you need to support healthy sitting at a computer. Paying more gets you four key upgrades, summarized below:
Cheap Vs Expensive Chair Usability
Paying more for an expensive gaming chair ensures a better quality sitting experience. But there are several cases where paying more for luxury features is overkill. Check the incentives to pay more or pay less.
Best Gaming Chairs For All Budgets
Here's a quick look at the best gaming chairs in each price class:
Conclusion
Both cheap and expensive gaming chairs meet ergonomic standards that support healthy sitting. Cheap chairs are built with lower-quality materials and offer bare-bones adjustability.
Cheap gaming chairs (priced under $300) are also less durable. After a year or two, expect the padding to flatten out and become uncomfortable.
Even so, a cheap gaming chair is a massive upgrade over a standard office chair! Teens and part-timers can easily enjoy healthy sitting with a $150 gaming chair.
In contrast, expensive gaming chairs are more comfortable and durable. Full-time users looking for a performance edge could pay more for a chair as an investment. If you're planning to sit full-time, paying extra is a wise investment.
In all cases, proper usage of your chair will yield more benefits than the chair itself. Master the art of healthy sitting and prosper in any type of ergonomic chair!