What's the difference between a cheap and an expensive gaming chair? Circa 2023, the GTRacing Pro Series remains one of the most popular budget models. On the premium side, the Secretlab Titan reigns as the undisputed #1. Both are meant to support healthy computing postures; both do a pretty good job. Even so, there are many significant differences. So let's compare cheap vs expensive gaming chairs. To do so, we'll pit the GTRacing Pro Series against the Secretlab Titan Evo 2022.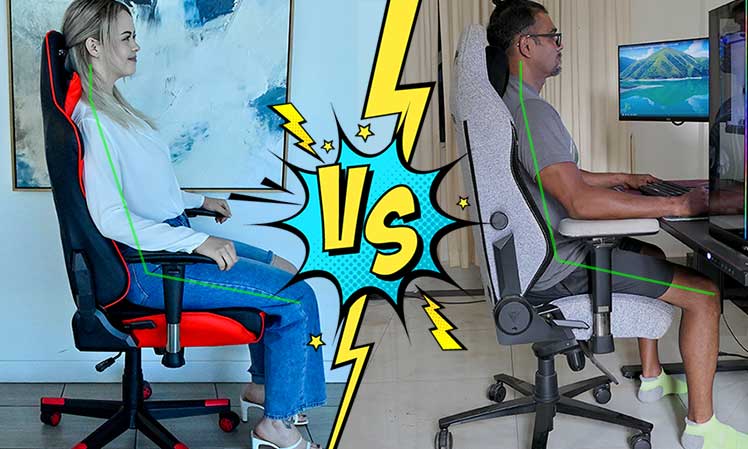 Cheap and expensive gaming chairs are both designed to support healthy neutral postures. These align the spine as if it were in a healthy standing position. That relieves musculoskeletal stress, letting gamers sit longer with greater focus.
Like premium chairs, the best cheap gaming chairs are all fully 'ergonomic'. In seating terms, a chair qualifies as 'ergonomic' with three core features.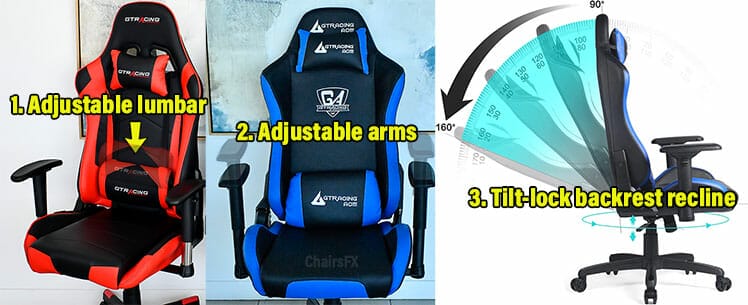 It doesn't matter if you use a $109.99 GTRacing Pro Series or a $560+ Secretlab Titan Evo 2022. Both use the same adjustable lumbar + adjustable arms + reclining backrest combo to support good posture.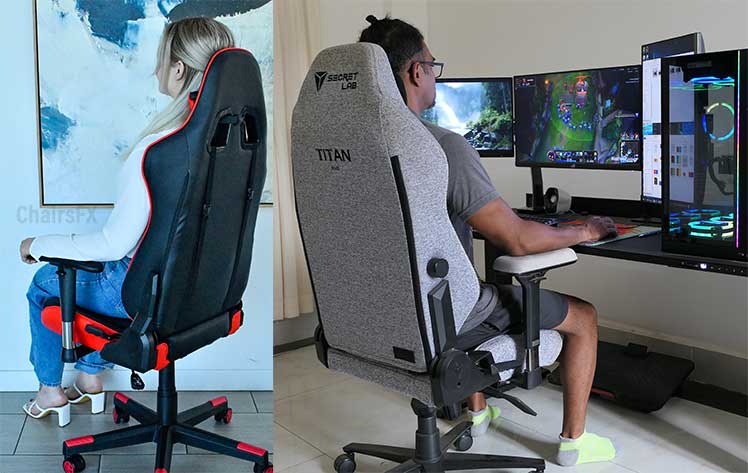 Cheap gaming chairs have obvious drawbacks over expensive ones. They're less adjustable. They also come with cheaper padding and upholsteries. On top of that, they're not as durable. Even so, cheap gaming chairs still have advantages for first-time ergonomic chair users.
Cheap Vs Expensive Chair Differences
In my experience, cheap gaming chairs are well worth it for first-time ergonomic chair users. My ergonomic adventure began in 2017. Then, I upgraded from a basic office chair to a cheap DXRacer Formula Series.

My F-Series was basic. It had 1D arms, standard tilt functions, and a fat, goofy-looking lumbar pillow. In hindsight, that cheap, simple build was a great starter platform to learn about neutral sitting techniques.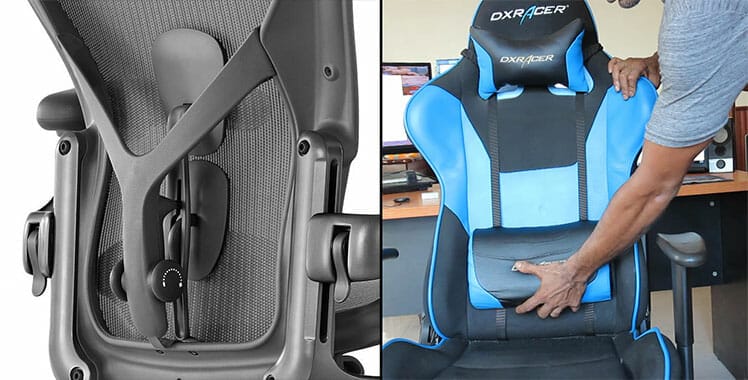 Two years later, I upgraded to a DXRacer Racing Series with 4D arms and multifunction tilt. That gave me more options to experiment with while I refined my techniques.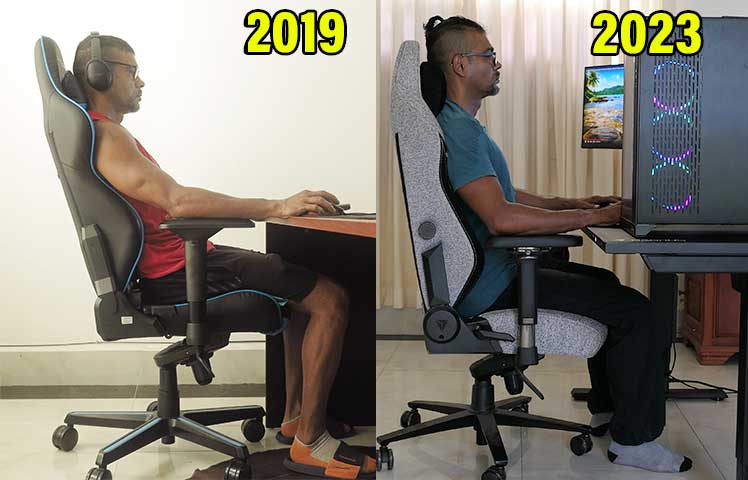 These days, I use a top-of-the-line Secretlab Titan. Because of my experience using cheap gaming chairs, I found its complex settings easy to master.
In my view, that's the main appeal of cheap gaming chairs for first-time ergo chair users. After you get the hang of things, you'll be educated enough to make an informed seating upgrade.
Cheap Gaming Chair Target Markets
We've already established that cheap and expensive gaming chairs both support healthy neutral postures. Pricier ones add firmer padding, better adjustability and durability, plus nicer aesthetics.

Circa 2023, who do cheap gaming chairs appeal to? How about premium models? To answer these questions, ChairsFX recently did a consumer seating market analysis.
That started with some generational definitions from the Pew Research Center:
Generation X: born 1965 to 1980 (ages 43-58 in 2023)
Millennial: born 1981 to 1996 (ages 27-42 circa 2023)
Generation Z: born 1997 to 2012 (ages 11-26 in 2023)
Then, we found some notable trends among U.S. Gen Z and Millennial groups. Highlight trends:
Higher living costs = smaller chair budgets: per capita disposable income decreased by 6.4% in 2022. In 2023, cost of living expenses are surging in sync with inflation.
Millennials are sickly: since COVID, this generation inflicts greater mental & physical disease burdens on hospitals than others. They also generate 22% more back disorder ER visits than others.
Fitness beats chair posture: 34.5 million Americans suffered chronic musculoskeletal pain (MSK) in 2018. But esports doctors and clinical reviews agree: exercise reduces pain & depression while boosting quality of life.
Gen Z are posturally savvy: a 2020 survey found that 36% of Gen Z (ages 11-26 in 2023) experience back pain between the ages of 11-15. Instead of seeking medical care, 44% used natural healing methods like stretching.
Gen Z are fitness savvy: 48% work out several times per week; around 33% of those lift weights; 42% wear fitness trackers.
These trends justify cheap gaming chairs as starter models for two groups:
Best Gaming Chairs 2023
Here's a quick look at the best gaming chairs in each price class:
Cheap Vs Expensive Chair Conclusion
Cheap and expensive gaming chairs meet institutional ergonomic guidelines that define 'seating ergonomics'. In all cases, adjustable lumbar + arms delivers the support for users to maintain healthy neutral postures.

Since 2013, the GTRacing Pro Series has reigned as one of the most consistently popular cheap gaming chairs. At the opposite extreme, the Secretlab Titan is by far the best premium gaming chair on the market.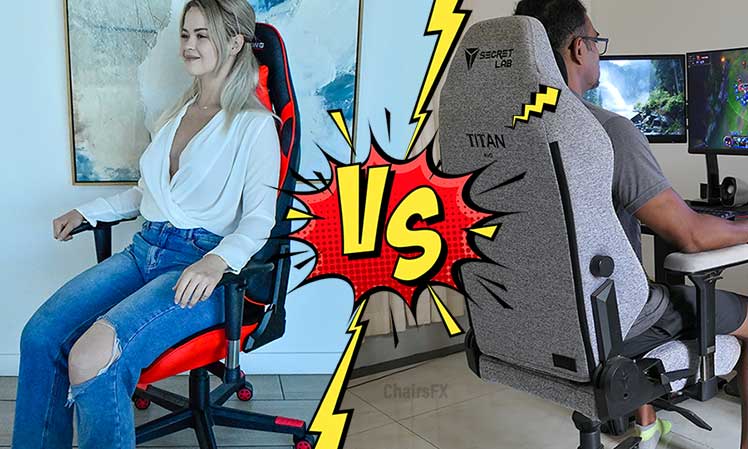 Both do a similar job at supporting neutral postures. Beyond neutral fundamentals, the Titan stacks better adjustable features, superior durability, and a kaleidoscopic array of stunning designs.
Comparing these two gaming chair industry stalwarts shows the key differences to expect between cheap (under $200) and expensive gaming chairs in 2023:
Regardless of which type you end up using, make sure that it fits. Choose an appropriate small, medium, or XL gaming chair that supports your size.
Once your chair sizing is sorted, make it a priority to master neutral sitting fundamentals:
Neutral Posture Quickstart: For Gaming AND Ergo Office Chairs