World of Warcraft: Shadowlands was the 8th WOW expansion pack. To hype its release, Secretlab produced a pair of Warcraft chairs. The Crimson Horde edition burns hot with a fiery passion. In contrast, the regal blue Alliance chair expresses a cool and thoughtful dynamic. Which faction should your workstation align with? Find the answer in these Secretlab Titan Evo 2022 World of Warcraft gaming chair reviews.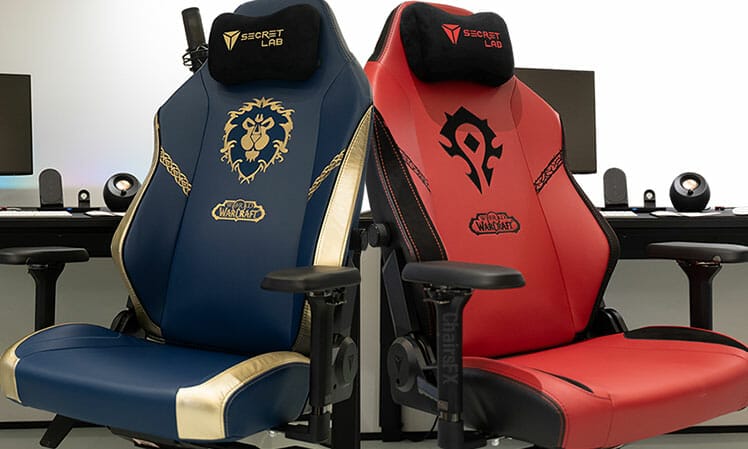 World of Warcraft is the world's most popular MMORPG (massively multiplayer online role-playing game). First released in 2004, it's had seven expansions and peaked at over 12 million subscribers. To date, the game has generated over $9 billion in revenue.
Set in the fantasy world of Azeroth, WoW sends players on a series of epic quests. In the Shadowlands expansion, players travel to the afterlife. There, they must face an ancient force of death that threatens to unravel reality.
Horde and Alliance Style Reviews
Two superpower factions battle for supremacy in the fantasy world of Azeroth. The Alliance faction includes humans, dwarves, gnomes, night elves, and dranei. On the Horde side there are orcs, undead, trolls, and blood elves. Their looks, cultures and war emblems are diametrically opposed.

The main color in Alliance war regalia is blue. On the visible color spectrum, blue is a cool color. It lowers blood pressure, heightens relaxation, and stimulates creative thinking(1).
Horde banners are black with crimson accents. Red sits at the extreme other end of the color spectrum. Its high-energy effect raises blood pressure, rouses the appetite, and fosters logical thinking.
If doing creative work (writing, design, etc), a blue centerpiece chair will gel with your vibe. If your job involves detail-oriented tasks like proofreading or data entry, Horde red can keep you jazzed while you grind.
Warcraft Gaming Chair Specifications
Secretlab Titan Evo 2022 Horde and Alliance chairs come in small, medium, and large sizes. All share the same features, with each faction chair having its own striking design.
Other Branded Video Game Chairs
By our most recent count, there are twenty gaming chairs representing popular video games. Secretlab makes sixteen of them! Here are three recent releases:
Conclusion
The Secretlab Titan World of Warcraft gaming chairs are designed for fans of the video game. If you're aligned with the Horde or Alliance, choosing a design is simple.
For non-Warcraft players, these chairs are still relevant because of their striking designs. The majestic Alliance design delivers a soothing dynamic with luxurious golden accents.
In contrast, the crimson Horde chair looks sinister at a glance. But as you look closer, the rich red with black accents yields a lively, energetic dynamic. It lets you brighten up your workspace without overwhelming it.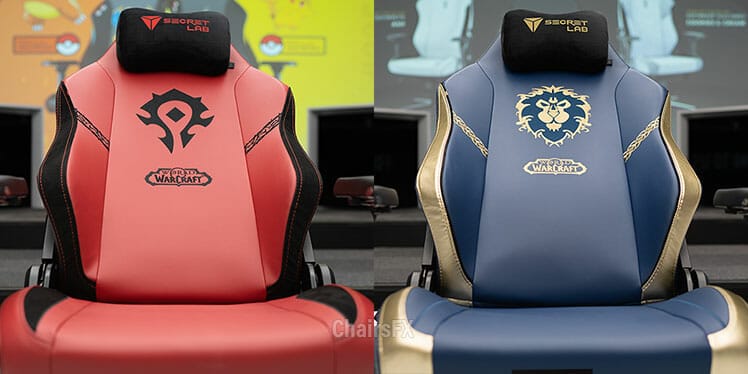 From a color psychology perspective, the Alliance edition will soothe and relax. That makes it a good match with creative work like writing or design(1).
In contrast, the bright red Horde chair will jazz up your senses like a stiff shot of espresso. When doing task-oriented work like proofreading or data entry, red works a treat.
Available from Secretlab in North America, the EU and UK, Australia, New Zealand, Singapore, and Malaysia.
Footnotes