The DC Extended Universe (DCEU) bases big-budget films off of DC Comics characters. We've already seen Warner Bros. films featuring Superman, Wonder Woman, and the Justice League. In 2022, new Batman and Flash films will emerge. To help build hype, Secretlab has collaborated with Warner Bros. to beef up its DC Superhero chair collection. New Flash and Superman chairs join existing Batman and Joker models.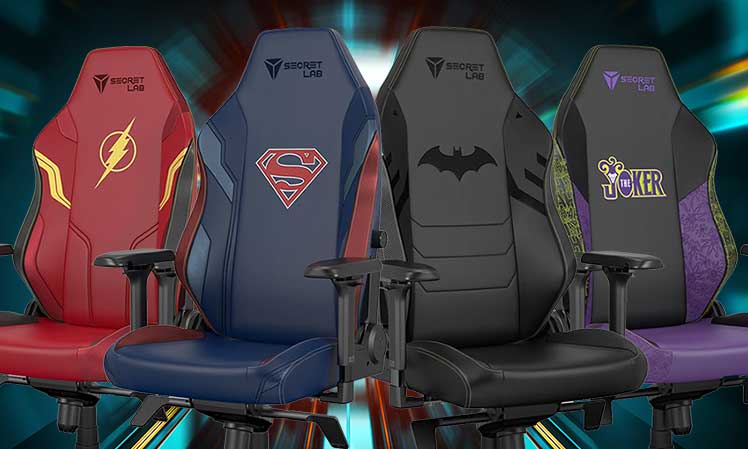 The DCEU kicked off in 2013 with Man of Steel. This spring, Zack Snyder's Justice League was released, followed by The Suicide Squad. 2022 brings films featuring The Flash, Aquaman, Batgirl, and Shazam.
In collaboration with Warner Bros., Secretlab is building up a DCEU chair collection. The company just released new Superman and Flash gaming chairs. That brings the collection up to four DC character designs.
Secretlab DC Comics Character Collection
There are four Titan 2022 Series designs in the Secretlab DC Comics collection. Titan 2022 Series chairs come in small, medium, and large sizes.
| | | | |
| --- | --- | --- | --- |
| Titan 2022 | Small | Medium | XL |
| Size rating | 4'11" to 5'6″ | 5'7″ to 6'2″ | 5'11" to 6'9″ |
| Price | $529 | $529 | $579 |
Features beat those of any other gaming chair on the market. For a detailed tech analysis, see our Titan 2022 Series Technical Review. Highlights:
Functionality: 4D armrests; multifunction tilt-lock; recline from 85-165°.
New 2022 Series Features: integrated 3D-adjustable lumbar support; magnetic headrest pillow; pebble seat base with waterfall edge.
Warranty: 3 years, extendable to five years.
Below is a closer look at each of the four designs in Secretlab's DC character collection.
Secretlab Superman Gaming Chair
Born to Jor-El and Lara Lor-Van of the House of El, Kal-El is the last survivor of the planet Krypton. Sent in a rocket to Earth, he was adopted by the Kent family and raised as Clark Kent.
Like all Kryptonians, he can fly, has super-strength, X-Ray vision, and near-invulnerability. On Earth, these powers made him Superman, the greatest hero the world has ever seen.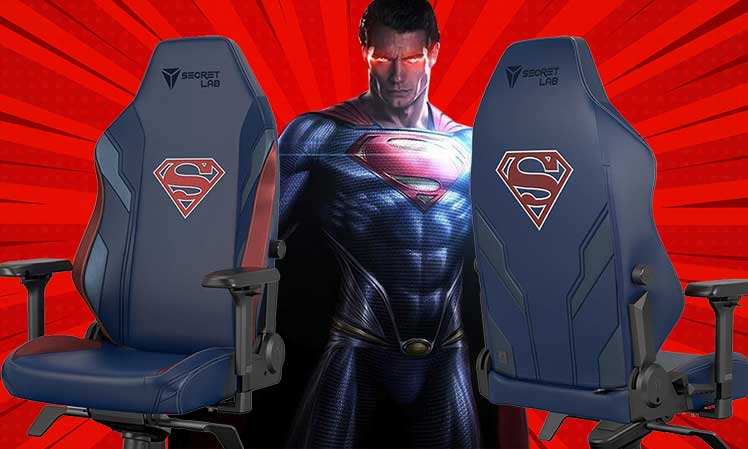 Famed artist Jim Lee is DC's Chief Creative Officer. Secretlab's Superman gaming chair takes inspiration from the dark, dramatic palettes of his comic art.
The chair has a deep navy blue base with steel-blue accents. The iconic House of El shield is embroidered on the front and back of the chair in red and white.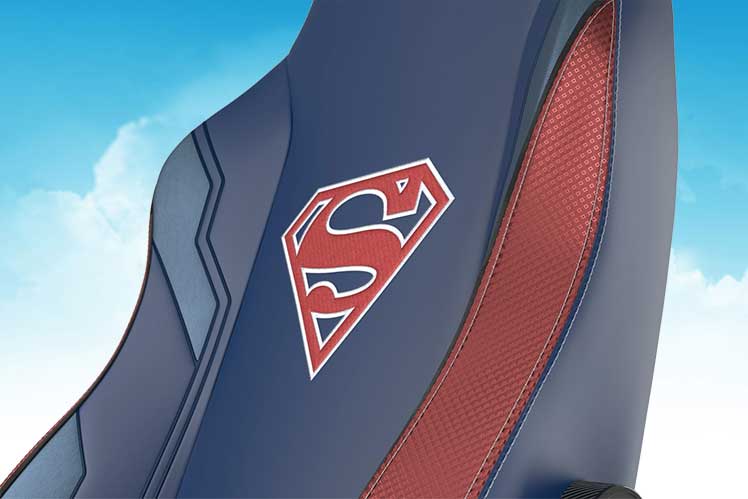 A closer look reveals metallic red carbon fiber wings flanking both the seat and backrest. These add brilliant pops of color to the somber, dramatic base colors.
The dark blue with rich crimson accents will add a sleek, somewhat stealthy look to a gaming room. In a corporate setting, the rich, powerful hues are stylish enough for Lex Luthor himself!
Available from Secretlab in North America, the EU and UK, Oceania, Singapore, and Malaysia.
Titan 2022 Superman (medium) $529
Titan 2022 Superman (small) $529 | Titan 2022 Superman XL $579
Secretlab The Flash Gaming Chair
Barry Allen was a normal university student until the day he was struck by lightning. That gave him the power to move and think at superhuman speeds.
The Flash is fast enough to travel across dimensions. He has superhuman stamina, durability, and agility. He's also an intellectual genius and skilled martial artist.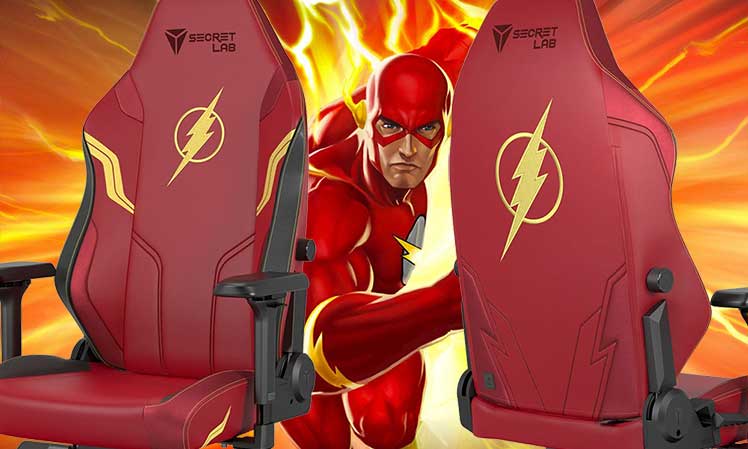 Secretlab's tribute to the Flash is a rich red leatherette chair with brilliant golden accents. Yellow lightning bolts adorn the front and back of the chair, with additional bolds on the sides of the chair.
A nice extra touch on the seat and backrest wings are strips of crimson suede. These add a luscious tactile and visual contrast to the buttery-smooth leatherette.
Colors reflect light, sending sensory information to the hypothalamus. This part of the brain regulates a body's internal balance. It affects your heart rate, appetite, body temperature, and sleeping patterns. Red is one of the warmest, most intense upholstery options available.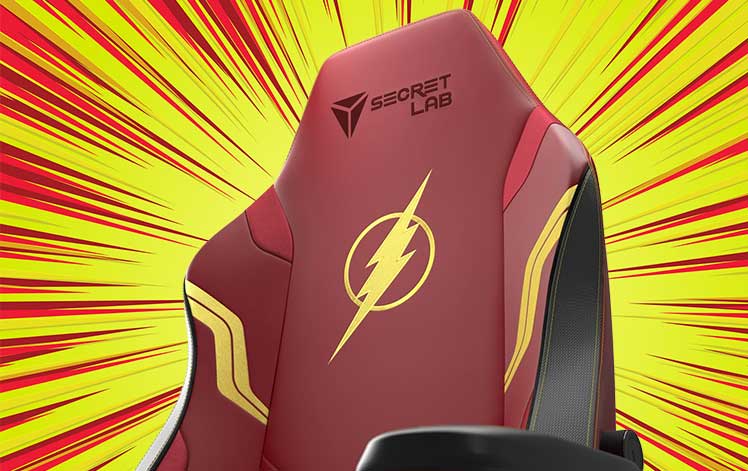 Bright reds and yellows are staples in fast food color palettes. They exude a fun, energetic, upbeat dynamic. If looking for an eye-popping battle station centerpiece, the Flash gaming chair is a brilliant choice.
Available from Secretlab in North America, the EU and UK, Oceania, Singapore, and Malaysia.
Titan 2022 The Flash (medium) $529
Secretlab Dark Knight Gaming Chair
Bruce Wayne broods as a multinational CEO by day. After work, he terrorizes the criminal class as Batman, the Dark Knight of Gotham City. His gaming chair suits both personas.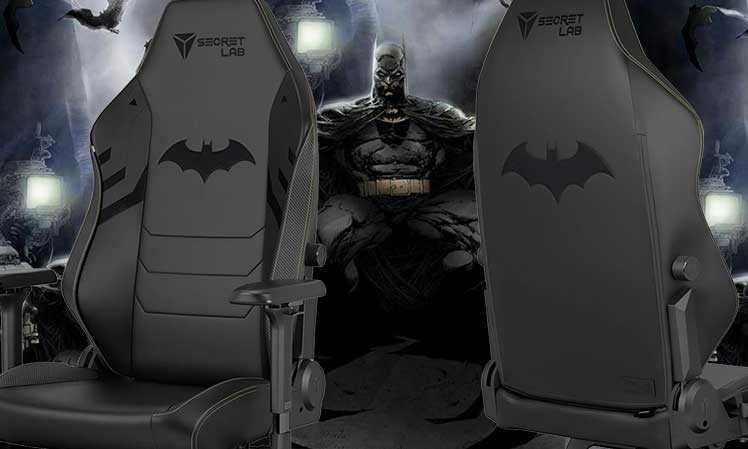 Secretlab's Batman gaming chair is the most versatile chair in its DC collection. From a distance, it looks like a typical power chair for Wayne Enterprise executives.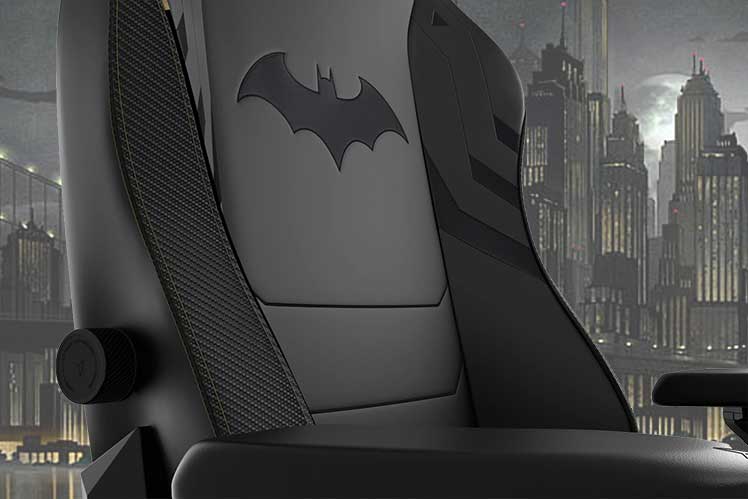 As you get closer, it takes on the dark, ominous feel of the Bat Cave. Dark carbon fiber accents adorn the wings of the seat and backrest. Contrasting those are yellow threaded accents and soft suede Batman logos.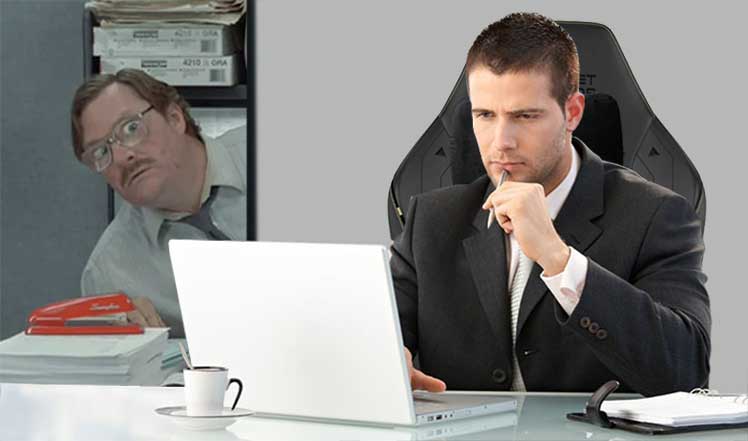 These aspects make the Batman chair a great option for all cases. Thrill-seeking gamers will enjoy its dark, brooding, superhero vibe. Corpos will get a powerful executive chair with a stimulating hint of visual pop.
Available from Secretlab in North America, the EU and UK, Oceania, Singapore, and Malaysia.
Titan 2022 Batman (medium) $529
Secretlab Joker Gaming Chair
The Joker is a psychopathic, maniacal, highly-intelligent master criminal. He spreads chaos and anarchy wherever he goes, while reveling in the suffering of others.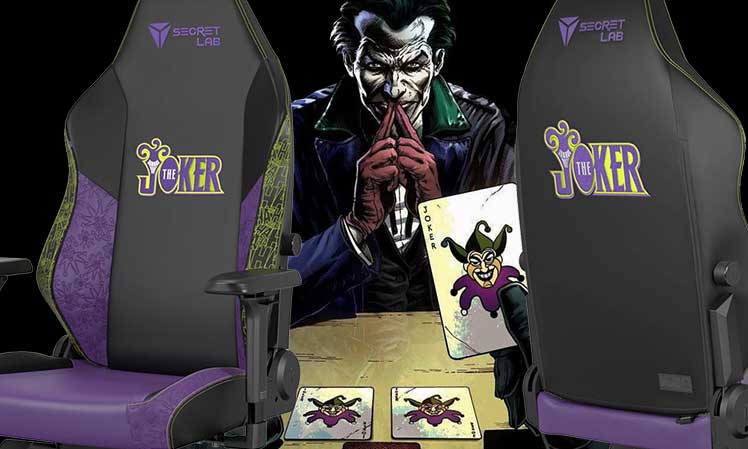 The Joker first appeared in DC comics in the 1940s. Over the years, his look and style has evolved through several comic, TV, and film appearances.
Secretlab's Joker chair reflects Heath Ledger's iconic look in 2008's The Dark Knight. Flanking a black leatherette base is a purple seat and side wings.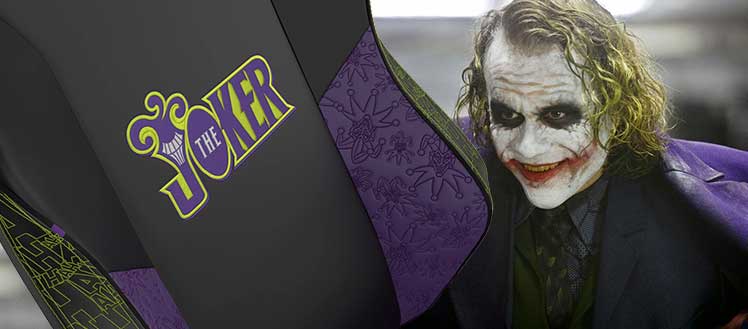 HaHaHaHas run down the side wings in embroidered text. On the inner wings are Joker heads etched into the leatherette. It's a cacophony of black, purple and lime green with a blur of buzzing shapes.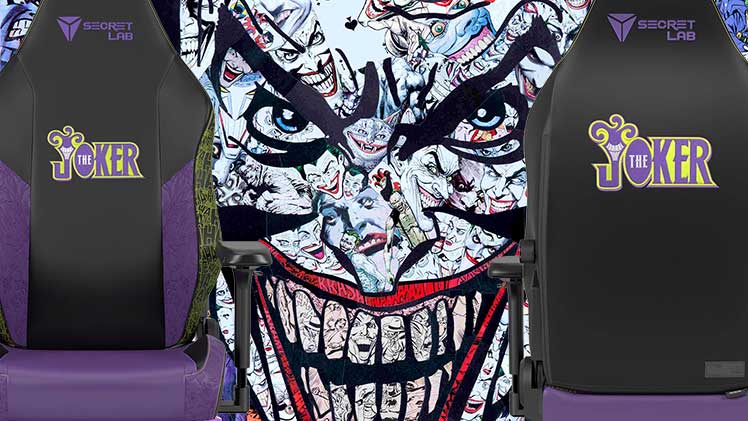 That makes it a perfect representation of the Joker and his chaotic ways. As the centerpiece of a bright, colorful gaming room, the Joker gaming chair would fit in perfectly.
Available from Secretlab in North America, the EU and UK, Oceania, Singapore, and Malaysia.
Titan 2022 Joker (medium) $529
Other Superhero Gaming Chairs
Cybeart Justice League Collection
Cybeart is a company based in Toronto, Canada. They make custom gaming chairs inspired by the Secretlab Titan 2020 Series. Earlier this year, Cybeart released a Justice League DC superhero collection.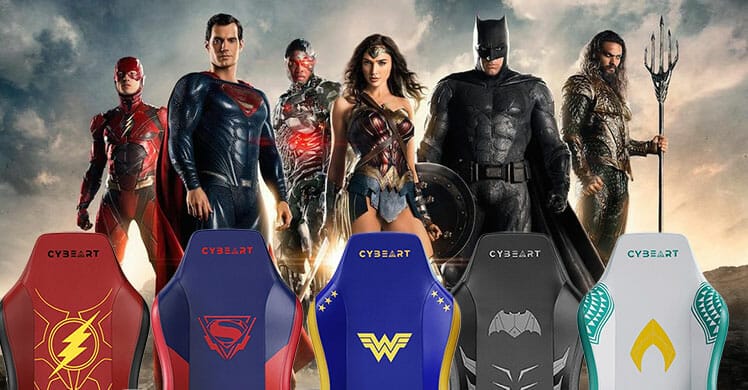 That came out in time with Zack Snyder's Justice League cut. All models cost CAD $499 but are only available in Canada.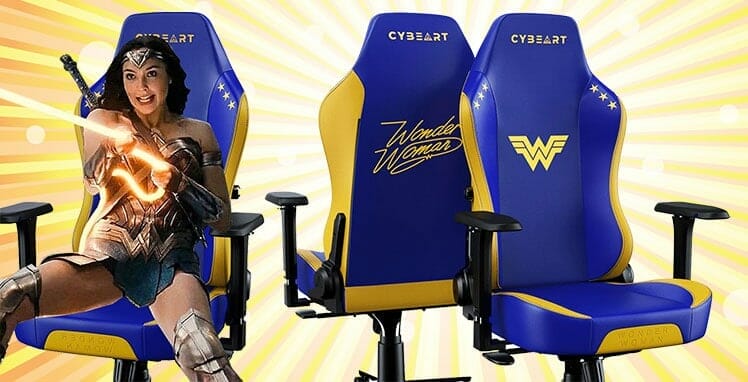 There are five chairs in the collection. The Flash, Superman, Wonder Woman, Batman, and Aquaman are all represented. Like 2020 Titan chairs, Cybeart models come fully loaded.
Features include a depth-adjustable integrated lumbar, custom-shaped backrest, and stunning embroidered designs. Learn more in our Cybeart review:
Conclusion
Secretlab's DC superhero collection now includes four gaming chairs. The Superman and Batman editions feature dark, somber designs suitable for both gaming and office purposes.
The other two are purely for fun. The rich red and bright yellow of The Flash Chair will electrify a room with visual energy. In comparison, the chaotic, colorful Joker chair will bring colorful chaos into your workspace.
No matter which you choose, expect world-leading ergonomics under the hood. There's no other model on the market offering depth and height-adjustable lumbar support. No other model has a strapless magnetic lumbar pillow.
Few others match the Titan's 5-year warranty period, either. If you're specifically looking for a DC-themed gaming chair, Secretlab's are the best money can buy.