What a way to make a debut! In August 2020, the Cybeart brand launched with five Justice League gaming chairs. Mortal Kombat gaming chairs are coming soon. New designs based on Warner Bros. movies are on the way. This Cybeart review looks at Canada's newest line of luxury gaming chairs.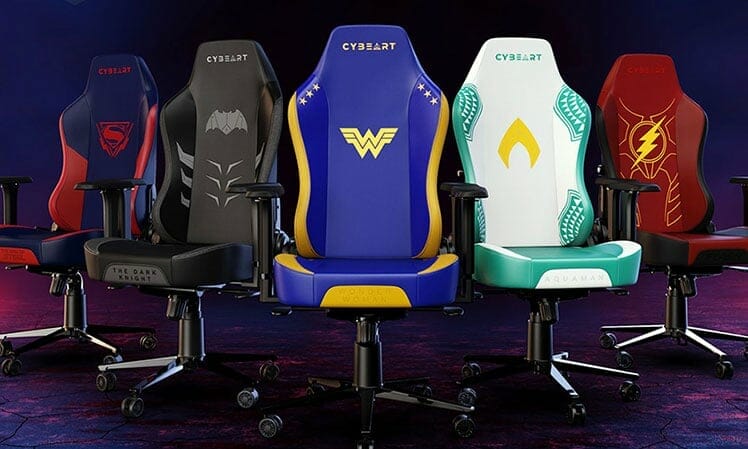 Entering the crowded, super-competitive gaming chair market is a risky bet. Last year, the industry enjoyed its most successful year ever. Several well-established brands have developed cult-like followings. Most new brands will struggle to make an impact under these conditions.
Cybeart is an exception. In 2019, the company developed its own gaming chair prototype (based on popular industry design trends). Then, they set up exclusive production facilities in China. In April 2020, Cybeart signed a Canada-wide licensing deal with Warner Bros.

That resulted in what may be the most impressive brand debut in gaming chair history. On August 21, 2020, the brand launched at DC FanDome, the world's largest DC Comics fan event. There, Cybeart unveiled a collection of five Justice League superhero gaming chairs.
Browse gaming chairs on Cybeart.com
Apex Series gaming chair specs
The entire line of Cybeart gaming chairs is based on a single set of specs. Variations are in the aesthetic designs. There is one Cybeart custom style, and five Justice League superhero variants.
Apex Series Features
All models are part of the 'Apex Series'. This series packs rich ergonomic features and high-quality components into a sleek, rugged build. There are two highlights.
Depth-adjustable lumbar support
All Apex Series chairs come with a depth-adjustable lumbar support system instead of a pillow. Depth control gives you firm, precise lower back support exactly as you need it.
This works a lot better than a traditional gaming chair lumbar pillow. In fact, once you try an internal lumbar chair, going back to a pillow lumbar support will feel insufficient.
Cobra hood backrest
The high backrest has a unique shape inspired by the hood of a king cobra. It provides comfortable support for the upper back, shoulders, and neck while sitting.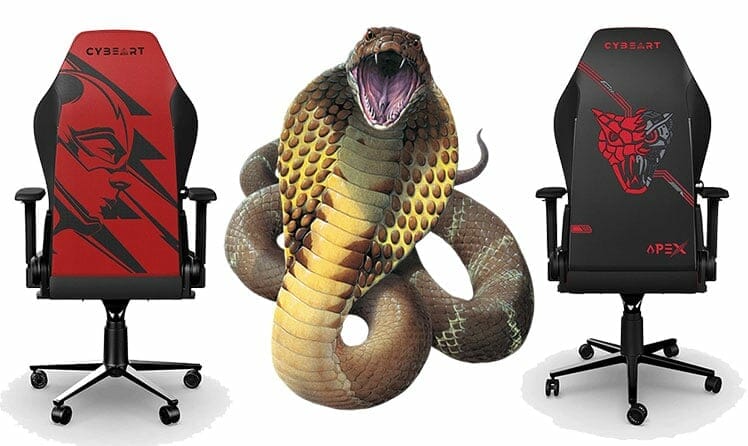 Summary of features
Functionality: padded 4D armrests; multifunction tilt lock; 90-165 degree backrest recline.
Upholstery: embroidered PU leather certified to last for 200,000 abrasion cycles (10x more durable than the industry standard).
Padding: high-density cold foam padding (firmer density than cheaper chairs).
Headrest: memory foam pillow included.
Warranty: five years on all parts (details).
What's the point of these chairs?
Don't be fooled by the flashy designs or 'gaming' chair label. These are serious ergonomic chairs designed to support healthy sitting over long periods. If you carry over sloppy sitting habits, you'll have a bad time in an Apex Series chair.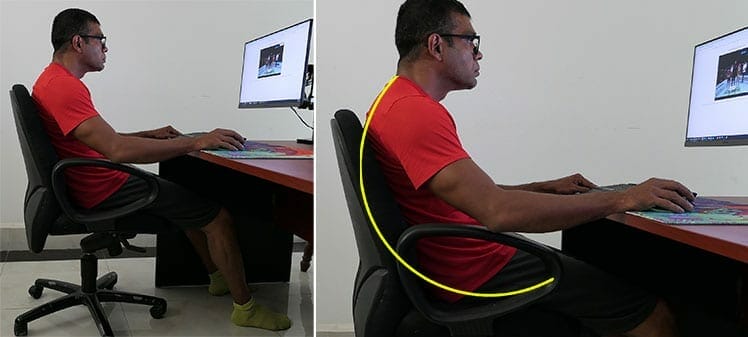 Instead, use your new chair to reset your entire workstation routine. The point of the chair's ergonomic components is to support dynamic neutral postures over long periods.

Doing so will help you forge rock-solid posture habits while you sit. With good posture comes a surge of excess energy, greater focus, and faster cognitive processing.
WARNING: you should only buy an Apex Series chair if you're mentally prepared for a massive upgrade in health, wellness, and productivity. Learn how gaming chairs help. Then, follow the steps in our user guide to master healthy sitting techniques:
Apex Series designs
At present, there are six Apex Series chairs in the collection. The first is an original Cybeart in-house design. The others are Justice League superhero chairs. New designs are planned.
Apex Signature Edition
The Apex Signature Edition chair is the stock Cybeart design. It's a brilliant red chair with black, cyber-style trim.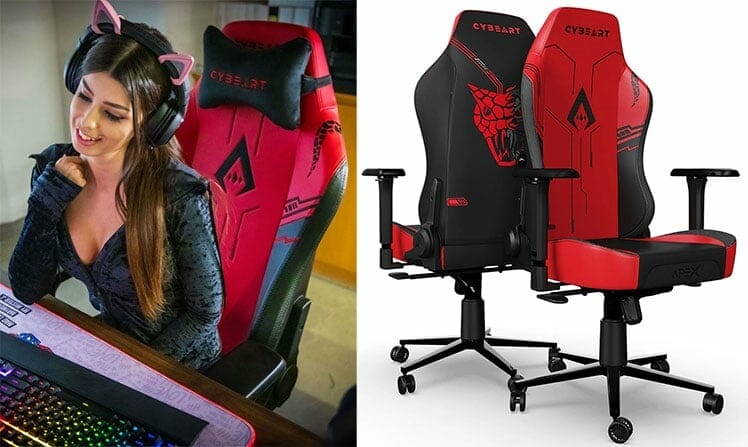 All Apex Series chairs have flared backrests designed in the shape of a cobra's head. The red cobra head embroidered on the back of the chair reflects that.
Justice League Collection
Zack Snyder's Justice League is a director's cut of the 2017 film Justice League. It features Batman, Superman, Wonder Woman, Cyborg, Aquaman, and The Flash.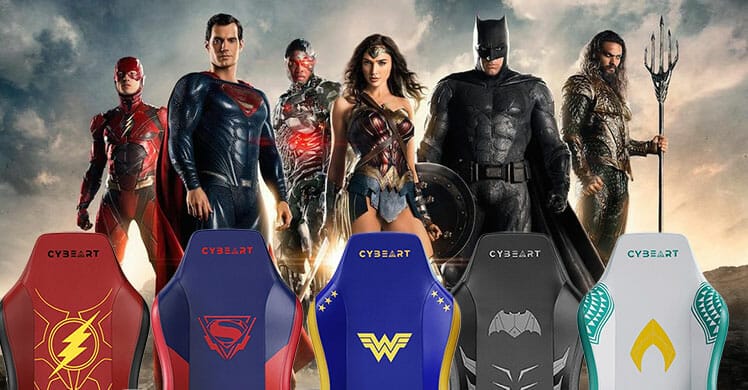 In the movie, the team wrangles with Darkseid and Steppenwolf. The film released on March 18. In Canada, it's available exclusively by streaming through Crave.
Superman gaming chair
Many people revere Superman as the most powerful superhero of all time. The world's first-ever (officially-licensed) Superman gaming chair matches his iconic style.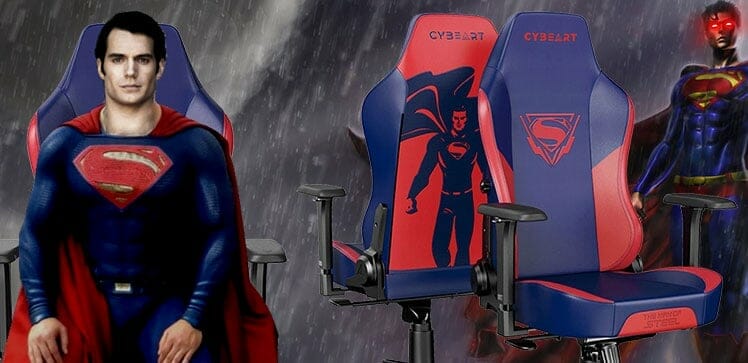 His logo is embroidered on the front of the chair. On the back, embroidered artwork shows him descending from the skies.
The chair has a blue leather base with red trim. The blue gives it a subdued feel, while the red adds vivid 'pop'. That combination should broaden the appeal well beyond hard-core Superman fans.
Wonder Woman
By day, Diana Prince is an antiquities dealer. Off the job, she doubles as Wonder Woman, an immortal Amazonian warrior.
She has amazing speed, reflexes, and strength. Although not as strong as Superman, she's the only team member who can give him a good fight.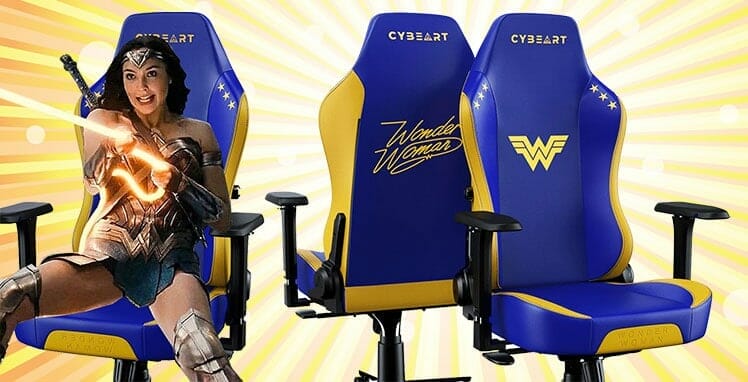 Wonder Woman fights clad in blue, red, and gold armor. The Apex Series Wonder Woman chair drops the red for a sleek two-tone design.
It's the world's first Wonder Woman chair, and also the first blue and yellow combo that we know of. The effect is striking and colorful, but not overwhelming.
Yellow stars adorn the wings, with Wonder Woman's logo embroidered on the front. This design would appeal to both gamers and work-from-home creative types.
Batman gaming chair
Everyone knows the story of Bruce Wayne. He broods as a billionaire playboy by day, and then as the Dark Knight after supper.
He's the only member of the Justice League without any superpowers. Even so, he holds his own against foes like Darkseid with fighting skills and weapons.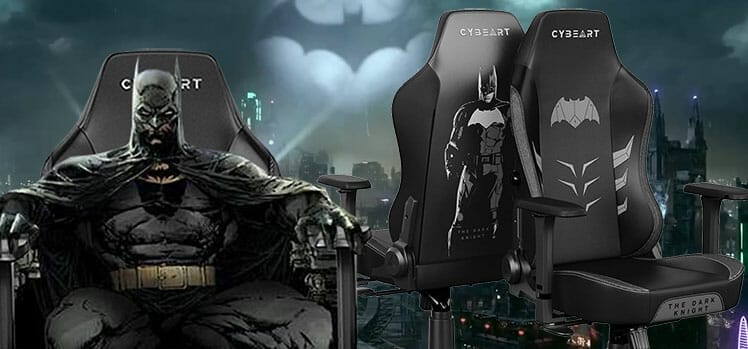 The Cybeart Batman gaming chair is an all-black design. Grey embroidered accents adorn the front of the chair. On the back is a full-body embroidered Dark Knight figure.
Dark chairs generally work well in both gaming and business setups. Beyond appealing to Batman fans, it should entice those looking for a sleek black design.
Aquaman
Arthur Curry is the King of Atlantis and Justice League member Aquaman. He's the third-strongest member, trailing only Superman and Wonder Woman.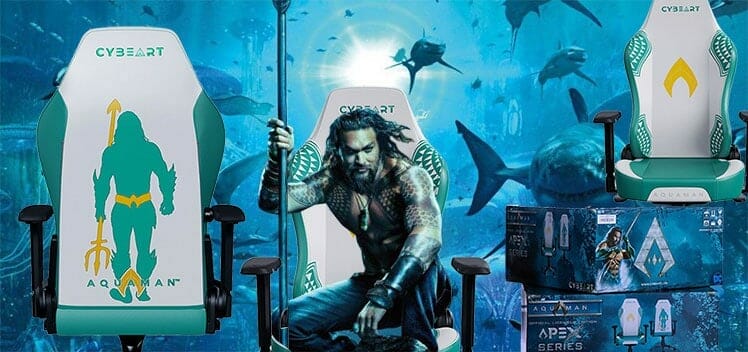 He has superhuman speed and agility on land and under water. He can also control water and communicate telepathically with sea life.
The Aquaman gaming chair has Jason Momoa's shoulder tattoos embroidered on the chair wings. Aquaman's logo is also embroidered on the front of the chair in yellow. On the other side, Jason Momoa's shredded physique guards your back with his trusty trident.
The Flash gaming chair
One day, uni student Barry Allen was struck by lighting. That gave him the ability to move and think at superhuman speeds.
The Flash is so fast that he can travel across dimensions and break glass using vibrations. He also has superhuman stamina, durability, and agility. On top of that, he's a genius-level intellect, and also a skilled martial artist.
The Flash gaming chair comes in brilliant red leather with black trim. Electric yellow accents are embroidered on the front. On the back is a black embroidered closeup profile of the Flash.
Mortal Kombat Collection
In advance of the new film, Cybart has released four Mortal Kombat gaming chairs. Included are designs for Sub-Zero, Scorpion, Raiden, and newcomer Cole Young.
These models are a little pricier than Justice League chairs. Check out our Mortal Kombat chair review for a closer look at each of the designs.
Cybeart similarity with other brands
Cybeart chairs look like existing models on the market from other brands. That is partly to do with gaming chair design limitations. DXRacer released the first gaming chairs in 2006. It had a racing-style design, a padded seat and backrest, and adjustable support pillows.
Ergonomic back support rarely evolves. For example, the Herman Miller Aeron launched in 1994. A 'remastered' version came out in 2017. That equals one minor ergonomic revision in 27 years.
Circa 2021, most new gaming chairs still follow the original DXRacer design. The most significant (and popular) deviation in recent years has been the Secretlab Titan.
The Titan differs from other gaming chairs with internal lumbar support and a flat, wide seat. In recent years, several other brands have released similar versions.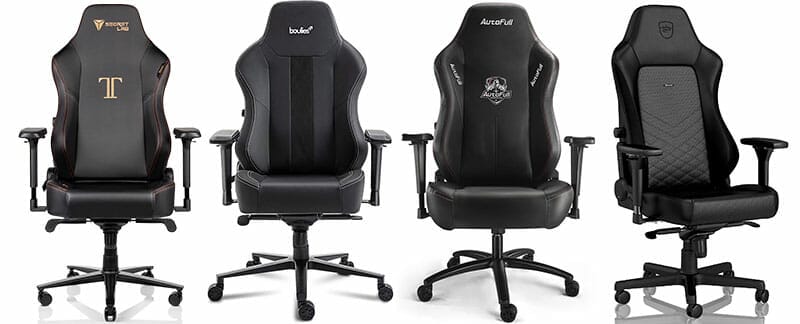 Cybeart gaming chairs follow the same trend, with flat seats and internal lumbar supports.
Competing versions from Boulies, Autofull, and Noblechairs have conservative, office-style designs. In contrast, Secretlab has 35 variants, many with colorful, eye-popping designs.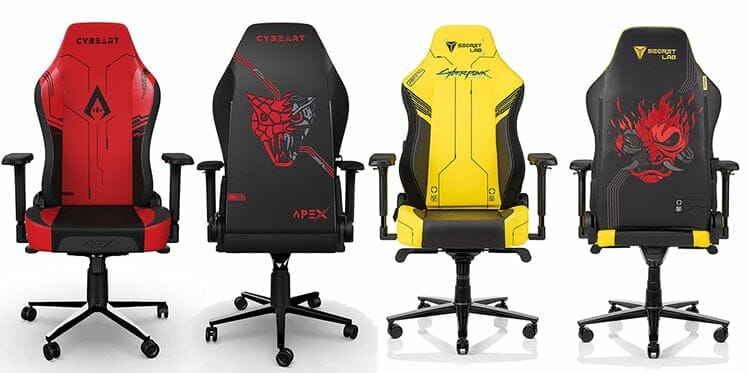 In that sense, Cybeart chairs look almost exactly the same as Secretlab Titan gaming chairs. They have similar features, and similar licensed, flashy designs.
Cybeart production transparency
Why do Apex Series gaming chairs look so similar to other designs on the market? We reached out to Cybeart for answers. Company CEO Krutik Patel responded personally. (Quotes have been slightly edited for brevity.)
Associations with other brands: "Our brand is not affiliated with any other brand in the world. For the record, we make our chairs in our own factory."
Similarities to other chair brands: "The word 'gaming chair' itself means 'racing-style' chair. To make them racing-themed and ergonomic, there are certain design constraints. Most chair brands use similar ergonomic features (armrests, tilt mechanism, etc). Hence, most gaming chairs look fundamentally similar."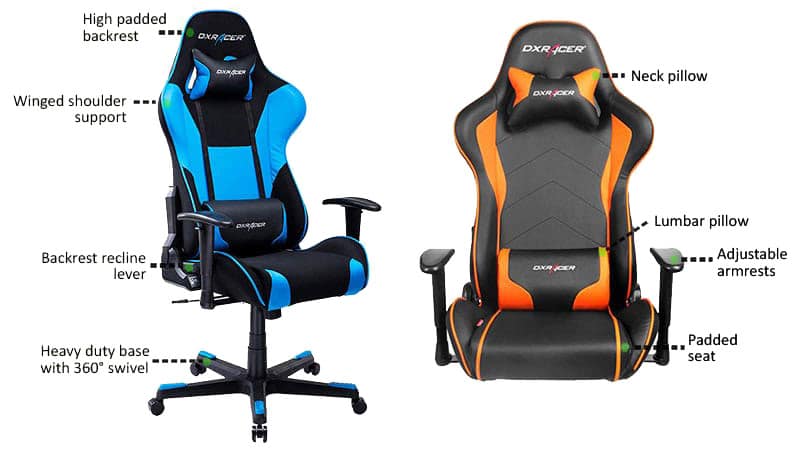 What makes Cybeart unique: "To launch a brand at such magnitude, we've put a lot of effort to engineer something unique. The comfort of a chair comes from a variety of factors such as the shape of the backrest, padding density, quality of components, and assembly process.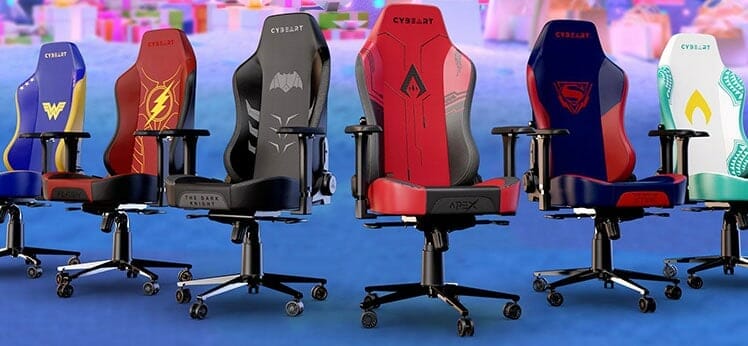 The backrest of our chairs is inspired by a King Cobra's hood. That provides broad shoulder pads for a snug fit and better ergonomic support. Our chairs also use high-quality components across the board. Those cost more but provide unmatched comfort and durability. During the entire development process, comfort, consistency, and durability were the top priorities."
Cybeart chair pros and cons
On a technical and aesthetic level, these chairs are ultra-high-end. The flat, wide seat provides a roomier, more casual fit than seats with bladed edges. The internal lumbar also provides better support for your lower back than a lumbar pillow.
There are a couple of downsides. First, like other high-end gaming chairs, Apex Series padding is very firm. That better supports good posture with improved consistency and durability. Those used to sitting in soft, cheap foam will need time to adjust.
The second downside to Cybeart chairs is reliability. There is simply no way to gauge that in a new brand without time. How well will their customer service perform over time? Will many customers receive imperfect chairs? Will the padding, leather, and parts hold up over heavy use?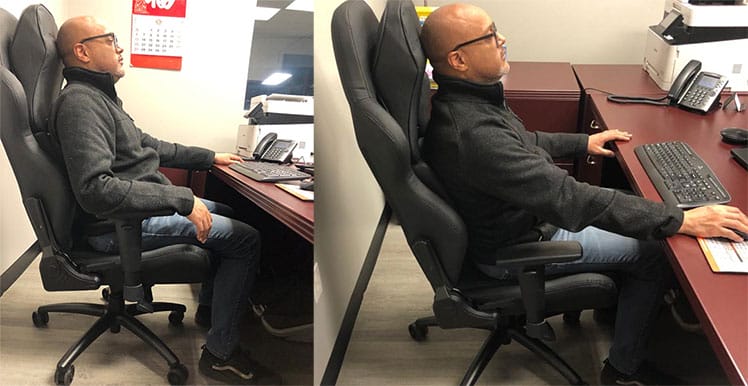 Only time will tell. ChairsFX has a Canadian office worker testing gaming chairs for us. We'll send him an Apex Series chair, then report back in a year or so.
Conclusion/ how to buy
Canadians have a smaller range of gaming chairs to choose from than Americans, Europeans, or Asians. That's because of Canada's vast size, small population, and stiff import duties.
Immediately upon launching, Cybeart Apex Series chairs become one of the best options for Canadians. In fact, these chairs are only available for sale in Canada. Cybeart CEO Krutik Patel is counting on Canadian support for a local brand.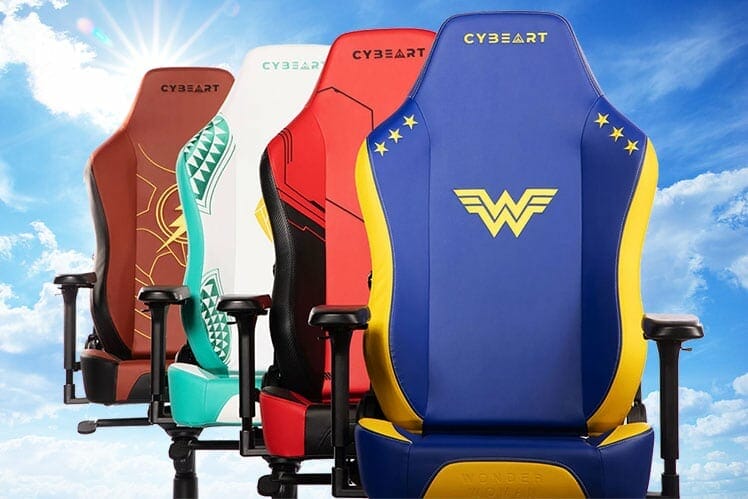 "We've put a lot of effort into developing great chairs, while also securing a national deal with Warner Bros. Cybeart Inc is a Canadian brand. We hope to see our fellow Canucks using Cybeart products, helping to take our brand global."
Apex Series chairs on Cybeart.com C$519
Other premium chairs for Canadians come from brands like Herman Miller, Secretlab, Anda Seat, and Clutch Chairz. Check our review of the best gaming chairs for Canadians to learn more.