ChairsFX asserts that gaming chairs are better than office chairs. When Anda seat offered to send over a Dark Wizard chair for review, it gave us the chance to put that idea to the test. Instead of reviewing the Dark Wizard in-house, we had it shipped to an "essential worker" in Toronto. Is the Dark Wizard chair any good? Did it help to improve wellness and productivity? How did his co-workers react? Find out in this Anda Seat Dark Wizard gaming office chair review/ case study.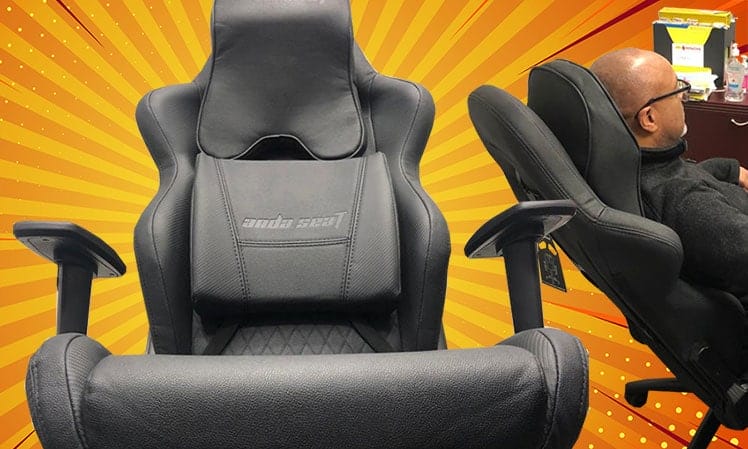 Shoutout to Anda Seat for making this case study possible. The team was generous enough to offer any chair in their lineup for review. They were also fine with our idea to review the chair as a case study.
Dark Wizard gaming office chair case study
Anda Seat's Canadian headquarters is in Richmond Hill, a suburb north of Toronto. "Byron P" works as a logistics professional in a suburb west of Toronto. Byron stands 5'9″ and weighs 175 pounds.
Free to choose any model in the Anda Seat Canada collection, he went with the Dark Wizard for two reasons. First, its executive styling matched his office environment. Second, his size was a good fit for the chair.
We asked him to follow the basics in our Gaming Chair User Guide. Then, we left him with some predictions:
He would need an adjustment period to get used to a new way of sitting.
Once adjusted, he would enjoy noticeable health, wellness, and productivity benefits.
Coworkers would react with either derision or curiosity.
The chair's presence in the office would inspire others to re-think their workstation ergonomics.
After someone gets comfortable in a gaming chair, it's hard to go back to using a traditional office chair.
Conclusion
Byron struggled to find something to criticize about his Dark Wizard chair. "It is hard to find something with this chair that does not appeal to me. One minor detail would be the forward / backward movement of the arm rest. It's kind of hard to lock into place."
Despite that quibble, he gives the Dark Wizard a big thumbs up. "Now that I have tried this chair, I would definitely buy one with my own money. I find it to be comfortable, relaxing, and it wraps around your body. The seat is comfy, and also allows for support. I would recommend others to get a similar chair as well as opposed to traditional office chairs. They would also made a great addition to a modern board room."
As such, every one of our predictions came true. Byron needed a few days to get adjusted to a healthier way of sitting. Once adjusted, back pain vanished and his energy levels increased. His co-workers were interested in the chair. His boss wishes he had known about gaming chairs earlier.
Finally, Bryon confirms that he feels better and more productive now that he has proper support. Case closed.
The bottom line is that Anda Seat makes a range of solid gaming chairs for the Canadian market. For both gaming and office work, these models can have a positive impact on your health, wellness, and productivity. For other options within the Anda Seat CA collection, check this review:
Best Anda Seat Chairs For Canadians
The Anda Seat Dark Wizard is only available in Canada and comes with free shipping nationwide. Buy the Dark Wizard from Anda Seat for $549.99.