Anda Seat is one of the gaming chair industry pioneers, in business since 2016. Today, it's a global operation, serving North American, European, Australian, and Asian markets. In 2022, the company has streamlined its collection to serve professional and prosumer needs across all size ranges. Here we review the best Anda Seat gaming chairs now available to buy online.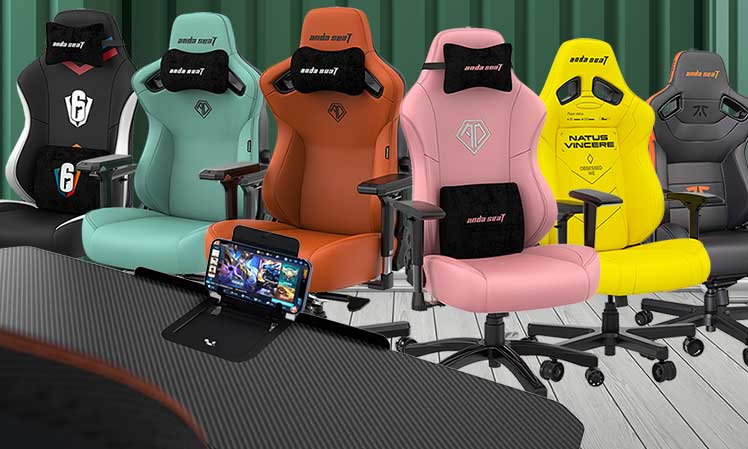 The biggest thing missing from Anda Seat's offerings in recent years was cohesion. Its sprawling premium chair collection simply put different upholsteries over the same frame. The collection seemed random and directionless.
To turn things around, Anda Seat took inspiration from Secretlab's industry-leading ways. Like Secretlab, Anda Seat's new collection is called the '2022 Series'.
What's more, the new Kaiser 3 Series is an almost exact copy of the Titan Evo 2022 Series. Luckily, Anda Seat has added some fresh ideas to set its version apart.
What's New At Anda Seat In 2022
The first big change is that Anda Seat has revamped its 2022 gaming chair lineup:
2022 Series debuts: Phantom 3 Series; Kaiser 3 Series
Being phased out: Esports editions, Marvel chairs; Jungle Series
The second is a focus on direct sales. AndaSeat.com now services customers in the USA, EU and UK, Australia, and China. During checkout, simply choose your country. That will process your order and shipping details using your local currency.
It's also possible to buy Anda Seat chairs from third-party retailers like Amazon. However, the company tends to use third parties to clear out older stock. If looking for the latest and greatest, AndaSeat.com is the place to go.
The third big change is shorter warranty protection. Anda seat has canceled its opt-in 6-year warranty extension. Now, all chairs come with a standard 2-year warranty.
Anda Seat gaming chairs are available for direct sale in the United States, the EU, UK, Australia, China, and Japan.
Review: Anda Seat 2022 Series
Anda Seat now offers a coherent product line featuring four different collections:
Kaiser 3 Series
Anda Seat's new flagship is an almost exact copy of the Titan Evo 2022 Series. That model introduced a groundbreaking 4-way integrated lumbar, streamlined seat, and strapless magnetic headrest. The new Phantom 3 Series copies all of those features, plus a few unique extras.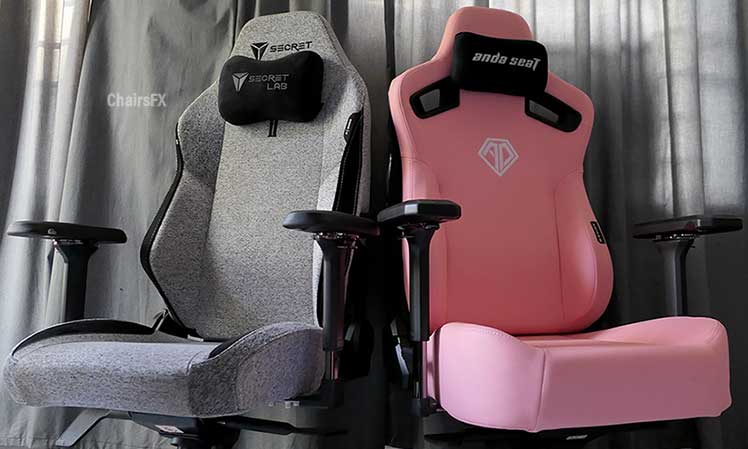 The coolest extra is a magnetic mounted retractable tabletop. That attaches to the armrest stumps with magnets, providing a space for a laptop or mobile use.

Note that the Kaiser 3 Series is a brand-new release. At the time of writing this review, the tabletop isn't yet available for sale.
Kaiser 3 Features
Kaiser 3 chairs come with a 4-way integrated lumbar, strapless magnetic headrest, and flat, wide seat. It's the same build as the Secretlab Titan 2022, differing only in upholsteries.

Chairs are available in seven premium PU leather styles and two fabric ones.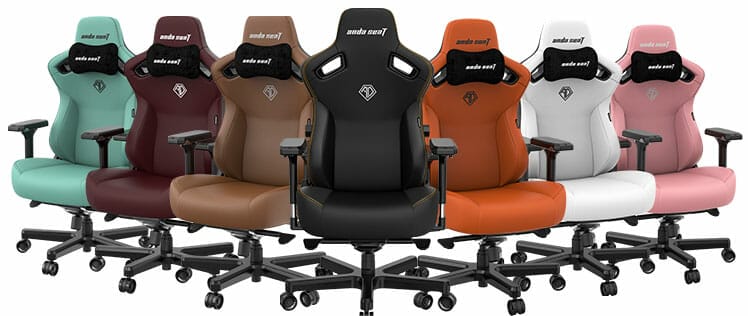 Here's a summary of the key specs:
Ergonomic features
Dimensions
Lumbar support: integrated, height and depth-adjustable
Headrest: magnetic strapless memory foam pillow with cooling gel insert
Padding: 65kg/mᶟ one-piece molded foam
Adjustments: 90-165° recline; 4D armrests; multifunction tilt lock
Add-on: Magnetic mounted retractable tabletop
Warranty: two years
Kaiser 3 Series chairs come in large and XL sizes. Anda Seat rates the large version able to fit sizes 4'11" to 6'3″. But even with a 4-way lumbar and mag headrest, such a massive range doesn't seem realistic. Based on its dimensions, people 5'4″ and up will find the best fit in the large edition.
| | | |
| --- | --- | --- |
| Spec | Large | XL |
| Seat | 20.2″ (W) x 19.6″ (D) | 20.8″ (W) x 22.4″ (D) |
| Backrest | 21.2″ (W) x 33.4″ (H) | 22.8″ (W) x 33.4″ (H) |
| Seat height | 17-19.6″ | 17.3-20″ |
| Size rating | 4'11" 5'5″ to 6'2″, 260 pounds | 6'0″ to 6'10", 396 pounds |
Kaiser 3 Series Pros and Cons
The Kaiser 3 Series incorporates the latest-and-greatest gaming chair technology into its build. The problem is a lack of originality — these are Secretlab innovations which that company developed in-house.
Pros
Cutting-edge features
Nine striking designs
Innovative magnetic tabletop add-on
Flat, wide, spacious seat
Cheaper than the Secretlab Titan
Cons
Unoriginal concepts (copied from Secretlab)
Cheap 2-year warranty
To its credit, Anda Seat worked to exceed the Titan build with its magnetic tabletop and unique color styles.
Head-to-head with the Titan, I prefer the Titan chair. For a similar price, you get a better quality build, longer warranty, firmer padding, and (in my opinion) better back support.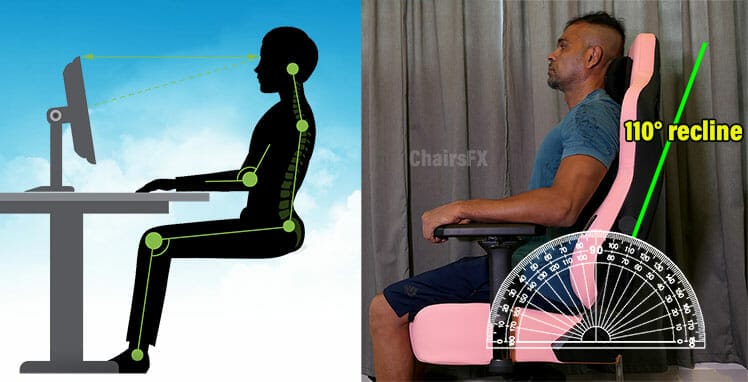 On the flip side, I love my Creamy Pink Kaiser 3 chair's design. Those who prefer softer padding and more casual support than the Titan should consider a Kaiser 3.
The Kaiser 3 is also available on Amazon for Price not available.
Kaiser 3 from AndaSeat $459.99 $499.99
Learn more: Kaiser 3 Vs Secretlab Titan 2022 Series Comparison
Phantom 3 Series
The Phantom 3 is a smaller version of the Kaiser 3 with stripped-down prosumer features. Instead of 4D armrests, you get 1D ones. It also comes with a standard (not multifunction) tilt. That means you can rock the chair, but not lock the seat at angles.
As well, the Phantom 3 comes bundled with a traditional lumbar and headrest pillow set. These attach to the chair with straps and are height-adjustable.
Ergonomic features
Dimensions
Support: velvet-covered XL lumbar pillow; medium-sized headrest
Padding: 60kg/mᶟ one-piece molded foam
Adjustments: 90-160° recline; 1D armrests; standard tilt
Warranty: two years
Very short users should choose a Phantom 3 over a Kaiser 3. Medium-sized users can make good use of either one. Here's how the Phantom 3 compares to the large-sized Kaiser 3:
| | | |
| --- | --- | --- |
| Spec | Phantom 3 | Kaiser 3 (L) |
| Seat | 20.8″ (W) x 20.4″ (D) | 20.2″ (W) x 19.6″ (D) |
| Backrest | 21.7″ (W) x 32.3″ (H) | 21.2″ (W) x 33.4″ (H) |
| Seat height | 16.9-20.4″ | 17-19.6″ |
| Size rating | 5'2″ to 5'9″, 200 pounds | 4'11" 5'5″ to 6'2″, 260 pounds |
Phantom 3 Series Pros and Cons
The Phantom 3 is an alternative for those not sold on the Kaiser 3. It's a smaller chair with a lower price and less spectacular features.
Pros
Affordable
Comfortable
Consistent
Cons
Odd sizing
Short 2-year warranty
A premium price gets you budget features
The obvious quibble here is the price. Many other chairs with 2-year warranties and 1D arms cost under $200.
Are you willing to pay a bit more for fancier styling? If so, the Phantom 3 is a rugged, attractive, comfortable gaming chair.
Phantom 3 from AndaSeat $4349.99
The Phantom 3 is also available on Amazon for Price not available.
Transformer Series
These are Phantom 3 Series chairs with specialty styling. A Bumblebee, Optimus Prime, and Megatron edition are all on offer. These are meant to hype Transformers: Rise of the Beasts — the 7th film in the series (slated for a 2023 release).
Features are exactly the same as the Phantom 3. Highlights include 1D arms, standard tilt functionality, and a 2-year warranty.
Transformer Chairs from AndaSeat $399.99
Learn more: Transformers Series Product Release Notes
Anda Seat Kaiser II
Anda Seat's former flagship chair comes in two color variations that each support 441 pounds.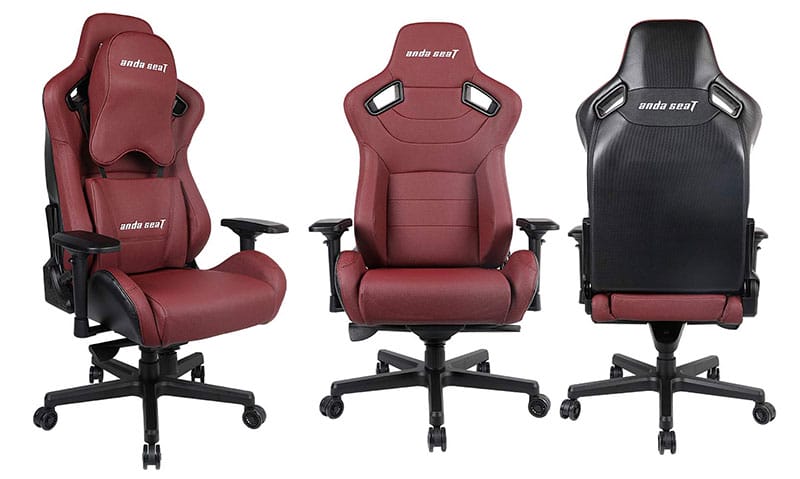 These are versatile chairs that should fit most average to tall sizes. They're built like tanks, comfortable, fully-adjustable, and affordable.
Quick Specs
Kaiser 2 Series chairs have old-school designs with traditional lumbar pillows and headrests. While not as flashy as the new Kaiser 3's features, they deliver good value for money.
Ergonomic features
Dimensions
Functionality: 4D armrests (9cm height range); recline from 90-160 degrees; multifunction tilt-lock.
Comfort: extra-large memory foam headrest and lumbar support pillows.
Upholstery: smooth bonded PVC leather (scratch and stain-resistant). Choose all-black or wine-red designs.
The Kaiser Series has the same dimensions as the Fnatic chair. The recommended size is 5'9″ to 6'9″ and 176 pounds. As a super-heavyweight chair, the Kaiser Series might be too narrow for people with very wide hips.
Seat width & depth: 22.83″ (W) x 21.65″ (D) | 58 cm (W) x 55 cm (D)
Backrest width x height: 23.23″ (W) x 34.21″ (H) | 56.4 cm (W) x 86.8 cm (H)
Floor to seat range: 18.35″ to 20.59″ | 46.6-52 cm
Size rating: fits people 5'9″ to 6'11" tall; 440-pound weight capacity (175-210 cm; 200 kg)
Bottom line: at its clearance sale price, the Kaiser 2 Series offers pretty good value.
Kaiser Series from AndaSeat $399.99
Also available on Amazon for Price not available.
Conclusion
For the past few years, Anda Seat has stumbled through haphazard development. Annually, a bunch of random new chairs would launch and then quickly get discontinued.
Thankfully, Anda Seat's 2022 evolution looks headed towards stability. The Kaiser Series 3 is its new flagship. The Phantom 3 is a smaller, stripped-down version with prosumer features.
Moving forward, I'm hoping that Anda Seat develops its 2022 Series over the long term. For instance, new esports partners should use either a Kaiser or Phantom 3. As the line develops, we can look forward to new styles, features, and long-term evolution.
Bottom line: Anda Seat's Kaiser and Phantom 3 chairs give it a strong foundation for success in 2022. Meanwhile, there are tons of bargains in the bin as the company clears out its legacy series.
Legacy edition chairs are also available for cut-rate prices in the Anda Seat Amazon store.