Anda Seat is one of the gaming chair industry pioneers, in business since 2016. Today, it's a global operation, serving North American, European, Australian, and Asian markets. In 2022, the company has streamlined its collection to serve professional and prosumer needs across all size ranges. Here we review the best Anda Seat gaming chairs now available to buy online.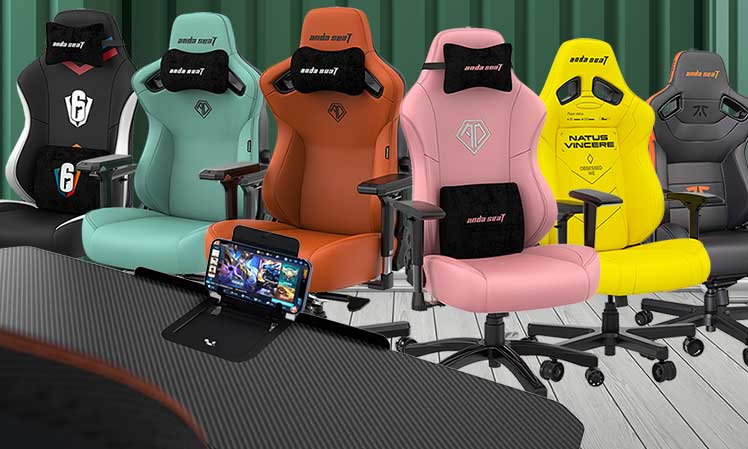 The biggest thing missing from Anda Seat's offerings in recent years was cohesion. Its sprawling premium chair collection simply put different upholsteries over the same frame. The collection seemed random and directionless.
To turn things around, Anda Seat took inspiration from Secretlab's industry-leading ways. Like Secretlab, Anda Seat's new collection is called the '2022 Series'.
What's more, the new Kaiser 3 Series is an almost exact copy of the Titan Evo 2022 Series. Luckily, Anda Seat has added some fresh ideas to set its version apart.
Review: Anda Seat 2022 Series
Anda Seat Esports Chairs
Anda Seat partners with two of the top-10 esports teams of all time. Recently, the company also signed a deal to provide chairs for Six Invitational 2022.
Legacy Series Bargain Clearance Deals
For the rest of this year, Anda Seat plans to phase out its legacy chairs and pump up its 2022 Series. To keep things moving, all are available for discounted prices. If you're looking for bargains, this section is for you.
Conclusion
For the past few years, Anda Seat has stumbled through haphazard development. Annually, a bunch of random new chairs would launch and then quickly get discontinued.
Thankfully, Anda Seat's 2022 evolution looks headed towards stability. The Kaiser Series 3 is its new flagship. The Phantom 3 is a smaller, stripped-down version with prosumer features.
Moving forward, I'm hoping that Anda Seat develops its 2022 Series over the long term. For instance, new esports partners should use either a Kaiser or Phantom 3. As the line develops, we can look forward to new styles, features, and long-term evolution.
Bottom line: Anda Seat's Kaiser and Phantom 3 chairs give it a strong foundation for success in 2022. Meanwhile, there are tons of bargains in the bin as the company clears out its legacy series.
Legacy edition chairs are also available for cut-rate prices in the Anda Seat Amazon store.