The Anda Seat T-Pro 2 Series is a line of luxury fabric gaming chairs available in blue, gray, or black. They're rated to support 440 pounds and sizes up to 6'8″. Even so, the seat is too narrow for thick bodies. Thus it works best for average-to-tall slim figures. Is this the right chair for your needs? Find out in this hands-on Anda Seat T-Pro 2 gaming chair review.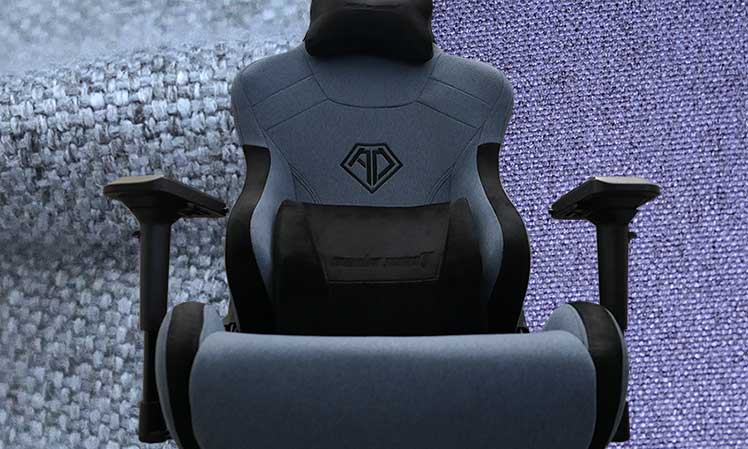 Anda Seat markets the T-Pro 2 as a big and tall gaming chair. According to specs, it supports up to 440 pounds and sizes 5'9″ to 6'8″. I stand 5'9″ with a slim build. So I was expecting the chair to be massive.
I paid a visit to my local dealer to compare Anda Seat models. When they cracked open a T-Pro 2 box, I was shocked at how small it looked! Is this really a big and tall gaming chair?
My 5'9″ frame fits well in the chair. My colleague Sean's 6'5″ frame is also a good fit. We're both slim. Thus, we can conclude that the T-Pro 2 chair lives up to its billing as a big and tall chair — for slim figures. But it would be more accurate to call it a chair for slim figures of average to tall height.
If that's a fit with your proportions, read on. If not, check out our Big And Tall Gaming Chair Reviews for properly wide seats.
Residents of the USA, UK, and EU can all buy the T-Pro 2 Series directly from Anda Seat. Chairs are also available on Amazon across all regions:
T-Pro 2 from AndaSeat.com $349.99
Also available on Amazon for Price not available.
And Seat T-Pro 2 Series Review
Here's a hands-on look at the T-Pro 2 chair's suitability as an ergonomic desk chair. These fabric gaming chairs are available in blue, gray, or black. Each includes an extra-large memory foam lumbar pillow and headrest. Both come with removable (machine-washable) velour covers.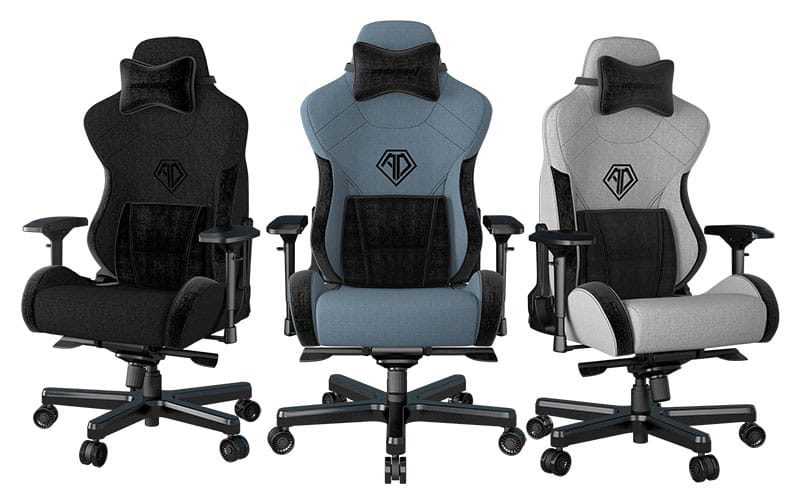 Quality of Upholstery
Last year, I tested a Secretlab Triple-Black SoftWeave chair. A few months ago, I also picked up a gray fabric Cookies and Cream chair. This time around, it made sense to give a blue fabric gaming chair a try.
Different colors reflect unique light energies. When these strike the eyes, they convert into impulses. That sends information to the hypothalamus. That part of the brain regulates body mood, temperature, sex drive, appetite, and more.
On the color spectrum, blue is a cool color with a calming, creative effect. It's believed to stimulate productivity while giving off stable, reliable energies. As a result, it's a common furniture color in corporate design.
Up close, the fabric's blue color is less vivid, resembling faded denim. It's a tight mesh weave of moderate thickness. It feels thicker than Secretlab 2020 Series fabric but thinner than its 2022 Series version.
T-Pro 2 Specifications
On paper, the T-Pro 2 chair's specs are impressive. In practice, the sizing formula sends mixed messages. For instance, one of the chair's selling points is that it supports up to 440 pounds.
Even so, the ridged seat edges restrict legroom for even my slim frame (5'9″, 170 pounds). For slim figures, these specs are best suited to slim figures of average height or taller. If you're shorter than 5'9″, the T-Pro 2's backrest is workable, but larger than ideal.
Functionality: 4D armrests; recline 90-160 degrees; multifunction tilt-lock.
Comfort: high-density padding; velour headrest; XL lumbar support pillow.
Fabric cover options: gray, blue, or black linen with black trim.
Warranty: two years, upgradable to 6-years (details).
Seat width x depth: 22.4″ (W) x 22.5″ (D)
Backrest height x width: 34.17″ (H), 23.82″ (W)
Seat height: 19.3-22″
Chair height: 51.7 to 57.3″
Size rating: 5'9″ to 6'8; 440-pound weight capacity
T-Pro 2 Usability
Out of the box, I found the chair itself a good fit for my 5'9″ frame. However, I was too short for the accessories.
The Headrest is For Tall People
The memory foam headrest is the firmest, nicest one I've ever seen! However, its straps are non-adjustable. You can stretch their elastic, but can't lengthen them.
As a result, it hits my skull, rather than the nape of my neck. I solved this temporarily by swapping it out with a Secretlab 2020 headrest. Later, I'll modify the Anda headrest pillow straps to make better use of them.
The Lumbar Support Is For Giants
The included memory foam lumbar support pillow is high quality. It has a machine-washable velour cover and fat edges that cradle your spine. But holy moly the thing is massive! Instead of filling my lower back curve, it hits the whole lower half of my spine like a giant paddle.
The point of a chair's lumbar support is to apply pressure to the lower back curve. Maintaining that curve while sitting is the key to sitting up straight. Using that logic, a giant slab that covers half your spine isn't helpful.
In fact, after around an hour of sitting like that, it felt painful. Luckily, I have a Secretlab uni-size lumbar pillow in the house. It's just a bit larger than your back curve, making it easy to position it into the right spot.
Later, I'll see if it's possible to 'hack' my Anda lumbar pillow to better fit my size. I'll update this article once that's done.
Usability Summary
Slim, restrictive seat: only suitable for slim figures.
Memory foam headrest: tight straps limit adjustability; suitable for sizes 5'10" and up.
XL lumbar pillow: way too large for a slim 5'9″ frame; offers good support for a 6'5″ frame.
Hacks for shorter sizes:
Alter the headrest straps to loosen for lower adjustability.
Cut down the memory foam pillow to better fit your spine.
Likes and Dislikes
Here are the pros and cons of the T-Pro 2 chair, from two user perspectives:
Likes
Good fit for tall, slim sizes: the Anda Seat T-Pro 2 proved an excellent fit for our 6'5″ model. He found the softer padding more comfortable than the firmer Titan XL. As well, he felt that the pillows were perfect for his size.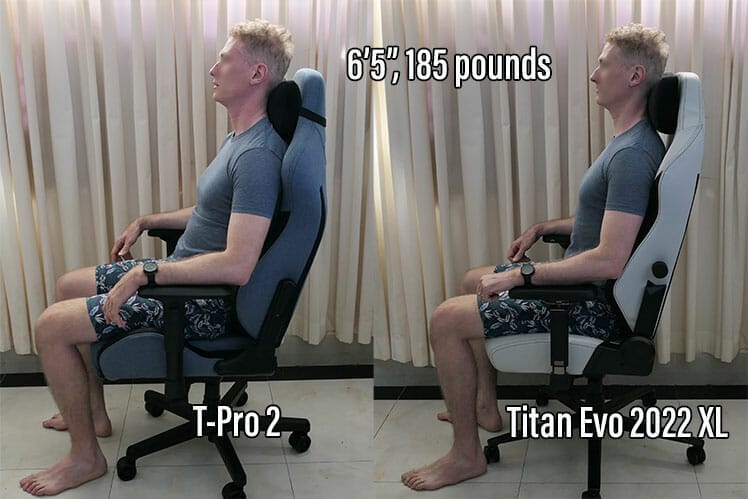 Workable fit for shorter sizes: my 5'9″ frame fit well in the chair itself was a good fit, but not the pillows. Even so, with hacks, I was able to make the chair work.
Solid build: the T-Pro 2 Series comes with fully-adjustable features in a solid, high-quality package. It's everything you could ask for in a premium gaming chair.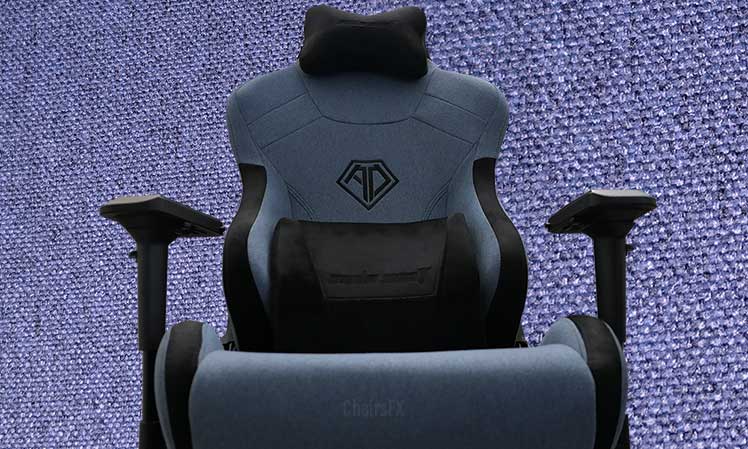 High-quality upholstery: the fabric upholstery feels soft, tough, and ultra-durable. The blue version blends well into my workspace, adding a soothing change of pace from neutral office colors.
High-end pillows: the XL pillows won't fit everyone. Even so, they're the highest-quality pillows I've seen. Both come stuffed with firm memory foam and removable velour covers. They're firm, plush, and exude quality.
Dislikes
After a few weeks of using this chair, here are my quibbles:
Limiting dimensions: the T-Pro 2 chair's dimensions could use improvement. First, a flat seat pan would better cater to thick sizes. As is, the seat offers decent width, although the bladed edges restrict legroom.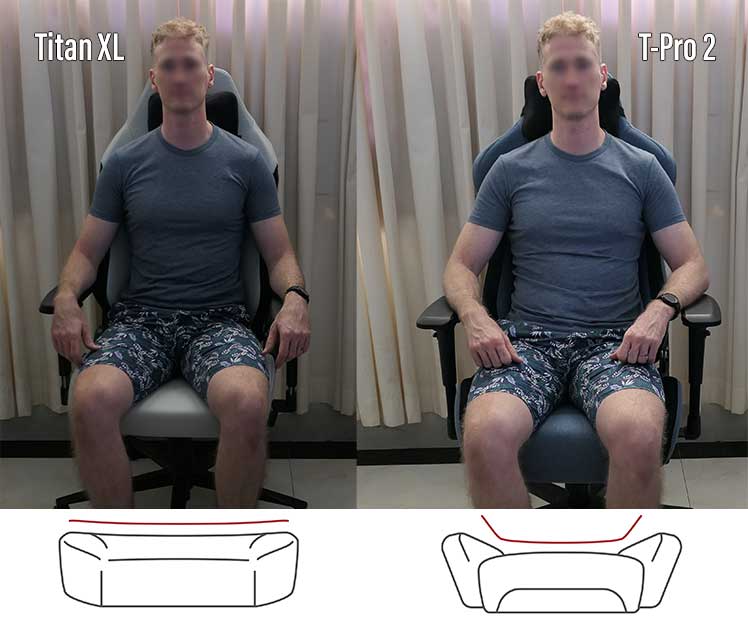 Poor pillow fit for short sizes: the straps on the headrest are non-adjustable and very tight. If you need to adjust the headrest lower, these don't work well. Even so, if you're willing to cut the straps, it's possible to lengthen, then sew them back into place.
The lumbar pillow is too large: our 6'5″ model found the lumbar pillow was a great fit. My 5'9″ found it too large to be usable.
T-Pro 2 Alternatives
Our tests show that the T-Pro 2 is a good fit for tall, slim sizes. Here are two big and tall gaming chair alternatives with wider seats:
Secretlab Titan Evo 2022
Secretlab's Titan Evo 2022 Series chairs come in small, medium, and XL sizes. Secretlab rates the Xl version for sizes 511″ to 6'9″. It fits our 6'5″ model like a glove. Surprisingly, it also gave my 5'9″ frame a near-perfect fit.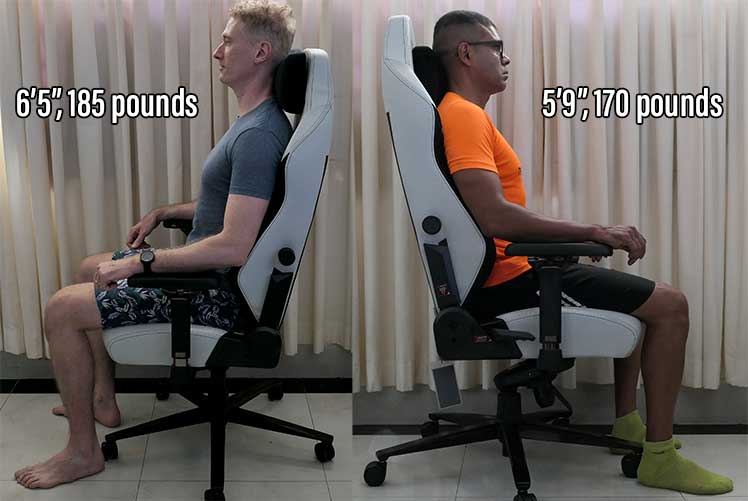 Looking closely at the seat specs, both are technically 22.4″ wide. However, because of the T-Pro 2 chair's bladed edges, there are only 17.3 inches of usable space. In comparison, the Titan's gentle edges make the entire 22.4″ space usable for thick legs.
| | | |
| --- | --- | --- |
| Dimensions | Titan XL | T-Pro 2 |
| Inner seat width | 14.5″ (37 cm) | 17.3″ (44 cm) |
| Total width (including edges) | 22.4″ (57 cm) | 22.4″ (57 cm) |
As well, the Titan XL offers better adjustability. It has an integrated lumbar support system that's both depth and height-adjustable. As well, its strapless, magnetic headrest pillow has an adjustment range of around 8 inches (20 cm). In comparison, the T-Pro's headrest range is around 4 inches (10 cm).
Under a macro lens, you can also see a difference in the woven fabric. Secretlab's 2022 Series SoftWeave uses an advanced method that loops each thread. In comparison, the T-Pro fabric uses a traditional basketweave.
Titan XL chairs come in eight different SoftWeave fabric styles. Check out this Secretlab SoftWeave Guide for a color theory analysis of each design.
Titan SoftWeave Triple Black (XL) $569
2022 Series Triple Black (small) $519 | 2022 Series Triple Black (medium) $519
.
AKRacing Master Series Max
The Master Series Max has premium features, a 5-year warranty, and support for 400 pounds. It also sports a flat seat pan that's wider than the T-Pro 2 and Titan XL.
It also has a lower-than-normal seat height range of 14.4″ to 17.25″. It's a great fit for thick sizes of short to medium height. However, the 17.25″ maximum seat height might be too low for those taller than 6'0″.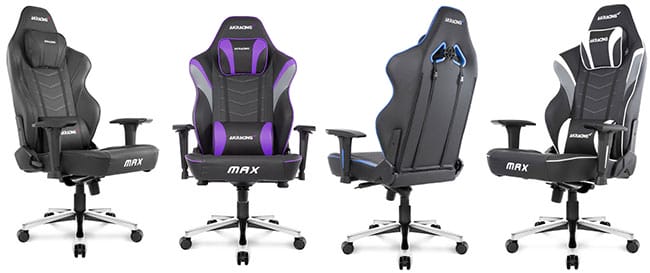 Beyond that quibble, this chair offers fantastic value and superb heavyweight support. Summary of specs:
Functionality: padded 4D adjustable armrests; recline to 180°; multifunction tilt-lock.
Comfort: extra wide seat; 70% more cold foam padding; lumbar cushion & neck support pillows.
Upholstery: breathable PU leather in black or black with colored trim.
Warranty: 5 years on parts; 10 years on the metal frame.
Seat width x depth: 23″ (W) x 20.3″ (D)
Backrest width x height: 24.4″ (W) x 34.2″ (H)
Floor to seat range: 14.4″ to 17.25″
Size rating: 5'7″ to 6'7″ and up to 400 pounds
Get a closer look at the specs in this Master Series Max Review. Here are the prices:
Masters Series Max from AKRacing $569
The Master Series Max is also available on Amazon for $460.72.
Summary and Conclusion
The Anda Seat T-Pro 2 chair is designed to fit tall, slim figures. It's also suitable for shorter sizes (using hacked accessories). Those in that range wanting a soft, luxurious, sitting experience should consider this chair.
It's comfortable, attractive, well-built, and supportive. On the downside, the chair's dimensions won't suit everyone. If you're extra-thick or extra-short, consider a different chair.
Reviewing this chair was a wild adventure. At first, I was amazed how small it was. Then, I lost myself in its cool, calming blue. Then, the weird fit of the XL accessories started to annoy me. Luckily, I was able to hack the chair to better meet my needs.
Now, I'm settled into a crisp upright posture while writing these words. It's as comfortable as I hoped it would be when I first decided to buy it.
Bottom line: if you're slim and 5'10" or taller, this chair should work well for you. If you're shorter and need adjustments, follow the suggested hacks to achieve perfection.
T-Pro 2 from AndaSeat.com $349.99
Also available on Amazon for Price not available.
Related Articles