Even though it's one of the largest countries, Canada has a small population. Compared to American and UK buyers, Canadians have the smallest selection of gaming chairs to choose from. Even so, there are plenty of solid options available. This article reviews the best gaming chairs available for delivery to Canada.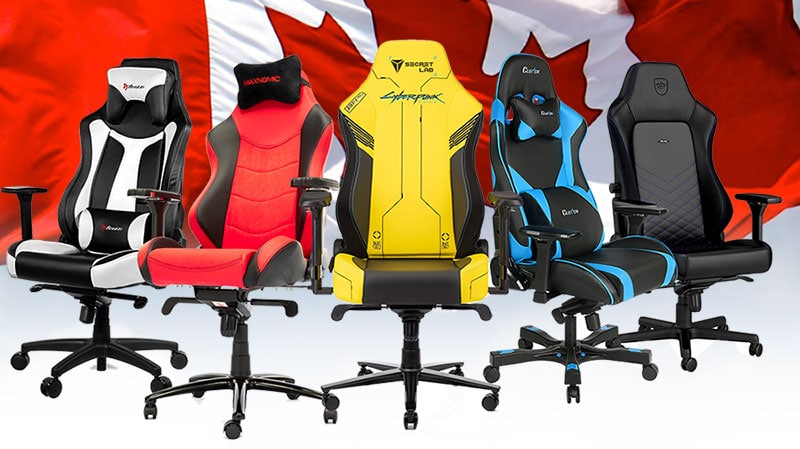 Buying a gaming chair in Canada is getting easier. These days, several top brands service the Canadian market. Some sell chairs directly and ship from their own warehouses.
For instance, Herman Miller has partner retailers nationwide, plus a Toronto showroom. Secretlab runs a Canadian distribution center in Ontario. Other brands sell chairs to Canadians through Amazon.ca. Most come with free shipping.
Best high-end brands available in Canada
Here are some of the best high-end gaming chairs available to Canadians, organized by brand. You can order any model online and have it delivered anywhere in Canada.
Best cheap chairs for Canadians
Beyond the high-end pro chairs, Amazon.ca offers a range of cheaper options for Canadians. Most (but not all) chairs in this range come with basic features.
Conclusion
This article covers nine gaming chair brands that sell chairs in Canada. Options range from high-end pro esports models to cheap chairs with basic ergonomic features.
The selection is smaller for Canadians than for Americans or UK residents. Even so, there are plenty of excellent chairs to choose from. Secretlab, Noblechairs, Maxnomic, and AKRacing make some of the best pro esports chairs in the world. On the lower end, brands like Von Racer and Killabee deliver great value for money.
Broadly, you should choose a high-end model to support full-time computing. For kids and part-time users, cheap chairs are less luxurious but still provide excellent back support.
If you live in Canada, choose the type that best suits your needs. That will help you to enjoy a healthier, more comfortable sitting experience.
Related Articles