The best Xmas gift anyone can receive is improved health and happiness. One of the most practical ways to deliver that is by giving someone a gaming chair for Xmas. Doing so will help the recipient to improve posture while they sit at a computer. That yields a domino effect of health, happiness, and productivity benefits. This holiday gift guide explores the best gaming chair packages of 2021 for the one you love – or for yourself!
The end of the year is a time to reflect on the past and look forward to the future. That's a big reason gaming chair sales spike every December.
These chairs support good posture over long periods of sitting. As the recipient rolls into the new year with their new chair, great things can happen.
A good gaming chair makes it easy to develop good posture while you sit. With good posture, one's health, happiness, and productivity will skyrocket. Well into the new year, it becomes a gift that keeps on giving.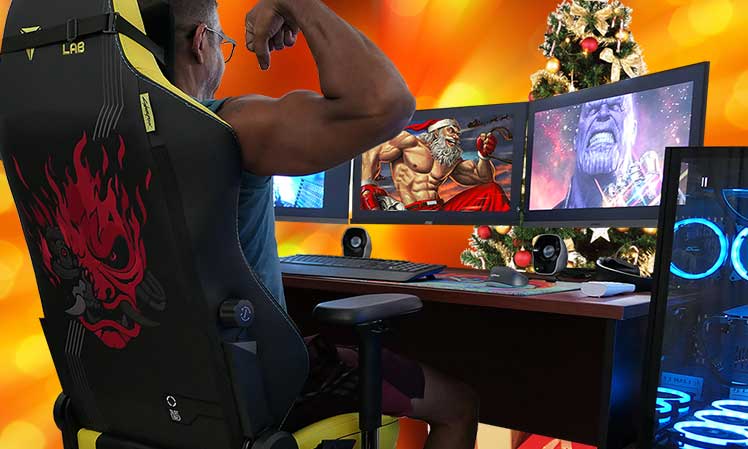 This guide's theme is improved health, happiness, and productivity for desk workers. The highlight of the gift pack is a good gaming or ergonomic office chair.
But no chair is perfect. To fill potential performance gaps, we've also added some important accessories.
Best Gaming Chairs For Holiday Gifts
For anyone who sits long periods at a desk, a gaming chair is a gift that keeps on giving. Chairs come in big, heavy boxes that can fit (imposingly) under a Xmas tree. When the recipient unwraps the box on Xmas morning, watch their face light up with delight!
When they crack the box open, watch them light up again! As they assemble their chair, you can bask in the glow of a very happy gift recipient.
But the fun doesn't stop there. In fact, you can watch the recipient light up with delight several times over the coming months:
Immediately: a mind-blowing Xmas surprise.
Short-term: temporary confusion and discomfort as the user finds their groove.
After a week: a life-changing shift to good sitting posture and the resulting benefits.
Next 1-5 years: users enjoy the ability to sit longer, feel better, and be more productive.
Our recommended chair picks range in price from $1600-$100. Take note that all support good posture over long periods.
Paying more gets you luxury extras like nicer upholstery, fancier tilt functions, and better durability. Paying less cuts out some luxuries but still delivers good posture support. Learn more in our Cheap vs Expensive Gaming Chair Comparison.
Bottom line: pay what you can afford and enjoy great benefits!
Best Gift Pack Gaming Chair Accessories
Adjustable gaming chair features are designed to accommodate various body types. Even so, problems can arise. That's where gaming chair accessories come in.
These fill gaps in gaming chair functionality to ensure optimal comfort and support. Here are some of the most useful:
Gaming Chair New Year Resolutions
The previous sections cover the best chairs and accessories to support healthy sitting. With those tools assembled, the next adventure is to develop a healthy sitting regimen.
At the end of the rainbow is a pot of gold brimming with improved health, happiness, and productivity. Fortunately, the path to the end of the rainbow is straightforward:
Conclusion
A gaming chair makes a perfect Xmas gift. It gives the recipient the tools they need to develop healthy sitting habits. With proper usage, these benefits will emerge over the coming months:
Improved posture and flexibility.
Reduced muscle strain.
Higher energy levels.
Improved mood and confidence.
Sharper focus while sitting at a desk.
Six months from now, this gift will keep on giving. As benefits kick in, watch the recipient's confidence, energy levels, and enthusiasm soar.
Along this trajectory, new opportunities for improvement will emerge. Learn more in this feature: