The E-Win Champion Series is a full-featured fabric gaming chair. It has 4D arms, adjustable lumbar support, multifunction tilt, and a deep-reclining backrest. It also comes with 400-pound support and a 2-year warranty. On top of that, it's a multi-sized chair. It supports slim and thick sizes from 5'3″ to 6'1″. But that's not all. Behold the only full-featured, multi-sized fabric gaming chair available for under $300!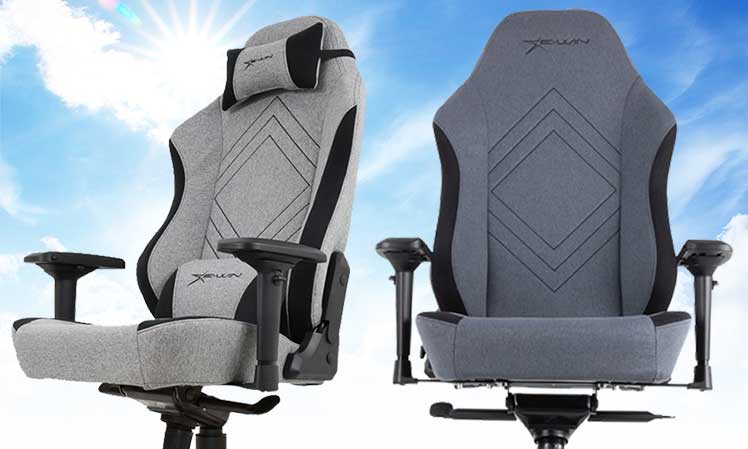 The E-Win Gaming Chair brand makes five gaming chair collections. All support at least 400 pounds and come with a 2-year warranty.
As well, all models also come with forward-leaning support functionality. On top of everything, all ChairsFX readers get 20% off on all E-Win gaming chairs.
20% off Coupon
Use the code
ChairsFX
to get 20% off any E-Win gaming chair. Using the code, the
CPG fabric edition
costs $295
$369
.
Champion Series CPG Fabric Chair Review
The E-Win Champion Series is a line of full-featured gaming chairs with affordable prices. All come with 4D armrests, a multifunction tilt-lock, support for 400 pounds, and more.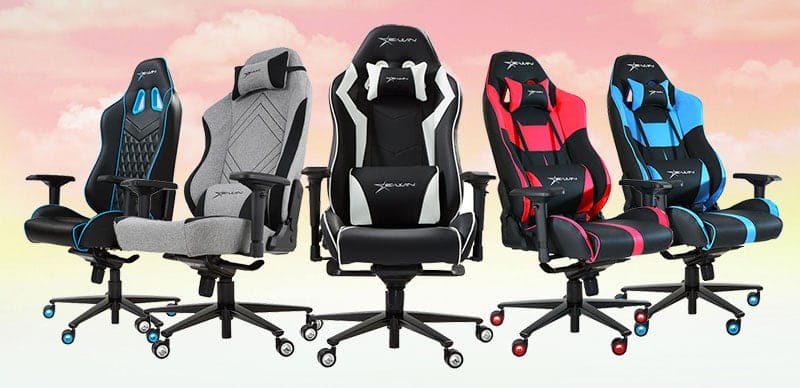 It's a sprawling collection containing eight models with 24 variations. The rest are racing-style chairs with bladed seat edges. The Champion CPG differs with flat seat edges and three fabric styles: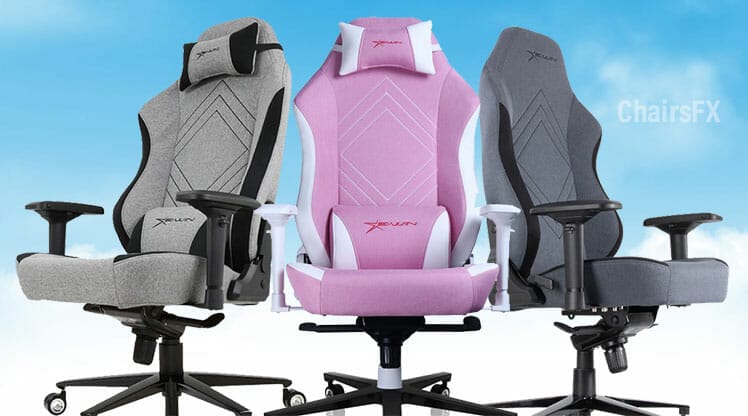 In our review of the best fabric gaming chairs, the Champion CPG ranks third. Ahead of it are the pricey Secretlab Titan and Razer Iskur fabric chairs. Here's how the three compare:
E-Win Champion CPG
Titan EVO medium
Razer Iskur
Fabric style choices
3
11
1
Lumbar support
External lumbar pillow
Height x depth-adjustable
Flip-up lumbar lip
Armrests
4D
4D
4D
Recline
85-155°
85-165°
90-139°
Seat
20.9″ (W) x

19.3″ (D)

18.5″ (W) x

19.3″ (D)

15.3″ (W) x

18.3″ (D)

Backrest
21.7″(W) x 37.8″ (H)
21″ (W) x 33.5″ (H)
20″(W) x 32″ (H)
Seat height
15″ to 18.9″
17.7″ to 20.5″
16.5″ to 20.4″
Size rating
5'3″ to 6'1″; 240 pounds
5'7″ to 6'2″; 285 pounds
5'6″ to 6'2″; 299 pounds
Warranty
2 years
5 years
3 years
Price
$295 $369 from E-Win (use code CHAIRSFX)
$549 from Secretlab
$499 from Razer
Find below a closer look at the Champion CPG chair's specifications:
Champion CPG Features
The Champion Series CPG Fabric Gaming Chair has the same rich features as all Champion Series chairs. All models support at least 400 pounds and also come with forward-leaning support.
The backrest can recline forward by five degrees to an 85-degree angle. That comes in especially handy during intense gaming. Instead of hunching forward, you can angle the backrest to keep your back supported.
Within the Champion Series collection, CPG Fabric editions are unique. Other models have racing-style PU leather designs. They also come with bladed seat edges designed to restrict legroom.

In comparison, CPG versions differ with breathable fabric upholstery. These are plain styles designed to blend in rather than stand out.
Beyond the upholstery, CPG editions also have flat, wide seats. Unlike typical ridged gaming seats, these provide plenty of legroom.
Extra-wide sizes will enjoy a comfortable and supportive fit. Smaller sizes can enjoy the same, with enough room to sit cross-legged.
Summary of Features
Functionality: 4D armrests; recline from 85° to 155°; seat angle tilt-lock.
Padding: high-quality cold-cured foam.
Upholstery: breathable woven fabric in two colors.
Warranty: two years on parts, 10 years on the frame.
Champion Fabric Chair from E-Win $295 $369
Use the coupon code ChairsFX to get a 20% discount from EWinRacing.com.
Dimensions
The Champion Series CPG is a diverse chair suitable for a wide range of styles. Two aspects stand out. First, the seat is wide enough for XL sizes, while still usable for average sizes.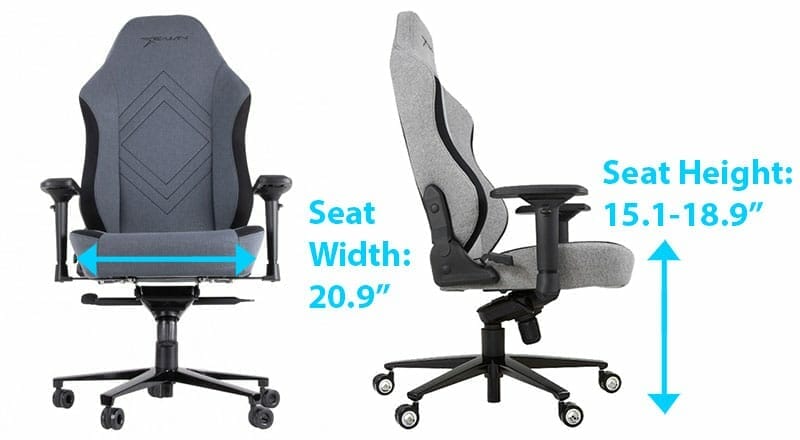 Second, the seat height adjustment range is around two inches lower than standard gaming chairs. That makes this model ideal for shorter, wider users.
We've confirmed with E-Win that their specifications count the total seat depth (including the part occupied by the backrest). It lists the CPG chair's total seat as 21.7″ deep; it's usable seat depth is 19.4″.
But the total usable depth doesn't factor in the lumbar pillow. When in use, that will push the user away from the backrest by 1-2 inches. That makes the usable seat space with a pillow around 18″.
Seat width x depth: 20.9″ (W) x 21.7″

19.4″

(D)
Backrest width x height: 21.7″ (W) x 37.8″ (H)
Floor to seat range: 15-18.9″
Size rating: 5'3″ to 6'1″; 400-pound weight capacity
Pros and cons
The Champion Series CPG fabric edition offers luxurious qualities for a reasonable price. Luxury extras include a multifunction tilt-lock and colored hub-less caster wheels.

The former lets you tilt and lock the seat at angles. The latter gives these chairs an extra touch of sleek style.
Pros
Flat, spacious seat
Cool, breathable fabric upholstery
2-year warranty
Premium ergonomic features
Cons
Shorter warranty than the Titan
Availability issues in the past (resolved)
For most of 2020, we hesitated to review these models because they were often out of stock. Luckily, that is no longer the case. Chairs are in stock for the long haul and ready for delivery.
Thus, we've only got one quibble about this chair. The seat height range (15-18.9″) is quite low. That's great for short people, but not ideal for taller sizes.
Conclusion
The E-Win Champion Series offers one of the best values on the market. Beyond its soft, breathable fabric upholstery, it also comes stacked with rich ergonomic features.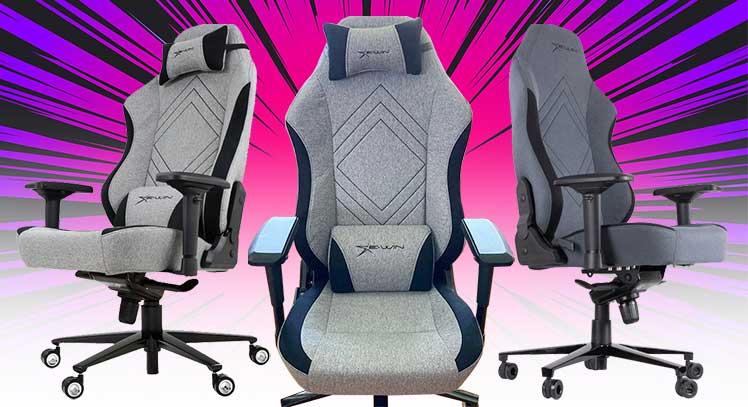 On top of that, it has a wide seat style and support for 400 pounds. At its retail sales price, it offers great value for money. Using the coupon code ChairsFX for 20% off makes it an even better deal.
It's large, luxurious, full-featured, and affordable. As a luxurious work-from-home throne, few gaming chairs can measure up.
Champion Fabric Chair from E-Win $295 $369
Browse the entire Champion Series collection on EWinRacing.com.