The first key to success with a gaming chair is having the right fit for your size. The second: have the right ergonomics to support neutral postures. The E-Win Knight Series is the only multi-sized gaming chair available under $200 that does both. With legit support for sizes 5'4″ to 6'1″ and up to 400 pounds, it easily ranks as the best cheap gaming chair under $200 on the market in 2023.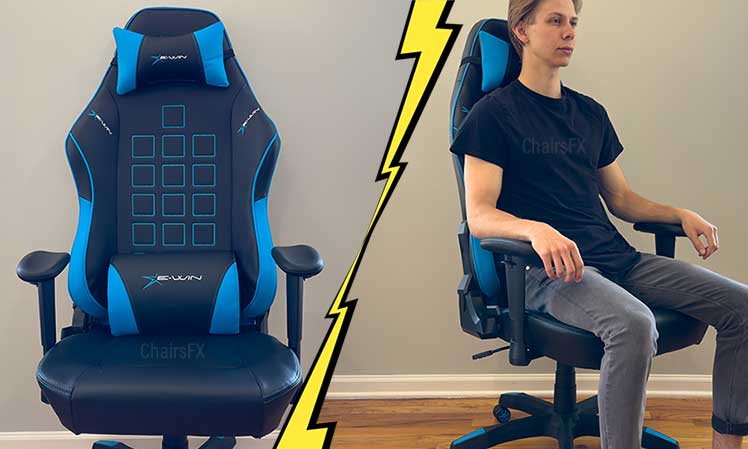 Since 2015, E-Win has been making affordable gaming chairs with unique selling points. All E-Win chairs support 400 pounds or more with a 2-year warranty. The Knight Series is the cheapest in the collection.
Other E-Win chairs come fully-loaded (4D arms and multi-function tilt locks). In contrast, the Knight is a starter chair with basic 2D arms and a standard tilt (rock or lock upright).
This makes for a powerful ergonomic starter pack. It has similar features (2D arms, standard tilt) as other popular gaming chairs under $200. Its 2-year warranty beats the 1-year protections of others. But what truly sets the Knight apart is its sizing.
E-Win rates this chair for sizes 5'3″ to 6'1″ with support for 400 pounds. Based on our tests, this range is legit. This makes it the only cheap gaming chair that supports short, tall, thin, and fat users in a single package.
Knight Series from E-Win $183 $229
Use the code CHAIRSFX to get 20% off the Knight Series from E-Win
E-Win Knight Series Review
Cheap gaming chairs are best-suited to first-time ergonomic chair users. They're fully-ergonomic per institutional standards but easy to use. Most top models under $200 serve up 2D arms, a 1-year warranty, and a reclining backrest.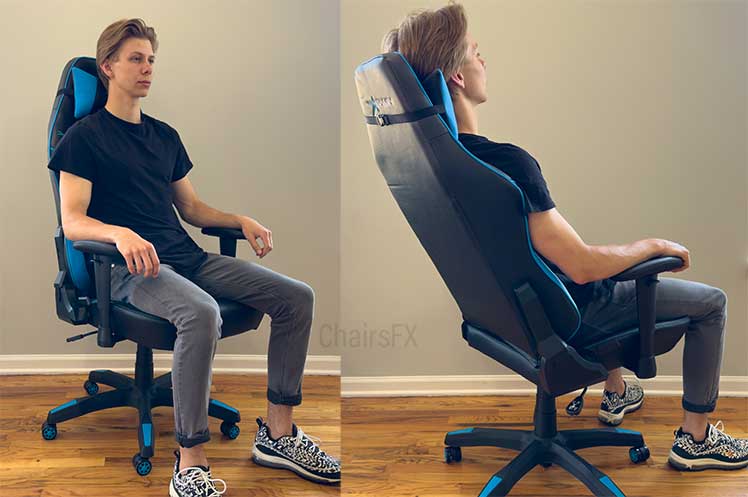 The Knight serves up a similar kit with a 2-year warranty. But unlike the cookie-cutter builds of the others, E-Win adds some functional and sizing enhancements.
Knight Series Chair Alternatives
This review reveals the Knight Series as a legit multi-size gaming chair priced under $200. Alternatives depend on the size of chair that you're looking for.
Conclusion: Best Cheap Multi-Size Chair
A cheap gaming chair is an ideal starter model for first-time ergonomic chair users. Its point: to support good posture for long periods of computing. To achieve that, it's important to start with a chair that fits.
That's easier said than done. One problem is that there are so many different body types out there. Another: first-time ergonomic chair users can easily get overwhelmed by information overload.
This is why the E-Win Knight Series ranks as the best cheap gaming chair under $200. Based on global size averages, a 'tall' person is one over 6'2″.
The Knight fits everyone under that range: average sizes 6'1″ all the way down to 5'4″. It doesn't matter if you have a slim figure or a fat one — its seat width has you covered.
It's also super-easy to use. Set the recline to around 100°; set the seat height so your hips are slightly higher than your knees.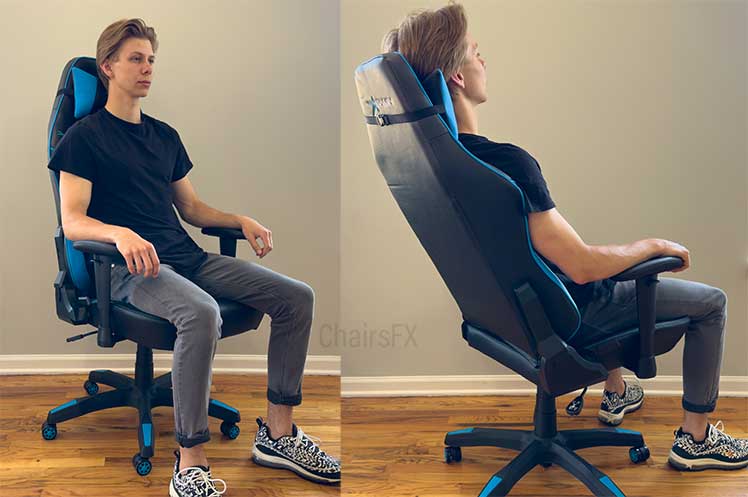 Then sit down in the chair by tucking your hips deep into the seat. Plant your feet and adjust your lumbar pillow to support you just above the beltline. It's that easy to achieve good posture in this chair.
Knight Series from E-Win $183 $229
Use the code CHAIRSFX to get 20% off the Knight Series from E-Win