Fantasylab gaming chairs were originally made by a company called Killabee. These chairs are also sometimes sold under the 'Von Racer' brand name. In 2023, Fantasylab makes four affordable gaming chairs with 400+ pound support. Von Racer (made by the same company) chips in with a 440-pound supporting variation. Looking for big and tall gaming chairs priced under $300? This review covers the best Fantasylab gaming chairs (and a Von Racer variant) available right now.
In 2023, Fantasylab sells four big and tall gaming chairs on Amazon. Some are suitable for wide, average sizes; others are a better fit for big and tall tall sizes.
All models have wide seats that suit slim to extra-thick sizes. However, as outlined in our Ergonomic Seating Sizing Guide, the key to a good fit is the depth of the seat.
For instance, a person sized 5'5″ needs a maximum seat depth of 20″. A seat that's too deep will pull the knees forward. That will set off a chain reaction of misalignments that destroy good posture instead of supporting it.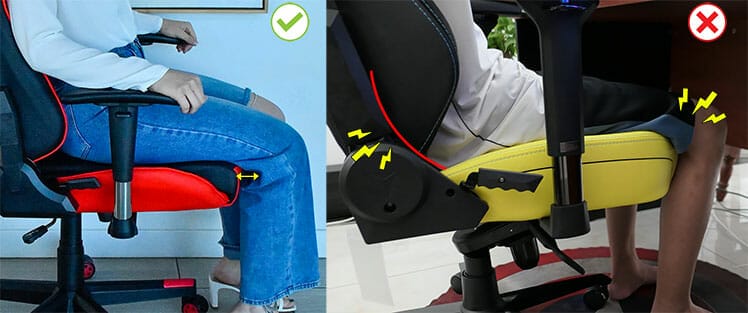 This review sets ChairsFX recommended size ratings based on the depth of each seat. Using these guidelines, it's easy to determine which Fantasylab chair is right (or wrong) for your particular size.
Full-featured Fantasylab Gaming Chairs
All Fantasylab and Von Racer chairs in this review support at least 400 pounds. Each also comes with a 1-year warranty.

Full-featured versions come with 4D armrests and a multifunction tilt lock. That lets you rock the chair, lock it upright, or lock the seat at angles.
Prosumer 400-Pound Fantasylab Chairs
Prosumer chairs have lesser features than premium ones. One model has 3D arms; the other has fixed (non-adjustable ones). Both of the following chairs also have standard (not multifunction) tilt. That means you can rock the chair or lock it upright — but not lock at tilted angles.
Conclusion
In 2023, all Fantasylab and Von Racer XL gaming chairs cost less than $350. Minus the gimmicky Guardrail Armrest version, the rest are all cheaper than $300. Each comes guaranteed for one year.
A few competing models offer similar 400+ pound support with two-year warranties. To browse all 400-pound supporting options under $300, see this:
Best Under $300 XL Gaming Chairs For Big Guys Up To 440 Lbs
Browse all Fantasylab chairs on Amazon