Most cheap gaming chairs cut corners wherever possible to keep costs low. One popular method is to make smaller chairs, thus using less materials. That's one reason why so many cheap gaming chairs have narrow seats. But now, wide-bottomed people can join the cheap gaming chair party. Below are the best cheap gaming chairs with extra-wide seats for large bodies.
The best-selling cheap gaming chairs in 2020 are all compact models for kids or slim adults. Most have bladed edges that restrict leg movement.
Those with thick legs or wide hips may find chairs with bladed edges painful. Luckily, instead of splashing out on a pricey bing and tall gaming chair, cheaper alternatives exist.
Cheap gaming chairs with wide seats are more comfortable over long periods of use. For instance, smaller users can sit cross-legged in these chairs. Wider bodies will enjoy a relaxed fit.
That makes wide-seat chairs a good choice for shared workstations. For example, as a shared computer in your home. Your whole family can enjoy good back support while taking turns using one of these chairs.
Cheap gaming chairs with flat seats
Here are our current picks for the best cheap gaming chairs with wide seats.
Other large sized alternatives
For other gaming chairs with wide seats, check out our review of the world's best big and tall chairs. Those models support up to 440 pounds and come in a range of prices, from luxurious to basic. You'll notice some models overlap between that review and this one. This should give you a solid look at what's out there for big and tall users.
BEST big & tall gaming chairs for heavyweights
Conclusion
It's important to choose the right-sized gaming chair to gain the best ergonomic benefits.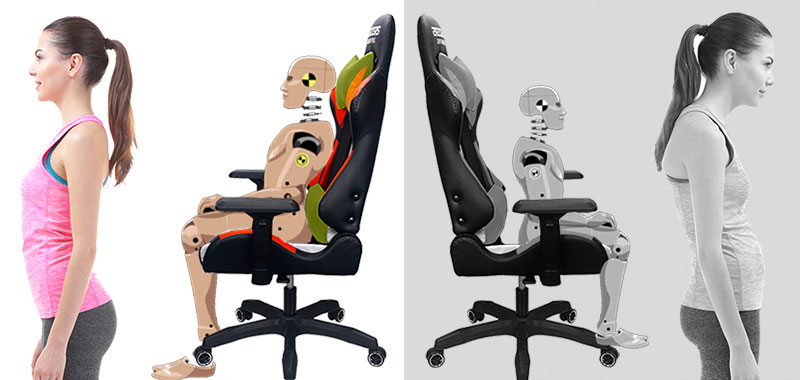 People of average height but above-average width can struggle to find the best fit. Most cheap gaming chairs are slim-fitting models. In contrast, most big and tall gaming chairs cater to people over six feet tall.
This is where cheap gaming chairs with wide seats fit in. These offer spacious dimensions and better features than typical cheap gaming chairs.