A standard gaming chair is designed to support good posture for long periods of sitting at a desk. A gaming chair with a footrest adds an extra relaxation element. These chairs come with a footrest that folds under the seat while you do deskwork. When it's time to relax, retract the footrest and kick up your feet! Looking for a gaming recliner? Here we review the best footrest gaming chairs on the market in 2023.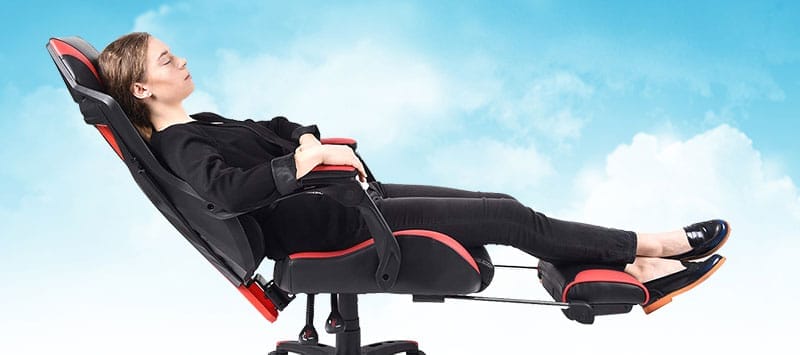 Sitting with a footrest raises your feet off the floor. Elevated feet + a supported lumbar spine + knees bent beyond 90° reduces the power absorbed by the seat.
This position 'hacks' gravity. Instead of gravity pulling your torso downward, it curls through the hips and into the spine. With lumbar support in place, that lets desk workers enjoy comfortable, effortless posture for long periods.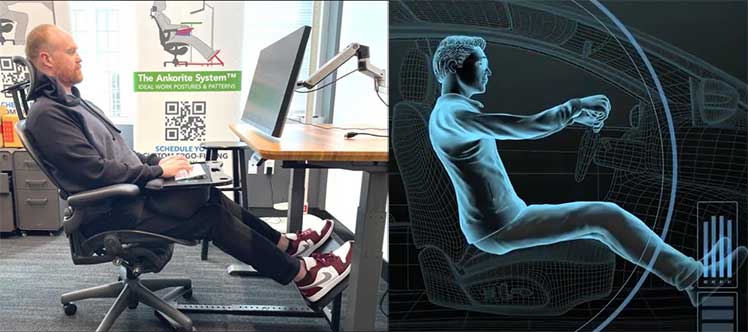 What Is A Footrest Gaming Chair?
A gaming chair with a footrest can be used in two ways. With the footrest folded under the seat, it works as an ergonomic desk chair. With the footrest retracted, it serves the same purpose as a living room recliner.

You can use one to take a nap, read a book, or play console video games in your living room. When playtime is over, retract the footrest and use it as a PC desk chair.
Best Living Room Footrest Game Chairs
Two features make this style of chair optimal for use in the living room. First, living room footrest chairs come with fixed armrests. When sitting at a desk, adjustable armrests help to sync your chair and body with the desk height.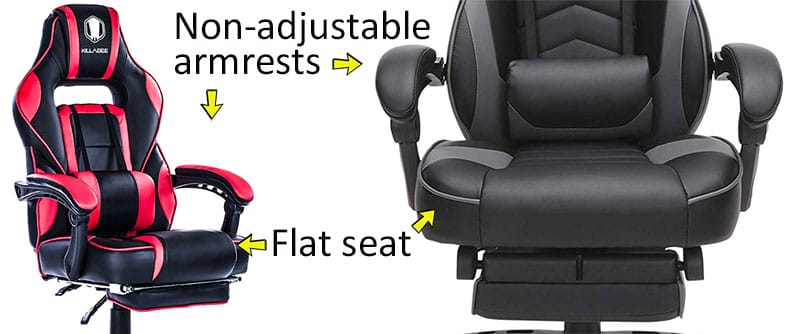 But in a living room without a desk, you don't need adjustable armrests. Second, most of these models have flat, wide seats. Typical racing-style chair seats come with ridged edges that restrict leg movement. Flat seat edges do the opposite, providing enough room to sit cross-legged.

If you use an Xbox or PS5 in the living room, these provide better back support than console gaming seats. Thus you can enjoy La-Z-Boy-style reclining with good posture and healthy benefits.
Living Room Footrest Chair Rankings 2023
Choose whichever you fancy based on styling, price, or the appropriate sizing for your needs. All prices are from Amazon:
Office Style Footrest Gaming Chairs
These models differ from the preceding ones with adjustable armrests. That makes them better suited for office-style computing. With the footrest folded under the seat, they work like typical ergonomic desk chairs.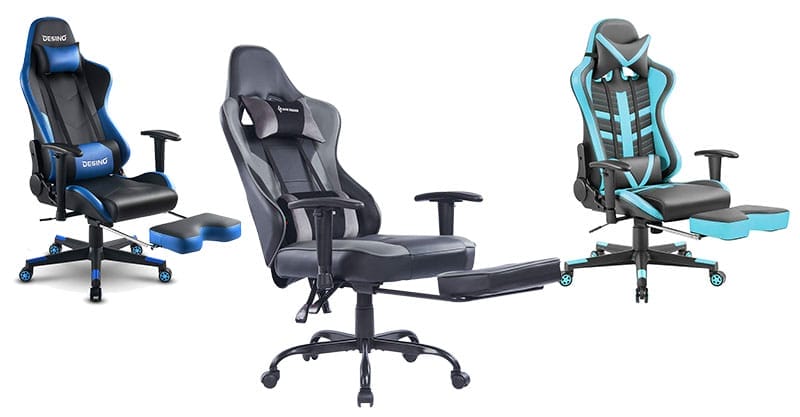 These models are a bit more expensive than the preceding living room chairs. That typically buys users better armrest adjustability, nicer styling, or longer warranties. Listed prices are from Amazon:
More About Footrest Gaming Chairs
Is a gaming chair with a footrest right for you? Here are some points to consider:
CONCLUSION
Gaming chairs with footrests are designed for first-time gaming chair users. The top-rated models in this review have a few things in common. Most come with basic features, 1-year warranties (or less), and prices under $250.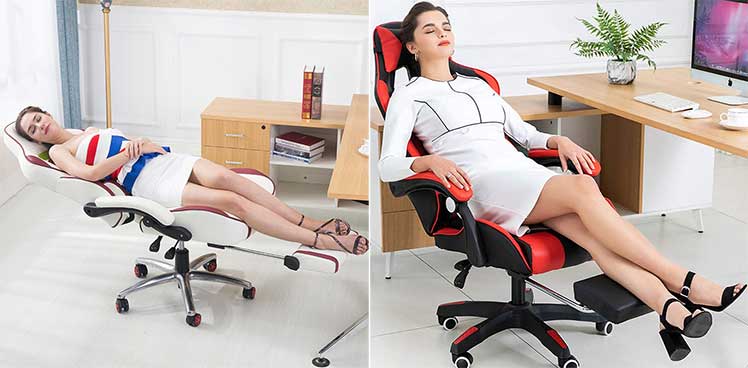 If sitting in a deep recline is a priority, these chairs are for you. For instance, if you spend a lot of time playing video games on a sofa, a footrest chair provides a healthier alternative.
When it's time to relax, simply put your feet up and ease back into super comfy La-Z-Boy style reclining.