Based out of a factory an hour west of Shanghai , Elecwish is a furniture manufacturer. They make office chairs, patio furniture, bathroom vanities and gaming chairs. This article reviews the Elecwish gaming chair. This is actually an entire line of full featured office gaming chairs.
All models cost less than $200. They all come packed with features. First, there is a La-Z-Boy style footrest. Second, all chairs provide support for up to 330 pounds. Third, Elecwish chairs have various reclining modes, from upright to relaxed positions. Finally, all support proper posture for long hours of gaming or working.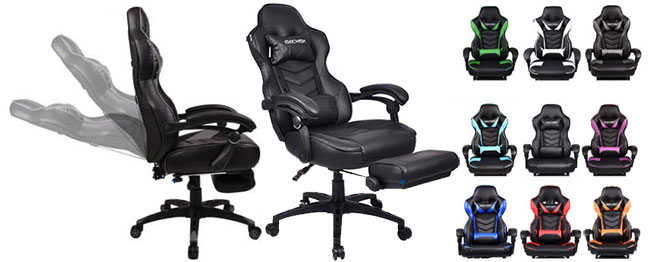 For a modern gamer, freelance programmer, or streamer, the office is also the studio, at least in most cases. Do you want to feel comfortable and save some money? If yes, it's worthwhile to consider an all-in-one chair like the Elecwish.
The design looks cool on a Twitch stream, yet professional enough for a video conference. Plus you get excellent ergonomic support with many and customization features. These accommodate many positions that support everything from sleeping to working.
Elecwish Gaming Chair OVERVIEW
All models in this product line support up to 330 pounds – even in full recline with the footrest extended. That should give you an idea of how solid these gaming chairs are. Outside of the cheapest model, all recline to 170 degrees.
These features are shared among all chairs:
Comes with a super sturdy retractable footrest
Fits all sizes from small to tall; to as heavy as 330 pounds
SGS gas-powered lift
Removable neck and lumbar support pillows (these ensure proper ergonomics)
5-star certified base with smooth rolling casters
One year limited warranty
Pros and Cons
Price and versatility of these chairs are among the positives. On the downside are durability issues, compared to high-end gaming chairs. Below we expand on these points.
Positives
Decent quality PU leather upholstery.
Excellent performance for the price.
Suitable for all sizes.
Cons
Not as rugged or durable as more expensive chairs.
The padding will degrade with heavy use. If the padding were of slightly higher quality, these chairs could last much longer.
Browse all Elecwish Gaming Chairs
Elecwish Racing Chair models
Comfort, style, adjustability, and unbeatable pricing. This is what best describes Elecwish office gaming chairs. Below we summarize the entire line of the best Elecwish chairs:
Standard Model
The flagship Elecwish gaming chair is available in eight color schemes. It features an extra-wide seat, rock-solid performance and delivers with free shipping.
Premium Edition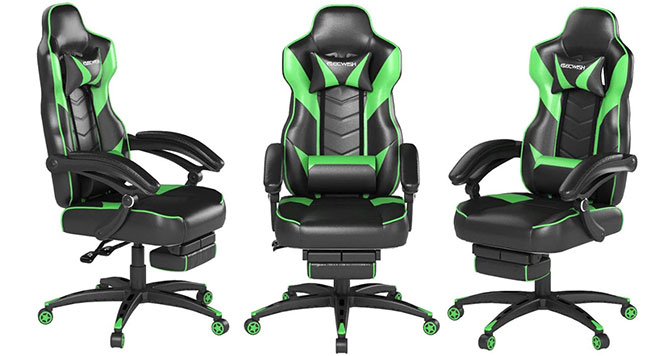 Designed for high achievers, the premium model packs in upgrades. The first upgrade is the higher quality PU leather upholstery. The second is extra padding on the armrests. The third is a improved cold foam padding that gives a noticeable splash of luxury on top of the standard model. This model comes with free shipping and is available in eight color combinations.
Luxury Massage Model
The luxury Elecwish model supports 300 pounds. It comes with their highest quality blend of PU leather. Plus it has denser foam padding that retains it's shape longer. Finally the lumbar cushion comes with a USB-powered massage unit. It lets you lean back with perfect posture while enjoying a gentle neck massage. This model delivers with free shipping.
Ultra modern edition
This is next evolution in Elecwish gaming chair design. It's a 2019 design alternative that comes in five different color combinations. The key upgrade is the third-generation antioxidant PU leather blend. This offers better durability and increased comfort. This model supports 300 pounds. It includes free shipping plus a limited 2-year warranty.
Elecwish Gaming Chair: BUYING ADVICE
The main reason to buy a gaming chair is for the ergonomic benefits. If you spend long hours sitting, a gaming chair is a good investment.
Elecwish gaming chairs are in the budget price range. Actually, both budget and premium gaming chairs give the same level of back support.
Elecwish gaming chairs are in the budget price range. Actually, both budget and premium gaming chairs give the same level of back support.
What you miss out on with budget chairs like Elecwish is luxury and durability. Premium chairs are more comfortable, come with more features and much more durable.
If you don't mind losing those premium extras, the Elecwish gaming chair is a perfect model to consider.
Who should buy an Elecwish gaming chair?
The Elecwish office gaming chair suits two categories of people. First, those who game all day. Also, those who work at a computer. Designers, programmers, hardcore gamer and more will enjoy these chairs.
If you're not the type of person to maintain a proper back position while gaming, Elecwish chairs can help. You can also get it if you like extending your feet from time to time or for watching movies in a reclined position.
Also, the allows free range of motion, which is always a nice plus.
What's included?
The Elecwish office gaming chair has simple accessories. Here's what you get with the chair:
Removable neck and lumbar support pillows
Thickly padded racing seat
Adjustable armrests
Retractable footrest
5-point base with smooth rolling casters
Overview of features
Starting off with the design, it's hard not to notice the wide and extra padded seat cushion. It can accommodate a wide range of individuals. The racing backrest looks cool but not ostentatious, which is why the chair can work as an office chair too.
The adjustable arms angle downward. You get enough length while holding a joystick or using a mouse and keyboard. You can also let your hands go and relax while watching a movie or taking a conference call.
The backrest features a classic neck support pillow (removable).
Footrest
The footrest is a key selling point. It extends forward from underneath the seat. To bring it forward, you have to recline first. This may not be ideal for everyone but it makes things easier. You won't have to reach underneath to find a knob or lever.
The five-point base offers good support. The strong frame is suitable even for people with bulky builds. The wide backrest also provides comfort and stability when reclining.
What's also a plus is the color variety. The Elecwish office gaming chair makes it easy for you to mix and match the chair's colors to the décor in your gaming room. You can go for a professional look or a sporty look.
And, you can even choose to get rid of the cushions on the backrest and get it with a net instead. This would allow even better air circulation which is a luxury during summer.
How to use the Elecwish gaming chair
There are three things that you need to know about the chair if you're going to get the most out of it. You can push back against the backrest to recline it and to extend the footrest at the same time.
You can use the adjusting knob underneath the seat on your right to make height adjustments. Note that you still have to get out of the chair or put pressure on it to raise it.
The armrests are long enough to accommodate different positions and tasks. Last but not least, if you want to store it, the 5-point base is foldable.
For more about how to set up and use your chair, check out our multi-brand gaming chair user manual.
Elecwish gaming chair alternatives
Elecwish is a Chinese manufacturer. In China they have access to modern technology and cheap labor. They produce full featured low-cost gaming chairs.
Two other companies that fit in this bracket are Homall and GTRacing. Both offer similar lines of office gaming chairs that are also priced under $200.
For a full list of alternatives, check out our guide of the top-rated budget gaming chairs in the industry.
Buying advice
These chairs have impressive features. These include 360-degree rotation, 300+ pound weight limit, and 3.2" height adjustments. These foldable models spin, recline and also come with a nice hidden footrest.
The low price point and wide range of colors are also appealing. Elecwish makes great chairs for gamers and anyone with a desk job.