Versus fancy ergonomic chairs, the Elecwish Footrest Gaming Chair looks like a toy. Even so, it has ranked as one of Amazon's best-selling footrest gaming chairs for several years. This Elecwish Gaming Chair review explains its appeal for first-time ergo chair users.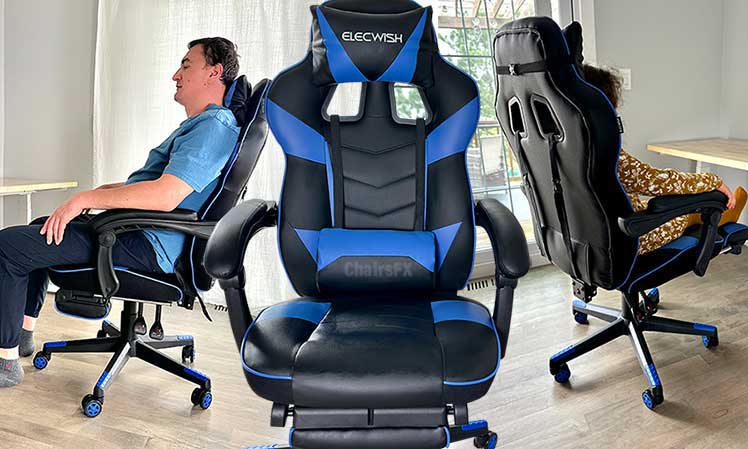 Based on institutional ergonomic guidelines, the Elecwish gaming chair is 'semi ergonomic'. Like fully-ergonomic chairs, it has adjustable lumbar support and a tilt-lock reclining backrest.
But fully ergonomic chairs also come with adjustable armrests. In contrast, the Elecwish has non-adjustable padded arms.
Against a flashy ($500+) Secretlab Titan gaming chair, it looks flimsy and toy-like — because it is! Secretlab Titan chairs are guaranteed for five years. In contrast, the Elecwish is only guaranteed for one.
So what's the appeal of a flimsy, toy-like, semi-ergonomic chair — besides its low price? Keep reading to find out.
Elecwish Footrest Chair on Amazon $159.99
Elecwish Footrest Gaming Chair Review
In 2023, ergonomic seating remains a niche item for savvy users. The majority of the world's desk workers are still slumping in non-adjustable office chairs. Making the upgrade to ergonomic support is well worth it.

But starting off with a fancy, expensive ergonomic chair isn't prudent. How will you know it's the best if you have nothing to compare it to? This is where racing-style gaming chairs like the Elecwish come in.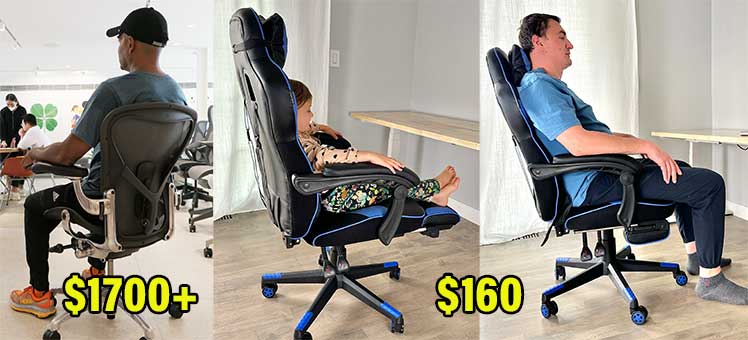 For families, the $160 Elecwish provides better value for money than a $1700+ Herman Miller Aeron chair. As an introduction to ergonomic seating, it's a cheap educational tool that the whole family can make use of.
It's rated to support sizes 5'5″ to 5'11" and up to 330 pounds. Its steel frame gives it a rugged, sturdy feel. It supports both upright deskwork and reclined, La-Z-Boy-style lounging.
Elecwish As An Ergonomic Office Chair
Our 6'1″ model is 2″ taller than the recommended 5'11" range for this chair. Even so, he found it easy to maintain a decent neutral sitting posture by following chair setting and usage instructions. Chair settings:
Set the seat height to position your hips slightly higher than your knees.
Adjust the backrest recline to a comfortable upright position of between 100-120°
Adjust the height of the lumbar pillow to fit slightly above your beltline.
After the chair was adjusted, we instructed him to tuck his hips deep into the seat, plant his feet, and try to sit straight. Here's the result:
Sitting with tucked hips, planted feet, and a supported lumbar spine are the keys to achieving a healthy neutral posture.

For beginners, the fat lumbar pillow is especially educational. Strapped to the backrest, it's always in the way and uncomfortable — unless when adjusted to fit slightly above the beltline. Then, it's comfortable and supportive.
Elecwish As A Footrest Recliner
There are a few ways to use the Elecwish chair with the footrest retracted with the backrest reclined. To kick back and relax, extend the footrest, set a deep recline, and lean back.

But you can also use footrest recline mode for activities like casual gaming or watching movies. In fact, many studies support reclined postures with elevated feet for deskwork.
Sitting with elevated feet and knees bent beyond 90° reduces the total power absorbed by the seat. When sitting upright, gravity pulls your body downward. But in a lumbar-supported recline, it curls through the hips and into the lower spine.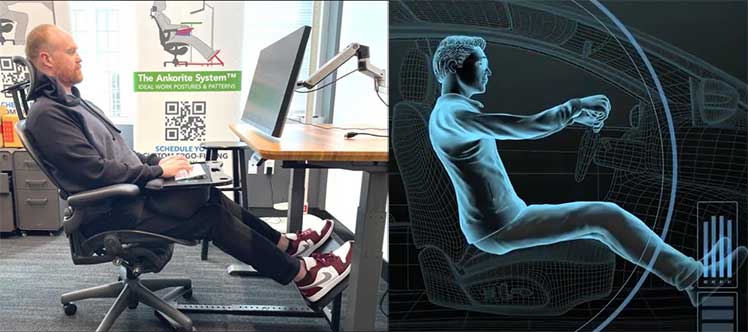 As a result, users can enjoy good posture by working in sync with gravity, rather than fighting against it. As one final benefit, footrest mode also delivers fun, semi-ergonomic seating for kids.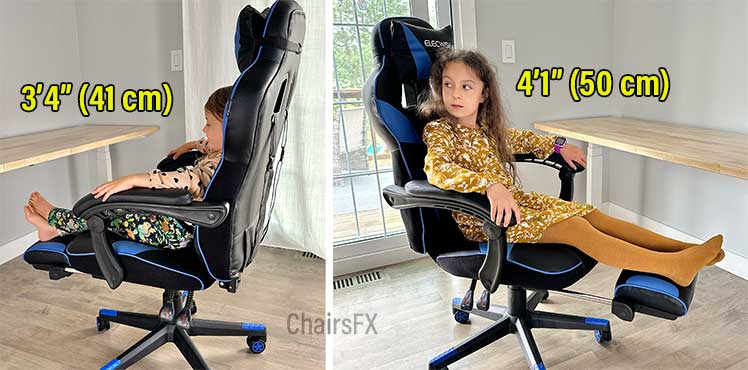 The chair is rated for sizes 5'5″ to 5'11". Shorter sizes won't get proper office chair use from this model. Even so, as a shared family chair, it provides decent support for everyone from 6'1″ dads to pint-sized ultra-short kiddies.
Elecwish Chair Functionality
The Elecwish chair has a USB-rechargeable massage unit stuffed into its lumbar pillow. Its controls are safely tucked under the seat. That's a nice safety touch for kids: controls out of the way ensure fingers don't get snagged in recline gears.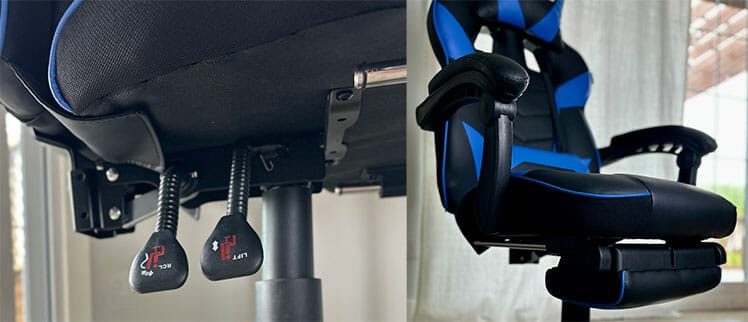 Other highlights include an adjustable seat height, a retractable footrest, and a 90-170° recline range. You can rock the chair, lock it upright, or lock at various angles between the two ranges.
Functionality: footrest; backrest recline to 170°; fixed armrests.
Upholstery: foam padding; PU leather seat and backrest
Support: adjustable neck and lumbar pillows on straps.
Extra: USB-powered massage unit stuffed inside the lumbar pillow.
Warranty: 1-year warranty.
Elecwish Classic Sizing
Elecwish Classic chairs have slim-fitting dimensions suitable for users of average height and below. Our 6'1″ model found the fit snug by usable for short periods.
For longer computing sessions, the limited seat depth would likely cause him discomfort. Those within the recommended range should enjoy decent support. Sizing specs:
Seat width & depth: 21.7″ (W) x 21.7″ (D)
Backrest height & width: 32.3″ (H), 21.7″ (W)
Floor to seat range: 18″ to 21.3″
Total height: 50.3″ to 53.6″
Size rating: 5'5″ to 5'11"; 330 pounds
Elecwish Vs Other Footrest Gaming Chairs
There are two types of footrest gaming chairs on market in 2023. 'Living room style' is what ChairsFX calls Elecwish-style models with fixed, non-adjustable arms. So 'office-style' are those with adjustable armrests.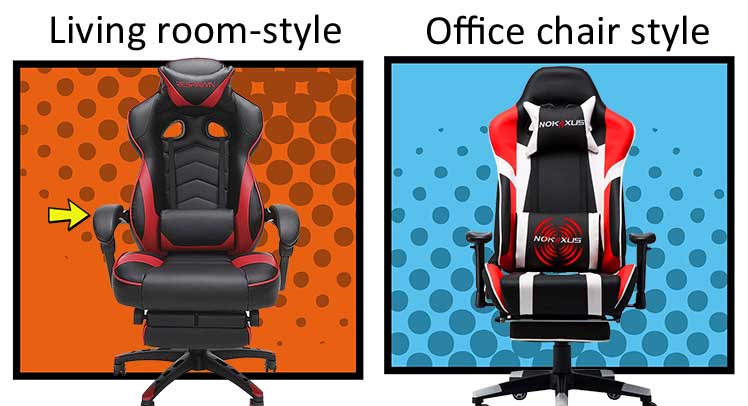 However, to support upright office work, all footrest gaming chairs are similar. They're all cheap gaming chairs stuffed with basic padding + sliding lumbar pillows + 1-year warranties.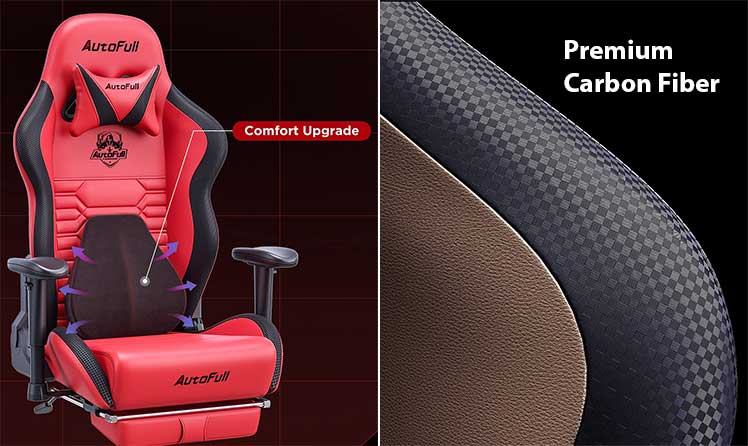 If you want a good office chair, buy one. If you want a versatile model to support the whole family on a budget, the Elecwish ranks #1 for two reasons.
First, the brand has remained consistently popular for years. That indicated a solid product with reliable after-care. Second, the Elecwish performs as well as other footrest gaming chairs for less money than competitors. Learn more:
Elecwish Gaming Chair Target Market
The Elecwish is a good starter ergonomic chair for families. Consider these facts:
Conclusion
The previous section outlined the conditions faced by today's computer-using American households. In sum, computer-based sedentary times are on the rise. Kids are spending 4+ hours each day inches towards severe spinal disc degeneration.
Meanwhile, money is tight. In America, per capita disposable income decreased by 6.4% in 2022. In 2023, while inflation remains high, the basic costs of living are expected to keep rising(6).
With all of these factors in mind, the Elecwish footrest gaming chair provides excellent value. It's cheap, versatile, and it supports good back posture.
While not as polished as fancy ergonomic chairs, its fat, clunky lumbar pillow is a great teacher of lumbar support biomechanical basics.
That explains its consistent popularity among Amazon's best-selling gaming chairs. As a cheap, versatile starter ergonomic chair for households, it delivers.
Elecwish Footrest Chair on Amazon $159.99
Elecwish also sells cheap office chairs and furniture. See the Elecwish Amazon store for details.
Footnotes