When we started reviewing gaming chairs in 2018, Elecwish chairs were very popular. Today, Elecwish gaming chairs remain among Amazon's best-sellers. In the 2021 collection, there are three standout models. This article reviews the three most prominent Elecwish chairs available on Amazon in 20201.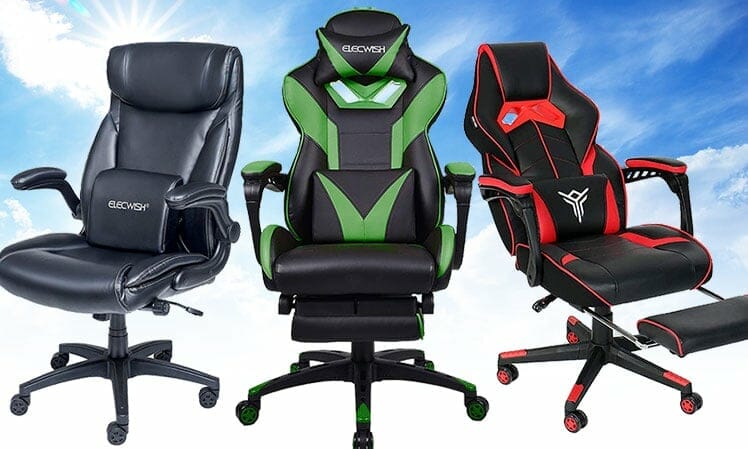 Elecwish chair popularity comes down to a few factors. For one thing, they're cheap: all models cost less than $200. Classic Elecwish chairs also come with a La-Z-Boy style retractable footrest. For another, among all models, ergonomic features include various reclining modes and adjustable lumbar support. Because of these features, Elecwish chairs do a good job supporting healthy posture over long periods of sitting.
Elecwish ergonomic chair collection
In 2021, there are three main chairs in the Elecwish collection. First is the long-time favorite Classic footrest chair. There's also a refreshed footrest edition with a more modern look, plus an ergonomic office chair. Here is a summary of all three models:
Elecwish gaming chair buying advice
Thinking about buying an Elecwish chair? Browse this section for tips before buying to ensure the best value for your money.
Conclusion
Elecwish is one of the oldest makers of footrest gaming chairs in the industry. They're cheap, comfortable, and support healthy sitting. In 2021, the top 3 Elecwish models offer reasonable value for money. In the cheap ergonomic chair classes, these Elecwish stands out as one of the most reliable brands.
If looking for a cheap footrest and part-time office chair, these models are worth considering. Elecwish sells chairs on Amazon to customers in the United States, Canada, and the UK. Click the bottom below to browse all Elecwish gaming chairs offered in your area:
Elecwish offers the biggest selection of chairs in its Amazon USA store. Canadian and UK customers have access to the Classic and a few others.