Founded in 1995, OFM is a furniture producer and distributor based in North Carolina. In 2017, they launched the Respawn line of gaming chairs. Respawn's mission is to deliver affordable gaming chairs with ergonomic features. This Respawn gaming chair review looks at the best chairs in their product line.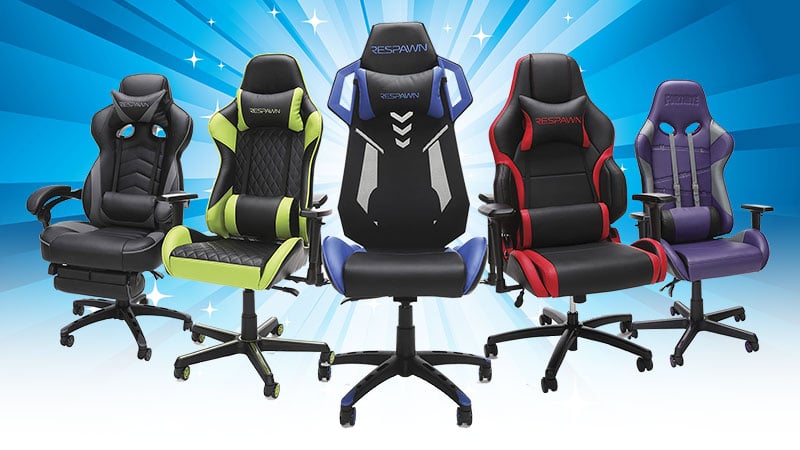 Respawn offers two PC gaming chair collections. There are PC racing chairs and a Fortnite collection. Across both lines, you get unique styling, basic features, and low prices.
Are Respawn chairs any good? Keep reading for a broad review of their best chairs.
Overview of Respawn gaming chairs
Respawn's parent company is OFM, a furniture manufacturer & distributor. OFM's core principle is same-day shipping of their office furniture products. Respawn maintains that standard.
All Respawn models include free same-day shipping in the contiguous United States (48 states). Same-day shipping applies to orders processed by noon (Eastern Time). That is only valid for ground deliveries. Other common features of all Respawn chairs:
Warranty: 30-day return policy; lifetime warranty (details).
Features: models come with at least 2D armrests and recline to 130⁰.
Comfort: molded foam padding plus PU leather or mesh fabric cover.
All models also come with an adjustable neck and lumbar support pillow. Those are essential for maintaining good posture while you sit. Check out our Gaming Chair User Guide to learn more about making the best use of gaming chair features.
Respawn racing chairs
There are ten chairs in Respawn's racing collection. The line starts with the Respawn-100 and goes up to the Respawn-400. The former is a cheap and basic chair. The latter has a higher price and better features. Here's a quick look at the top models in Respawn's racing line.
Respawn Fortnite chairs
In 2019, Epic Games partnered with Respawn on official Fornite gaming chairs. It's a good fit, given that "Respawning" is a feature in Fortnite Battle Royale's team-based modes. It lets players 'respawn' fallen team members to get back into play.
To compare Respawn Fornite chairs with other officially licensed game chairs, check out this feature:
Official chairs of the top video games
Right now, all Respawn Fornite chairs are on sale. Sale prices for each item are included in the product description.
Respawn Alternatives
Conclusion
Respawn offers a range of affordable gaming chairs with basic features. The Respawn-200 and 300 models stand out. The former has a height and depth adjustable lumbar support. The latter has a depth adjustable seat.
Most of the other Respawn models offer basic 2D armrests and recline to 130°. Comparable models come from Homall, GTRacing, and Killabee.
To get a broad range of the best cheap gaming chairs under $200, check our 2020 mega-review:
Best cheap gaming chairs of 2020
Most chairs in this price range offer basic features. At the same time, they all deliver the consistent back support that gaming chairs are famous for. The model you end up choosing will depend on your preferred style, size, and budget. Happy shopping!