Respawn has been making affordable chairs for video game players since 2017. It's an innovative brand, with an eclectic collection of multipurpose gaming chairs. These days, PC gamers, console players and office workers are all well-served. Here we review the best Respawn gaming chairs of 2022.
Respawn is a division of HNI, the 4th-largest office furniture company in the world. Respawn makes affordable chairs for consumers. It also runs successful social media campaigns to promote its products.
With low prices, flashy looks, and plenty of hype, Respawn gaming chairs are among the most popular on offer. Here their top-5 models in 2022:
Respawn Gaming Chair Reviews
The Respawn gaming chair brand offers a range of models designed for various purposes. Most are desk chairs specific to PC gaming. There's also pair of footrest gaming chairs that can be used in the living room with TVs and gaming consoles.
Below are Respawn gaming chair reviews covering their seven best models currently available:
Respawn Spectre
The Respawn Spectre is an elegant full mesh design optimized for comfort and ease of use. Its rich features and affordable price make this a perfect upgrade from a basic office chair.
Both the seat and backrest come upholstered in a high-quality mesh. That delivers a floating sensation while sitting, with unparalleled breathability.
Spectre Chair Specifications
The highlight feature on the Spectre chair is dynamic lumbar support. It lacks manual controls. Instead, it moves dynamically as the user reclines to apply lower back pressure.
That forces users to sit with good posture at all times. There's no option to loosen things up to kick back and relax – this chair is all business.
Features
Backrest: recline and lock in five positions (90, 96, 103, 109, or 115 degrees).
Lumbar support: height and depth adjustable.
Headrest: height and depth-adjustable.
Seat: adjust height, depth, and seat slope.
Armrests: 3D adjustable
Warranty: three years.
Size rating: people 5'5″ to 6'6″ tall; up to 250 pounds
Dimensions
Seat: 19.7″ (W) x 23.2″ (D)
Backrest: 20.5″ (W) x 26.4″ (H)
Seat Height: 19.3-23.2″
Size rating: 5'6″ and up; up to 275 pounds
Spectre chair review
An adjustable lumbar would have made this chair almost perfect. As is, its dynamic style works well over short periods. But over full-time hours, the lack of manual controls is frustrating. If you want to chill out or watch movies, you'll need to get out of this chair and move to the couch.
Pros
High-quality mesh upholstery
Sleek, modern aesthetics
Waterfall seat style
Affordable price
Cons
No manual lumbar controls
Mesh feels rough against skin
Another quibble is the stiff feel of the upholstery. Its made from plastic and stretched taut over the seat pan. Sitting presses your body weight into the mesh cords. Wearing shorts can dig the cords into your skin.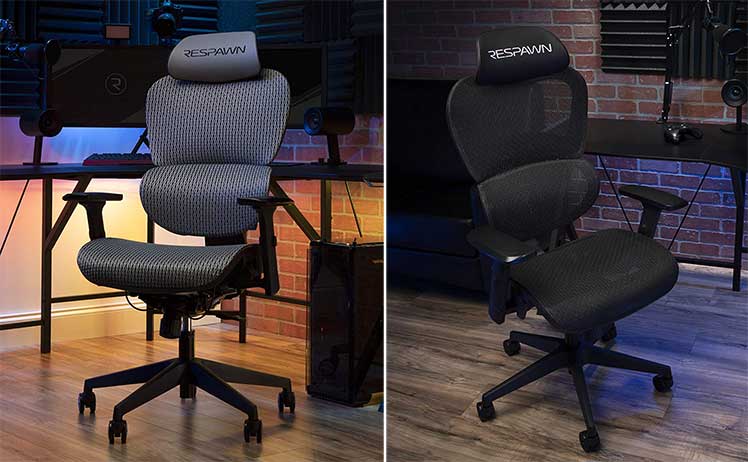 On the flip side, used for a few hours at a time, the Spectre chair has everything you need. Then, it offers solid adjustability, superb breathability, and a very affordable price tag.
Respawn-200
The Respawn-200 (RSP-200) has a breathable mesh back, integrated lumbar, and sleek design. This is one of Respawn's most popular chairs for gamers. It offers comfortable support for long sessions while also looking cool!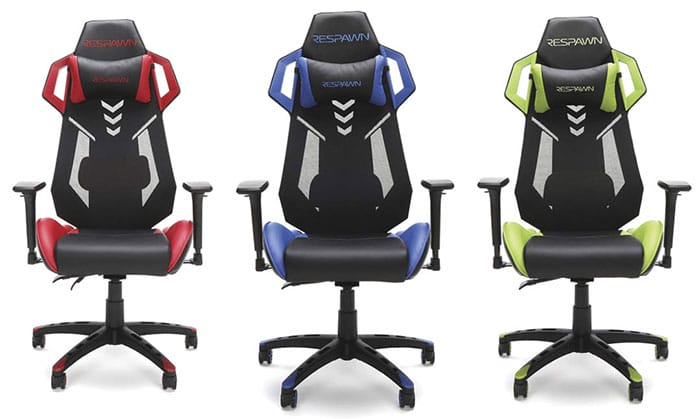 There are two highlights. First, the mesh backrest is ultra-breathable and will stay cool no matter how long you sit in the chair. Second, the integrated lumbar exceeds conventional pillows with both height and depth-adjustable support.
RSP-200 Specifications
The best feature of the RSP-200 is its height and depth adjustable lumbar support. To raise or lower the supports, reach behind the chair to grip the adjustment handles.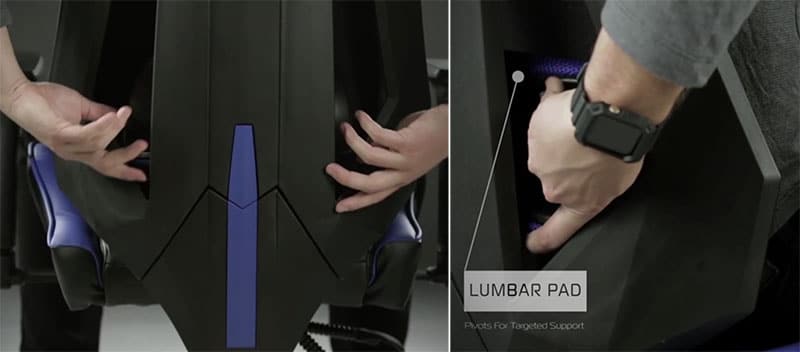 Twist in one direction to increase the angle of inclination. Twist the other way for less pressure on your spine's curvature.
Features
Unique features: breathable mesh back, innovative integrated lumbar support.
Functionality: 2D armrests; recline to 130°; rocking function with lock.
Comfort: high density foam padding; mesh backrest; neck pillow.
Dimensions
Seat: 21.25″ (W) x 17.5″ (D)
Backrest: 21″ (W) x 35″ (H)
Seat Height: 18.75-22.5″
Size rating: 5'6″ and up; up to 275 pounds
RSP-200 chair review
There's nothing to complain about with this chair. You get enhanced lumbar support, superior breathability, and solid features for a very low price.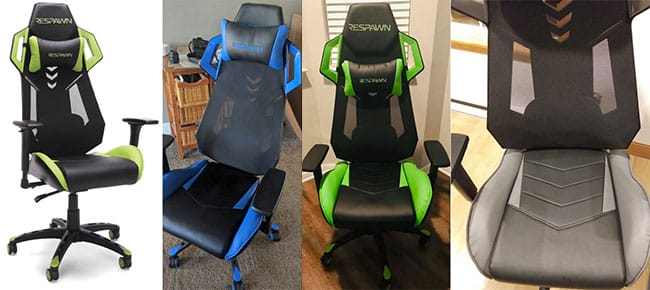 Pros
Mesh backrest
Integrated lumbar support
Sleek styling
Low price
Cons
Less adjustability than premium chairs
Only suitable for slim figures
Most cheap gaming chairs come with cookie-cutter features and designs. If you're looking for something unique in the sub-$200 price range, the RSP-200 is a great option.
Respawn-110
The Respawn-110 has ranked as one of Amazon's best-selling video game chairs for years. This is because of its versatility.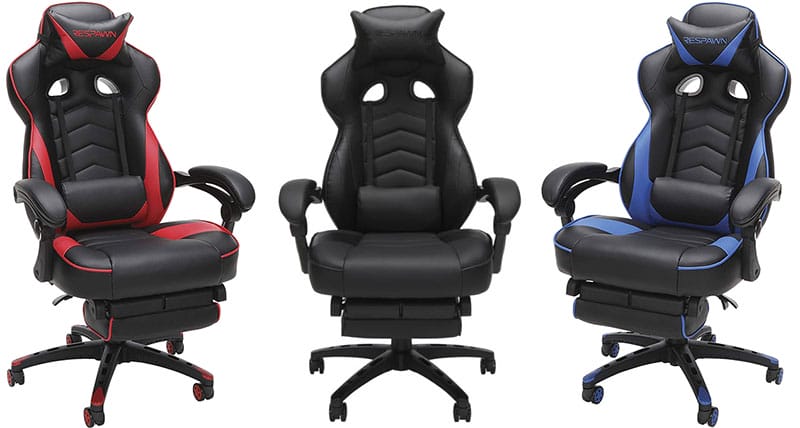 You can roll it in front of your TV, kick up the footrest, and ease back like you would in a La-Z-Boy. With the footrest folded in, the Respawn-110 works like a conventional desk chair.
RSP-110 Specifications
The Respawn 110 has basic features. Highlights include its retractable footrest, generous padding, and its affordable price.
It's a small, slim-fitting chair. It supports users from 5'5″ to 5'9″, with a maximum weight capacity of 275 pounds. That makes it a good choice for adolescents and petite adults.
Features
Functionality: fixed padded armrests; footrest; recline to 155°; adjustable seat height.
Upholstery: high density foam padding; standard faux leather; neck and lumbar support cushions.
Warranty: 2 years.
Dimensions
Seat: 21.2″ (W) x 21.2″ (D)
Backrest: 20.8″ (W) x 30.6″ (H)
Seat Height: 19.26-22.4″
Size rating: 5'6″ and up; 275-pound weight capacity.
RSP-110 chair review
Most console gamers play video games in the living room. The problem is that long gaming sessions on the floor or sofa can ruin your back. The Respawn 110 provides an affordable solution to that problem.
It's an ergonomic chair optimized for the living room. The thick padding and ergonomic pillows ensure comfortable support over long periods.
While the fixed armrests are awkward at a desk, they're perfect in a casual setting. When you kick up the footrest and ease back, they provide good support for your elbows as you game.
Pros
Thick padding
Retractable footrest
Versatile
Cons
Cheap materials
Not very durable
On the downside, the RSP-110 is cheap in both price and quality of the build. Even though it's thickly padded, it's not the highest-quality stuff. After a year or so of use, expect it to flatten out.
As well, the PU leather upholstery looks better in pictures. In real life, it has a cheap look and feel with questionable durability.
But these points shouldn't come as a surprise for a chair priced so low. Despite its flaws, the RSP-110 offers very good value for money. It's a comfortable, low-risk pick ideal for slim-sized casual gamers.
Respawn-400
The Respawn-400 is designed with heavyweights in mind. Even so, its spacious design makes a nice luxury option for smaller sizes as well.
It offers better adjustability than other Respawn chairs, with a classic racing-style design.
RSP-400 Specifications
The Respawn-400 has one of the widest, deepest seats you can find. Heavyweights with wider waists will enjoy a snug fit with crisp ergonomics. Smaller sizes will find a comfortable seat with enough room to sit cross-legged.
The 4D armrests add good value for a chair in this price range. Combined with the adjustable lumbar and headrest pillows, there's plenty of customization possibilities.
Features
Unique features: extra-wide dimensions and support for up to 400 pounds.
Functionality: 4D armrests; recline to 130°; rocking function with lock.
Comfort: high density foam padding; 2-tone PU leather seat & backrest; neck & lumbar pillows.
Dimensions
Seat: 24″ (W) x 24.25″ (D)
Backrest: 24″ (W) x 31.75″ (H)
Seat Height: 16.75-19.5″
Size rating: 5'6 and up; 400-pound weight capacity
RSP-400 chair review
This model is designed for heavy bodies seeking an affordable but well-built chair. Like premium big and tall gaming chairs, its flat seat style provides plenty of room for thick thighs.
Pros
4D armrests
400-pound support
Affordable
Cons
Low-quality components
Mediocre padidng and upholstery
On the negative side, durability is mediocre. Many 300+ pounders have report faulty gas lift mechanisms after a few months of use. As well, the padding and leather upholstery are only medium quality. For $75 more, a premium model like a Secretlab Titan XL offers much better features and durability.
That makes it a risky pick for heavyweights, but a decent one for average sizes. With less weight, the parts and upholstery will hold up better. Average sizes seeking a spacious seat with good adjustability will enjoy this chair the most.
Respawn Sidewinder
The new Respawn Sidewinder has very basic ergonomic features. It comes with 1D armrests, non-adjustable lumbar support, and recline to 107 degrees.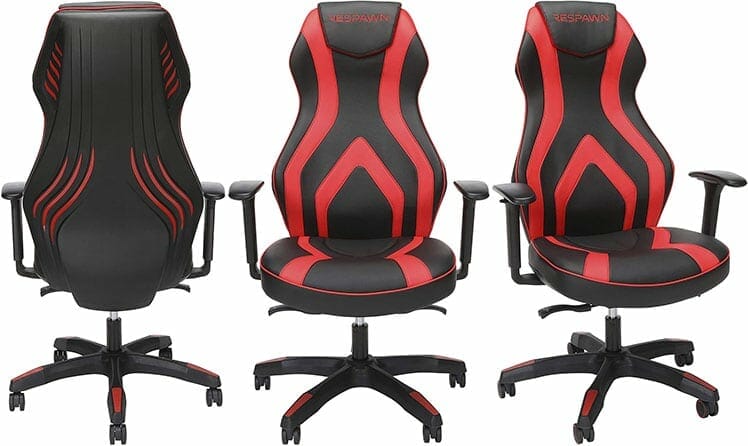 Despite its limits, it works well as a gaming seat. As evidence of that, it's the Atlanta FaZe official team chair (2020 Call of Duty season standings winners).
Sidewinder Specifications
The Sidewinder has 'built-in lumbar support'. That means a hard curve in the plastic backrest designed to support the lower back. Without no adjustability, it's barely noticeable and not much help.
The armrests are also limited, as is the recline. That makes the Sidewinder poorly-equipped as a full-time gaming seat.
Features
Armrests: 1D
Recline: 90-107 degrees
Upholstery: black PU leather with red or grey accents
Support: built-in headrest and lumbar support.
Dimensions
Seat: 19″ (W) x 19.1″ (D)
Backrest: 20.7″ (W) x 27.1″ (H)
Seat Height: 19.1-22.8″
Size rating: 5'5 and up; 275-pound weight capacity
RSP-400 Sidewinder Review
Limited adjustments make the Sidewinder a mediocre choice for full-time power users. In contrast, those limits are an asset for casual, part-time users.
The lack of adjustments means no controls to fiddle with. Slide into the chair, adjust the armrests, and then immerse yourself in gaming.
Pros
Sleek design
Easy to use
Rugged
Cons
Only 1D armrests
Limited recline to 107 degrees
No adjustable lumbar support
That explains its appeal for up-and-coming pro esports teams like Atlanta FaZe. These chairs are cheap to buy in bulk and well-suited to multi-purpose use.
Sidewinder chairs would also suit internet cafes, libraries, and other multi-user workspaces. For home users, it offers an affordable, easy-to-use upgrade from a a basic office chair.
Respawn 100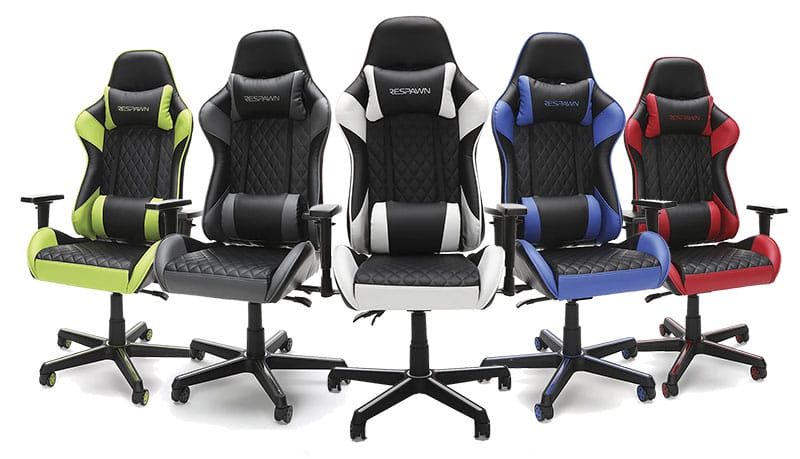 The RSP-100 is a classic racing style gaming chair. It comes in bonded black leather with white, blue, grey, green or black trim. Like other Respawn chairs, it comes with 2D armrests and a 130⁰ backrest recline.
Features
Armrests: 2D
Recline: 90-130 degrees
Upholstery: 2-tone PU leather upholstery.
Support: molded foam padding; neck and lumbar support pillows.
Dimensions
Seat width & depth: 21.25″ (W) x 18″ (D)
Backrest height & width: 27.5″ (H) x 22″ (W)
Size rating: 5'6″ and up; up to 275 pounds
RSP-100 Review
The RSP-100 is a solid upgrade from a basic office chair. Diamond-stitching on the seat and backrest gives the chair a classy look. Its simple features are easy to use and optimized for small sizes.
Pros
Diamond-stiched seat and backrest
Easy to use
Cons: many chairs in a similar price range offer better value for money. For instance, the GTRacing Ace S1 costs $199. For that price, you get 4D armrests and a 1-year warranty.
Pros: these chairs are easy to order, assemble, and use. If you want simple ergonomics without expense or hassles, the RSP-100 is a decent option.
Respawn Fortnite RAVEN-Xi
The RAVEN-XI is an official Fortnite version of the RSP-110. It has the same features and dimensions, with a striking Fortnite design.
This model comes upholstered in striking purple PU leather with grey accents. Custom stitching gives the chair a battle-worn look; a Fortnite logo adorns the crest.
Given its low price and design, the Raven-XI should delight most young video game players. It offers a vivid design and comfortable support ideal for use in a living room or bedroom.
About the Respawn Gaming Chair Company
The Respawn Gaming Chair origin story has two corporate layers. In 2016, HNI (the world's 4th-largest furniture company) acquired OFM. Based in North Carolina, OFM produces office furniture for American markets.
In 2017, OFM launched Respawn as its gaming division. The RSP-200 was one of its first designs, a pioneering hybrid fusing gaming, and office chair concepts.
HNI's influence is evident in Respawn's product line. Many of its products clearly combine gaming and office chair concepts.
Esports partnerships
The gaming chair market is only a fraction of the corporate office chair market. Despite this, Respawn has become one of HNI's top-performing groups. In a Q4 2020 Earnings Report, it was said to be "driving growth well beyond market rates."
In fact, Respawn is now projected to fuel HNI's entire "e-commerce business in 2021 and beyond." The key drivers of growth appear to be clever marketing tactics. Two stand out:
Respawn Recruits
The company runs a very successful Respawn Recruits campaign aimed at up-and-coming streamers.
Those who qualify get a free chair of their choice and assorted perks. Look for the hashtag #RESPAWNRecruits on Twitter or Twitch to see the massive scope of this campaign.
Esports Team Partnerships
Among pro esports teams, Secretlab has a lock on many of the top-20 teams of all time. Instead of competing at that level, Respawn forces alliances with lesser-known squads on the rise.
In February 2020, Respawn partnered with Atlanta FaZe. That same month, they also partnered with Misfits Gaming. Typically, partner teams receive free chairs in exchange for promotional help. However, the Misfits deal also included a 'financial component'.
Respawn Warranty Details
All Respawn gaming chairs come with a standard 2-year warranty under 'normal use'. The company defines that as 8 hours per day, 5 days per week.
The quality of support varies. If your chair is defective out of the box, expect a replacement chair sent to you quickly.
But if your chair breaks down six months later, getting help can get difficult.
Conclusion
Respawn gaming chairs are far from the best, but they offer good value for money in their price range. For features and durability, you would be better off with a more expensive chair.
Even so, Respawn's affordable prices make them worth checking out if your budget is limited to $300 or less.