When the world locked down in 2020, office furniture sales crashed. Now that Covid is endemic, hybrid working styles still have workers in limbo. This has helped top office furniture companies to thrive once more. This office chair industry report ranks the top-performing office furniture companies of 2023. This is based on the previous year's numbers. Six mega-corporations generated over USD $1 billion in sales last year. In 2023, all of the top 6 have cautiously optimistic outlooks moving forward.
This is our third annual Office Furniture Industry Report. Each one ranks companies based on the previous year's annual sales. Combined, these three reports tell the story of the office furniture industry's pandemic collapse and rebirth.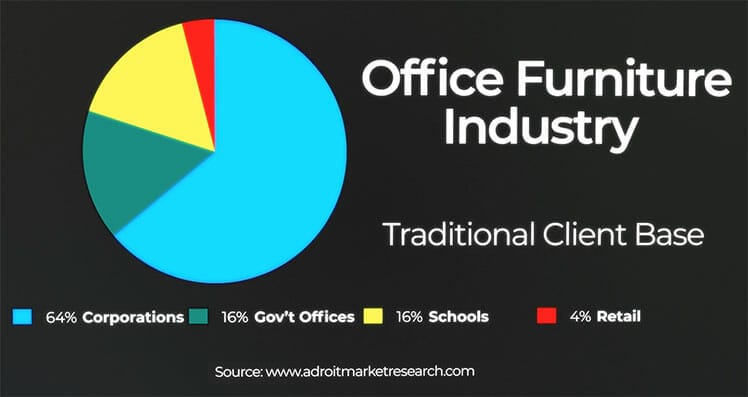 Since the early 1900s, the industry has been growing fat off B2B sales. Furnishing corporations, schools, and government offices on multi-year deals proved lucrative. Circa 2019, Steelcase was leading the field with USD $3.73 billion in annual sales.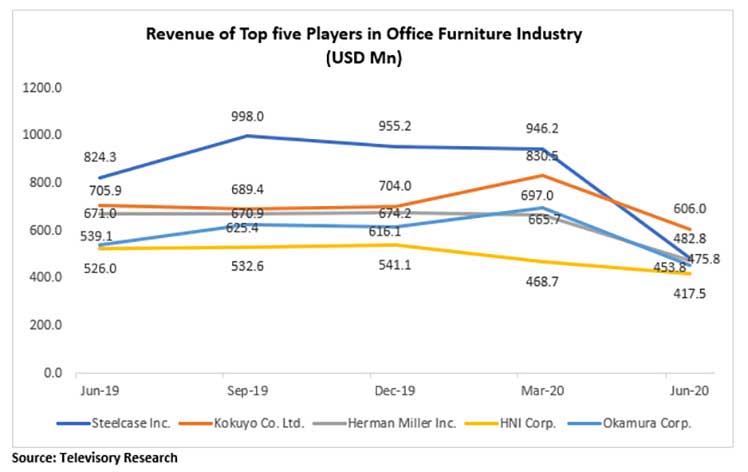 But when the pandemic struck in 2020, schools, corporations, and government offices closed worldwide. Then, office furniture B2B sales flatlined. At the same time, gaming chair brands (with well-developed B2C channels) broke sales records.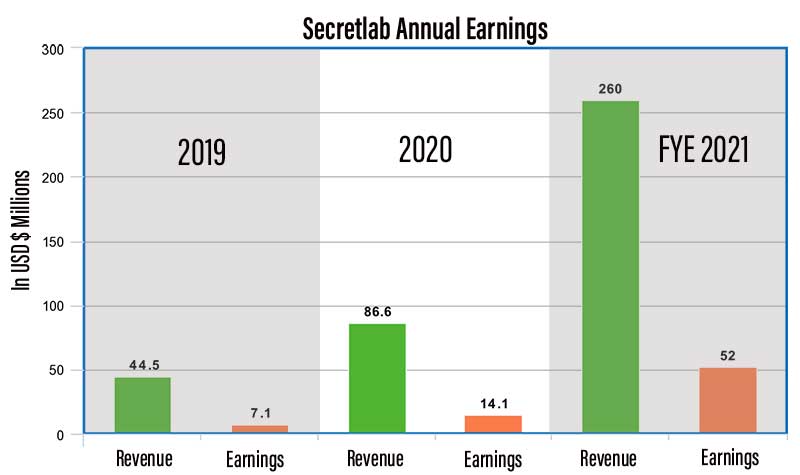 Now that the world is 'back to normal', the office furniture industry looks to be thriving once again.
Top-Earning Office Furniture Companies
2022 Earnings (USD billions)
2021 Earnings (Pandemic)
2020 Earnings (Pre-pandemic)

Wild Card: MillerKnoll $3.9 Billion combined ▲

Steelcase $2.8 B

▲

Haworth $2.5 B

▲

HNI Corp. $2.36 B

▲

Kokuyo $2.2 B

▼

Herman Miller $2.02 B

▼

Knoll $1.88 B

▲

Wild Card: MillerKnoll $3.5 Billion combined

Steelcase $2.6 B

▼

Herman Miller $2.4 B

▼

Kokuyo $2.29 B

▲

HNI Corp. $2.2 Bn

▲

Haworth $1.9 B

▼

Knoll $1.1 B

▼

Steelcase $3.73 billion
Herman Miller $2.49 billion
Haworth $2.25 billion
HNI Corp. $1.7 billion
Kokuyo $1.46 billion
Knoll $1.24 billion
Top Office Furniture Companies Of 2023
Herman Miller completed its acquisition of Knoll in July 2021. MillerKnoll is technically the biggest revenue earner of the past two years. However, both companies still operate independently.
Excluding that merger, Steelcase remains the top-earning office furniture giant. Based on 2022 revenues, Haworth and Knoll have made the biggest gains.
Wild Card: MillerKnoll $3.9 Billion combined ▲ (10.2% increase vs the previous year)
Steelcase
Ranked #1: $2.8 billion 2022 earnings (▲ 7% vs the previous year)
The pandemic crushed B2B office furniture sales. Herman Miller executives took aggressive action to reverse the tide. In contrast, Steelcase executives chose to passively weather the storm. That strategy has paid off.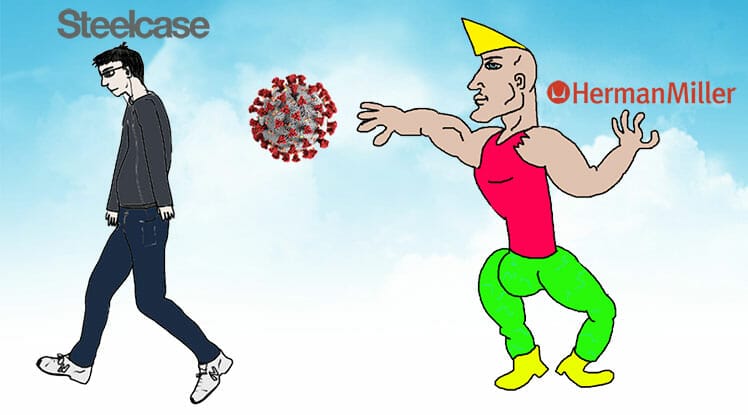 In 2023, Herman Miller (now MillerKnoll) is spread thin across many diverse products. Meanwhile, Steelcase finds itself well-positioned to dominate once more.
In its 2022 Annual Report(1), the CEO laid out Steelcase's post-pandemic strategy. As companies grapple with hybrid working challenges, new furniture opportunities have arisen.
Two things have become clear: the office will continue to play a critical role in how work happens — but the office must also
evolve
.​
Sara E. Armbruster, Steelcase CEO
Steelcase 2023 Strategy
In early 2022, Steelcase released a Global Hybrid Work Report(2). It surveyed 4,986 participants across 11 countries in late 2021.
The report lists three key findings that are 'contrary to headlines'. In fact, people do not want to work from home. Rather, workers actually want hybrid flexibility — with their own jazzed-up private office workstations.
When people like their computing workspace, they become more productive, engaged, and connected to a company's culture.
People want the freedom to work from home — plus the pleasure of working in their own custom workspace at the office.
Hybrid workers want private office spaces when they're in to help them collaborate.
So to keep workers happy, companies must open their wallets and splash out on fancy ergonomic furniture — according to furniture salespeople.
Luckily, Steelcase specializes in jazzed-up private workstations. Amazingly, this ambitious sales pitch seems to be working:
Customer readiness to reimagine and transform the workspace—and our focus on executing our strategy to help people work better—helped drive 25 percent order growth and $2.8 billion in revenue in fiscal 2022. ​
Sara E. Armbruster, Steelcase CEO
Steelcase Chairs For Consumers
The Gesture and Leap are pricey corporate investments for high-powered executives. At the lower end of the pricing scale, Steelcase offers an array of solid but unspectacular ergonomic chairs for general staff.
The cheaper models strip out flashy seat-tilting functions. Even so, they provide a similar level of back support as Steelcase's executive chairs.
For instance, the Steelcase Series 1 ($448.20 on Amazon) provides superb back support that rivals that of much pricier chairs.
But as with all ergonomic chairs, you need proper chair settings and usage to ensure the best results.
Steelcase 2023 Outlook
Bullish. Steelcase has been the top-selling office furniture mega-corporation since we started tracking in 2019. That's likely to continue — without any new chair innovations. In fact, its chair collection has been complete for quite some time.

For example, the Leap Chair was released in 1999 (24 years ago). The Gesture was released in 2013 (ten years ago). These are Steelcase's pricey ($1000+) flagship chairs.
However, enterprise chair buyers usually focus on price, style, and durability when choosing company chairs. These are the factors that traditionally win big B2B sales contracts.
Luckily for Steelcase, the 2020 lockdowns brought the importance of ergonomic furniture mainstream.
Therefore, its chairs tick all of the 2023-era B2B boxes. They're guaranteed for 12 years, are all good for the back, and all work the same way. For corporations looking to refresh its furnishings, this corporate kit is hard to beat.
Hands-On Review: Best Steelcase Chairs Of 2023 For Consumers
Haworth
Ranked #2: $2.5 billion 2022 earnings (▲ 27% vs the previous year)
Haworth is a family-owned business headquartered in Holland, Michigan. Gerrard Wendell Haworth founded it in 1945; the company took on his name in 1975. G.W. Haworth retired in 2005 (age 94) and passed away the year after.
He left behind an incredible foundation that's now bearing massive yields. Per its 2022 Annual Report(3), the company enjoyed 27.5% revenue growth over the previous year.
Haworth CEO Franco Bianchi credited the emergence of hybrid work cultures for the surge(4). As companies struggled to inspire a mass return to the office, they became more willing to invest in new furnishings.
To capitalize, the company launched several new products including desk chairs and height-adjustable tables. "In the last 18 months, our pipeline (of new products) probably has never been more full," Bianchi said.
2022 Company Highlights
Two things stand out among the company's achievements(5) last year:
Distribution Coup: Systems Source is one of the world's most influential interior design firms. They were formerly Knoll Inc's largest global furniture distributor. On Jan. 11, 2022, they switched to partner with Haworth.
New Zody Chairs: in August, Haworth upgraded its 2005 Zody chair with 2 new versions. The Zody II and LX are both designed to support the lumbar spine and pelvis while sitting. Four months after these releases, both received Cradle To Cradle Certifications.
A supercharged distribution system plus fresh ergonomic chair revamps helped the company achieve its massive 27% revenue growth over the previous year.
Haworth Chairs For Consumers
Haworth.com only displays chairs; it doesn't sell any. There are nine chairs in its ergonomic office chair collection. All models come with a 12-year parts warranty and 5-year upholstery protection.
Here are the prices of its three most popular models on Amazon:
Fern: luxury flagship chair;

No products found.
Zody: supports the pelvic and lumbar areas while sitting; $903.00
Soji: lumbar-powered support + 4D arms and sync-tilt functions; $459.00
Thus far, ChairsFX has only reviewed the Fern. It's a fully-loaded lumbar-powered chair with an ultra-adaptive backrest. It's well-built, attractive, and superb in theory.

In practice, two technical quibbles keep this chair from perfection. First, the built-in lumbar curve is so low that it forces your hips to curl forward.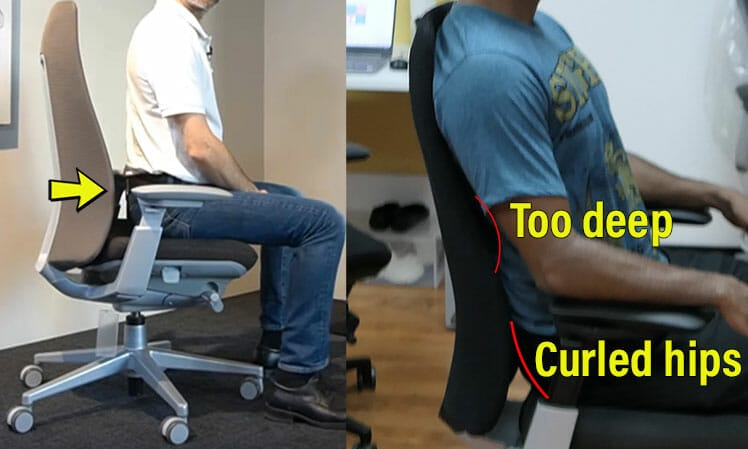 Second, the lumbar support zipper controls an air-filled baggie that hits too deep. As a result, instead of a perfect fit, you get slightly curled hips and overly aggressive pressure in your lower back.
Even so, the quibbles come from intense scrutinization. Many others who aren't looking for micro-flaws rave about their Fern chairs. Learn more:
Haworth Fern Vs Other Elite Office Chairs
Outlook: bullish. Despite the U.S. economic slowdown, its CEO expects growth in 2023. "I'm convinced it's going to be a good year." Given the company's robust 2022 performance, ChairsFX agrees.
HNI Corporation
Ranked #3: $2.36 billion 2022 earnings (▲ 6.7% vs the previous year)
HNI is a multinational juggernaut with several famous chair brands in its portfolio(6). Each operates under the HNI umbrella as an independent entity:
HON: affordable ergonomic office chairs and accessories.
Allsteel: office systems furniture and accessories.
OFM: affordable office furniture for corporations.
Respawn: affordable gaming chairs for video game players.
While market demand was down in 2022, HNI still enjoyed growth. In the company's end-of-year report, CEO Jeff Lorenger attributed that to "expansion initiatives in Workplace Furnishings"(7).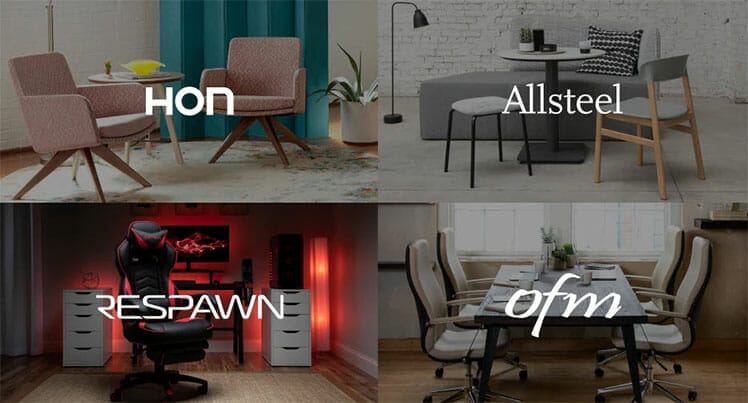 HNI's workplace furnishings division improved sales by 3.6% over the previous year. Driven by "feedback from large corporate customers regarding return-to-office plans", Lorenger expects steady growth in 2023.
In contrast, its residential building products division enjoyed 16.7% sales growth in 2022 over the previous year. However, because of 'decreased home affordability', sales are expected to flag this year.
As a result, HNI plans to drive the most 2023 profits from its Workplace Furnishings division. Despite lukewarm demand, improved productivity and cost-cutting actions will help to 'offset lower volume' sales.
HNI Corporation Chairs For Consumers
Respawn is HNI's gaming chair division. It's the only one specifically geared to retail consumers. In contrast, most Hon, Allsteel, OFM, and other HNI office brands are wholly B2B.
Among the B2B collection, the Hon Ignition 2.0 is a popular no-frills ergonomic office chair. On the gaming side, the Respawn Flexx merges classic ergonomic office chair features into a gaming chair-style package.
| | | |
| --- | --- | --- |
| | Hon Ignition 2.0 | Respawn Flexx |
| Lumbar support | Height-adjustable | Height-adjustable |
| Armrests | 2D | 2D |
| Recline | 90-112° | 90-115° |
| Sync-tilt | Seat tilts up at a 2:1 ratio during recline | Same as the Ignition 2.0 |
| Seat slider | No | Yes (1.6″ range) |
| Warranty | 12 years | 2 years |
| Price | $399.00 on Amazon | $251.94 on Amazon |
Head-to-head, both chairs serve up very similar functionality. The big difference is the target market. The Flexx (geared to gamers) only comes guaranteed for 2 years.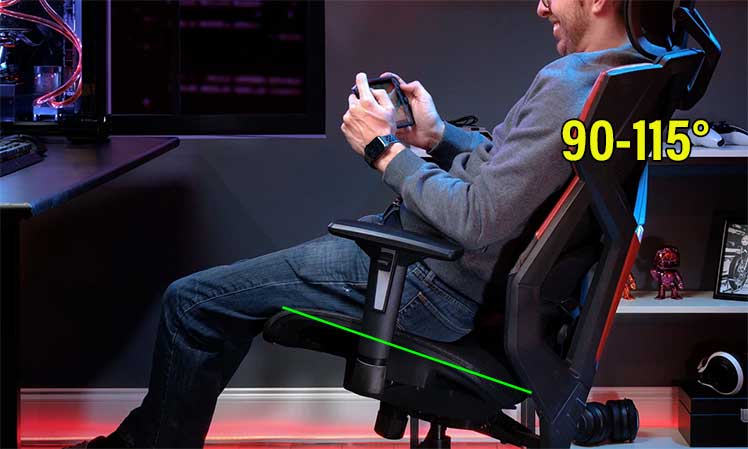 In contrast, B2B buyers prioritize durability. As a result, despite similar pricing, the Ignition 2.0 comes guaranteed for a whopping 12 years.
Respawn Flexx Vs Herman Miller Vantum: Corpo-Gaming Chairs
Outlook: bullish. Despite lower demand, HNI's HNI's workplace furnishings division improved sales by 3.6% last year. For 2023, the CEO predicts continued mild growth. To better boost shareholder profits this year, the company's focus is on cost-cutting measures.
Kokuyo Co. Ltd.
Ranked #4: $2.2 billion 2022 earnings (▼ -3.9% vs the previous year)
Every other brand in this rundown targets European and North American customers as a first priority. In contrast, Kokuyo is the dominant eastern office furniture brand. Per Nikkei Asia(8), its 2022 sales dipped by 3.9% vs the previous year.
Founded in 1905 and based in Osaka, the company specializes in office furniture and stationery. At present, it operates two core divisions(9):
Work style division: office solutions for hybrid realities that 'make people want to gather' for 'individual and team growth'.
Lifestyle Area: includes a digital marketing stationary business and also an interior retail furnishing one.
Its office chair collection is diverse, although most come with a typical lumbar-powered support style. For example, the Kokuyo Monet costs USD $486 in Kokuyo's Japanese Store; the Mitra 2 costs $360.
Both come with 4D arms, sync tilt, and adjustable lumbar support. Warranty terms are 1 year on upholstery and 3 years on chair frames.
Kokuyo chairs aren't broadly available in the West. Instead, EU and North Americans will only find stationary in the company's Amazon Store.
Herman Miller
Ranked #5: $2.02 billion 2022 earnings (▼ -15% vs the previous year)
In July 2021, Herman Miller acquired Knoll. Those two combined formed a new juggernaut called MillerKnoll. Based on combined 2020 sales, the new entity cracked USD $3 billion in annual sales.
Despite the merger, each company still operates as its own entity. Given these facts, the Herman Miller division's 15% sales decrease over the previous year is reasonable.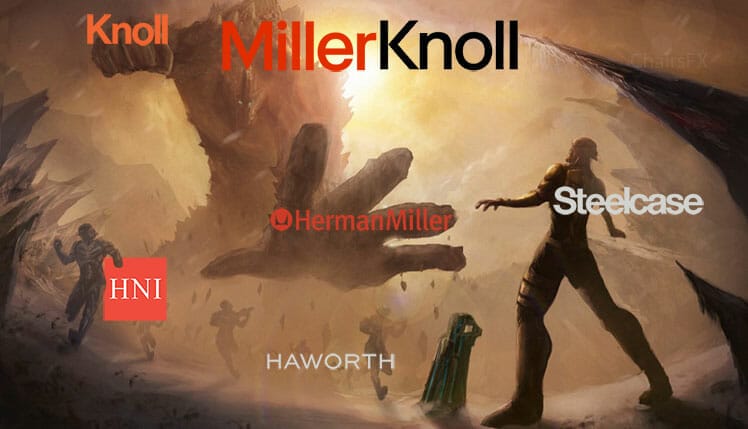 From a shareholder's perspective, Knoll's 41% growth over the previous year mitigates Herman Miller's dip. The future of this juggernaut looks bright.
Herman Miller 2022 Status
MillerKnoll's 2022 Annual Report(10) provides a goldmine of office and home furnishing trend insights by the new industry leader.
Home furnishings competitors: Crate & Barrel Holdings, Inc., Hive Modern, Restoration Hardware, Room & Board, Inc., Wayfair Inc., and Williams-Sonoma, Inc.
Office furnishings competitors: Haworth, HNI Corporation, Kimball International, Inc., and Steelcase Inc.
Similar to its office furniture product offerings, the company competes primarily on design, product and service quality, speed of delivery, and product pricing in this market.
However, competition has been fierce. Many brands offer similar products and services with very little differentiation.
While dealing with competitors hot on its heels, the weight of integrating Knoll has also taken a toll. "The company took on debt to acquire Knoll, limiting its business flexibility. The costs to integrate Knoll may be in excess of those we anticipate.'
Herman Miller Chairs For Consumers
Herman Miller's Aeron kicked off the ergonomic office seating era in 1994. Its Embody 'computing chair' joined the party in 2008. Circa 2023, both remain (in ChairsFX rankings) the world's top 2 ergonomic office chairs.
Like all elite ergonomic office chairs, both support pristine posture while sitting. However, both stand apart by doing so via unconventional means.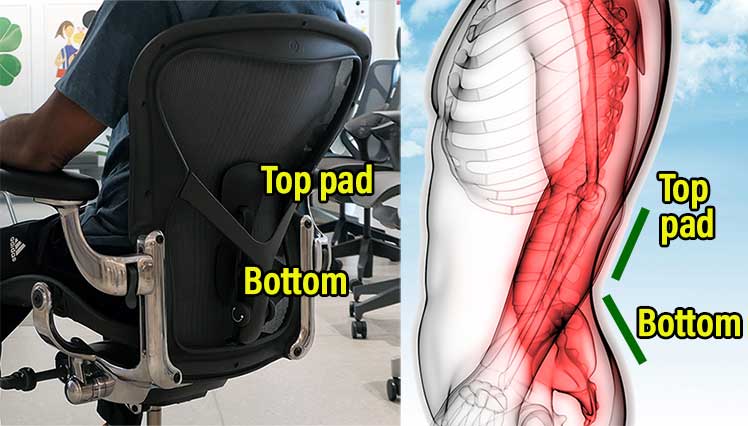 Neither uses a typical lumbar-powered support style. For example, Aeron's mesh is a balanced suspension system that provides the bulk of support.
Aeron chairs come with a choice of two lumbar support styles. But neither provides significant support; both work more like lumbar 'guides' than pressure-point enforcers.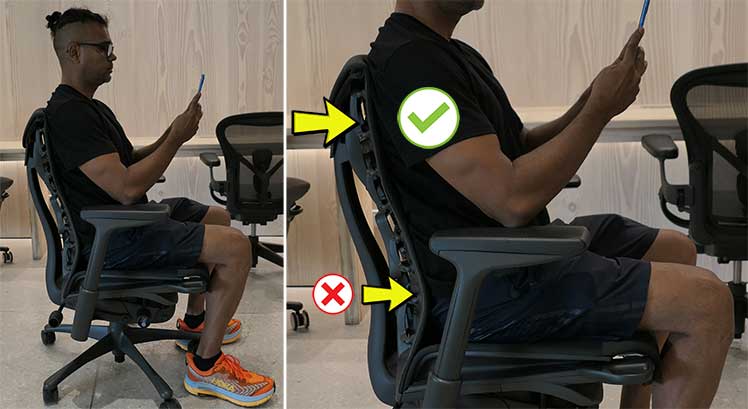 Meanwhile, the Embody's lumbar support is almost non-existent. Instead, it uses a one-of-a-kind upper upper back system to support upright postures.
Review: Best Herman Miller Office Chairs For Consumers 2023
Herman Miller Shift To Mainstream Chairs
The funky concept Aeron and Embody chairs bring prestige, but not mainstream appeal. To shore up on that end, Herman Miller has been chipping away for a few years.
In 2019, the company released the Verus chair, the most straightforward ergonomic model in its collection. Priced from $640 to $840, it comes with a super-simple height-adjustable sliding lumbar pad.
Late last year, Herman Miller also jumped aboard the gaming chair bandwagon with the Vantum chair. Like its flashy flagship models, the Vantum is a concept chair that promotes 'a new way of sitting'.
Its seat pan is deliberately shorter than others to 'force' users into a perched, forward leaning style. Instead of conventional lumbar support, it ports over the Aeron's clunky Posturefit.
Against other leading full-back gaming chairs, these avant-garde concepts seem a better fit for a museum showcase than the typical gamer's battle station.
Herman Miller 2023 Outlook
Bearish. The weight of integrating Knoll into the family has proven costly. With tighter budgets, teams suffer from smaller marketing budgets than competitors.
Meanwhile, its consumer e-commerce division has only been operational since early 2020. Despite MillerKnoll's financial largesse, smaller teams with more experience in the B2C field are still kicking ass.
On the corporate chair sales front, Herman Miller's collection lacks the cohesion of the Steelcase one. The latter's chairs all work the same way; models higher up the pricing scale add luxury extra features.
In contrast, each Herman Miller packs various (sometimes contradictory) back support concepts into its mix.
Vantum Gaming Chair: promotes slouchy postures in a perched 'new style of sitting'.
Aeron office chair: supports near-perfect postures with a mesh suspension mesh system that keeps users in near-perfect balance at all times.
Embody office chair: abandons lumbar support to instead support the upper back curve.
Verus chair: a user-friendly cookie-cutter lumbar-powered office chair. Built for those wanting Herman Miller quality without the funky arthouse concepts.
While struggling to integrate Knoll and expand its retail sector, MillerKnoll faces intense office furniture competition from all sides. Given these facts, the company's 2023 outlook is challenging.
Knoll
Ranked #6: $1.88 billion 2022 earnings (▲ 41% vs the previous year)
On paper, Knoll's 2022 sales increase of 41% over the previous year looks spectacular. However, its parent company Herman Miller suffered a sales loss for the year. Its annual report also lamented the heavy financial weight the Knoll merger has inflicted so far.
The merger took place in July 2021. Since then, Knoll's Newsroom(11) reports new textile palettes, renewable energy initiatives, and a new chair.
The Newson Task chair has a fixed (non-adjustable) lumbar built into its backrest. Other features include 1D arms, a seat slider, and a sync-tilt recline function (the seat tilts up as you recline). It costs $1195 and comes with a 12-year warranty.
Despite its basic features, the chair's press release(12) lays on the hyperbole extremely thick. Newson Chair highlights:
Concept: designed to empower people by 'bringing their personality to the forefront'.
Design: the chair 'was designed from all angles' to show off an 'organic, fluid design'. Textures were chosen to 'give a sense of luxury'; the arms feel like suede.
Personality: this chair has a 'quiet confidence' that 'creates an interesting duality'. It blends in and stands out — at the same time!
Ergonomics: delivers 'unmatched support' that works together with 'an unmatched highly ergonomic experience'. Highlights include a flexible backrest and sync-tilting seat (as you recline, the seat tilts up).
Knoll Outlook: Bearish
Despite its 41% sales increase in 2022, Knoll's path forward in 2023 looks uncertain. When Herman Miller acquired the company, they took control of one of their top office chair competitors.
Rather than competing against Herman Miller chairs, look for Knoll to pump out more weird concept pieces like the Newson Task chair. Beyond chairs, the company is likely to focus on areas that don't overlap with Herman Miller's.
At present, Knoll also makes desks, acoustic systems, storage systems, and office accessories. Look for more action in those areas in 2023.
2023 Office Chair Industry Challenges
Back Support Tech Is Now Ubiquitous. This drastically downgrades the need to splash out on pricey 'high-tech' $1000+ ergo office chairs.
Too Many Competitors. Ubiquitous back support = too many brands competing for the same clients — while peddling similar wares.
Uncertain Economic Conditions. History shows that economic downturns plummet office furniture sales. Using set benchmarks, the future looks dicey.
Retail Chair Sales Is A Shark Tank. MillerKnoll's confident foray into retail gaming chair markets has taught them harsh lessons.
Back Support Technologies Have Peaked
Our summary of 2023 seating trends spells this out. NASA first discovered the biomechanics of healthy sitting while observing astronauts aboard the Skylab Space Station in 1972.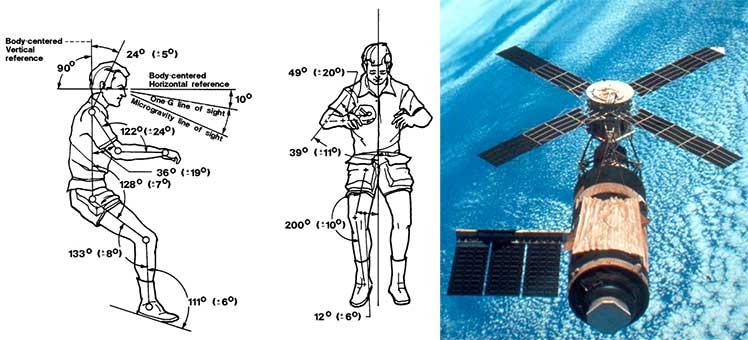 In 1994, the first edition Handbook of Human Factors and Ergonomics first documented healthy neutral sitting postures for ergonomic office chairs. By 2009, a publically accessible peer-reviewed summary outlined the same essentials.
Nowadays, all desktop computing ergonomic chairs are designed to support healthy neutral postures. With planted feet, a supported lumbar curve, supported arms, and a customizable recline, users are equipped to maintain a 25-45° lower back curve.

These days, most institutional ergonomic authorities share the same 'ergonomic' definition. Any chair with adjustable lumbar support, adjustable arms, and a reclining backrest can do the job.

To keep the illusion of freshness, ergonomic chair makers have riffed myriad variations of the same adjustable lumbar + arms and recline basics.
In 2023, psychological appeal (stimulating colors, luxurious upholsteries, fancy features) remains a chair-maker marketing angle — not back support potency.
Too Many Competitors Offer Similar Products
There have been no new innovations left to pursue on the back support front since the 1990s. As a result, most modern office chair brands offer chairs with similar features (adjustable lumbar + arms + recline) and support concepts.
MillerKnoll's 2022 Annual Report(10) touched on this:
We are one of
several companies competing for new business
within the office furniture industry. Many of our competitors offer
similar categories of products
… as well as residential, education and healthcare furniture solutions.​
MillerKnoll 2022 Annual Report
Economic Downturns Hinder Sales
(Paraphrasing from MillerKnoll's 2022 Annual Report). "Customer demand within the contract office furniture and retail furnishings industries is affected by various macroeconomic factors.
General corporate profitability, service sector employment levels, new office construction rates, and existing office vacancy rates are among the most influential. History shows that declines in these measures can diminish office furniture demand."
Uncertain 2023 Macroeconomic Factors
On the corporate profitability front, U.S. corporations made USD $3 trillion in profits during the third quarter of 2022(13). This is a huge jump over Q1 2022 ($2.8 trillion), but a slight decrease from the record-breaking Q2 2022. That's good news for the office furniture industry.
On the flip side, office vacancy rates are a problem. Newsweek recently warned that a crash worse than the 2008 financial crisis is predicted for commercial real estate(14). The current hybrid working landscape has pushed office vacancy rates to a 20-year high.
Commercial real estate, already facing headwinds from a shift to hybrid/remote work, has to refinance more than half of its mortgage debt in the next two years…
Lisa Shalett, chief investment officer for Morgan Stanley Wealth Management
Bottom line: look at corporate profits, office vacancy rates, and the other listed factors as a measure of the office furniture industry's sales potential. At present, while corporate profits look good, office vacancy rates are in shambles.
B2C Gaming Chairs Remain A Hindrance
After decades of focusing wholly on B2B sales, the office furniture industry finally put focus on retail sales during 2020 lockdowns. Since then, MillerKnoll has learned that consumer computing sales are not easy.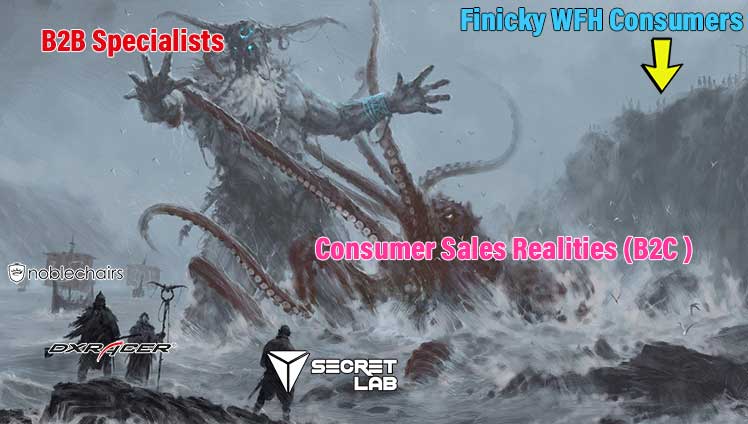 For example, MillerKnoll's 2022 Annual Report declares that the "retail furnishings market is highly competitive. We compete with national and regional furniture retailers, mail order catalogs and online retailers focused on home furnishings.
We compete with these and other retailers for customers, suitable retail locations, vendors, qualified employees and management personnel.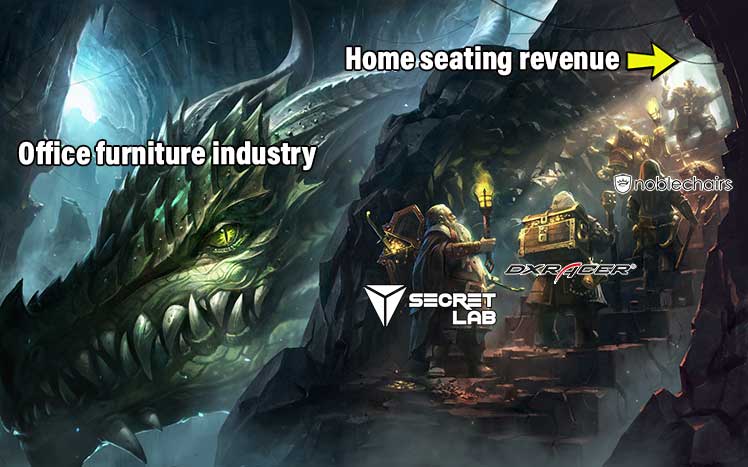 Some of our competitors have significantly greater financial, marketing and other resources than we possess. This may result in these competitors being quicker at important metrics such as adapting to changes, devoting greater resources to the marketing and sale of their products, generating greater national brand recognition, or adopting more aggressive pricing and promotional policies."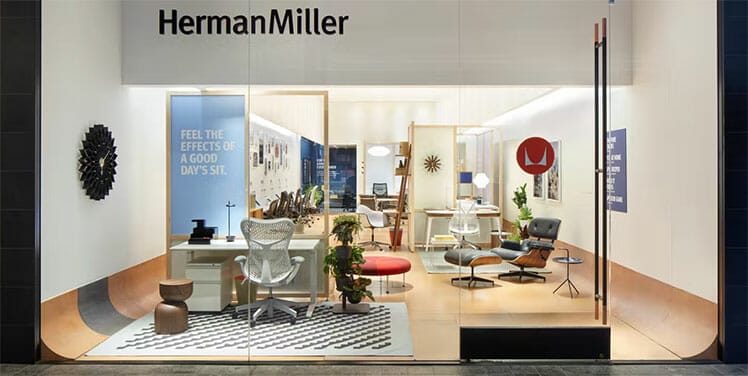 Significantly, 33% of Herman Miller's 2022 consumer sales came from its retail studios. Adding new studios could theoretically boost sales. However, budget constraints make this unlikely.
Conclusion: Best-Positioned Brands 2023
Earlier this year, the WEF declared hybrid working styles here to stay(15). In their 2022 Annual Reports, Steelcase, Haworth, the HNI Corporation, and Kokuyo all credited hybrid work cultures for creating new furniture selling opportunities.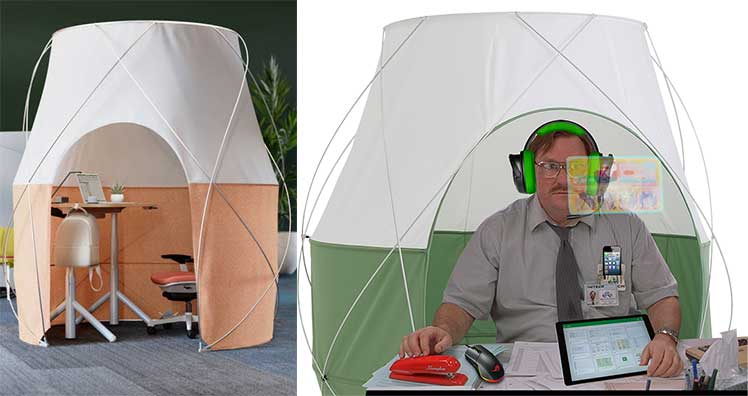 With back support tech stalled, hybrid trends have opened the door for creative new concepts. Even so, chairs are the stars of the ergonomic show. On that front, here are the best-positioned brands of the year:
Steelcase: their rock-solid collection of ergonomic office chairs beats the rest with coherent, consistent support concepts. Choose cheaper models for scrubs; fancier Gesture or Leap versions for executives.
Haworth: this family-owned mega-corp is not beholden to profit-obsessed shareholders like the rest. Their chairs are ergonomically-sound and growing in popularity among consumers.
HNI Corporation: this megacorp is powered by several very well-established brands. Hon and AllSteel make world-famous affordable ergonomic chairs. On the gaming side, Respawn's gaming chairs are also a hit among budget-minded gamers.
On the flip side, MillerKnoll looks to be in a pickle. For one thing, while the Knoll merger weighs the company down, competitors like Haworth and HNI are catching up. For another, when peddling its chairs to new clients, there's too much diversity.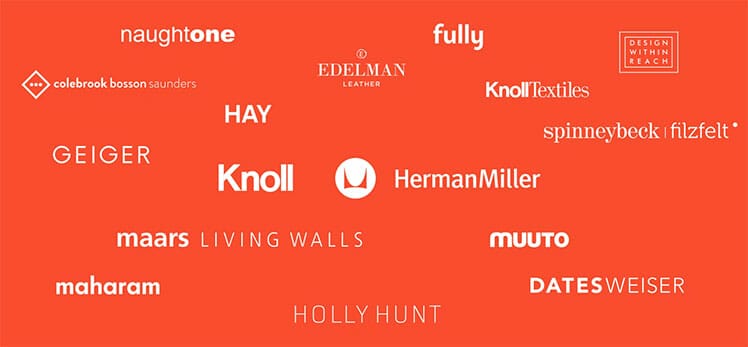 The Aeron keeps you balanced using suspension mesh and mild lumbar guidance. In contrast, the Embody abandons lumbar support for an upper back emphasis. Meanwhile, the new Vantum gaming chair lets you 'perch' like a parakeet.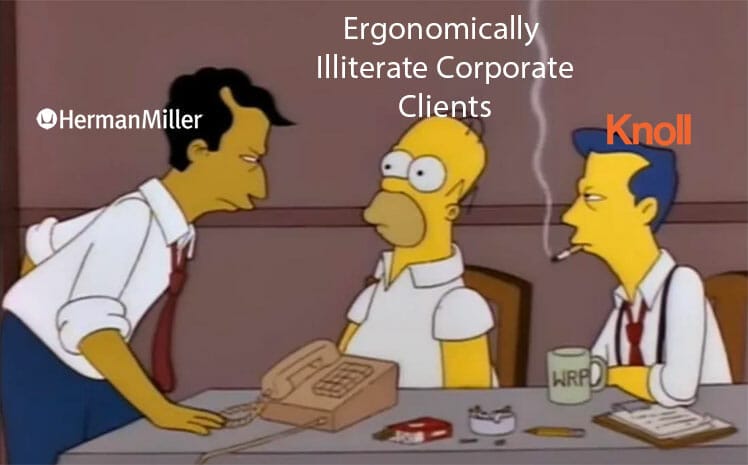 Versus the straightforward Steelcase collection, this avant-garde ergonomic kaleidoscope is a complex pitch for non-ergo-savvy corporate types to grasp.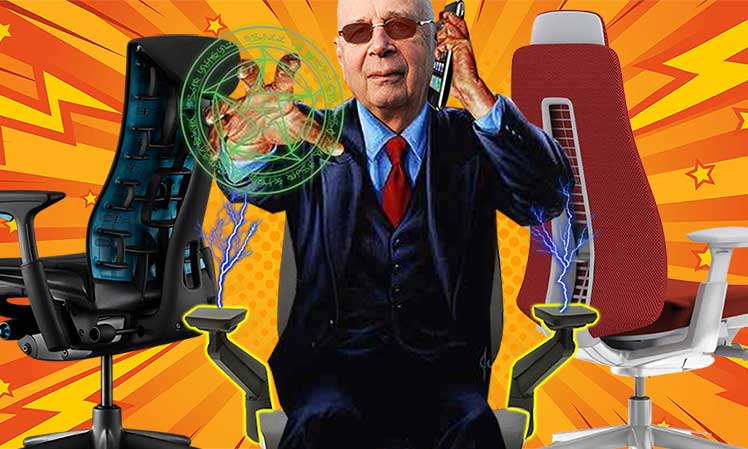 So it's worth revisiting the models hyped as the world's best ergonomic office chairs. Which models truly justify their $1000+ prices? Find out now:
Best Ergo office Chairs 2023: Which Are REALLY Worth It?
Footnotes