The full-back, racing-style gaming chair is 16 years old in 2022. Since its 2006 debut, it's gone from a goofy curiosity to a household staple for millions of home computer users. But in 2022, the market has stiffened. The post-lockdown demand for ergonomic seating has cooled, while new competition has emerged. Even so, the future looks bright. Check out the latest market leaders & trends in this 2022 gaming chair industry report.
Every great story has a thrilling climax. The gaming chair industry took a 14-year ascent to its ultimate peak. The story began when the 9/11/2001 attacks crashed the American stock market — and the demand for luxury cars.
Chrysler discontinued its Plymouth brand in 2001; GM's Oldsmobile division closed in 2004. In 2006, car seat company DXRacer had warehouses filled with seats nobody wanted. So they bolted wheels onto car seats and peddled them to an emerging esports scene.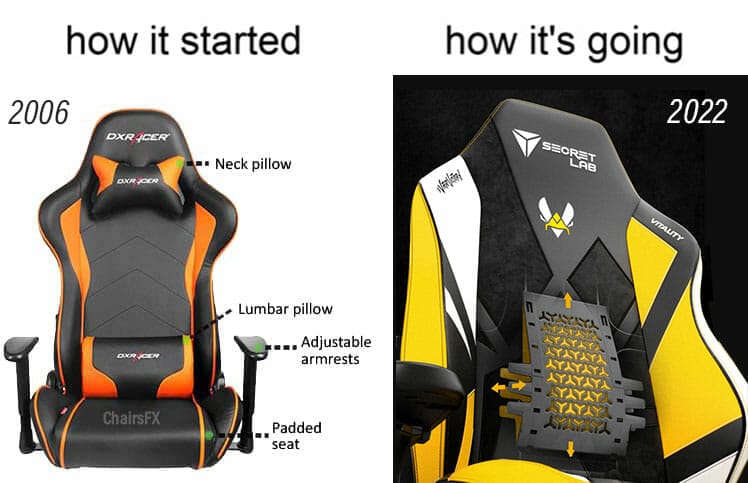 Fourteen years later, a pandemic forced millions to work from home during 2020 lockdowns. That skyrocketed gaming chairs into the stratosphere. The reverberations of that ascent sent tremors across the multi-billion-dollar office furniture industry.
2020 Lockdowns = Industry Peak
The gaming chair industry reached its peak during a 2020 lockdown consumer buying frenzy. While gaming chair sales surged, ergonomic office chairs flatlined.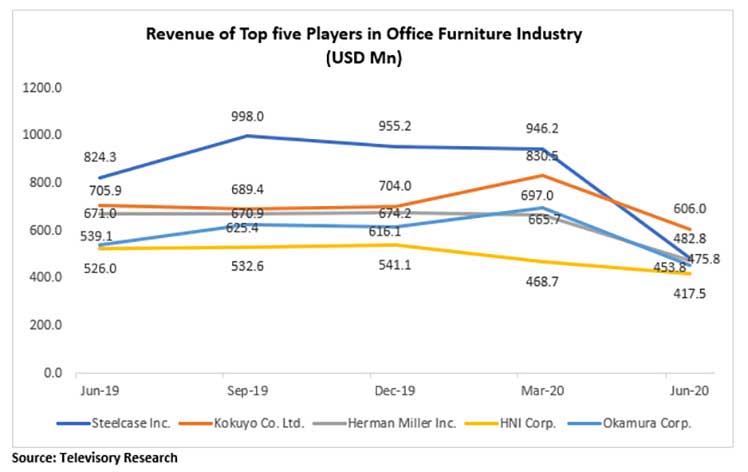 The biggest reason for the discrepancy was the sales method. When lockdowns struck, several gaming chair companies had slick consumer sales processes (B2C) set up. In contrast, the office chair industry's (hugely profitable) B2B sales focus had ignored consumer markets.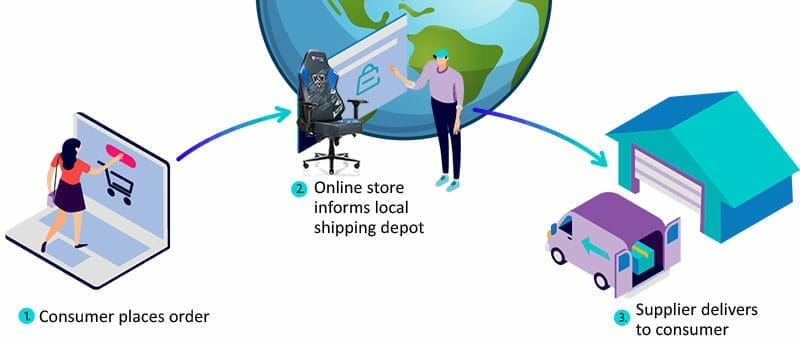 Since then, Herman Miller and Knoll have merged (two billion-dollar office chair companies). MillerKnoll has arisen as an unprecedented juggernaut — with a keen interest in consumer sales.
As a result, circa 2022, the gaming chair industry's B2C advantage has evaporated. At the same time, materials and shipping costs have skyrocketed. Concurrently, the post-lockdown demand for ergonomic seating has cooled.
But in spite of these negative trends, the gaming chair industry's future looks very bright.
Gaming Chair Industry Trends 2022
During the lockdowns, as consumer demand for ergonomic seating surged, gaming chair sales took off. In response, the sidelined office chair industry began frantically building consumer sales platforms.
As a result, the B2C advantage enjoyed by the gaming chair industry has shriveled. As well, new ergonomic challenges — and opportunities — have emerged. Key 2022 trends:
Gaming chair industry slump: the office chair industry eats up consumer sales while shipping and materials costs rise. Meanwhile, post-pandemic video game play is in decline.
Novel ergonomic challenges: back support was the key in the PC era. Today's multi-device computing era demands back and neck ergonomic support.
Rapid innovation: the lumbering office chair industry is slow to change. In contrast, the gaming chair industry is already tackling multi-device ergonomic challenges.
Gaming Chair Market Set To Slump
In early 2017, a tiny Singaporean company called Secretlab set up an online shopping portal for American customers(1). As sales took off, many other gaming chair brands copied their formula.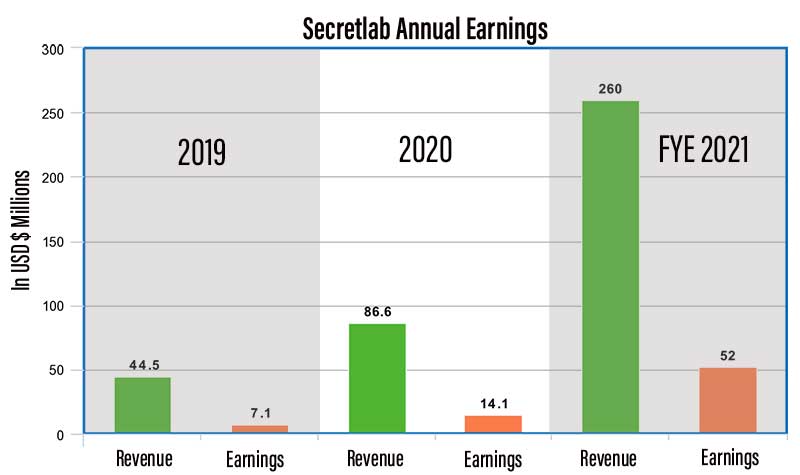 That strategy paid off when lockdowns hit. Then, because of their easy online availability, many established gaming chair brands broke sales records. For instance, Secretlab's sales doubled in 2020 to reach $206 million in FYE 2021.
Since then, the office chair industry has rebounded with an aggressive new focus on consumer sales.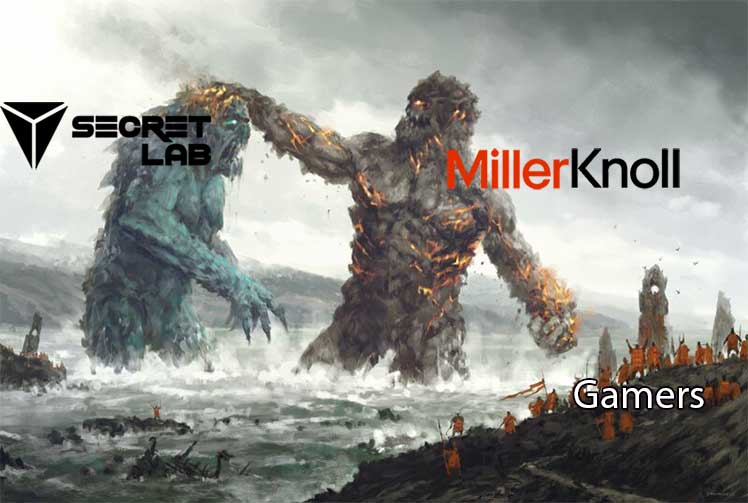 While fending off office chair industry intrusions, the gaming chair industry faces other stiff challenges:
Rising shipping and materials costs: global steel prices are up by 60% since 2019. Shipping costs are up by over 1,000%.
Post-pandemic gaming slump: as the world reopens, many avid lockdown gamers are returning to non-gaming habits.
These pressures have shaken up the industry in an unprecedented fashion. New brands are struggling to gain traction. Several legacy brands have fallen completely off the radar. Meanwhile, a handful of others look set to enjoy an adventurous future.
Best Gaming Chair Brands 2022
ChairsFX recently ranked the best gaming chair brands of 2022. Since none share sales figures, we've ranked them using two broad factors. First, their performance in these tougher times (shrinking demand, more competition, rising production costs).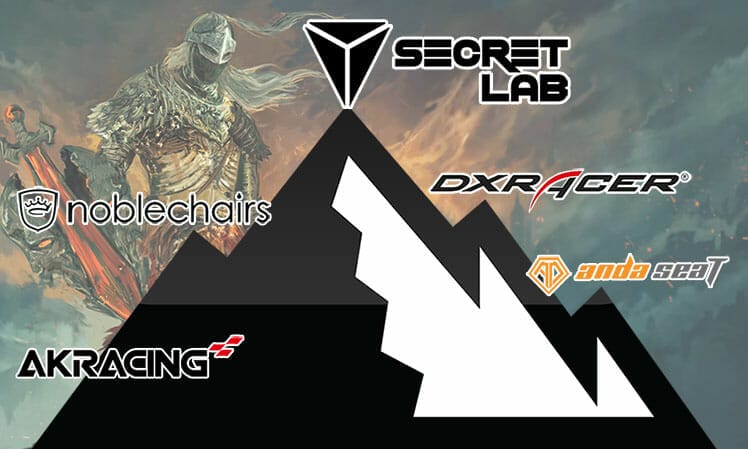 Second, their level of innovation in response to changing ergonomic priorities. These broad factors break down into five ranking criteria:
Ergonomics: the quality of adjustable features compared to what other brands offer.
Product availability: global shipping issues crippled many lesser brands.
Product reliability: chairs that work as advertised; quality of after-care.
Recent innovations: the best brands invest heavily in pioneering new ideas. Others simply copy the leaders.
Big-name partners: big-brand partnership designs suggest aggressive marketing divisions. Struggling companies can't afford this.
Using this formula, four gaming chair brands rank ahead of the rest. Secretlab dominates by ranking 4.5 in each rating criterion.
The second-tier brands each have one area of weakness. That puts the entire field behind Secretlab's 5-point excellence. Rankings:
Secretlab: this model of B2C gaming chair excellence scores 4.5 out of 5 across the board.
DXRacer: the second-most innovative brand is now working to shore up its elite esports team partnerships.
Noblechairs: this German powerhouse climbed the rankings with groundbreaking innovations and elite video game partnerships. Consistent stocking in North America remains an issue..
Anda Seat: innovation is Anda Seat's only weakness. To cover that, they've copied the best features of the latest Secretlab chairs.
Two other legacy brands also make the cut, despite serving up 2006-era gaming chairs. AKRacing rivals Secretlab with legit 5-year warranty protection. Meanwhile, as other cheap gaming brands crumble, E-Win rises to the top of the budget genre. Learn more:
New (Multi-Device) Ergonomic Challenges
New challenges raised at an institutional level have evened the ergonomic playing field. The Handbook of Human Factors and Ergonomics documents the latest standards in workplace environment design.
In the 2012 edition, back support for PC users was the driving ergonomic focus. In late 2021, an updated 5th edition was released. It shifts back support to a secondary priority, while multi-device ergonomic support takes precedence.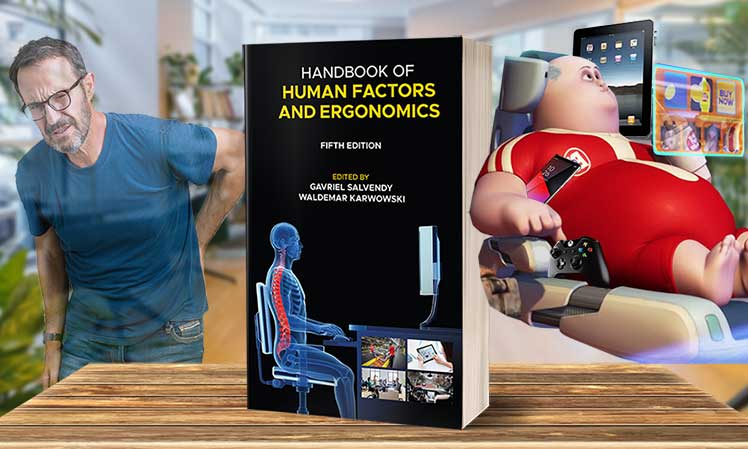 In an era of ubiquitous PC and mobile device usage, users face physical and mental risks from three types of technostress:
Physical technostress: musculoskeletal disorders caused by excessive sitting (lower back problems) and device usage (neck problems).
Mental technostress: cognitive overload comes from using too many complicated gadgets at once.
Techno-addiction: an inability to disengage from devices. For example, techno-addicts compulsively perform work-related tasks outside of business hours.
Corresponding Musculoskeletal Disorder Trends
Sedentary behaviors are skyrocketing worldwide. South Koreans average 8.3 sedentary hours per day; Americans average 7.7 hours (55% of their waking hours).
Long periods of computing or watching TV wreak havoc on the back. But these days, the average adult also spends around 3 hours daily using a mobile device. That's usually done with an extreme forward head tilt that's murder on the back.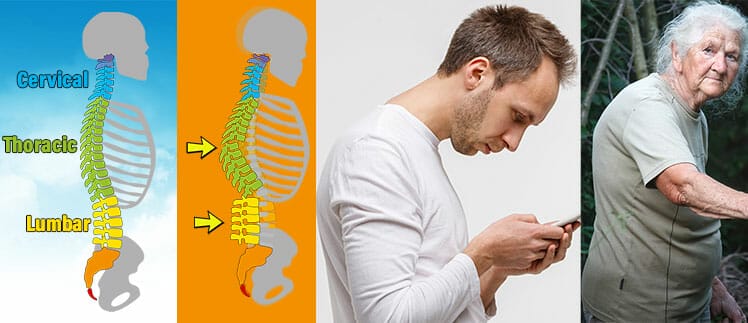 Thus, the modern desk worker faces a dual assault on the spine. Sloppy, unsupported sitting flattens the lower back curve. Concurrently, an extreme forward head tilt curls the upper spine into an ugly 'c' shape.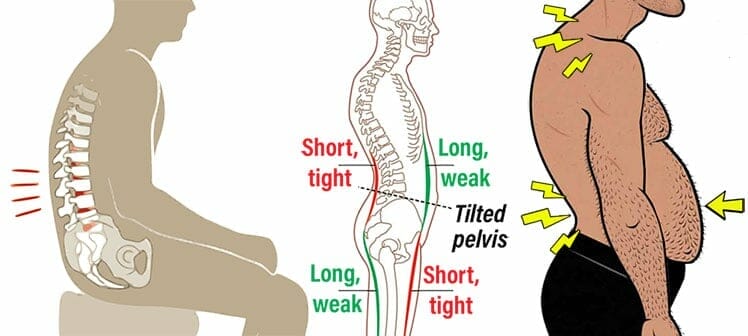 This combination leads to a battery of musculoskeletal woes:
Using non-ergonomic seating tightens the lower back.
Excessive smartphone use causes a forward neck tilt.
A tight back + tilted neck causes anterior pelvic tilt.
Chronic pain and stiffness encourage sedentary behavior.
Poor posture + sedentary habits cause weight gain, depression, hypertension, lethargy, etc.
For a closer look at the physical challenges faced by modern desk workers, see this feature:
Gaming Chair Industry Advantages
The world's top-5 office chair companies all generate over $1 billion in annual revenue; gaming chair companies generate millions. For instance, during the 2020 sales peak, Secretlab generated around $260 million in sales (double its 2019 numbers).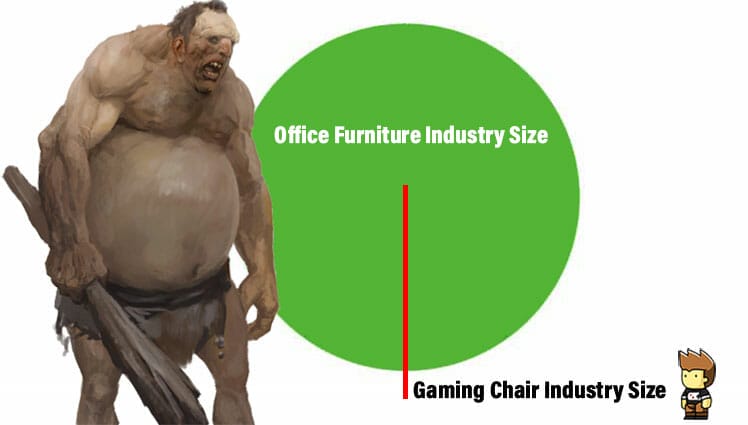 In terms of financial scale, the gaming chair industry is an insect compared to the massive B2B office furniture industry. Even so, gaming chair companies have several advantages that help them stay competitive.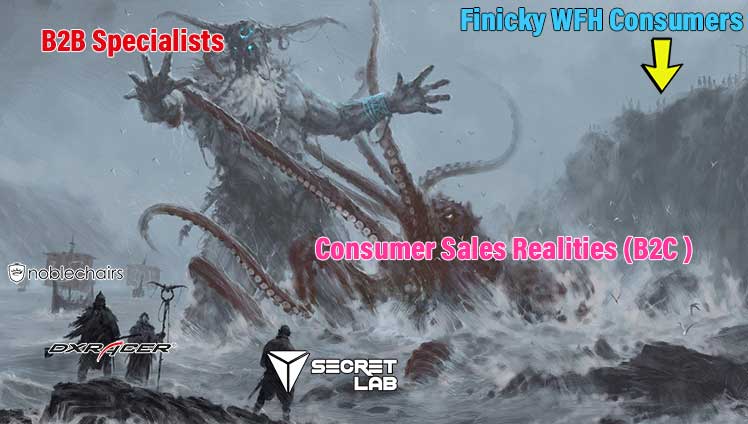 For one thing, small, privately-owned companies are more agile than multinational giants. For another, most top brands have well-developed relationships with consumer markets.
Summary of gaming chair industry advantages:
Rapid Ergonomic Innovations
The Handbook of Human Factors and Ergonomics covers the latest trends in workplace environment design. The 5th edition (released August 2021) touts multi-device ergonomic support as the new ergonomic priority for institutional designers.
At around the same time as the 5th edition release, the gaming chair industry began rolling out a series of ergonomic innovations. Some of these have helped gaming chairs to match and then exceed ergonomic office chair functionality.
Others are early prototypes aiming to provide multi-device support for gamers of the present and future. Key innovations over the past 12 months:
4-way integrated lumbar support: integrated lumbar support that's depth and height-adjustable. This beats the lumbar support functionality of most modern ergonomic office chairs.
Strapless magnetic headrest: memory foam headrests with massive adjustment ranges support perfect neck posture.
Mesh seat modules: hot-swappable seat pans that let users enjoy mesh or faux leather sitting experiences.
Modular device holders: laptop and device holders that attach to a gaming chair for desk-free device computing.
Sync-tilt and seat slider: the fanciest ergonomic office chair feature has been ported over to gaming chairs.
Swappable armrest caps: replaceable armrest caps make it possible to extend a chair's functionality with magnetic add-ons.
Deskless lapboard: an early-stage prototype that attaches a lapboard onto magnetic gaming chair armrests.
Strong, Widening Fanbase
It was during the 2020 lockdowns that Secretlab chair appeal went beyond gamers. Secretlab CEO Ian Ang said(2) that was unexpected: "We have never actively targeted the office (segment)."
But when the pandemic struck, he noticed a "spillover effect" of office workers suddenly interested in buying Secretlab gaming chairs.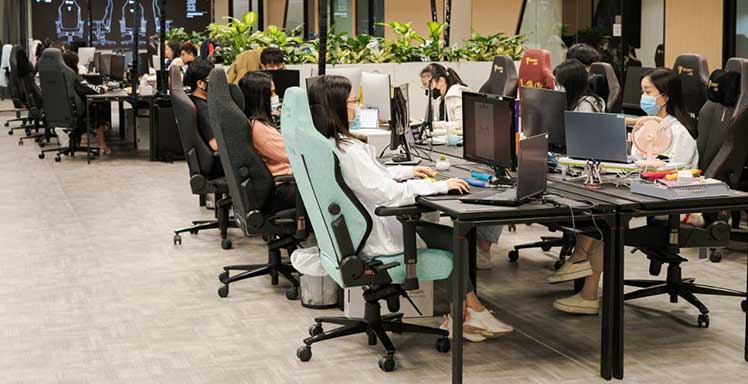 In 2022, enterprise gaming chair clientele is a small-but-growing segment. This penetrates deep into the heart of the once-exclusive office chair industry territory.
We can see a continued 'spillover effect' in many cases where gaming chairs take over from office chairs. For example, former gaming chair naysayer Linus Tech Tips and pals now podcast atop Black Titan Evo 2022 chairs.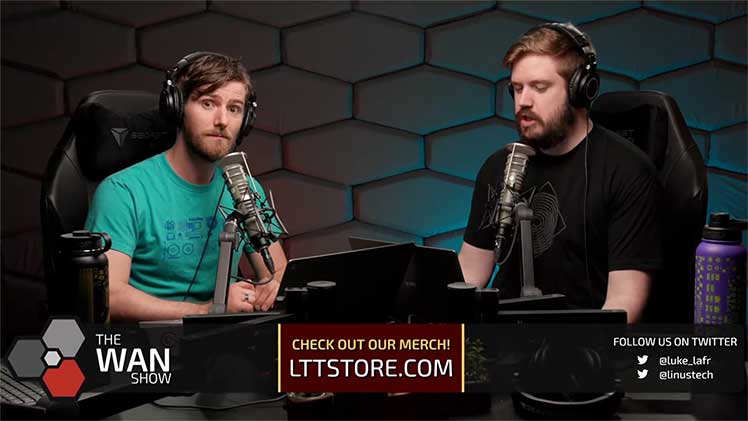 For home streamers, podcasters, and all types of desk workers, a gaming chair yields one big advantage. While mid-back ergonomic chairs force you to sit upright at all times, gaming chairs are more versatile.
As a result, users can enjoy good posture plus casual sitting support. Moving forward, look for this versatility (and aesthetic appeal) to win over more office chair traditionalists.
Well-developed B2C Systems
Office chair industry leader Herman Miller has been selling products online to consumers for less than two years. In contrast, Secretlab has five years of experience running local fulfillment operations worldwide.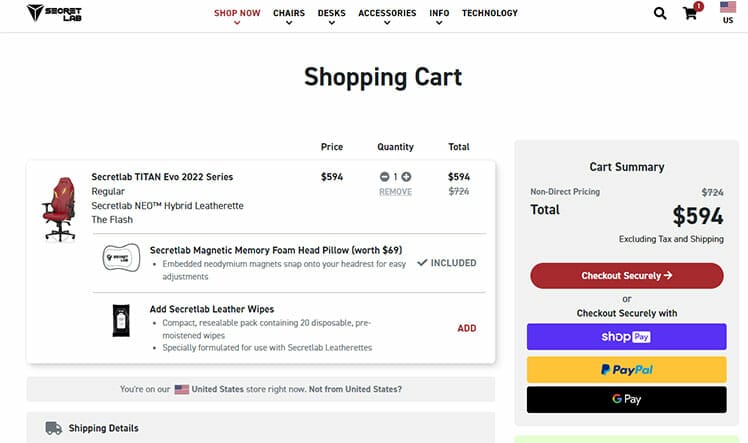 Secretlab's online shopping experience is easy to browse and very easy to check out. Its fulfillment operations are also next-level. From central factories, the company services North American, European, Asian, and Oceania markets.
Each location has its own warehouses and support teams. As well, company reps patrol all top message boards to service issues over social media. On top of that, human live-chat operators are available 24-7 on the Secretlab website.
Relevance: the (B2B specialist) office chair industry will need a lot of time and effort to match the B2C prowess of the gaming chair industry.
Office Chair Industry Counterstrikes
In 2021, the global office chair industry generated over $50 billion in revenue. In contrast, all gaming chair company revenues combined fall well short of $1 billion. Even so, the tiny upstarts have awoken a giant.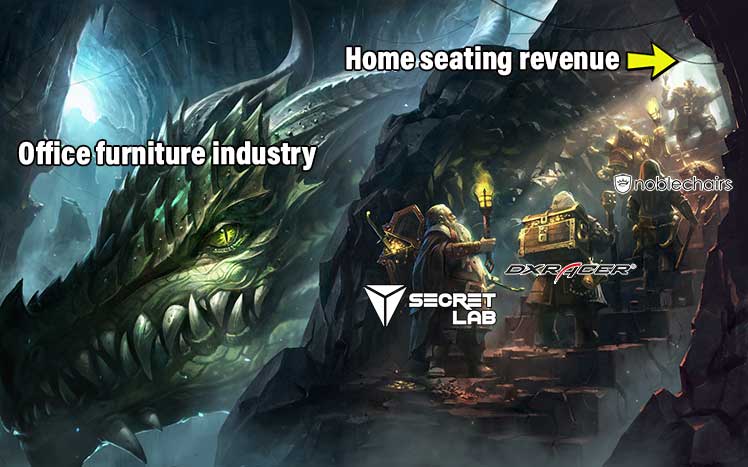 We know this because the world's biggest office chair company has taken clear aim and the gaming chair industry's advantages.
MillerKnoll Leads The Assault
Pre-lockdown, the world's #1-ranked office furniture company was Steelcase. Rather than hastily put together a consumer sales division, they decided to 'ride out the pandemic'. Circa 2022, Steelcase is still waiting for things to blow over!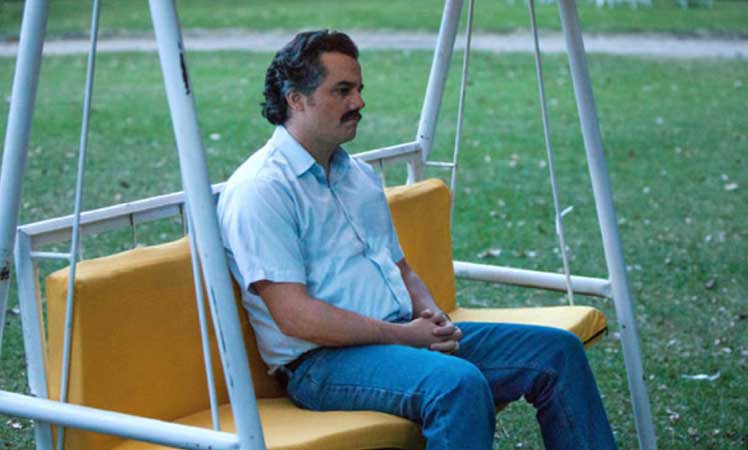 The company projects an optimistic 27% growth rate by 2023 on one condition. If the world 'goes back to normal', they've promised shareholders good times. If not, they're screwed!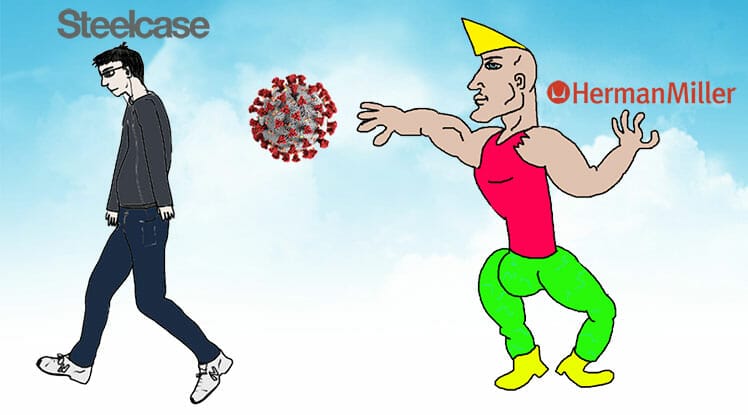 In contrast, when the pandemic hit, Herman Miller executives got fired up. CEO Andi Owen declared the company would 'take bold action to emerge as an industry leader.' Andi wasn't kidding!
MillerKnoll Emerges As The New Industry Leader
In 2020, Herman Miller hastily launched an e-commerce consumer website and a line of gaming chairs. Soon after, they partnered with mega-streamer TimtheTatman to help spread the word.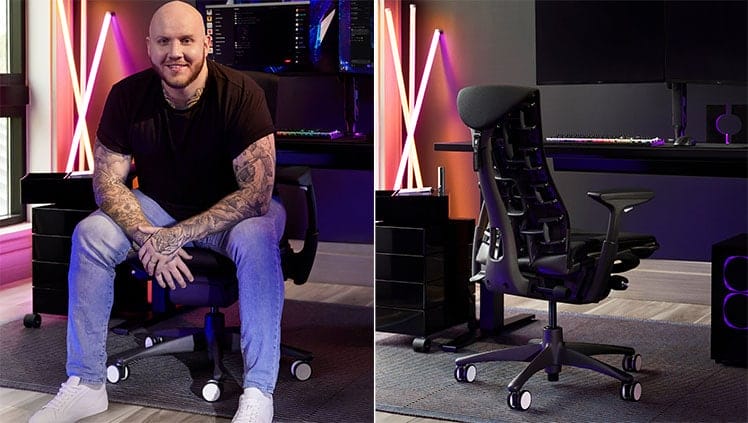 In July 2021, the company acquired Knoll, the fifth-largest office furniture company of 2020. The MillerKnoll conglomerate now operates as the largest — and most influential — office design company in the world.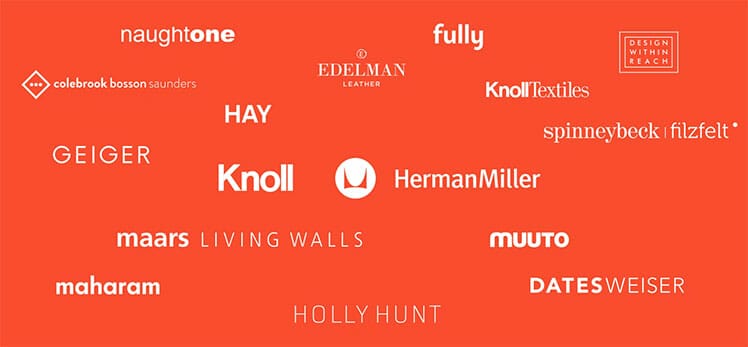 In the company's 2021 annual report, they laid out a 7-step plan for world seating domination:
Knoll acquisition: sets up MillerKnoll as the undisputed global seating leader.
Consumer + B2B Focuses: cater to both business clients and retail consumers.
Strong gaming chair division: promoted via partnerships with top gaming influencers.
Local seating stores: mini-shops for grassroots ergonomic evangelism.
Slick online shopping portal: make it easy for clients and consumers to shop online.
Rapid gaming chair upgrades: gather player feedback and upgrade chairs accordingly.
Corporate ergonomic mentoring: teach clients the business benefits of good ergonomics.
Notably, beyond the Knoll acquisition, every part of the plan aims to gain traction in consumer markets.
Adopt Rapid Innovation Tactics
The old Herman Miller was a lumbering giant that was slow to change. As an example, Herman Miller's iconic Aeron chair made its debut in 1994. It didn't get any upgrades until the Aeron Remastered came out in 2017 — a 23-year development gap!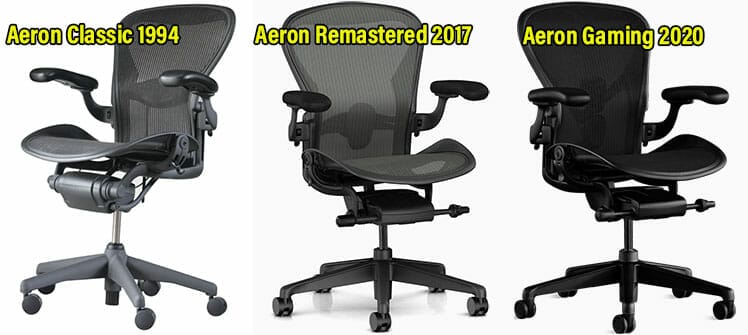 Three years later (2021), there was a third revision when the Aeron gaming edition came out. However, the only difference between the gaming and Remastered edition is the color!
New Rapid Innovation Showcase
Earlier this year, Herman Miller's gaming chair division made rapid innovations a priority. In the fourth quarter 2021, the company launched its first innovation driven by gamer feedback: an all-black edition Embody Gaming Chair.
Rapid innovations based on gamer feedback show the world MillerKnoll's intent. Despite its massive size, duty to shareholders, and seas of red tape, it proves that a multinational can hang with agile gaming chair companies.
Relevance: bringing rapid innovations to market is the biggest advantage the gaming chair industry has over the office chair industry — for now. If the lumbering office chair industry can speed up its innovations, this advantage will evaporate.
Develop Strong Consumer Relationships
For decades, the massive office furniture industry generated billions in sales each year from B2B clients. Enterprise-level corporations made up 64% of furniture sales pre-pandemic. In sharp contrast, consumer sales have traditionally been an afterthought.
The reverse is true for gaming chair companies. Most have been 100% focused on consumer sales for years. As a result, many have strong consumer relationships. As an example, Secretlab partners with many of the world's top esports players and tournaments.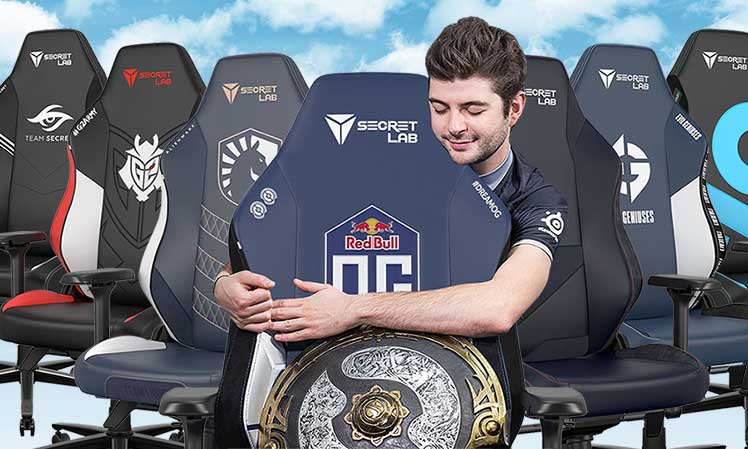 To bridge this gap, MillerKnoll has used its vast resources to forge a solution.
Herman Miller Seating Stores
These started appearing in Q2 2021. At present, there are 17 set up in prestige retail locations across America.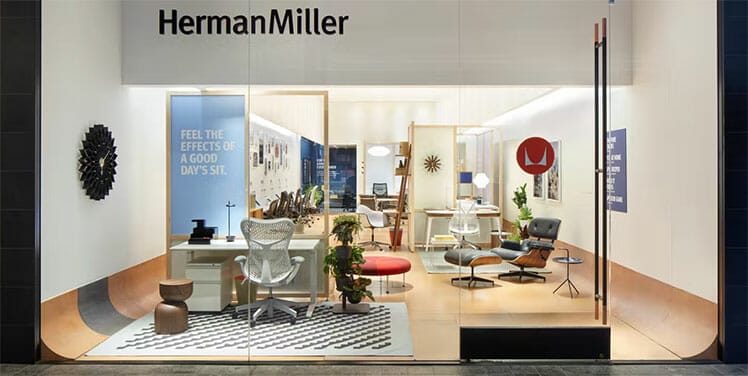 Each is a small retail space packed with the best Herman Miller office furniture. All are staffed with seating experts trained to walk customers through the features of every chair in the shop.
According to Herman Miller, this 'local outreach' concept has blossomed. "All continue to outperform our expectations. They are an important growth vehicle in helping us extend the reach of our brand to new audiences."
Relevance: Herman Miller's Seating Stores aim to seize consumer attention at a grassroots level. This has the potential to obliterate the consumer relations advantage currently enjoyed by the gaming chair industry.
Unclaimed Booty Up For Grabs
The first chapter of the gaming chair industry's saga is complete. It's an origin story that runs from 2006-2020. It tells how the office chair industry's consumer neglect spawned new opportunities — and a global, multi-million-dollar industry.
Most of this story took place during an era of PC desk worker ergonomics. Per the Handbook of Human Factors and Ergonomics, that era is now over.
Beyond using a PC at a desk, the modern adult also spends around 3 hours per day using a mobile device. Most do so with their heads bent forward at a 45° angle.
That places around 50 pounds of extra pressure on the neck and shoulder muscles. Over time, excessive periods spent in this position can cause serious postural issues.
This is why the Handbook touts multi-device support as the driving ergonomic priority of our time. Even so, look for history to repeat itself.
Only the most dynamic, ambitious seating brands are up for pioneering new solutions. The rest are mostly inert copycats that go along with whatever trends come about.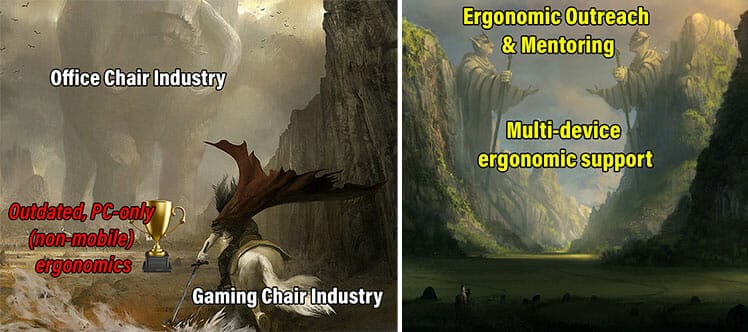 Over the next few years, two glaring gaps exist in the market. At present, MillerKnoll and several gaming chair companies have already started tackling both.
Massive Ergonomic Awareness Deficit
A study of employee WFH habits during 2020 lockdowns shed light on two glaring weaknesses of office culture. First, most employers have no idea how to equip their staff for healthy deskwork.
Second, most employees don't know what healthy deskwork entails. For instance, the U. of Cincinnati sent faculty home with only a laptop. More than half spent their time working at makeshift desks (knees or pillows).
Researchers then sent ergonomic advice to staff. Their tips included using an ergonomic chair, connecting their laptop to an external screen, and using an external keyboard. Five months later, over half of all WFH staff refused to adapt.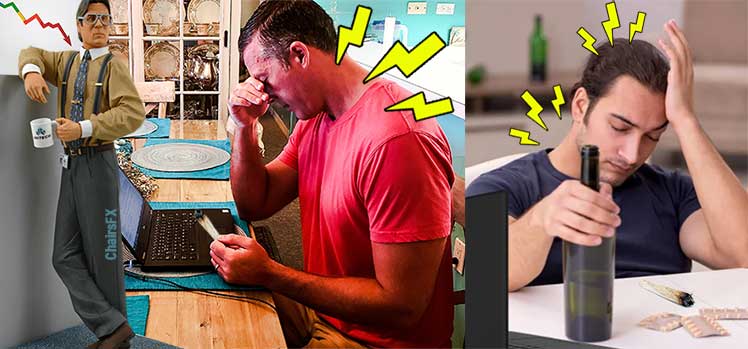 As a result, pain reports were off the charts. A whopping 62% reported moderate to severe upper back and shoulder pain (indicative of text neck syndrome). 49% reported neck pain and headaches; 45% reported lower back pain.
MillerKnoll Corporate Mentoring
MillerKnoll has targeted corporate ergonomic ignorance as a massive opportunity. Per its fiscal 2022 Q3 report, many contract clients are keen to reopen — and upgrade their offices with better working conditions.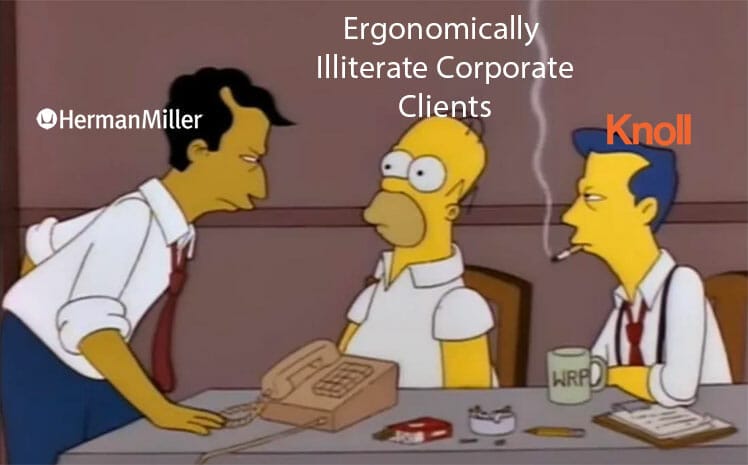 To fill the corporate knowledge gap, MillerKnoll's sales team is taking a mentor-style B2B approach. "As employers consider their spaces, we are seeing a push toward investing in the workplace to create premium spaces and differentiated employee experiences."
As Herman Miller Seating Stores mentor the retail sector, its B2B division aims to do the same for enterprise clients. "With a robust product portfolio across many brands, MillerKnoll is ready to meet that [mentoring] demand."
Unsolved Mobile Ergonomic Issues
The drive to support a multi-device computing era comes from the very top of society. The World Economic Forum describes an emerging tech era as the Fourth Industrial Revolution.
The plan calls for a globalized, near-virtual reality populated by "billions of people connected by mobile devices, with unprecedented processing power, storage capacity, and access to knowledge…"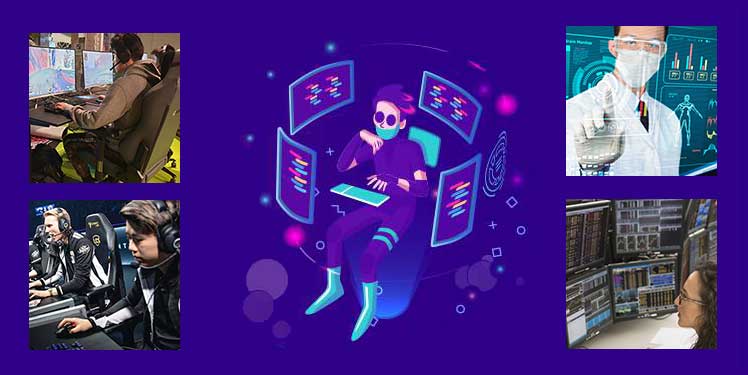 In a ubiquitous computing world, human factors ergonomics must evolve as the technology does. As a result, the ergonomic challenges of sitting at a desk are now just a tiny part of the modern ergonomic equation.
The Race For Mobile Ergonomic Support Has Started
Pro gamers use technology with greater intensity than average office workers. As a result, they suffer the negative effects of technologies faster than others.
Studies have shown that many pro mobile gamers suffer spinal deformities. Common problems include very bad posture and weak spinal mobility.
Luckily, the race to develop mobile ergonomic solutions has already started. However, all solutions thus far have come from the gaming chair industry. Thus far, the multi-billion-dollar office furniture industry has ignored this emerging opportunity.
Relevance: history looks set to repeat itself. In the early 2000s, the office chair industry ignored the rising esports trend. That opened the door for gaming chairs to emerge in 2006. In 2022, the industry ignores the need for mobile ergonomics. As the 4th Industrial Revolution kicks off, this might prove another costly mistake.
Bright WFH & Mobile Ergonomic Future
ChairsFX started up in early 2018. Back then, gaming chairs were niche items used mainly by hardcore esports players. In those early days, we often received angry messages from office chair purists.
"Gaming chairs are scams" was a popular complaint. "Gaming chairs aren't ergonomic" was another. Those sentiments recall a Gandhi quote:
First they ignore you, then they laugh at you, then they fight you, then you win.
In 2022, whether office chair purists like it or not, gaming chairs are a major part of the modern ergonomic landscape. In terms of biomechanically-perfect ergonomic support, modern gaming chairs do the same job as $1600 Herman Miller chairs do.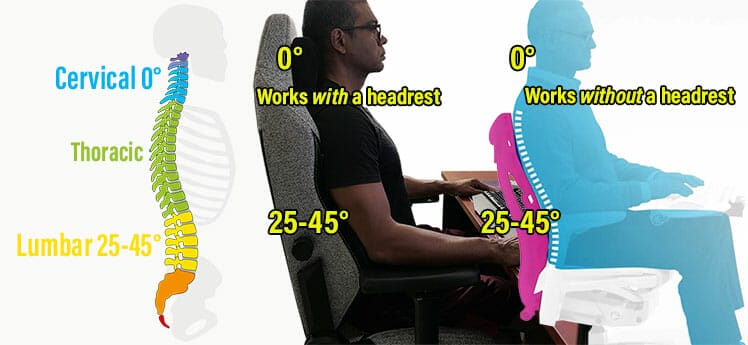 But in the work-from-home era, strict, office-style sitting support can feel confining. To that end, gaming chairs go beyond office chairs by providing all-day sitting support.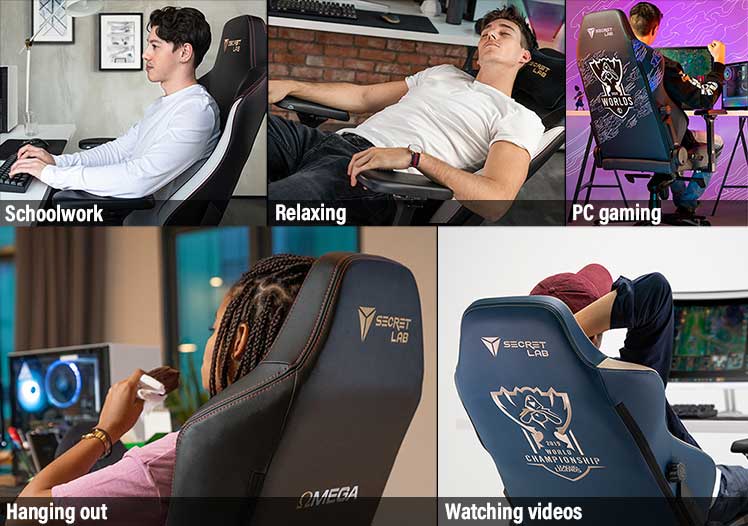 Beyond strict upright office work, a good gaming chair can support you through chilling out, watching videos, and even napping!
Finally, as mobile phone usage demands more of our time, text neck problems will continue to mount. To that end, the gaming chair industry stands alone as the hero we need for multi-device ergonomic support.