Choosing the best work-from-home gaming chair in a sea of choices can be confusing. Luckily, the key to healthy sitting in any type of ergonomic chair is the lumbar support. Narrowing down on that aspect can make choosing easier. Here we review the best gaming chair lumbar support types for full-time desk work.
The healthiest way to sit for long periods is in neutral positions. The most important chair component that supports neutral postures is adjustable lumbar support. With the right amount of pressure in your lower back, sitting up straight gets a lot easier.
Awareness about the need for ergonomic support for sitting went mainstream in 2020. When the work-from-home (WFH) era began, incidents of lower back pain skyrocketed. Many learned the hard way why working long hours on a kitchen table or sofa causes lower back pain. As a result, ergonomic chair sales skyrocketed.
Ergonomic means 'adjustable'. All types of ergonomic chairs come with adjustable armrests, seat height, and backrest recline. However, adjustable lumbar support is the key component that promotes good posture while sitting.
How Does Lumbar Support Help?
For thousands of years, humans survived by hunting, gathering, and evading predators. As a result, the body evolved to incorporate regular physical activity into old age.
Sitting full-time wasn't a thing until administrative offices emerged in the 18th century. From then until now, the human body hasn't had the time to evolve towards sedentary lifestyles.
When standing, a healthy adult's lumbar spine curves at an angle between 20-45 degrees. That curve keeps the upper back straight and balances the head evenly atop the shoulders.
Sitting without support reduces a healthy lumbar curve by around 50%. That leads to slouching, muscle strain, and lower back pain. In contrast, sitting with lumbar support restores the curve to a healthy 47-degrees.
Lumbar Support Promotes Neutral Postures
Sitting with a healthy lumbar curve puts the user into healthy neutral sitting positions. With feet planted on the floor and a supported lumbar, sitting this way is almost effortless.
Doing so lets the chair do the work instead of your back muscles. As a result, users can enjoy long periods of healthy sitting without strain. As a result, they're able to sit longer, feel better, and be a lot more productive.
Learning Lumbar Support Benefits At Home
You can test the importance of lumbar support for yourself at home. First, sit in a non-adjustable chair at your computer. At first, you'll be able to sit straight by planting your feet and flexing your back muscles.
Once your back muscles tire, your hips will scoot forward to provide alternative bracing. As a result, your spine will curl into a slouch.
Next, try again with support in your lumbar area. Use a rolled-up towel, blanket, or yoga mat. With pressure applied to your lower spine, a relfex kicks in that makes sitting up straight easy! Learn more in this article:
Best Chair Lumbar Support Types
There are several different adjustable lumbar support options on the market in 2021. Here's a look at the best types, ranked from the most to the least effective.
Secretlab Titan 4-Way Integrated Lumbar
Released in July 2021, Secretlab's new gaming chair series comes come in small, medium, and XL sizes. Titan EVO 2022 Series chairs come with a magnetic headrest pillow, pebble seat, and over 30+ styles.
But the star feature is its 4-Way L-ADAPT Lumbar Support System. This is the only 4-way integrated gaming chair lumbar support on the market. Turn the dial on the left side of the chair to adjust the lumbar unit up or down.
Once you find your sweet spot, turn the dial on the right to adjust the depth of support. When the lower back pressure feels just right, lean back and enjoy!
For added comfort, a matrix of 63 adaptive hinges lay over the support unit. These flex left or right in response to user micromovements. That improves the consistency and stability of support, no matter how you sit in the chair.
Height x depth lumbar pros and cons
Secretlab helps users achieve a good fit by offering the Titan in three sizes. Stacked with a 4-way adaptive lumbar, it helps users achieve an almost perfect fit.
Pros
Height and depth adjustability
Very easy to use
Cons
Tricky to configure for ergonomic beginners
The problem is that the average gaming chair user isn't a lumbar support expert. Many users will need to spend a long time testing different levels before they find their groove.
Even so, having the ability to adjust your support is invaluable. Set the height to meet the dead center of your lower back. Then, toggle the support to find the perfect level for your needs.
Learn more in this Titan 2022 Series Review or 2022 Series SoftWeave Fabric Chair Review.
Herman Miller Aeron PostureFit
The Herman Miller Aeron is the world's most sophisticated ergonomic chair. The original model made its debut in 1994. In 2017, the Aeron was 'remastered' with upgrades. Those included enhanced mesh upholstery and a new PostureFit lumbar support system.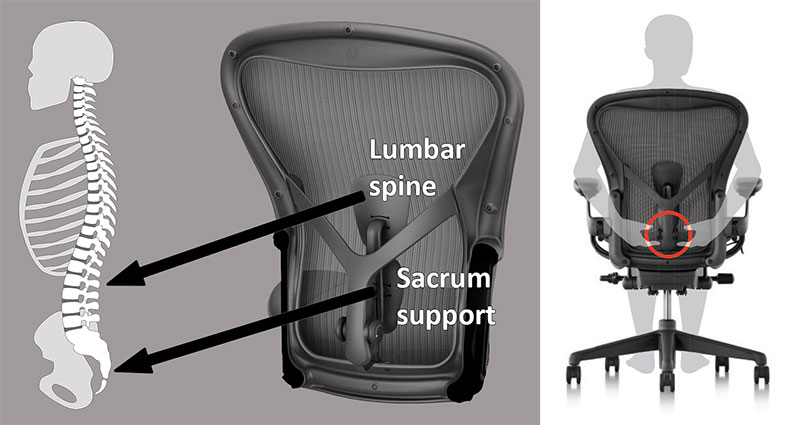 Until Secretlab released its 4-way integrated support, the Aeron chair's PostureFit reigned as the industry's best. It's the only lumbar device on the market with support for two parts of the lower back.
Two pads on the support unit flex independently as the user moves. The top pad supports the lumbar spine. The bottom one supports the sacral spine (near the tailbone).
However, the Titan's lumbar lets you adjust both the depth and height. In contrast, you can only adjust the depth of PostureFit support. Turn the knob on either side of the unit to increase or reduce pad pressure on your spine.
PostureFit Pros and Cons
No other lumbar support system targets two parts of the lower spine. The combination works well — for most people. The problem is the lack of height adjustability. Many user reviews on Herman Miller's website complain that the lumbar support hits too low.
Then, instead of hitting your lumbar curve, it will hit below it. Pressure in the wrong area causes pain instead of support. If that happens to you, PostureFit is useless.
Pros
Broad coverage for two parts of the spine
Easy depth adjustability
Cons
Expensive
Not height adjustable
On the positive side, PostureFit should fit around 80% of users perfectly. Then, the lumbar pad provides adjustable support right where you need it. At the same time, the sacral pad puts light pressure near your tailbone.
That provides tactile information while you sit about your spinal positioning. After a while, tucking your hips deep enough to touch the sacral support will become a habit. Then, sitting up straight becomes almost effortless.
Aeron Gaming Chair from Herman Miller $1445
The Aeron Classic Office Chair is also available for $1445. Learn more in this Herman Miller Aeron Review.
Cheap Office Chair 4-Way Integrated Lumbar
Effective lumbar support is the most important component in any type of ergonomic chair. Surprisingly, several cheap ergonomic office chairs under $300 come with height and depth-adjustable lumbar support.
As an example, the Sihoo Ergonomic office chair costs $229.99 on Amazon. It comes with basic features: 1D armrests, a reclining backrest, and 4-way adjustable lumbar support (up, down, in, out).
Higher up the pricing scale, chairs in the $350 to $600 range offer similar technology. Luckily, this technology isn't expensive. In fact, several ergonomic office chairs under $300 come with this functionality.
For instance, the Sidiz T50 ergonomic chair costs $359.00 on Amazon. It does the same job as the Sihoo chair's lumbar, albeit with a higher build quality.
Height x depth lumbar pros and cons
This type of lumbar support is common, even on cheap ergonomic office chairs. As a trend, most cheaper models cut back on features like armrest and recline adjustability. To compensate, most make up for it with a height x depth-adjustable lumbar support.
Pros
Fully-adjustable
Easy to use
Cons
Often comes on cheaper chairs with otherwise limited adjustability.
This type of support works just as well as Secretlab's 2022 Series 4-Way lumbar. The difference is that Secretlab's model comes wrapped in a luxurious premium chair.
In contrast, many chairs offering solid height x depth lumbar support are otherwise basic. If you want a solid, supportive chair without fancy frills, look for one with this type of lumbar.
Secretlab Titan 2-Way Integrated Lumbar
The Secretlab Titan 2020 Series reigned for a few years as the world's best gaming chair. It differs from others with a flat, wide seat and integrated lumbar support.
This design was such a hit that it's been widely copied by other brands. The support comes built into the chair's backrest. By turning a dial on the side of the chair, you can increase or decrease the depth of support to your liking.
This type of support works well. At fully extended depth, it will only stick out 1-2 inches. That allows your entire span to rest flush against the backrest.
Depth-adjustable lumbar pros and cons
The downside is that these systems are not height adjustable. To address that, chairs of this type usually come with size ratings.
If you fit within the recommended range, the lumbar will fit. Shorter users will find that the lumbar hits their upper back, rather than the center. In most cases, that will lead to back pain.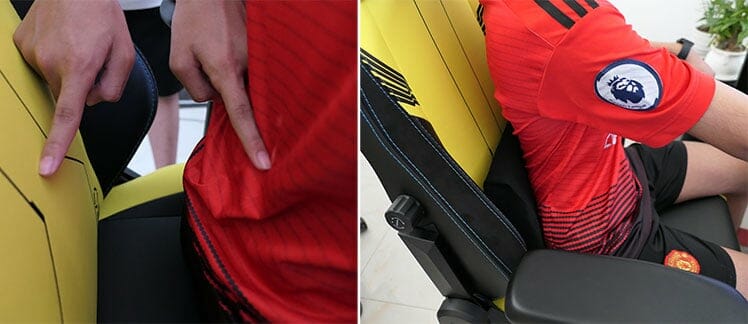 For example, we sat a 5'3″ user in a Secretlab Titan chair rated for sizes 5'9″ and up. Rather than hitting his lower back, the lumbar support hit too high, causing pain rather than comfort.
Then, we reduced the lumbar depth and replaced it with a lumbar support pillow. That reduced his back pain and gave him the support he needed.
Pros
Easy to use
Precise depth adjustability
Comfortable
On the positive side, assuming a proper fit, this type of lumbar support works very well. The curve indentation is mild, leaving no gap between your spine and the backrest. With full contact, your entire back enjoys consistent, comfortable support.
Titan 2020 Seriesfrom Secretlab $399
Learn more: Best Gaming Chairs With Integrated Lumbar Support
Traditional Foam Gaming Chair Lumbar Pillow
The original gaming chair lumbar support type is the classic pillow. Most versions attach to the backrest with straps, letting you adjust the height.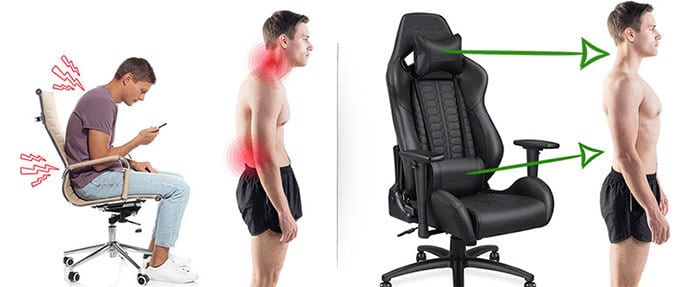 Lumbar support pillows are cheap and effective, but not without issues. For one thing, many people struggle to use one correctly. A common mistake is to place the pillow too low.
Doing so will curl the hips forward, rather than supporting the back. Check out this demonstration on effective use of a gaming chair lumbar pillow:
For another thing, when brand new, lumbar pillows tend to create a gap between your spine and the backrest. Sitting that way works, but can feel awkward.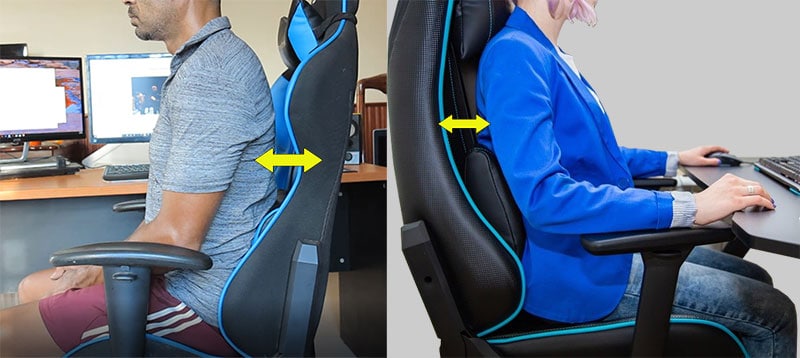 A simple workaround is to flatten out your lumbar pillow to make it more malleable. For instance, remove it from your chair and place it under your bed's mattress for a few hours.
Lumbar pillow pros and cons
Cons
Not as sophisticated as other support types.
Many beginners struggle to use lumbar pillows correctly.
3D Dynamic Self-Adjusting Lumbar
Self-adjusting lumbar support systems don't come with manual adjustability. One of the priciest examples of a self-adjusting lumbar model is the Humanscale Freedom chair ($1169).
When you lean back in a Freedom chair, the lumbar support tilts forward with increased pressure. When you lean forward, the support pressure reduces. A popular option at a lower price point is the Respawn Spectre gaming chair ($434.23 on Amazon).
The Spectre chair's lumbar support works the same as the Freedom chair's. When the user reclines, the support tilts forward.
3D Lumbar pros and cons
In theory, these concepts sound great. Instead of having to fiddle with controls, you can let the chair do all the work.
Pros
Works well over short periods
User-friendly
Cons
No manual controls.
Users have no choice but to passively ride along.
In practice, using these models can be frustrating. One of the joys of a good ergonomic chair is having the control to configure it as you desire.
In self-adjusting chairs, you lose the freedom of choice. If you want to slouch, relax, play video games, or take a nap, your self-adjusting chair may or may not allow it.
Built-In Non-Adjustable Lumbar
The most basic type of seated lumbar support is the built-in type. These are curved shapes built into the backrest, usually in hard plastic. Many non-ergonomic traditional office chairs (non-ergonomic) use this type of support.
A few gaming chairs with this type of lumbar support have also emerged. One of the latest is the Respawn Sidewinder ($204.77 on Amazon).
Its lumbar support is a non-adjustable hard curve built into the backrest. Since it doesn't adjust, the user's body must adjust (usually by slouching) in case of discomfort.
Integrated (non-adjustable) lumbar pros and cons
Fixed, integrated systems work best over short periods of sitting. Over longer periods, when discomfort hits, the lack of adjustments limit your options. To relieve discomfort, you can either slouch or stand up. The chair won't offer any help.

Pros
Works well over short periods
User-friendly
Cons
No manual controls.
Uncomfortable over longer sitting periods.
Conclusion
If you sit full-time and suffer from lower back pain, a good ergonomic chair can help. In simple terms, 'ergonomic' means 'adjustable'. To qualify as ergonomic, a chair needs three components
Adjustable lumbar: helps maintain good posture.
Adjustable armrests: offset the weight of the arms.
Reclining backrest: enables movement while sitting.
Out of the three, lumbar support is the most important – the other two serve as complementary pieces.
Thus, when shopping for a new desk chair, factor in the quality of its lumbar support as a high priority.
For instance, if a chair has a height and depth-adjustable lumbar, you can count on it to fit and work well. Then, you need only consider its complementary components to see if it's the right model for you.
Related Articles