Applying mild pressure to the right part of the lower back keeps a seated spine in a healthy alignment. It's not complicated: adjustable lumbar support set to the correct depth and height does the job. Even so, several lumbar support types are available. Many serve up funky gimmicks or flashy features that reinvent the wheel. This article separates the gimmicks from the good values. Here are the top lumbar support types on the market in 2022 — rated from the most to least effective.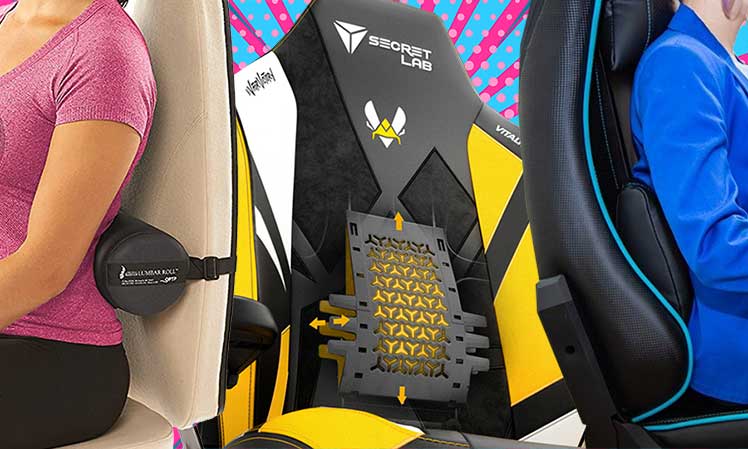 In a healthy standing position, two numbers indicate a spine in good alignment. These are a 25-45° lower back curve and a 0° neck tilt. With these angles, the spine works harmoniously with muscles to hold the body up against gravity.
Without support, the lower back curve will flatten by half when you sit down. Once back muscles tire, it almost completely collapses. That places severe stress on the spine and surrounding muscles. As a result, users suffer from stiffness, back pain, and a host of health issues.
Lumbar support provides a simple solution to this problem. Set to the right height and depth, it ensures that the spine maintains a healthy 25-45° while sitting. That activates the body's natural mechanics to efficiently hold one's torso up against gravity. Learn more:
Ergonomic Chair Lumbar Support Biomechanical Basics
Good Lumbar Support Definition
What defines a good lumbar support system? This comprehensive peer review advises that good lumbar support should hit around 4 cm deep. But at what height?
The average adult spine is around 30″ long for men and 24″ long for women. The average man should position his lumbar support around 7.5″ above the seat. An average-sized woman should aim for support set to around 5.5″ higher than the seat.

Thus, the perfect lumbar support system is easy to define. One that is both height and depth-adjustable is most likely to provide the support that a unique, one-of-a-kind body type needs.
Best Lumbar Support System Types
Here are the most viable lumbar support systems. These are listed from the most to least effective, with pros and cons summarized:
Best: 4-Way Height x Depth-Adjustable
Given the parameters (4 cm deep) and the unique length of each individual spine, a height and depth-adjustable lumbar support system is (logically) the ergonomic gold standard.
These give you the most precise back support on the market. With complete control over the height and depth, it's possible to customize your back support for your exact body type.
4-way Lumbar Pros
Height and depth adjustability
Very easy to use
Cons
Tricky to configure for ergonomic beginners
But the big advantage of this lumbar support type is also its biggest drawback. First-time ergonomic chair users may struggle to find their perfect height and depth. Then, the system is more likely to cause pain than precise support.
Top Pick: Secretlab Titan 2022 Series
While recently researching Text Neck Syndrome, I was shocked to find myself a victim! Dr. William Duncan explained: I was "resting more on the shape of the joints/bones rather than using soft tissue (muscles, tendons, ligaments) to actively create support."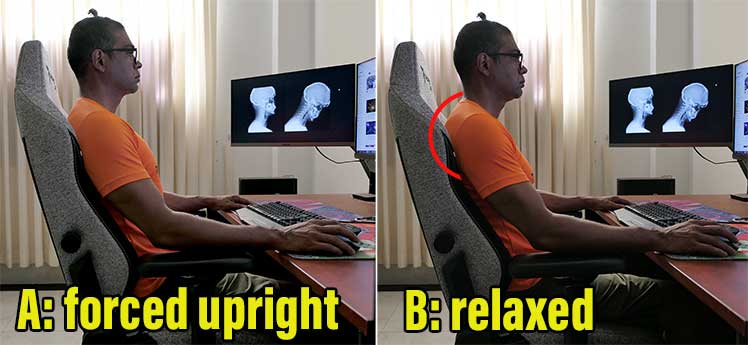 To fix that issue, I started using my Titan 2022 to sit in a near-perfect neutral sitting posture. That includes a 25-45° lower back curve and a 0° neck tilt. It worked!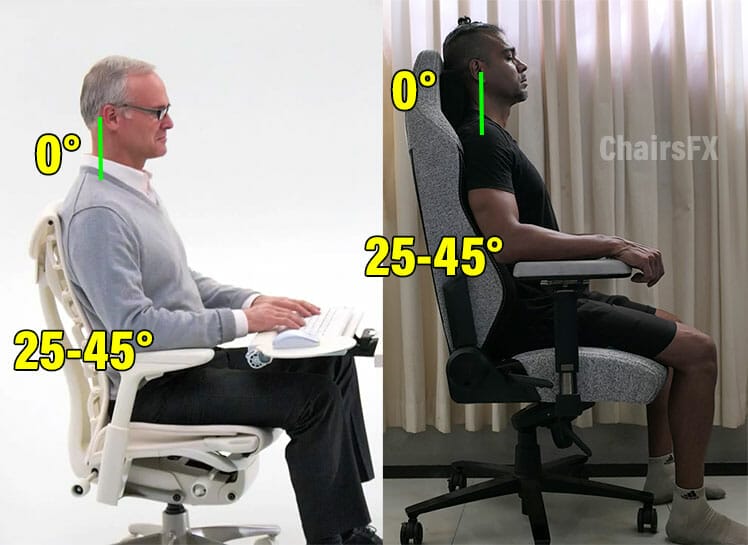 First, I set the backrest to a steep 100°. Then, I adjusted the strapless magnetic headrest pillow to fill the nape of my neck. With those two things set, the Titan's 4-Way L-ADAPT Lumbar Support System has made sitting up straight — with a perfect 0° neck tilt — very easy.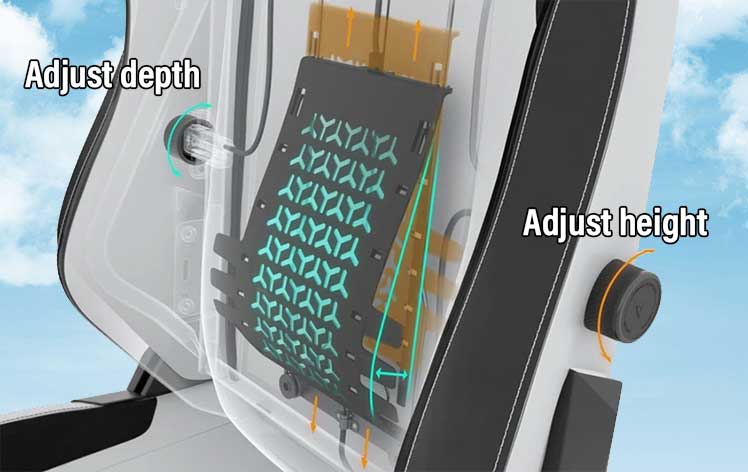 This is the first (and best) 4-way integrated lumbar support on the market. Turn the dial on the left side of the chair to adjust the lumbar unit up or down. Once you find your sweet spot, turn the dial on the right to adjust the depth of support.
For added comfort, a matrix of 63 adaptive hinges lay over the support unit. These flex left or right in response to user micro-movements. That improves the consistency and stability of support, no matter how you sit in the chair. Learn more:
Titan Evo 2022: Hands-On Usability Review
Titan 2022 chairs are available from Secretlab in S, M, and XL sizes (45+ styles) for $549-$674.
Anda Seat Kaiser 3
The Kaiser 3 is the first feature-for-feature clone of the Titan Evo 2022 Series. Like the Titan 2022, it has an integrated, 4-way adjustable lumbar support system.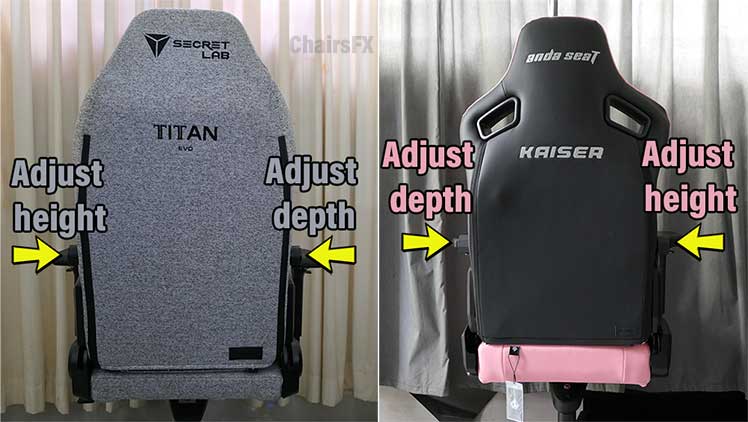 However, while the Titan layers an adaptive matrix over the top of its system, the Kaiser 3 has none. As a result, you can feel lumpiness and moving parts as you toggle the controls. It works the same, but not as elegantly.
Price: $399 @ AndaSeat.com | Learn More: Kaiser 3 vs Titan 2022
4D Lumbar Office Chairs
The NeueChair's lumbar is a solid steel and plastic unit. Push buttons on the side to adjust up and down. To adjust the depth, press the side buttons. Then, push the unit forward or back.
Once you've found your height and depth sweet spot, release the buttons. That will lock the unit in place — exactly where you want it to be!
Price: $649 from Secretlab | Learn More: Neue Ergonomic Chair Review
Other office chairs with 4D lumbars
Sidiz T80: Korean-made office gaming chair.
Duorest Alpha: another South Korean model with an ultra-adaptive backrest concept.
Steelcase Chairs
The Steelcase Gesture, Leap, Think, and Amia chairs all come with height-adjustable lumbar support systems.
But each model also comes with an adjustable seat depth. To increase your lumbar pressure, slide the seat further back; to reduce pressure, slide it an inch or so forward. Learn more:
2nd Best: Height-Adjustable Lumbars
The second-best type of lumbar (in my opinion) is the height-adjustable style. These come with a set depth that's usually neither too deep or shallow. That doesn't deliver the precision of a depth-adjustable unit. Even so, it's not a deal-breaker.
4-way Lumbar Pros
Height-adjustability
Easier to use than 4-way adjustable systems
Cons
The depth is fixed (not adjustable). That's less precise than a 4-way system.
Having height-adjustability lets you align the support directly to your lower back curve sweet spot. With only one dimension to adjust, it's easier to get these systems set properly. In contrast, 4-way lumbar systems need more finesse.
Aeron height-Adjustable System
Many people get lost in the beauty of the Herman Miller Aeron chair when buying one online. There are several choosable feature options, including a choice of lumbar support systems.
The flashy, dual-pad Posturefit system is the default option. It provides next-level support by hitting two parts of the lower back. The problem is that it's depth but not height-adjustable. With an improper fit, it will feel like two bricks in your spine.
As a result, you'll be stuck with a $1600 chair that doesn't support your spine — a massive disaster! Learn more:
Other Good Height-Adjustable Systems
Stripping out gimmicky headrests and funky lumbar support re-inventions leaves a solid tier of ergonomic chairs on the table. In fact, when you strip out the gimmicks, a shocking truth emerges: you don't need to spend big money to enjoy good ergonomic back support.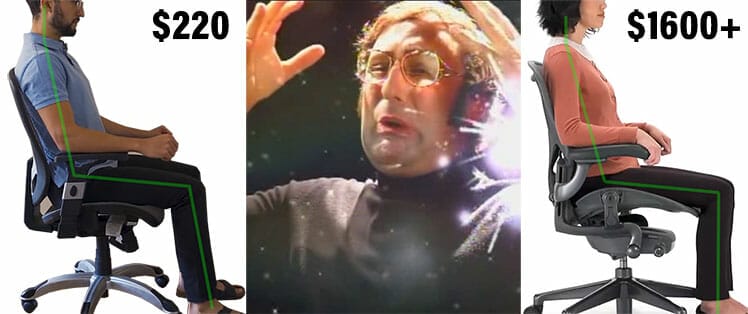 In fact, four ergonomic chairs priced under $300 come with very good height-adjustable lumbar support systems. For example, the Space Seating 24 Series cuts out all gimmicks to meet the most basic fully-ergonomic standards.

The 24 Series lumbar support is a plastic padded piece that simply slides up and down. Two things make it stand out. First, its 4″ height adjustment range is more than many pricier chairs. Second, the 24 Series upholstery is guaranteed for three years; parts are guaranteed for life!
Three other solid chairs in the same price range offer similar lumbar support adjustability. Looking for good, affordable back support without any gimmicks? Check out this review:
3rd Best: External Memory Foam Pillows
A good memory foam lumbar pillow will provide significantly better support than a $1600+ Aeron's height-adjustable system. These go beyond the Aeron by offering automatic depth adjustment.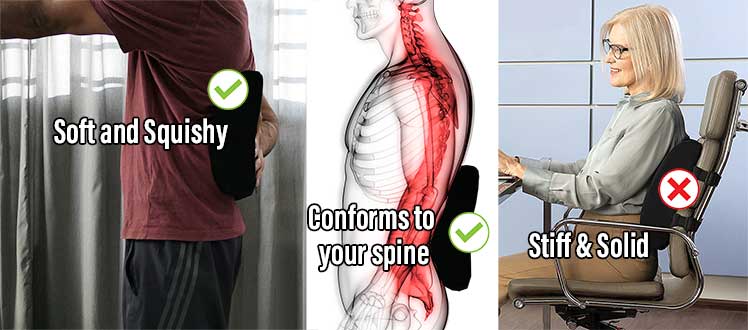 While most Amazon versions are stiff, Secretlab lumbar pillows ($59) compress to the perfect level. Once you manually set the height, lean back.

As you do, it will compress perfectly into your lumbar spine. In my experience, no lumbar support system provides such accurate support. Even so, there's a big flaw that ranks memory foam pillows below height-adjustable systems: usability.
Memory Foam Lumbar Pros
Delivers perfect support for your particular spine
Very easy to use
Cons
It doesn't stay in place; every time you move, it will too.
Some find the need for constant readjustment super-annoying.
Secretlab lumbar pillows come in an array of velour-covered styles. These include Harry Potter editions, World of Warcraft pillows, and a growing collection of League of Legends pillows.
Learn more about the benefits of SL pillows (and available styles) in this report:
Benefits Of Using A Secretlab Lumbar Pillow
Buy a Special Edition Memory Foam Lumbar Pillow from Secretlab for $59.
4th Best: Gaming Chair Lumbar Pillows
The classic gaming chair lumbar pillow is a simple contraption. It attaches to the backrest with straps. Slide it up or down to your preferred height and then lean back into it.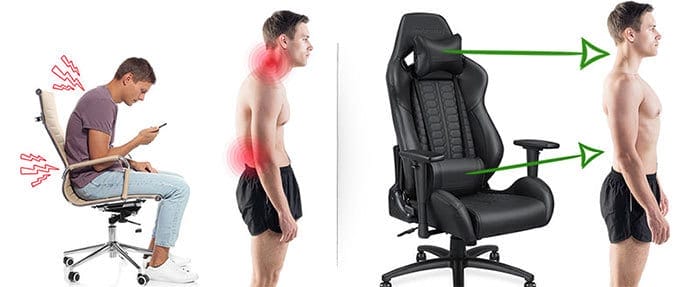 As you do, the pillow should compress under your body weight. That, as a result, should fill your lower back curve with foamy support. But despite the apparent simplicity, these simple pillows don't come with instructions.
Classic Lumbar Pillow Pros
Works well — but only when set correctly
Cons
Not intuitive; hard to get right for ergonomic beginners.
Cheaper lumbar pillows won't compress properly.
Without instructions, many people end up using gaming chair pillows improperly. One positioned too high or too low will curl your hips forward.

In contrast, one set 4-6 inches above the seat will hit you right in the sweet spot. However, even if you perfectly set the pillow height, problems can still arise.
For example, cheaper lumbar pillows don't compress as well as memory foam ones. As a result, these can leave a big gap between your spine and the backrest.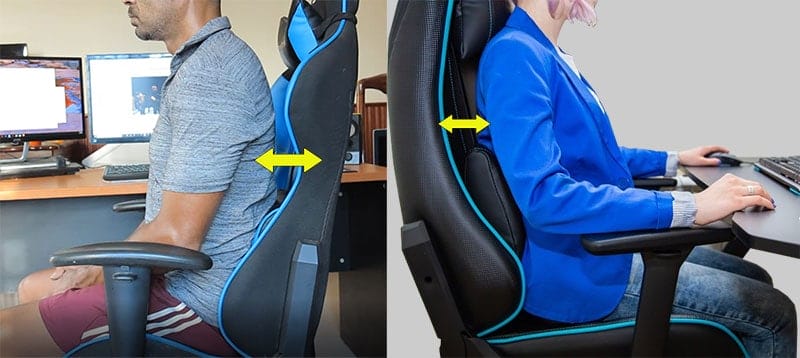 Sitting that way works, but can feel awkward. A simple workaround is to flatten out your lumbar pillow to make it more malleable. Check this short tutorial (2:40) to learn about proper lumbar pillow configuration in less than 3 minutes:
Buyer Beware Lumbar Support Systems
These systems are pretty good — but lack height adjustability. With a perfect fit, you'll enjoy excellent support. On the flip side, an imperfect fit will hurt instead of support. That will render your pricey ergonomic chair basically useless.
Herman Miller Aeron PostureFit
The Aeron's Posturefit lumbar is — technically — the most advanced on the market. It's the only one that hits two parts of the spine. The top one supports the lumbar spine. The bottom pad supports the sacral spine (near the tailbone).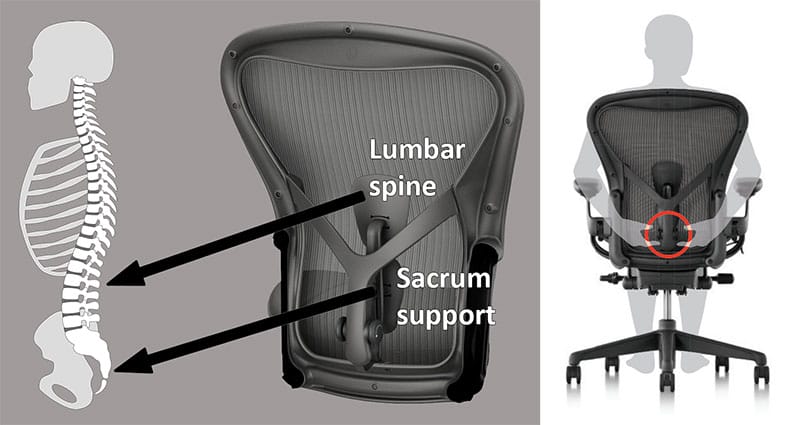 Posturefit is very easy to use. Simply learn your body weight into the backrest until you can feel the pads hitting your spine. Then, twist the adjustment dial to increase or reduce the depth of support.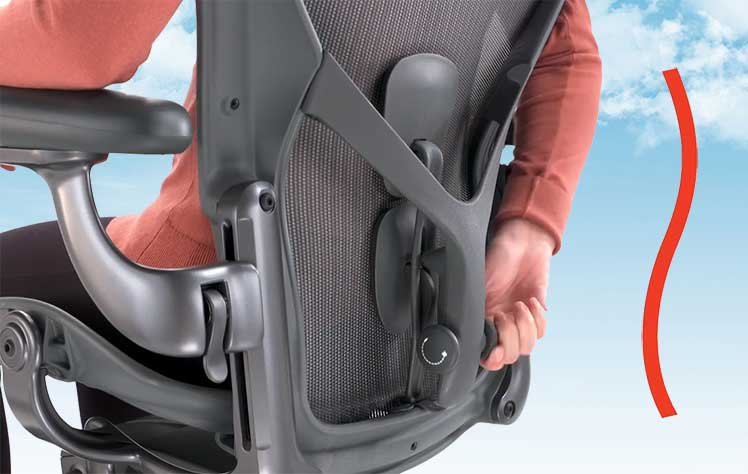 The problem is that Posturefit is not height-adjustable. Since every spine is unique, the chances of both pads hitting your particular support points are slim. On top of that, the Aeron comes in a choice of three sizes.
I stand 5'10". In both a small and medium Aeron, the Posturefit feels weird. In both versions, it feels like a small adjustment up or down would make the support perfect. But without height-adjustability, perfect support with a Posturefit is unlikely.
Posturefit Pros
Next-level support for two parts of the lower spine
Easy depth adjustability
Cons
Expensive
Not height adjustable
The simple solution to the Posturefit's limitations is to configure your Aeron with a sliding lumbar support pad instead.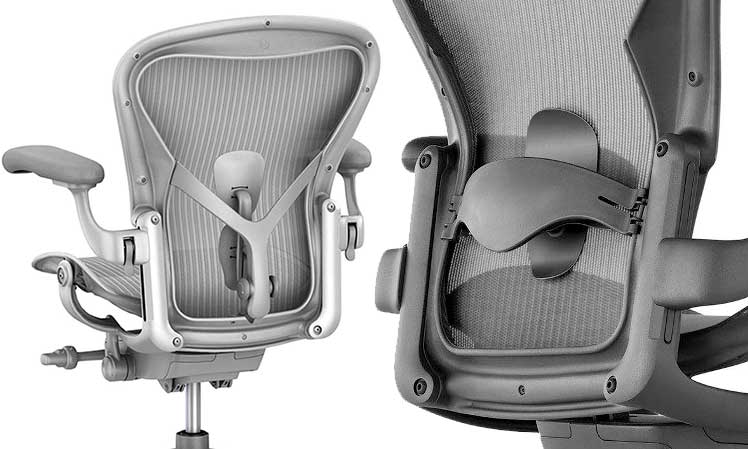 Although not as flashy as the Posturefit, its height-adjustability guarantees a good fit for your body type. Learn more:
Titan 2020 2-Way Integrated Lumbar
Unlike the 2022 Series 4-way adjustability, this chair's integrated lumbar is only depth-adjustable.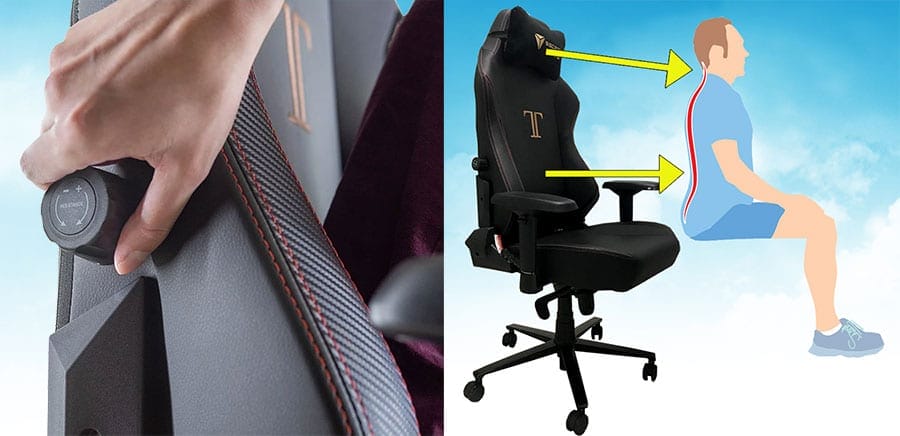 Turning a dial on the side of the chair lets you increase or decrease the depth of support. At a fully extended depth, it only sticks out 1-2 inches. That ensures your entire span can rest flush against the backrest.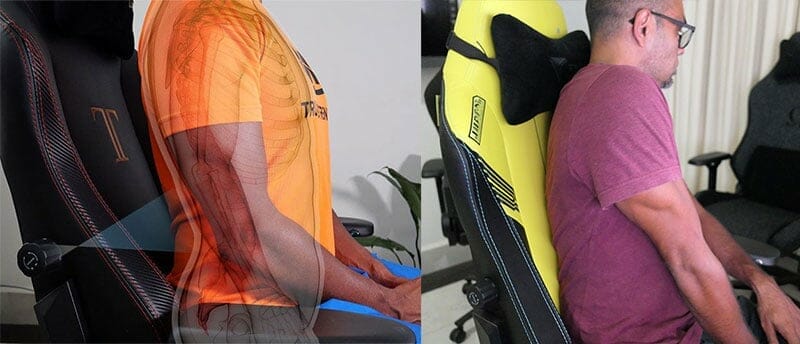 The problem is the lack of height adjustability. The Titan is rated for sizes 5'9″ and up. Users shorter than the threshold will find that the lumbar hits their upper back, rather than the center. In most cases, that will lead to back pain.
Pros
Easy to use
Precise depth adjustability
Comfortable
To demonstrate the fitting limits, we sat a 5'3″ user in a Titan 2020 chair. Rather than hitting his lower back, the lumbar support hit too high, causing pain rather than comfort.
Then, we reduced the lumbar depth and replaced it with a lumbar support pillow. That reduced his back pain and gave him the support he needed.
Bottom line: fixed-height integrated lumbar systems work well – but only with a proper fit!
Titan 2020 chairs are available from Secretlab for $499-$599.
Worst Lumbar Support Systems
My subjective opinion about these two lumbar support types is negative. From an objective perspective, both are also problematic. Per the definition of good lumbar support, there are two keys:
Proper height: around 7.5″ above the seat for average-sized men; around 5.5″ higher than the seat for average-sized women.
Proper depth: set to around 4cm deep, give or take a few cm.
Neither of the following offer any adjustability to meet these requirements:
3D Dynamic Self-Adjusting Lumbar
Self-adjusting lumbar support systems don't come with manual adjustability. One of the priciest examples is the Humanscale Freedom chair ($1169).
When you lean back in a Freedom chair, the lumbar support extends forward. When you lean forward, it retracts. The (now discontinued) Respawn Spectre has a similar 'self adjusting' (aka 3D Dynamic) lumbar system:
In an upright position, the lumbar retracts to provide no support! It only comes into play when you lean back. Then, it extends to push your lower back forward.
Cons
No manual controls.
Forces users to adapt to the chair.
Self-adjusting, 3D lumbar systems are meant to be user-friendly. But in practice, I find them maddening. Without a perfect fit, the lumbar will jab into the wrong parts of your spine every time you lean back. But when sitting upright, it provides no support at all!
One of the joys of a good ergonomic chair is having the control to configure it as you desire. In self-adjusting chairs, you lose the freedom of choice — with no practical benefits gained.
Built-In Non-Adjustable Lumbar
Beware of 'ergonomic' chairs that come with built-in, non-adjustable lumbar support systems. For example, the Respawn Sidewinder (Price not available on Amazon).
It has a hard curve molded into the backrest plastic. Since it doesn't adjust, the user's body must adjust. As another example, Recaro gaming chairs come with no size rating and a built-in lumbar that supposedly "fits all sizes".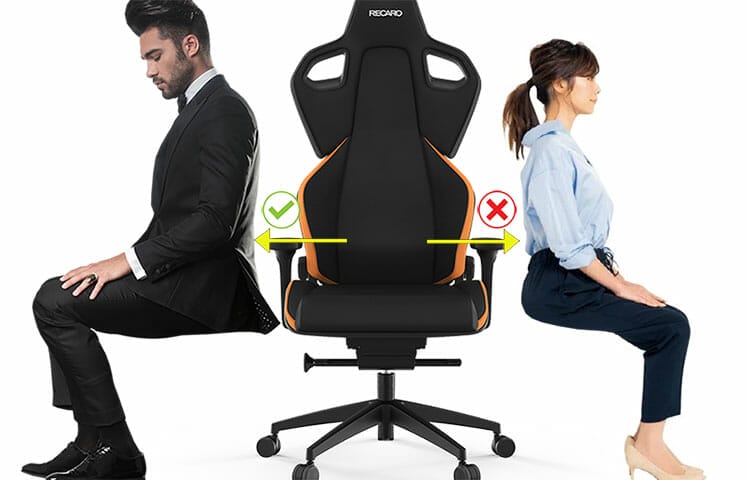 According to Recaro, this guarantees that (for all sizes) "the lumbar support is always in the right place". Given that every human spine is a different length, a non-adjustable lumbar that 'fits everyone' is literally impossible.
Cons
No manual controls.
Uncomfortable over long sitting periods.
Conclusion
ChairsFX has met many who assume 'ergonomic' means 'mysterious and complicated'. That's likely why many first-time ergo chair buyers get suckered into gimmicks like 3D lumbar support systems.
In fact, it simply means 'adjustable'. Universally, any chair that qualifies as ergonomic comes with three adjustable components: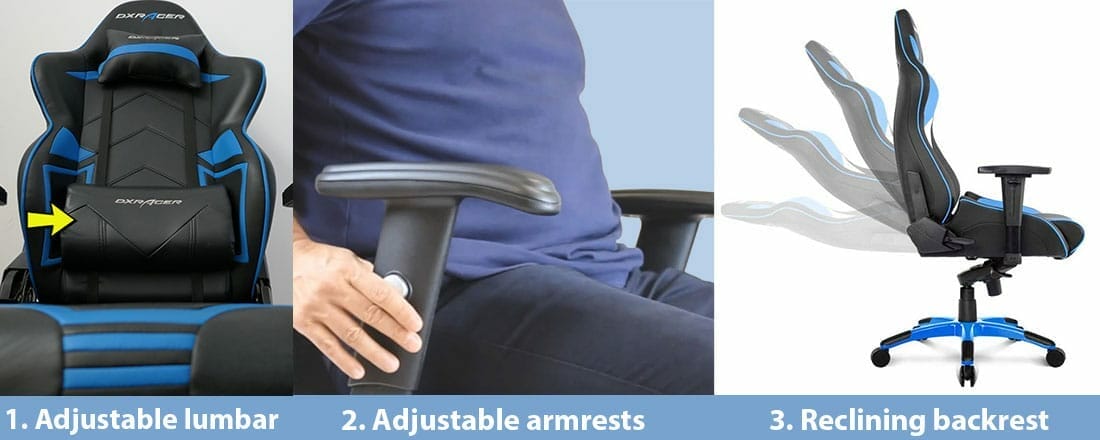 Each piece has a specific purpose:
Adjustable lumbar: helps maintain good posture.
Adjustable armrests: offsets the weight of the arms.
Reclining backrest: enables movement while sitting.
Good lumbar support is the most crucial piece. Per established guidelines, support should be a few inches higher than the seat with a depth of around 4 cm. So why are there so many fancy lumbar reinventions available?
One reason is that the decision to buy an ergonomic chair includes both physiological and psychological factors. The latter makes a chair appear more comfortable.
For example, headrests are a popular gimmick that actually ruins the posture support on mid-back chairs! Even so, many suffer through the pain of using one because it looks more comfortable!
In a similar fashion, many people get duped into flashy lumbar support systems that don't provide the support that they need!
The surest way to enjoy the best lumbar support is to keep things simple. Here are the best lumbar support types for any ergonomic chair circa 2022: