Are pink gaming chairs only for girls? Some brands market pink chairs that way. Others market pink designs for everyone who appreciates soothing colors. Several top gaming chair brands make pink gaming chairs. This article reviews the best pink gaming chairs.
The best pink gaming chairs provide more than a visual experience. They also provide a psychological one that can affect mood and emotion. In the design world, bright, warm colors like orange, yellow, and pink are "happy". Pastels like peach, lilac, and soft pink are also thought to have an uplifting effect on your mood.
No colors affect everyone the same way. Gender, culture, and past experiences also determine how colors affect us. Even so, many color psychologists describe pink as a soothing, calming, reassuring color.
Pink gaming chairs over $250
This article covers two types of pink gaming chairs. First are the luxury models. These all cost more than $250 and offer some unique features.
Pink gaming chairs under $250
There are only a few pricey pink gaming chairs on the market, but dozens of cheap ones. This section looks at the best cheap pink chairs produced by established brands. Ordering from proven brands ensures a few things. First, you can expect the chair to work as advertised. Second, if anything goes wrong, you can be sure that the company will honor your chair's warranty.
Chairs in this section are listed from the cheapest to the most expensive.
Who are pink gaming chairs for?
Many pink gaming chair manufacturers market their products for girls. In fact, the concept of pink as a "girly" color is only a few decades old. After the Second World War, pink became the default color for girls. Before that, it was common for girls to wear blue and boys to wear pink.
In color psychology, pink is considered a calming and caring shade. It is also a color symbolizing youth, immaturity, and emotional outbursts.
So who are the best pink gaming chairs for? First, they are a good fit for females who identify with the girly aspects of the color.
But they are also a good fit for everyone seeking a computing striking chair. A pink gaming chair can visually liven up your workspace. It can also add a psychological calmness factor, adding serenity to your workstation.
Conclusion
Search for "pink gaming chairs" on Amazon and you will find dozens of other models. We've chosen the following eight as the best pink gaming chairs for their features, value for money, and reliability. All of our recommended picks come from reputable brands that stand by their products. Expect these chairs to last well beyond their warranty periods. If anything goes wrong before that, send an email and customer support will help.
Summary
Here are our picks for the best pink gaming chairs, listed from most expensive to the cheapest.
That concludes our review of the best pink gaming chairs. The most expensive model costs $469, while the cheapest is $139.99. Across the entire price range, you get classic gaming chair features. The high back design and support pillows of all models ensure good posture while you sit. The adjustable backrest lets you sit upright or relax into a deep recline. Enjoy solid back support that lets you enjoy long gaming sessions with comfortable, healthy back support.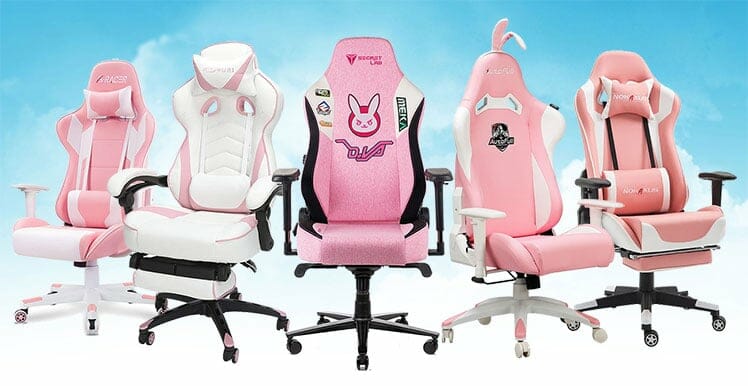 To unlock the full health, wellness, and productivity benefits from your chair, it's important to use it correctly. Learn how in our detailed tutorial: