Healthy sitting posture remains a priority in 2023. But dynamic movement stands out as a greater priority. This explains the popularity of full-back gaming chairs. Beyond dynamic posture support, gaming chairs also deliver stunning aesthetic appeal. On that front, pink is one of the most soothing colors on the spectrum. That's why pink gaming chairs are so popular these days. This review covers the best pink gaming chairs for all sizes and budgets.
The pursuit of seated comfort has both physiological and psychological ends. Good physiological support will align your spine. As a result, you'll be able to sit for long periods without pain or discomfort.
On the psychological front, full-back gaming chairs also work as deep recline lounge chairs. That appeases the desire to kick back and relax.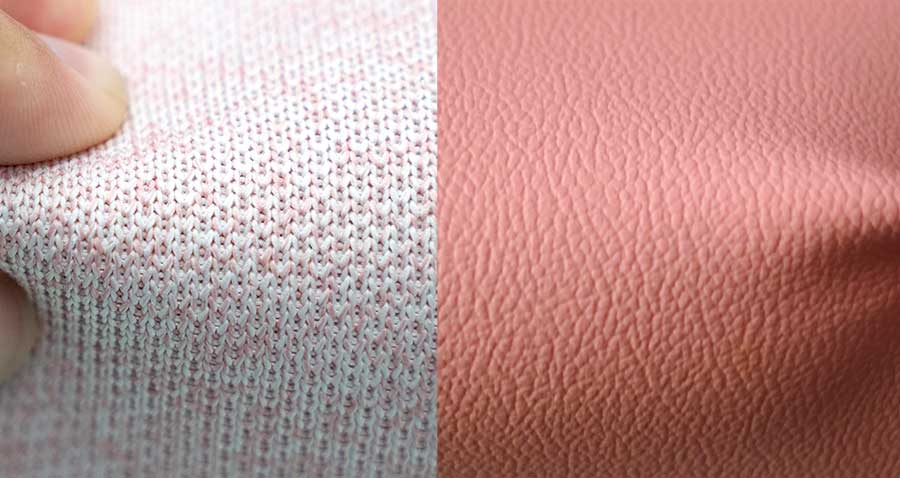 The quality of a chair's upholstery also makes a difference. Those with good softness and breathability will make you feel happier while sitting.
Luckily, all premium gaming chair upholsteries circa 2023 offer a good helping of both.
Secretlab Titan SoftWeave $569-$644
The Titan Evo 2022 now comes in three Softweave fabric shades of pink. Traditional fabrics use a tight basket weave. SoftWeave Plus uses a looping, looser weave. That allows for greater airflow and a softer, cooler sitting experience.
Under the hood, all models serve up best-in-class adjustable features, a 5-year warranty, and 3 sizing options. One functional highlight is a strapless magnetic headrest with a massive 11″ height-adjustment range.
Another is an integrated lumbar support with height x depth-adjustability. Combined, this combo lets you customize your spinal support with next-level precision.
Circa 2023, there are three pink Softweave fabric styles available (subjectively ranked based on the designs):
Demon Slayer Nezuko: hot-pink hemp leaves & green bamboo. (Only in medium size,

$644

)
Plush Pink: white and pale pink blends into a soft, soothing hue. (S, M, XL:

$569-$619

)
D.Va Overwatch: bright pink with decals and bunny art. (S & M:

$614

)
Premium Pink Gaming Chairs $295-$470
After the three pink Secretlab chairs come four premium pink alternatives from established brands. To assess value, we consider each chair's features, brand pedigree, price, and the length of the warranty. Each also comes with a size rating based on the seat depth.
Secretlab's pink Softweave chairs rank 1-3. Based on our ranking factors, here are the best (non-Secretlab) premium pink gaming chairs. Overall, these rank 4-7:
Cheap Pink Chairs Under $250
There are dozens of cheap pink gaming chairs on Amazon. Here are two popular options in the under $250 genre:
Pink Gaming Chair Color Psychology
When light strikes the eyes, it sends inputs to the hypothalamus. That part of the brain controls your appetite, body temperature, sleeping patterns, and other regulatory functions. Every color on the visible spectrum sends a different energy input.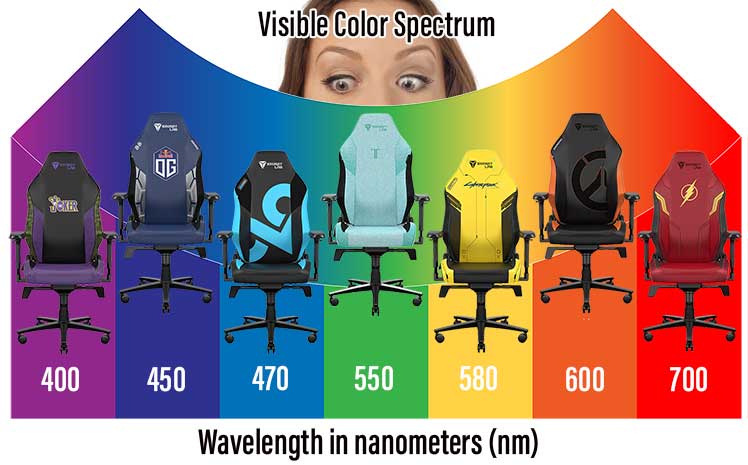 On the left side are cool blues and greens. On the right are warm reds and yellows. Adding white to bright red lowers its color saturation until it turns pink.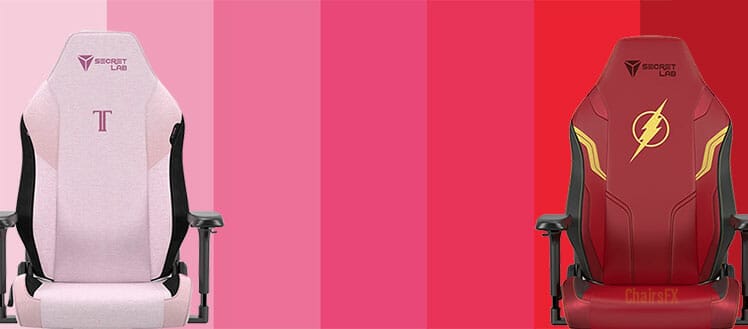 All low-saturation colors convey a sense of calm. In dampening red's fiery energies, pink delivers a warm, calming hue with an uplifting, positive dynamic.

That said, each chair's color does produce unique physical and mental reactions. Key gaming chair colors and their effects:
Green gaming chair: easiest on the eyes for primordial reasons.
Red gaming chair: so intense that it scares the brain into paying more attention.
Pink gaming chair: softened red with a positive, calming dynamic.
Blue gaming chair: produces cool hues that spark creative thinking.
Black gaming chair: absorbs all colors and reflects none. Formal, with a menacing air.
White gaming chair: reflects all colors. Produces a sterile feel with a hint of winter.
Gray gaming chair: popular lockdown decor color for its drab, uninspired look.
Check out the science that explains each color's biomechanical effects:
Gaming Chair Color Psychology: Physical & Mental Effects
Recap: Best Pink Gaming Chairs 2023
In 2023, the premium pink gaming chair landscape is absolutely stacked. Secretlab leads the field with a dazzling trio of pink Titan Evo 2022 gaming chairs.
Demon Slayer Nezuko: hot-pink hemp leaves & green bamboo. (Only in medium size,

$644

)
Plush Pink: white and pale pink blends into a soft, soothing hue. (S, M, XL:

$569-$619

)
D.Va Overwatch: bright pink with decals and bunny art. (S & M:

$614

)
Beyond Secretlab, these chairs all come stacked with premium features and 2-year warranties:
For those on a budget, plenty of pink gaming chairs priced under $250 are available on Amazon.
Footnotes
Empowered By Color. 'The meaning of the color pink is unconditional love and nurturing'. https://www.empower-yourself-with-color-psychology.com/color-pink.html, (accessed 31 May 2022).
Julie Irish. 'Can pink really pacify?' Independent News. https://www.independent.co.uk/news/pink-colour-feminine-calming-gender-stereotypes-a8577121.html, (accessed 31 May 2022).