Mark 2020 as the year gaming chairs reached a mainstream level of appeal. A global shift to working from home forced millions to re-assess their ergonomics. Gaming chairs stand out as a stylish, affordable, and effective solution. As a result, demand for chairs spiked in February and hasn't let up. This article summarizes the breakthrough year enjoyed by the gaming chair industry.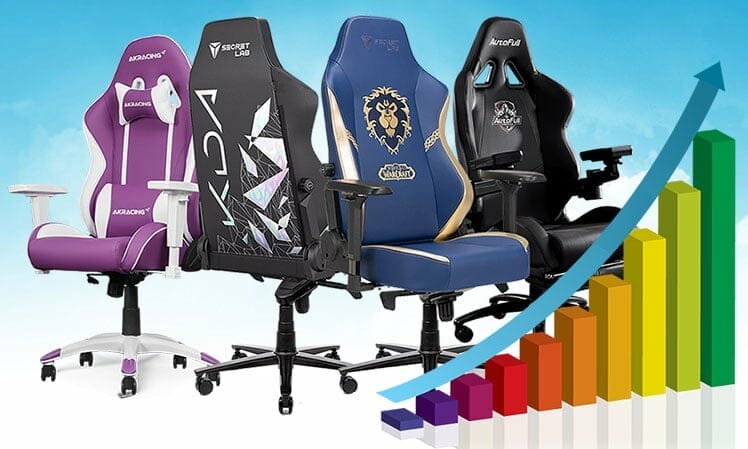 In a previous article, ChairsFX has covered the fascinating history of the gaming chair. It involves economic crashes, the rise of esports in Korea, and desperate American ingenuity. That origin story spans 2006 to 2020. This article concludes the story by summarizing the year gaming chairs went mainstream.
2019 summary
The gaming chair industry has a symbiotic relationship with the esports industry. As esports and gaming grow in popularity, it creates a greater demand for ergonomic seating. Gaming chair companies fill that demand.
This section summarizes key 2019 developments that had an impact on the gaming chair industry.
Esports industry growth
Gaming chairs have been a staple on the pro esports scene since 2006. As a result, esports industry growth also fosters growth in the gaming chair industry.
In 2018, esports industry revenues reached $777 million. In 2019, revenue rose to $957 million. Big business interests started getting involved during this period. According to Deloitte, investors put $490 million into esports in 2017. In 2018, that number rose to a staggering $4.5 billion.
League of Legends is one of the leading esports titles. Corporate sponsors for its 2019 Finals included Mastercard, Alienware, Louis Vuitton, Red Bull, State Farm, and Secretlab. Qualifying teams played matches in Berlin, Madrid, and Paris over five weeks. Viewership peaked at a record 44 million concurrent viewers. The total number of unique viewers over the 5-week period was 100 million. In comparison, 98 million tuned in to watch the 2019 Super Bowl.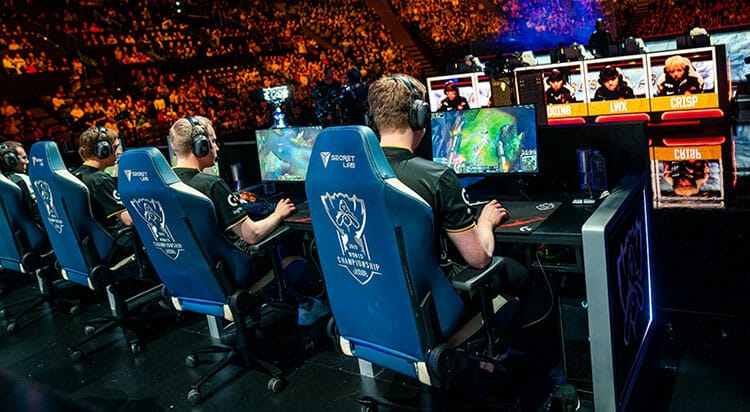 As millions tuned in, they saw their esports heroes using custom Secretlab chairs. Despite such exposure, gaming chair interest was still flat outside of a peak Xmas sales season.
Consistent gaming chair sales patterns
In 2018 and 2019, Google trends show a low level of interest in gaming chairs for most of the year. For two months at the end of each year, interest spikes. Outside of the Xmas peak season, sales and overall interest were low. That suggests in 2019, gaming chairs were still niche items appealing mainly to gamers.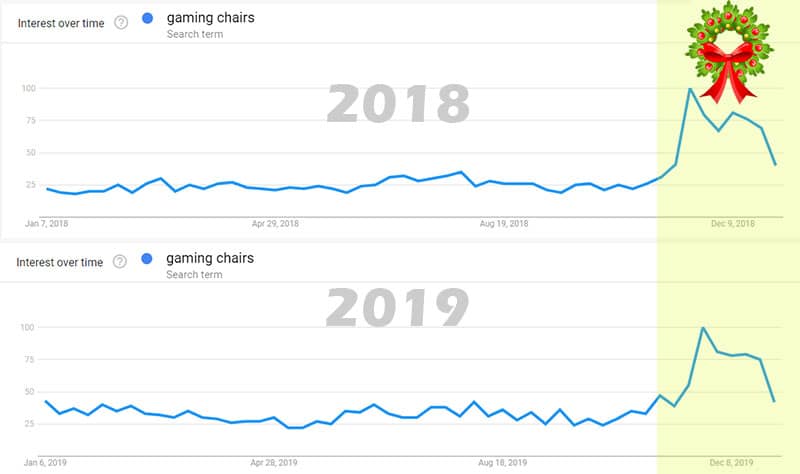 Moving into 2020, the continuation of that trend seemed logical. After the Xmas sales peak, gaming chair interest would diminish.
B2B versus B2C sales models
Compared to the massive, multi-billion-dollar office chair industry, the gaming chair industry is tiny.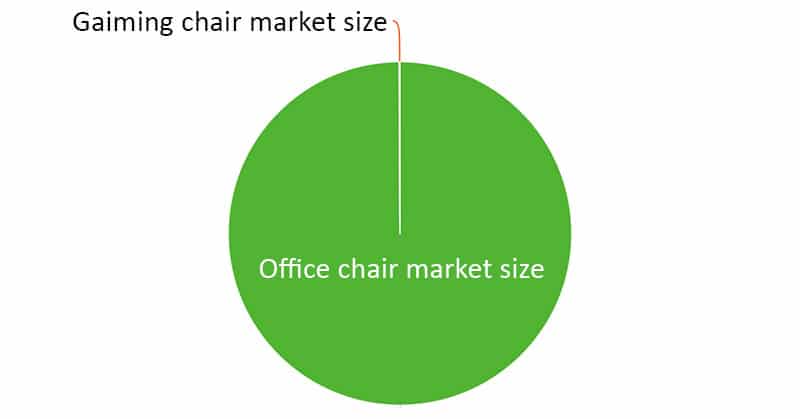 While the former generates billion in revenue each year, the latter only generates millions.
Office chair industry: B2B sales
The office chair industry focuses on B2B sales to schools, government offices, and corporate offices. In good economic times, that model is lucrative.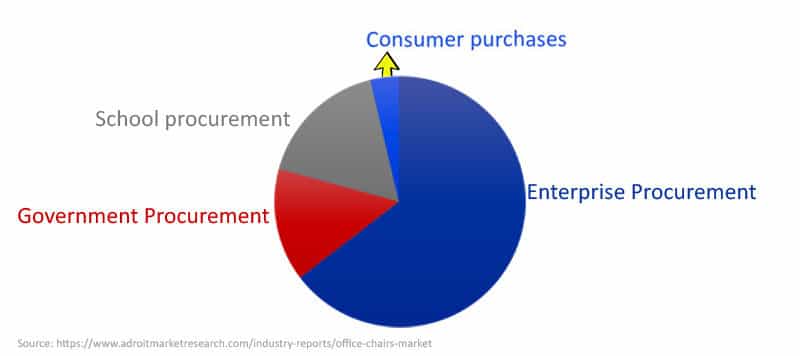 In 2019, the top two global office chair companies were Steelcase and Herman Miller. Combined, the pair generated USD $5.8 billion in 2019 revenue.
Gaming chair industry: B2C sales
Startup gaming chair companies have little hope against such industrial giants like Herman Miller. As a result, most gaming chair companies focus on business-to-consumer (B2C) sales.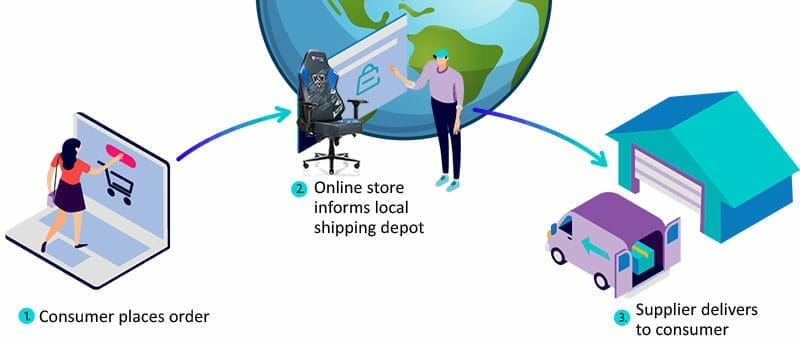 Relying on B2B sales would prove to be a prescient business model in the fast-approaching work-from-home era.
2020 gaming chair industry year in review
This section summarizes 2020 from different perspectives relevant to the gaming chair industry.
Global switch to working from home
2020 lockdown measures saw 42% of the American labor force switching to working from home. Stanford economist Nicholas Bloom says this trend is here to stay. "Once the COVID-19 pandemic passes, rates of people working from home will explode."
Under these conditions, consumer demand for ergonomic furniture soared. That was a problem for the office chair industry, which sells B2B. Companies made money by stocking corporate offices with cheap, one-size-fits-all chairs.
In the work-from-home era, facility managers no longer make furniture buying decisions. Instead, consumers working from home can choose their own furniture. As a result of this consumer empowerment, interest in gaming chairs reached new heights.
The office chair industry stumbles
The global switch to working from home caught the billion-dollar office chair industry off-balance. In Q1 2020, American office space occupancy dropped by 53%.
As offices closed, demand for corporate furniture plummeted. In Q1, Steelcase (largest U.S. office furniture maker) and Herman Miller (#2) both reported steep losses.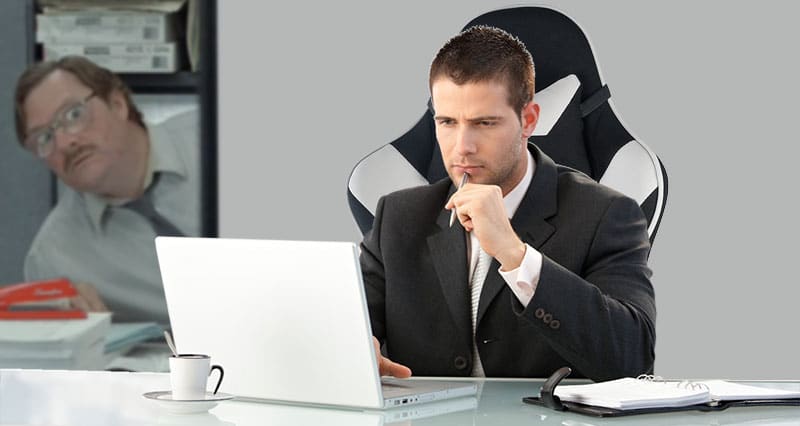 Steelcase shares fell 69% from their 52-week high. Shares of Herman Miller fell over 71%. For Steelcase, Q1 2020 sales of $483 million were the lowest since its IPO in 1998.

Making matters worse, the surge of gaming chairs brought awareness to cheap office chair limitations. With esports dominating mass media, gaming chair awareness skyrocketed. Hobbled by a B2B sales model and burdened with huge stocks of cheap chairs, the industry has stumbled. Learn more in our detailed industry report:
Gaming chair demand spikes: B2C model thrives
As lockdowns forced millions to work from home, interest in gaming chairs soared. As the office chair industry sputtered, several gaming chair brands took advantage. Gaming chair companies selling online directly to consumers thrived.

Secretlab, GTRacing, AKRacing, and Killabee all excelled at maintaining stocks and keeping up with demand. Other brands like DXRacer, Noblechairs, and Opseat struggled, going long periods without any stock.
Major corporations move into the market
Big business took notice of the massive success gaming chairs began to enjoy in 2020. Herman Miller, reeling from sales losses, hastily repackaged its products into "gaming editions". A new line of Herman Miller chairs offered new skins, but no new ergonomic features. Check out our review of the Herman Miller gaming blueprint to learn more.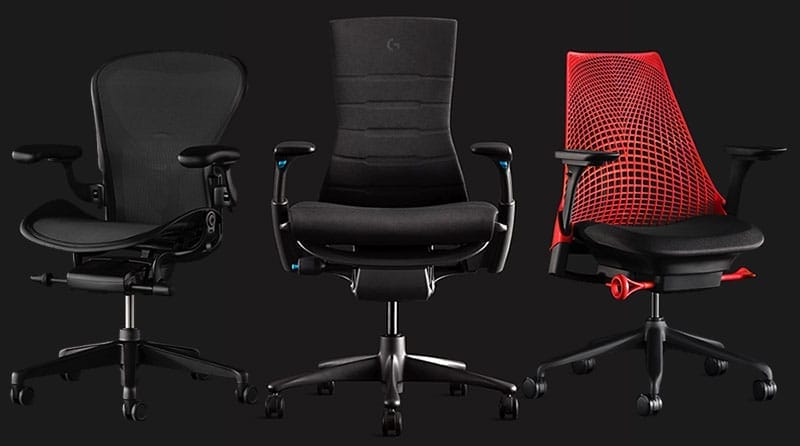 Ikea was another major brand announcing a move into the gaming chair market. In 2019, IKEA's profits fell as the company switched focus to renewable energies and online sales. Even so, the company reported €41.3 billion in global sales that year.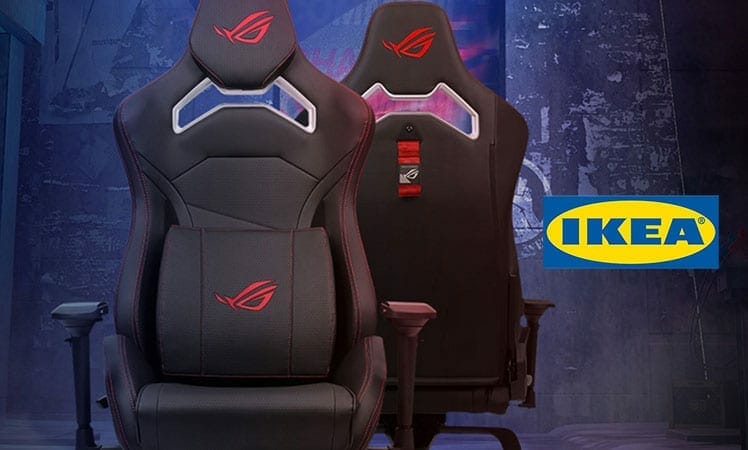 In Sept. 2020, the company announced a partnership with ASUS Republic of Gamers. The partners will produce gaming furniture and accessories. Those will launch in China in February 2021. In October 2021, Ikea stores in western markets will also sell the new gaming line.
Asia assumes a central role
2020 also clarified Asia's central role in video game, esports, and gaming chair scenes. In 2020, experts predict that global esports will generate $159 billion in revenue. That dwarfs both the global movie ($101 billion) and music ($62 billion) industries.
Most of that revenue comes from the Asia-Pacific. In 2019, games revenue from in the Asia Pacific region amounted USD $72.2 billion. That was more than double the North American market's gaming revenue. Leading markets in the Asia Pacific region include China, South Korea, and Japan.
From a manufacturing perspective, China dominates. Almost every gaming chair from every brand is made in China. From a gaming chair perspective, most leading brands are also Asia-based. That includes Secretlab, GTRacing, Killabee, and Autofull.
These brands have direct factory connections and logistics operations that span the globe. All sell directly to consumers in North American, European, and Asian markets. As those brands expand, the billion-dollar office chair industry continues to struggle with its outdated B2B sales model.
Conclusion
At this point in gaming chair history, the industry has reached the mainstream. In the work-from-home era, gaming chairs are thriving as the ultimate ergonomic solution. Even the cheapest gaming chairs exceed modern ergonomic seating standards. That means all models across the price range are good for your back. There are hundreds of styles to choose from dozens of brands. Most models are affordable ($150-$550) and easy to order online.
Even so, no product is perfect. Feature-wise, pro-quality gaming chairs are almost perfect. One useful feature is still missing.
Missing feature: downward seat slope
In our opinion, the ultimate ergonomic chair for gamers would include a downward-sloping seat. During intense periods of gameplay, most players tend to lean forward. That explains why so many pro gamers don't use gaming chair neck pillows.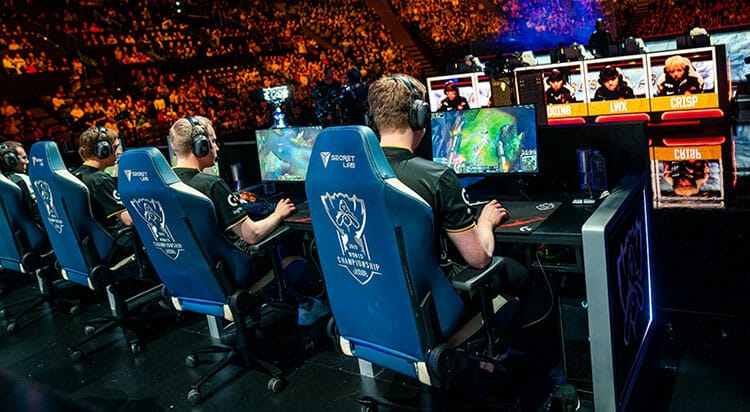 Pro esports gaming chairs already have a multifunction tilt-lock feature. That lets you tilt the seat at upward angles and then lock at the tilted position. To support forward-leaning gamers, both Secretlab and Maxnomic chairs let you tilt the backrest forward to 85° (5-degree forward tilt).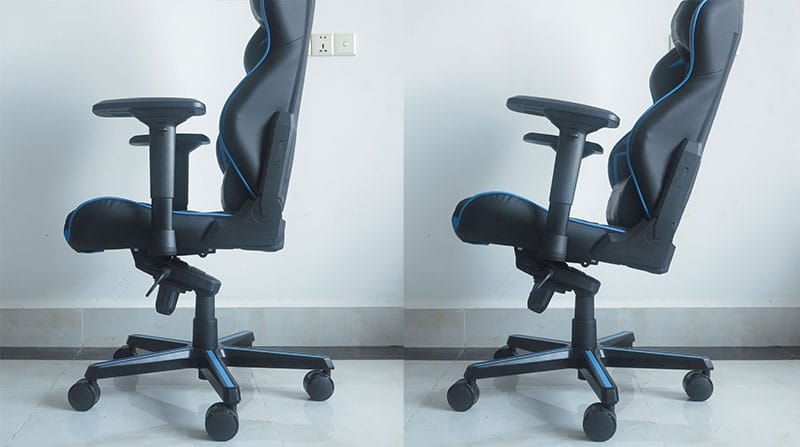 The Herman Miller Aeron, Sayle, and Sidiz T80 all come with a downward-sloping seat feature. A downward-sloping seat supports a healthy 105-degree angle between the torso and thighs. This position also encourages the user to rest their feet flat on the floor.

There are a few benefits of sitting this way. First, sitting with thighs at a downward slope increases lower leg muscle activity. That improves blood flow return from the lower legs. As a result, there is less pooling of blood in the lower legs, reducing the risk of varicose veins.
Second, a downward-sloping seat allows for a greater range of movement while sitting. That makes it easier to sit dynamically, rather than in fixed positions. Doing so allows loaded muscles to recover faster while reducing fatigue and discomfort.
Bottom line: gaming chairs have pretty good features as is. A downward-sloping seat isn't necessary, but very useful for hardcore gamers and gaming and power users.
2021 predictions
Work-from-home is here to stay. Because of this, we expect to see a massive shift from the office chair industry into consumer markets.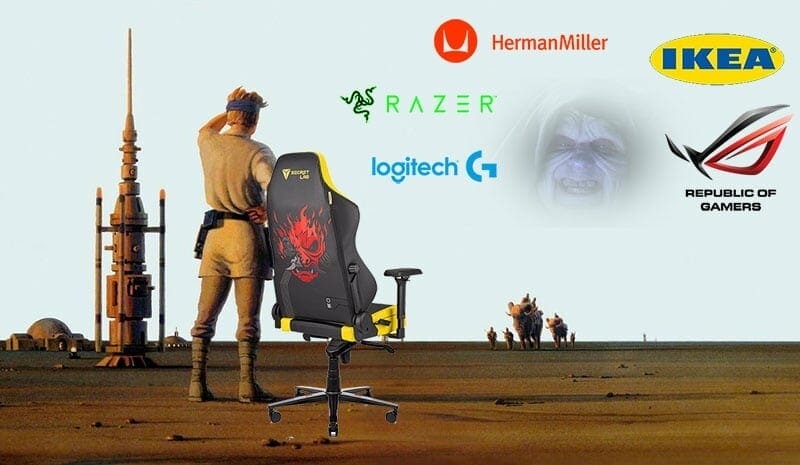 Here are our gaming chair industry predictions for 2021:
Work-from-home demands will continue long-term. As a result, the demand for gaming chairs will be consistently high.
A flood of ergonomic office chairs for consumers will surge into the market. Big brands will use their global brand power to capture slices of the market.
Downward-sloping seats will debut as a new feature in high-end gaming chairs.
Chairs with internal lumbar support systems will rise in popularity.
Breathable fabric chairs will become more popular. As a result, many new fabric gaming chairs will emerge.
The average pro-quality gaming chair will cost between $400 to $500.
Several brands will sell semi-pro chairs (4D armrests and a 2-year warranty) for under $200.