Market research leader Technavio recently released their report on the global gaming chair market. It predicts a 5% rise between 2019-2023, or growth of around USD $66 million.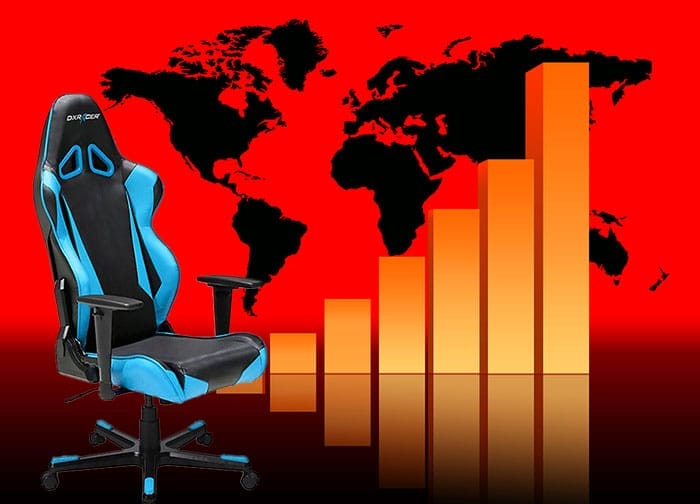 44% of total growth projects to come from the Asia-Pacific (APAC) region. The APAC region shows especially robust demand for PC and console gaming devices. This drives demand for gaming chairs as well.
Individuals buy gaming chairs for home or office. A growing niche is B2B purchases by gaming chair cafes that cater to e-sports enthusiasts.
Esports cafes provide Asian youth the means to hang with other gamers. They enjoy soft drinks, HD screens, powerful computers and high end gaming chairs. They also get the means to hang with their peers over the latest and greatest video games.
As one example of a high end gaming cafe in Asia, check India's Ark Nemesis Gaming. They offer a top-of-the-line gaming experience that draws huge crowds.
Beyond flashy looks, the purpose of gaming chairs is to support the back during long hours of gaming. This is good business. Healthy and energetic customers will keep coming back for more fun.
2018 gaming chair industry report
Below is a summary of other key points from the report. These regard growth projections for the gaming chair market over the next five years.
Why is the gaming chair market growing?
The report suggests that video games pull users into addictive, immersive worlds. As users go deeper into these worlds, the more they play. Long playing sessions means longer sitting hours. That's where gaming chairs come in. Gaming chairs provide comfortable ergonomic seating for long hours of gaming.
That explains the big-picture reason for the growth of the gaming chair market. The following trends are also expected to be key drivers of gaming chair market growth.
eSports explosion: a 2018 Global Esports Market Report predicts 38% growth in 2019. That equals 906 million million getting into video games. Asia is leading this drive, and China in particular. As new theme parks and gaming cafes emerge, the demand for gaming chairs will increase.
Mobile game growth: these are easy to download and play on the go. Mobile games are like a 'gateway drug' that pull users into the full-fledged video games. That means investing in a gaming PC, gaming desk, mechanical keyboard and gaming chair.
VR devices: gaming chairs make the perfect compliment to VR gaming applications. As VR technology improves, mass adoption will take hold. As that happens, expect more gaming chair/ VR hybrids that offer complete immersion.
Another factor driving gaming chair growth is that humans are not designed to sit for long periods. Even so, modern gamers and working professionals both sit for as much as 11 hours per day.
When sitting that long in cheap office chairs, back problems can occur. Gaming chairs solve this issue by providing effective back support. As people sit longer in the computing era, the need for gaming chairs will continue to increase.
What are the top gaming chair brands?
There is no clear market leader. Rather, there are several established companies that stand out in the market. These include both premium and budget brands.
The report cites the following as the industry leaders in 2019:
What does the future hold for gaming chairs?
As more people wake up to the benefits of gaming chairs, the market will continue to grow. This will fuel more competition among the leading brands. That will result in greater innovation, better features, and lower prices for consumers.
What this means for consumers
Gaming chairs entered the market in 2006 as an emerging technology. Not all technologies make it.
Gaming chairs look to have made the jump from novelty to essential. Adoption among gamers, esports cafes, and working professionals continues to increase.
The report projects $66 million in growth in the next few years. As the market grows, we can expect fierce competition among industry leaders. We can also expect plenty of new entrants into a super-competitive marketplace.
These industry wars will benefit the consumer. Expect features and quality to go up, while prices come down.
Conclusion
In 2018, gaming chairs are niche items that appeal to hard-core video game enthusiasts. As esports rises in popularity, trends suggest that gaming chairs will follow. As gaming chairs gain more exposure, expect the user base to extend beyond gamers. In the future, popularity could increase among non-gaming computer users as well.