Generation X classifies those born between the mid-1960s to early 1980s. Now in its peak earning years, this generation drives pop pop culture trends. Mortal Kombat is one of the most iconic video games of that era. The Mortal Kombat movie premieres April 23. In advance of that, Cybeart has released a line of Mortal Kombat gaming chairs. GET OVER HERE and kick your nostalgia into overdrive.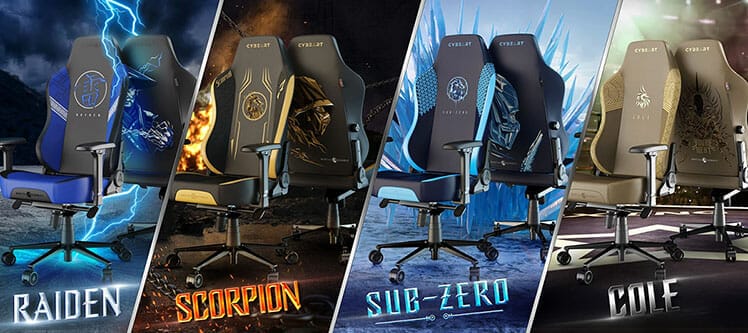 The Mortal Kombat video game came out in 1992. The same year, Michael Jordan won his third NBA MVP award. Nirvana and Pearl Jam were hot. The Super Nintendo Entertainment System (SNES) was the dominant console. Playing MK in a living room with a dozen screaming pals is one of my favorite memories of the 90s.

Sub-Zero and Scorpion were my guys. Hours would pass by in a blur of snacks, screaming, and good times. If you remember this video game as fondly as I do, these new Cybeart chairs should hit right in your nostalgia.
All models are part of what Cybeart called the 'Apex Series'. Chairs come stacked with high-end goodness. Features include internal lumbar support, flat, wide seat, 4D armrests, and a 5-year warranty.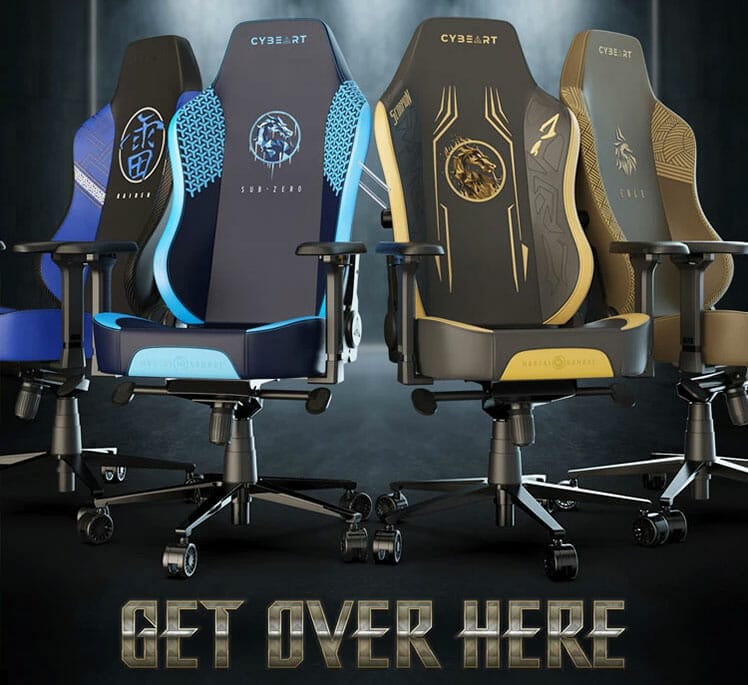 Chairs are only available for sale in Canada. Check our Cybeart Introduction article to learn more about Apex Series specs.
MK gaming chairs from Cybeart $549.99
Cybeart Mortal Kombat gaming chairs
There are four chairs in the Mortal Kombat collection. Before we get into each design, get hyped with this MK trailer:
Back-story: Mortal Kombat is a multiverse, with different 'realms' or dimensions ruled by gods. Each has the ability to conquer and absorb the power of other realms. To maintain order, elders laid down a rulebook. Conquering and merging can only happen by invoking Mortal Kombat.
The main antagonist in the storyline is Shao Khan, the brutal ruler of the Outworld realm. He made his debut in Mortal Kombat II as the final boss.
Conclusion
Cybeart has an official deal with Warner Bros. to produce licensed gaming chairs for Canadians. Before the MK line, the company had released a series of Justice League gaming chairs.
These are luxury chairs with high-end features and a 5-year warranty. In the future, look out for new licensed designs built upon Apex Series gaming chairs.
For comparables, check out our review of other officially licensed video game designs. For Canada-specific designs, check out our summary of best gaming chairs for Canadians.
MK gaming chairs from Cybeart $549.99
Cybeart gaming chairs are only available in Canada. To learn more, check our Cybeart chair brand review.