Good back support was your grandpa's ergonomic focus. The modern school of thought touts a healthy back and strong neck as the keys to postural well-being. A strong neck yields upper-body stability. Active muscle fibers then keep the head in place atop sturdy foundations. Here's a look at the Iron Neck training system and some of its early adopters.
At a glance, Iron Neck training systems look ridiculous – like mini-UFO nerd hats. But the core concepts are sound. In simple terms, these devices mitigate the effects of 'turkey neck'. This usually occurs when people get old.
But in the mobile phone era, turkey neck also happens in young people with weak neck muscles(1). Skin loses elasticity around soggy noodle muscles. That causes the skin under the neck to sag like a turkey's!
Iron Neck Training System
The Iron Neck System is a plastic donut that straps to your head and attaches to a string. The point is to work the neck while creating muscle activation down your kinetic chain.
Stronger cervical muscles strengthen auxiliary ones that support the spine. Besides rectifying turkey neck, they also improve core strength and movement biomechanics(2). Thus, movement-focused athletes like Canelo Álvarez Cris Cyborg use Iron Neck training.
The Iron Neck system is also gaining ground on the pro esports scene. For example, 1HP.org is a team of esports doctors helping elite teams perform better.
1HP's Dr. Matthew Hwu(2) touts the Iron Neck as a "great tool for strengthening the neck and helping improve control of the deeper neck muscles. That ensures we can play more and hurt less."
Iron Neck Pro Bundle Specs
The top-of-the-line Iron Neck Pro Bundle costs $599.99 from Iron-neck.com. The device has a Variable Friction dial that lets you adjust friction levels when turning your neck.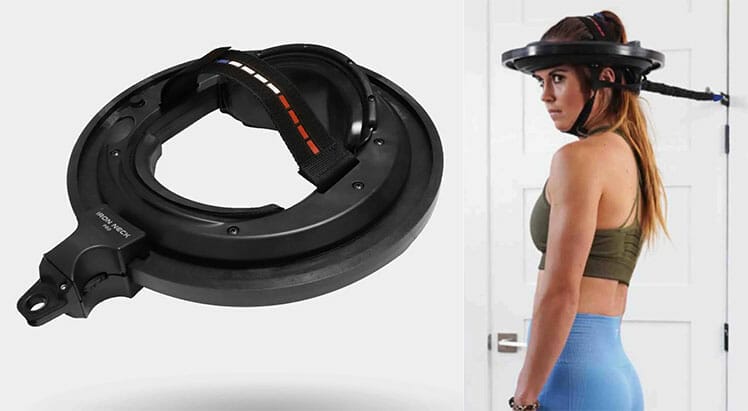 It comes bundled with a 25 lb. resistance band, a door anchor, and everything you need to work your neck. Is the Iron Neck Bundle worth it?
In my opinion, unless you're at a Canelo Alvarez level, it seems like overkill. However, the user reviews at Iron-Neck.com make it sound outstanding. Examples:
"You follow the routine and you will get stronger, and reduce back and neck pain."
"I'm feeling results after 3-4 workouts. When I twist my neck, it feels like my cervical spine now has muscular support keeping it in place."
"Neck pain reduced within one week, I can actually wake up and not have to crack/stretch my neck already."
"5-15 minute workout with Iron neck 3x a week will significantly improve neck pain and stiffness experienced by BJJ athletes."
"This is the best neck exercise I've been able to achieve, super low impact and boy does it work! After doing a set of the exercises provided you'll feel like your head weighs 50% lighter."
Chair-Related Neck Rehab Methods
Forward head tilt habits are endemic in the smartphone era. Most people crane their necks forward by 45° when texting. That places 50-60 pounds of force on the neck — five times the normal load! Text Neck Syndrome refers to the series of aches and pains that follow.
At first, excessive neck strain manifests as neck and shoulder stiffness. That leads to tingling limbs and frequent headaches. Over the long-term, it can lead to a severe rounding of the upper back (kyphosis).
Severe kyphosis can take several years to turn you into a hunchback. Thus, most people find it easier to live with the pain — rather than drastically change their texting habits.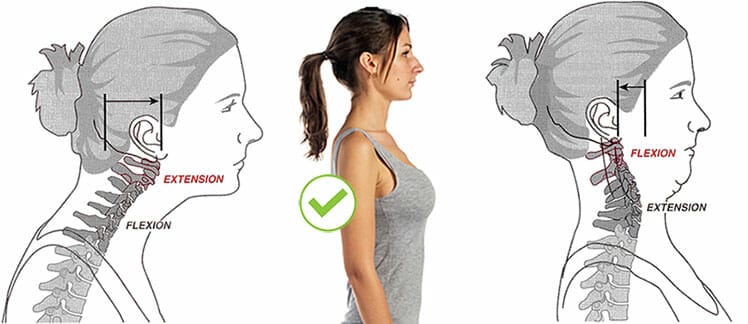 With destabilized neck muscles, people suffer from turkey neck, upper back pain, shoulder stiffness, and chronic migraines.
Luckily, the intense Iron Neck isn't the only way to strengthen neck muscles.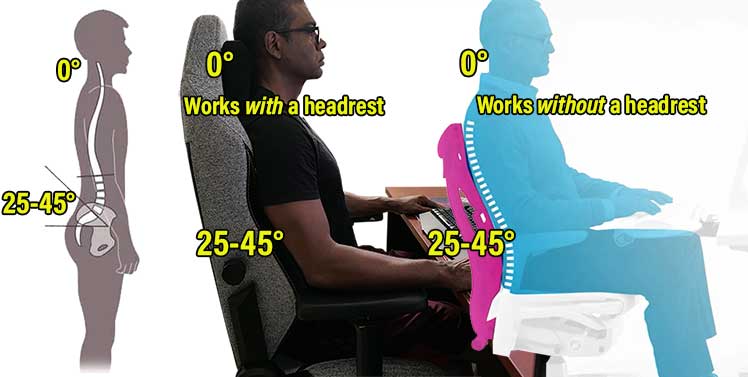 Full-back and mid-back ergonomic chairs both support neutral sitting postures. Textbook-perfect neutral postures include a 25-45° lower back curve and 0° neck tilt. By training yourself to sit with perfect neutral mechanics, you can strengthen your neck in either type of seating.
0° Neck Training in a Mid-Back Office Chair
A mid-back chair — without a headrest — aligns the spine as if it were in a healthy standing position. Then, the head naturally balances evenly atop the shoulders.
Herman Miller's Aeron and Embody chairs support a 0° neck as the only option. After just a week or so of disciplined sitting, a strong, non-tilting neck should become a part of your muscle memories.
Difficulty level: easy. Without a headrest, the neck has no other option except to balance above the head. The only problem is that although healthy, sitting with perfect postures all the time can feel stifling. Learn more:
0° Neck Training in a Full-Back Gaming Chair
Unlike mid-back chairs, gaming chairs support two types of neutral postures: strict and relaxed ones. The relaxing ones support a lot more than deskwork.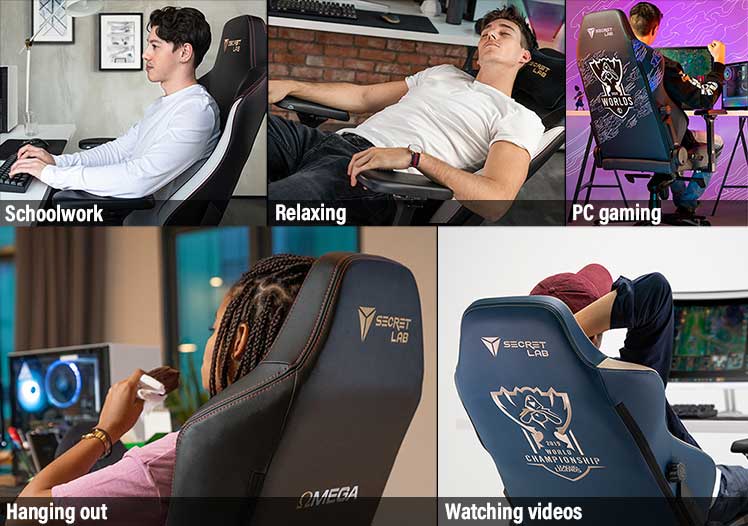 You can use a gaming chair for lounging, watching movies, and even napping! Beyond these luxuries, gaming chairs also support perfect neutral sitting postures. I recently tested this with the help of three preeminent esports doctors.
Without a headrest, sitting with a straight neck (position A) required that I overexert my back muscles. When relaxing them, my neck curled forward into an ugly slouch.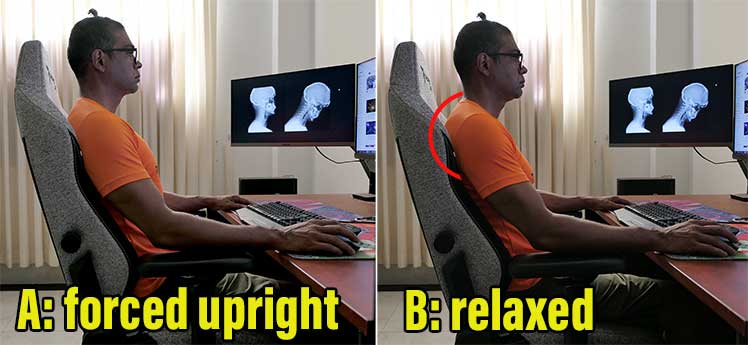 Dr. Jordan Tsai (famous esports doctor and Secretlab Ergonomics Advisory Board member) suggested that I try for a 0° neck with a headrest + 100° recline tilt. It works!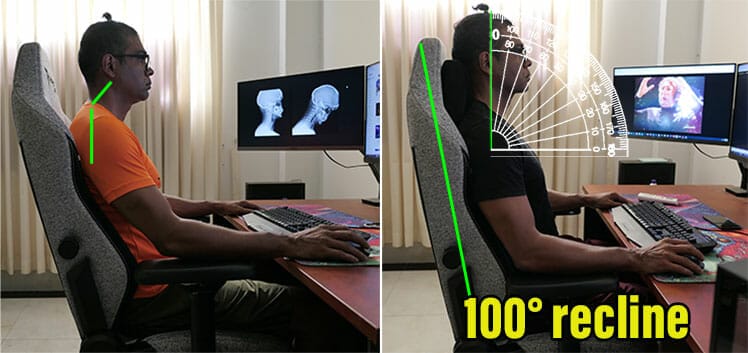 The chair provides the back support I need to maintain an aligned spine. The headrest then provides comfortable bracing to prevent a rearward neck tilt. The biggest challenge was to prevent a constant forward head tilt.
That took five days of practice before sinking into my muscle memory. Now, it's an ingrained habit that almost runs on autopilot! Check out the case study and esports doctor feedback:
How To Use A Gaming Chair Headrest To Achieve A 0° Neck Habit
Conclusion
The average smartphone user spends around 3 hours per day(4) with their necks bent at 45° angles. That works out to around 1200 hours per year hanging 50 extra pounds onto neck muscles.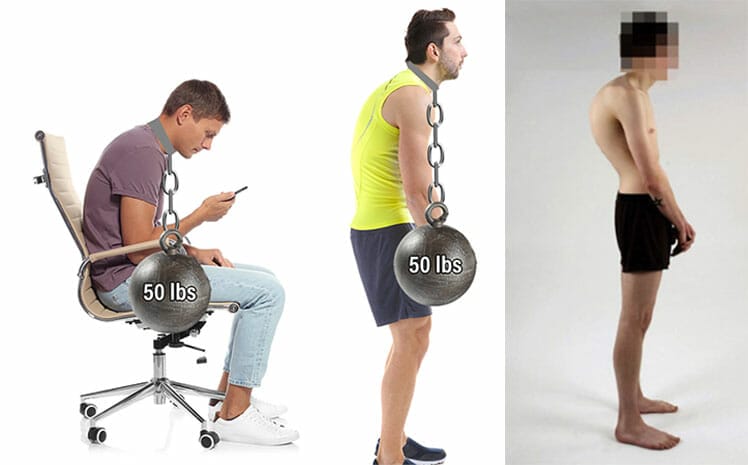 Long-term text-neck problems include an excessive forward curvature of the upper back, spinal disc degeneration, turkey neck, and chronic fatigue. Since less texting time isn't feasible for many, strengthening the neck muscles looks like the best available antidote.
In 2022, the Iron Neck looks to be one of the most powerful neck-strengthening options available. But if too extreme for your needs, simple neck strengthening techniques are also possible while using your gaming chair.
To keep track of all text neck problems and solutions, see this pillar page:
Text Neck Syndrome: Ergonomic Problems And Solutions
Footnotes