The human body is not designed to sit for long periods. Doing so can strain muscles and cause lower back pain. Ergonomic chairs reduce strain by promoting neutral postures. That grants users long periods of stress-free seated comfort. But there are two neutral sitting styles: strict and relaxed. In practice, each has a major flaw that's solved by the other!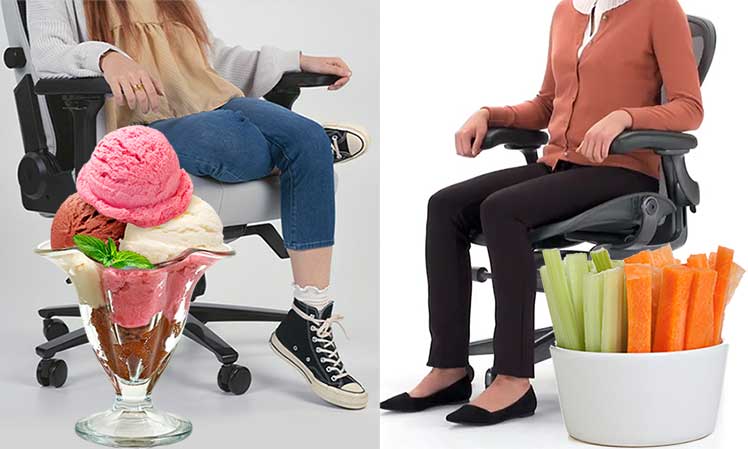 In 2022, ergonomic chairs come in two flavors. There are full-back gaming chairs and mid-back office chairs. Both are designed to support dynamic neutral sitting positions.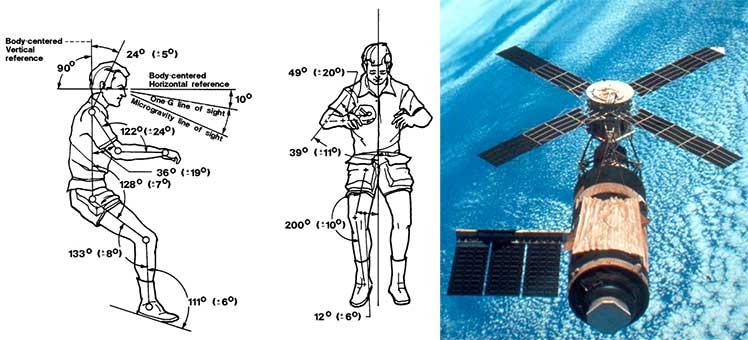 Dynamic neutral sitting was first discovered in the 1980s aboard the Skylab Space Station. NASA scientists noticed that when relaxed, astronaut bodies would naturally fall into neutral postures. These reduce the body's need to struggle against gravity. That offloads musculoskeletal stress, reducing pressure on the spine.
Today, neutral sitting is the ergonomic gold standard for healthy computing in any type of seating. It best supports keyboard and mouse usage by keeping the limbs and spine in aligned, fluid positions.

In all types of ergonomic chairs, the default neutral sitting position looks similar. However, differing seat styles also allow for stricter or more casual neutral styles. Over the long term, strict vs casual styles yield very different sitting experiences.
Aeron Vs Titan Neutral Styles
In 2022, two of the best ergonomic chairs in the world stand at opposite ends of the neutral sitting spectrum. The Herman Miller Aeron has long been hailed as the world's best chair for posture correction.
The Aeron basically forces you to sit straight at all times. To sweeten those terms, it adds adaptive mesh and fancy tilt features. Combined, these features keep spines in fluid, healthy alignment over long hours.
The Secretlab Titan Evo 2022 Series sits at the extreme other end of the neutral sitting spectrum. It goes beyond the Aeron by supporting neutral postures plus freedom to move.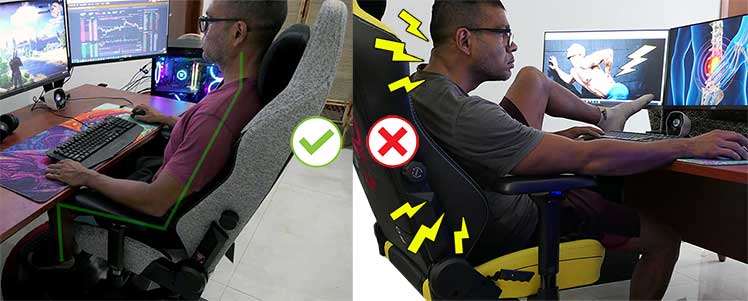 These styles differ like healthy vs unhealthy snacks. One is better for your long-term health but not as satisfying. The other brings delicious pleasure in the short term that's hard to resist.
Strict vs Relaxed Neutral Drawbacks
The Herman Miller Aeron is one of the world's best chairs to master neutral sitting techniques. It enforces strict posture with little room to improvise.
In contrast, the Secretlab Titan encourages neutral postures as a gentle suggestion. It provides the ergonomic support that users need. But it also gives them the freedom they want. Both approaches have downsides.
Strict Sitting: Feels Unnatural
The Herman Miller Aeron forces good sitting habits by leaving no other option. That's great for your back, but not your day-to-day happiness. With heavy use, two factors can make the Aeron feel excessively strict and therefore unnatural.
Impossible To Put Feet Up
The Aeron's soft mesh seat has hard-bladed edges. These ensure near-perfect posture every time you sit down. Putting one foot up digs bladed edges into your flesh. It feels so unpleasant that you won't dare try it twice.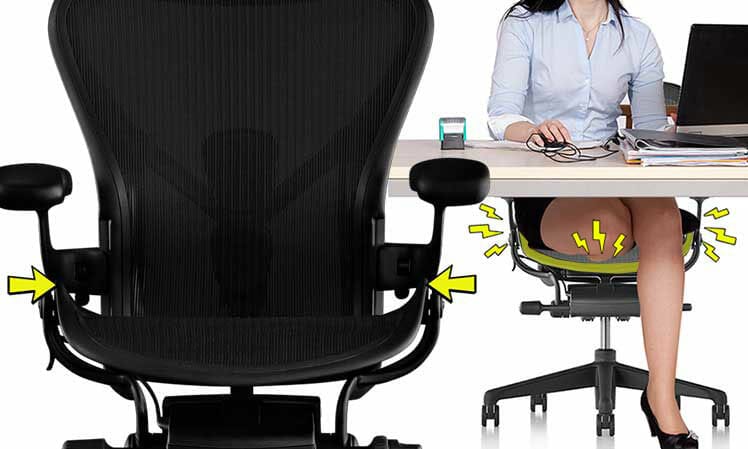 That leaves users with no other option but to keep both feet planted. But fixed legs will slow blood circulation. Immobile leg muscles don't contract enough to pump blood to the heart. Instead, blood pools in the legs. At the same time, pressure builds up into varicose veins.
Moving your legs is a simple antidote. This study(7) found that after an hour of sedentary sitting, blood flow in the main leg arteries slows by 50%. However, five minutes of walking/ leg movements every hour was enough to reverse this.
Because you can't put your feet up in an Aeron, your only option is to get out of the chair every hour. That's good — frequent movement breaks yield both physical and mental benefits. However, when working from home, the Aeron's lack of leg movement and forced break routines can feel stifling.
Limited And Unnatural Movement
To compensate for the lack of leg movement, the Aeron offers (limited) tilt functions. First, there are only three backrest recline angles with a tiny range. Between planted feet and limited recline, users have no choice but to sit in crisp upright positions at all times.

Second, the Aeron offers the world's most advanced sync-tilt functionality. When the backrest reclines, the seat tilts up (max 16°). When leaning forward, the seat tilts down (max -1°).
This potent feature feels like a party in your hips. However, for all its fanciness, it's not as comfortable as putting one foot up!
Bottom line: the Aeron guarantees good posture by leaving no other choice. It works. However, without a choice, users may feel stifled, frustrated, and bored.
Relaxed Sitting: Easily Degraded
The Secretlab Titan gaming chair also supports neutral postures. But unlike the Aeron, instead of forcing users into neutral postures, it gives them a choice. Having the support for neutral sitting plus freedom is decadent.

Over the short term, free neutral sitting provides a sinfully luxurious level of comfort. As proof, I've spent around 90% of the past two years sitting this way in Titan chairs.
I've been unable to spend 100% because the same problem keeps emerging. Inevitably, work stress always arises to crash my house of cards. Many studies link work stress and unhealthy lifestyle habits(8).
When the pressure's on, people tend to let themselves go. Binge eating, irregular sleeping, and excessive drinking are common coping mechanisms. With the Titan giving you a choice, it's easy to start getting sloppy.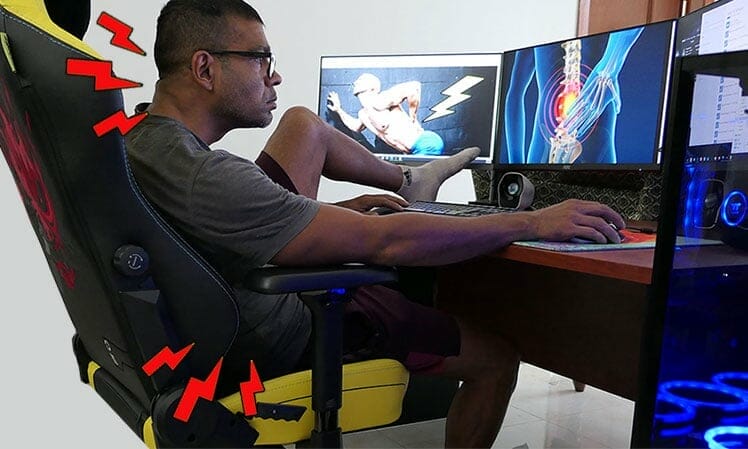 In my case, that starts by sitting with one foot up. As my muscles adapt, good posture habits start falling apart. If I let that slide too far, things can get ugly!
My solution is to spend 10% of my time sitting in a Secretlab Omega chair. Like the Aeron, it has bladed seat edges that force you to sit with planted feet. Whenever my posture starts to fall apart in a Titan chair, I make the switch.
After a few days of strict sitting in an Omega chair, my posture habits reset. Once I start feeling restricted in the Omega chair, I switch back to my Titan and repeat the process. Learn more about using a 2-chair posture-therapy approach:
Degraded Posture Solution: Reset
The best way to revert sloppy habits into clean ones is by using the muscle memory magic formula:
Recipe: Biomechanical Targets + Muscle Memory = Perfect Posture + Benefits
In any type of ergonomic chair, perfect posture demands firmly planted feet and two biomechanical numbers.
To reset your posture, strive for a 25-45° lower back curve and a consistent 0° neck tilt.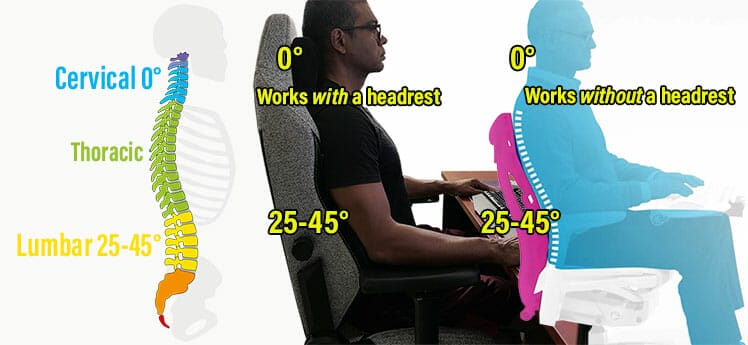 Once my posture habits got sloppy enough, I tested this concept with the help of three famous esports doctors.
Going from zero to hero as a regular habit took me five days. The only pain I felt during the transition was from stretched stomach and shoulder muscles as they opened up.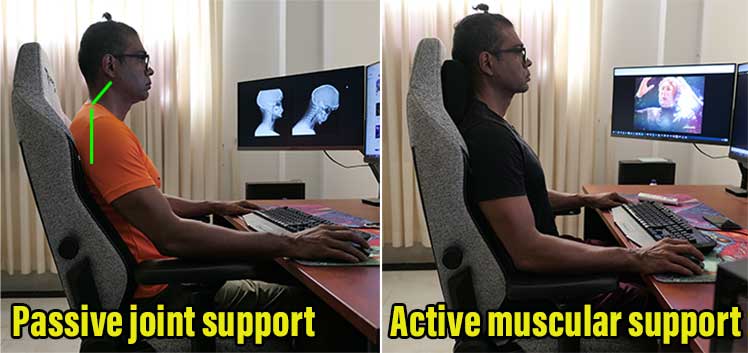 The biggest hurdle was an instinct to keep tilting my head forward. According to one of the doctors, you'll also need strong back muscles to maintain a straight back and upright neck for long periods.
If you have poor posture and/or a weak back, hit the gym first. Do a month of deadlifts in the gym before trying this reset method. The results may blow your mind!
Alternative Solution: Use Two Chairs
If the preceding postural reset option isn't for you, a two-chair solution can also reset your habits back to healthy ones. For example, the Aeron supports excellent posture, but it's too rigid. If you want to relax, it won't let you.
In contrast, chairs with flat wide seats like the Secretlab Titan offer too much freedom. Adding one flat and one bladed seat to your workstation will cover the entire neutral sitting spectrum — from ultra-casual to super-precise. Here are two examples:
Comfort Priority: Titan & Omega
My posture habits are usually pretty good. I also get regular exercise. I don't feel a need for strict posture support. As a result, I enjoy decadent sitting in a Secretlab Titan chair 90% of the time.
If my posture habits start to degrade, I don't sweat it. Instead, I let things slide until stiffness sets in. That usually takes a few months. Then, I'll simply swap my Titan for my Omega and focus on sitting with planted feet.
Posture Priority: Aeron & Hyken
Techlead (Patrick Shiyu) is a popular Youtuber. He's a former Tech Lead at both Google and Facebook. Last year, he made a well-received video review (900,000 views) of the best chairs for programmers. In this clip, he shows the limits of the Aeron chair:
ChairsFX interviewed Techlead three months after his review. By then, he had chosen the Herman Miller Aeron as his main ride. But he also found it delivered an incomplete sitting experience.
To fill its gaps, he pairs his Aeron with a Staples Hyken chair. It supports neutral postures with basic ergonomic necessities. Those include an adjustable recline, lumbar, and armrests. It also has a flat seat pan that accommodates cross-legged sitting.
Dual-chair benefits: "I love having two chairs; the different seating positions help me move my body around to avoid stagnating. I think everyone could benefit from having multiple chairs."
Morning: "I usually start the day with the Aeron, which has an upright ergonomic seating position. It looks and feels premium, which mentally prepares me to put in my best work for the day."
Evening: "By evening, I switch to the Staples Hyken chair, which is also ergonomic but also allows me to lean back comfortably or sit cross-legged. That gives a more relaxed position for gaming, movies, or light web surfing."
Conclusion
There's no such thing as the perfect ergonomic chair. The Herman Miller Aeron is one of the world's best at supporting good posture. That's a healthy but incomplete solution. Although great for your back, its rigidity might dampen your spirit.
In contrast, the Secretlab Titan supports good posture as an option. Users also enjoy the freedom to sit however they like.
Unfortunately, when work stress emerges, habits become ragged. Then, sitting in a Titan chair can demolish good posture. As muscles adapt, your spine might start to look like a banana!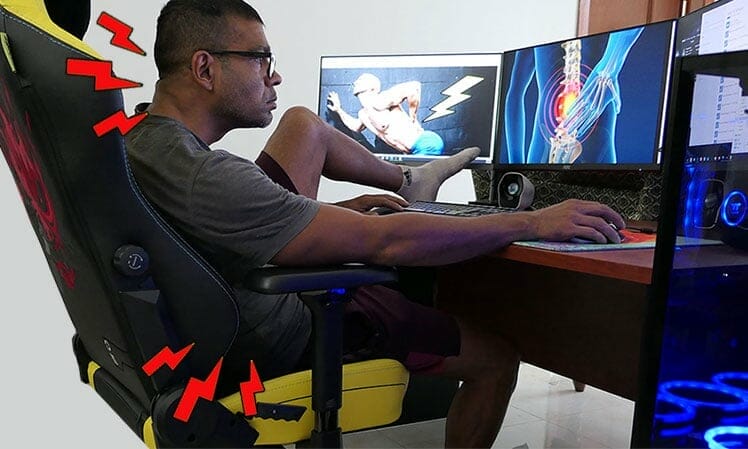 The ultimate solution is to do it like the pros: keep yourself fit. These days, many leading esports doctors tout health and fitness as the key to healthy computing.
For instance, Dr. William Duncan advises to "work on strength and fitness and use a good chair". That will give you strong back muscles. Then, you can sit in a full-back gaming chair as casually as you wish.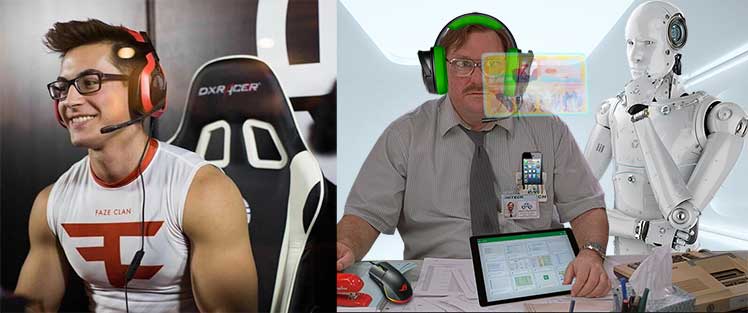 When back pain inevitably strikes, use your back muscles (and discipline) to reset your posture back to a clean default. Having a healthy lifestyle makes this a viable option.
That's just the tip of the iceberg. Learn more about the physical and mental benefits of fitness for modern desk workers:
2022 Deskwork Priorities: Fitness + Posture Beats Technostress
Footnotes
Karen Angelo. 'New Research Links Stress at Work to Unhealthy Lifestyles', Umas Lowell, 2 Feb. 2016, https://www.uml.edu/news/stories/2016/workerstress.aspx, (accessed 19 Feb. 2022).