Over the short term, the answer should be obvious to most people. A gaming chair with a flat seat is more comfortable than one with bladed edges. A seat with edges is designed to restrict legroom. A flat one does the opposite, providing the space to sit however you like. Day-to-day, feeling restricted doesn't compare to feeling free and loose. But over the long-term, free vs restricted sitting has a big impact!
When standing, a healthy lumbar spine curves inward with a 20-45° curve. Sitting narrows that curve by half(1). That forces back muscles to work harder at holding the torso upright.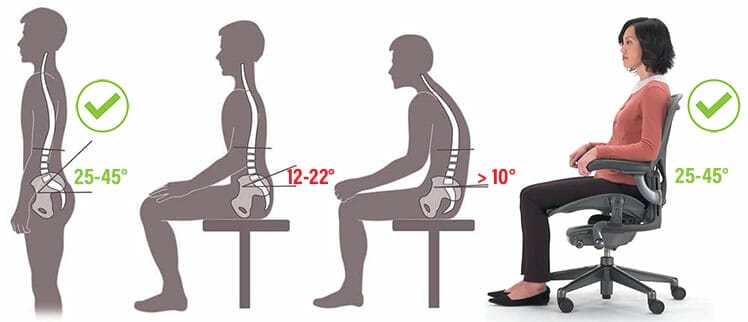 Once spinal muscles tire, the lower back curve flattens to less than 10°. That curls the spine into an ugly "C' shape. This is a major cause of lower back pain. Ergonomic chairs address this by encouraging users into neutral sitting positions.
A neutral posture involves four steps. First, plant your feet. Second, bend your knees at a 90° angle. Third, sit with your hips angled slightly higher than your knees. Fourth, apply mild pressure to your lower back curve. Combined, these steps make it easy to sit up straight.

Sitting with planted feet is essential. That's why some gaming chairs (like the Secretlab Omega) have bladed seat edges. These force users to sit with both feet down at all times.
That's good for your back, but sitting that way all the time feels restrictive. As a result, other chairs (like the Secretlab Titan) have flat seats that give users a choice.
You can sit in a Titan with planted feet, one foot up, or even cross-legged. This freedom makes sitting extremely comfortable. But which style works better over a long period of time? After hundreds of hours of testing, this report reaches a clear conclusion.
Flat Vs Bladed Seat Pros and Cons
Flat seat styles encourage casual neutral postures; bladed ones enforce stricter ones. Details:
Top Dual-Chair Setup Picks
Building a 2-chair workstation gives you the best of both worlds. Enjoy crisp posture support in a bladed seat during working hours. When it's time to relax, loosen up in a chair with a flat seat.
Keep most of your sitting time in strict neutral positions. Then, shorter periods of looser sitting won't be as detrimental.
Here are some of the best bladed and flat seat chairs to consider.
Conclusion
This article helps you prioritize comfort or posture support before buying your next chair. A flat gaming chair seat is more comfortable. But over the long term, one with bladed edges is better at supporting good posture.
Neither type provides the perfect solution for all cases. By having one chair of each type, you get the best of both worlds.
With a tight budget: prioritize posture support. Buy a chair that has a bladed seat.
With an unlimited budget & space: buy both a bladed and flat style chair.
Part-time users: prioritize comfort. Buy a flat-seated chair to chill with semi-good posture.
Footnotes