Compact gaming chairs fit small to average sizes. Among this size range, the Omega 2020 Series is our top-ranked pro model. The Omega chair provides a snug fit, super-dense padding, and crisp ergonomic features. This Secretlab Omega review looks at the premier seating choice for slim bodies.
The Secretlab Throne used to be the smallest gaming chair in the Secretlab product line. It supported users from 4'9″ to 5'3″, with a weight capacity of 220 pounds. In early 2020, the Throne was discontinued.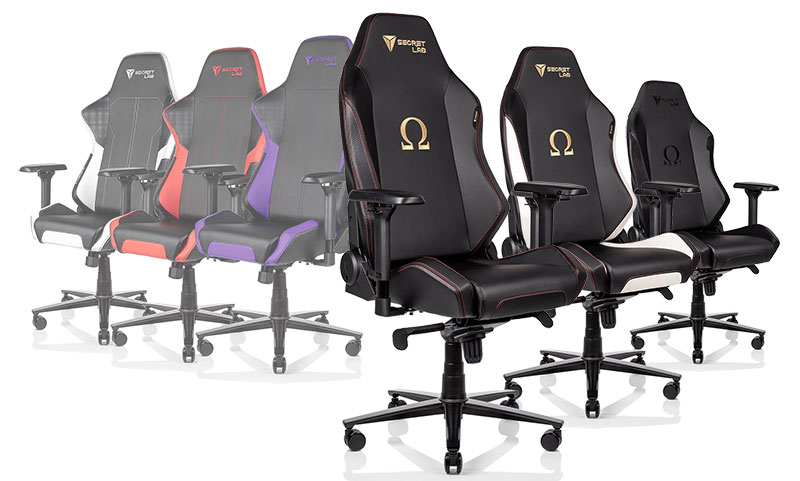 As a result, the Omega is now the dedicated small chair in the Secretlab product line. The Omega is larger than the Throne, supporting users from 5'3″ to 5'11". It has a maximum weight capacity of 240 pounds.
Among small gaming chairs, the Omega is the gold standard. It has the most advanced features, longest warranty, and widest range of leather and fabric styles.
Secretlab Omega 2020 Review
The Secretlab Omega 2020 Series is a snug luxury chair with superb ergonomic features. You can adjust the backrest, the seat angle, the height of the chair, and the padded 4D armrests. This gives you a full range of options to align the chair with your desk, computer screen, and your body.
This chair is also very durable. Every time you stand up, the padding will spring back to its original shape. In fact, Secretlab guarantees the padding to hold its shape for five years. The padding plus features make this a superb option for all types of computer users.
Chair features
The Secretlab Omega 2020 Series is a slim-fitting esports pro esports chair optimized for long sitting periods. Thick padding and dense dimensions provide superb upper body support. Feet planted with legs together helps to distribute body weight across the seat. That takes the pressure off the spine and upper body muscles while you sit.
Complementing the plush seating is a suite of adjustable features. The point of these features is to help you keep your body moving, even while sitting. For example, you can angle the backrest anywhere between 85° to 165°. The 85° angle cushions the spine even when leaning forward.
Another standout feature is the multifunction tilt mechanism. That is a handy relaxation feature that lets you angle and lock the seat in five different positions.
What's more, you also get padded, metal-plated 4D-adjustable armrests. The metal plating is a nice touch. It produces a satisfying 'click' each time you lock into a new position. Finally, a Class 4 gas-powered lift makes it easy to adjust the height, with a floor-to-seat range of 18.1″ to 21.9″.
Combined, these features make it easy to alter your sitting position while working. Doing so will shift your body weight pressure onto other areas of your back. That activates some muscles while putting others to rest. It also boosts blood circulation. The result is that the user can sit longer while staying fresh and relaxed.
Features summary
Secretlab Omega chairs start with a robot-welded carbon steel frame. Over top goes premium cold cure foam and a choice of leather or fabric covers.
Functionality: 4D armrests; backrest recline from 85°-165°; multi-angle tilt mechanism.
Cover options: choice of premium PU leather, genuine NAPA leather or Softweave Fabric.
Comfort: cold cure foam padding; memory foam neck and lumbar pillows with cooling gel inserts.
Foundation: carbon steel frame; aluminum base; Class 4 gas lift; PU caster wheels.
These features give you everything you need for long periods of high-octane computing.
Omega from Secretlab USD $419 to $439
Available from Secretlab in North America, Canada, the UK, Europe, Oceania, Singapore, Malaysia, and South Korea.
Omega sizing
The Secretlab Omega 2020 Series is the smallest chair in the Secretlab gaming chair collection.
It's a compact design for slim bodies. People over 5'10" or those wide wide waists may find the seat too snug for comfort.
Here are the key measurements compared to the other Secretlab chairs:
| | Secretlab Omega | Secretlab Titan | Secretlab Titan XL |
| --- | --- | --- | --- |
| Outer seat width & depth | 22" (W) x 19.3" (D) | 20.5" (W) x 19.7" (D) | 22.6" (W) x 19.9" (D) |
| Backrest height & width | 31.5" (H) x 21" (W) | 33" (H) x 21.7" (W) | 33.5" (H) x 22" (W) |
| Floor to Seat Range | 18.9" to 21.9" | 18.7" to 22.4" | 19.1" to 22.8" |
| Chair height | 50.4" to 53.4" | 51.7" to 55.4" | 52.6" to 56.3" |
| Size rating | 5'3" to 5'11", up to 240 pounds | 5'9" to 6'7", up to 290 pounds | 5'9" to 6'10", up to 390 pounds |
The height rating of 5'3″ to 5'11" make these a good fit for most average sizes. But the narrow space provided by the seat (and its ridged edges) means that they work best for slim people.
If you have thick legs or wide hips, consider buying a Secretlab Titan chair instead. To learn more about the importance of a good fit, check out our Sizing Tutorial:
2020 Series upgrades
In mid-2019, the Secretlab Omega enjoyed a huge upgrade. There were over 20 improved features in the Secretlab Omega 2020 Series, with three notable ones.
Upholstery upgrades
The first upgrade was an improved faux leather blend. The new Prime 2.0 leather is 4 times more durable than the old (based on sweat, humidity, flexing, and abrasion tests).
Second was a new blend of cold cure foam padding. The upgraded blend provides a firmer feel than before with enhanced durability. The firmness is deliberate.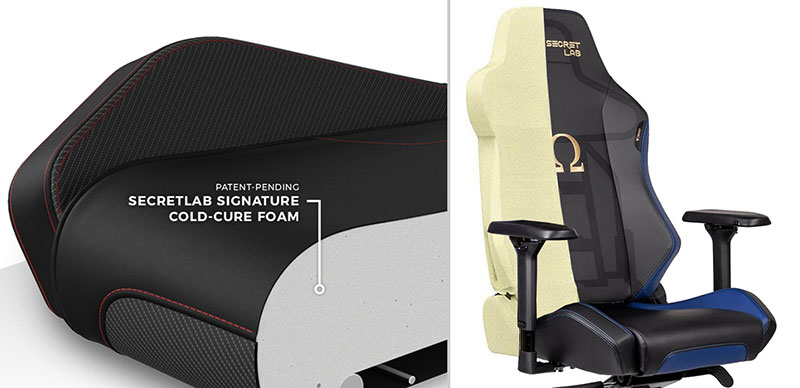 Secretlab believes that the key to good posture is an ultra-firm foundation. The Omega's padding is stiff out of the box and still very dense after breaking in. Firm padding goes against the concept of soft "comfy" chairs. But Secretlab research shows that it's a key part of keeping your posture in check.
Cheaper chairs tend to come with fluffier padding. Out of the box, soft padding feels plush, like sitting on a luxurious sofa. But the softer the sofa, the worse it is for your back. The same principle works with computing chairs. On top of that, cheap padding tends to flatten under heavy use. That's why firm padding is the better choice for full-time sitting loads.
Each chair also comes with an upgraded memory foam neck and lumbar pillow. Stuffed with cooling inserts, these provide comfortable, adjustable support for the spine's natural curves.
4D armrest upgrades
Another big improvement was upgraded 4D armrests. The new 2020 Series armrests include chrome-plated components. These lock into position with a gratifying click when adjusted.
They also come with concave padding to cradle your elbows while you work. Adjust left or right; angled left or right; forwards or backward; up or down.
Secretlab Omega 2020 warranty
The 2020 Series upholstery upgrades improved the longevity of Omega chairs. As a result, the two-year warranty increased to three years. Beyond that, you can get an extended five-year warranty by sharing a photo of your chair on social media.
Send a screenshot or link of your post to Secretlab to receive an 5-year warranty extension. For more information, check out the Redeem Program.
Note that even if you don't get the extended warranty, this is a good sign about the durability of 2020 Series Omega models. These are built to last for years.
Chair cover options
2020 models come in a choice of Prime 2.0 PU leather, nylon mesh fabric, or genuine NAPA leather. There are also several specialty designs.
Prime 2.0 PU leather
This is the most popular upholstery option. This upgraded material is four times more durable than 2018 Series leather. It feels soft to the touch, with no chemical smell. Like most premium leathers, breathability is decent. In hot weather, cheap leathers get sticky, while premium blends remain cool.
There are five Prime 2.0 stock color options. As pictured above (L-R); Ash Grey, Royal Blue, Stealth, Classic White, and Black.
PU leather Omega from Secretlab USD $419
Available from Secretlab in North America, Canada, the UK, Europe, Oceania, Singapore, Malaysia, and South Korea.
Softweave fabric
SoftWeave mesh fabric starts as premium short-yarn. Fibers get woven into dense fabric that maintains tensile strength over long periods. Then, a grinding process renders the fabric into an ultra-fine, soft, fluffy texture.
The upside is that Softweave fabric is more breathable and durable than PU leather. It feels soft to the touch, providing cool, cozy, and consistent comfort in all conditions.
Compared to other fabric gaming chairs, both Omega and Titan chairs stand out with superior features and a longer warranty.
Softweave Omega from Secretlab USD $439
Softweave Omega chairs available from Secretlab in North America, the EU and UK, Oceania, Singapore, Malaysia, and South Korea. Click the button to access the right store for your location.
Genuine leather
Plush genuine NAPA leather Omega models cost around $400 more than PU leather models. Despite the price, this model is very often sold out.
The Omega leather edition comes in all-black buttery-smooth genuine leather. Over time, the leather takes to the nuances of your body shape and provides a rich, luxurious fit.
NAPA leather Omega from Secretlab USD $749
Available from Secretlab in North America, Canada, the UK, Europe, Oceania, Singapore, Malaysia, and South Korea.
Special editions
Here's a quick look at some interesting Omega 2020 Series special editions.
Video game chairs
Secretlab makes several branded video game chairs for popular titles. Those include League of Legends, World of Warcraft, Overwatch, Dota 2, Rust, and more. All models are available in both Titan and Omega variants.
To browse all video game chairs from Secretlab and other brands, check this review:
Pro esports team editions
Secretlab is partnering with a growing list of esports teams. There are currently seven partner team models available for sale. These are the official chairs of Newbee, Team Secret, Astralis, Cloud9 and others.
Game of Thrones
Secretlab got in on the Game of Thrones hype before the final season began. While the finale was a letdown, these stunning designs are very popular.
Choose from posh House Lannister, wintery House Stark, or bold House Targaryen designs.
Buying advice
This section answers lingering questions that potential buyers might have.
Differences between the Titan and Omega
The Omega 2020 Series is a compact computing chair that has many of the same features as the larger-sized Secretlab Titan.
Aside from smaller dimensions, there are two differences between the Omega and the Titan. First, the Omega uses a memory foam lumbar pillow, while the Titan has an integrated one. Second, the Omega seat has edges that maintain narrow sitting space for your legs. Learn more in our explainer video and article:
Secretlab Omega alternatives
The most obvious gaming chair alternative is the Titan. But that's only a good fit for those seeking a large, spacious seat.
There are a few small-sized alternatives. Maxnomic makes a compact Pro and extra-small Casual Sport model with the same ergonomic features as the Omega. Another interesting alternative is the AKRacing California. It only has 3D armrests, but extra-small dimensions suitable for kids. To browse all small gaming chair alternatives, check out this comparison guide:
How to buy
The best place to buy Secretlab chairs is direct from Secretlab. That gets you access to the cheapest prices and special discounts not available elsewhere. Secretlab sells its chairs in America, Canada, the UK, Europe, Australia, New Zealand, Singapore, Malaysia, and South Korea.
Each country has a dedicated Secretlab store using local currencies and shipping options. In the American Secretlab store, Omega chairs sell for between USD $419 and $439.
Who is the Omega chair for?
This is our top-rated pro gaming chair for small to average sizes. But "gaming chair" is an inaccurate term, since non-gamers can also benefit by using one.
For pro esports players
Omega 2020 chairs support pro gamer needs with high-performance components. For instance, dense cold-foam padding keeps players comfortable for longer periods. Its ergonomic features also let players move their bodies while sitting. Movement boosts circulation, while also rotating active muscles supporting the back.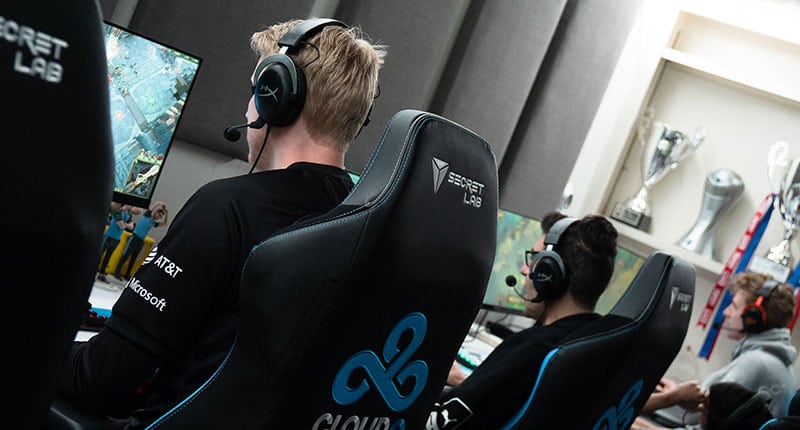 Another gamer-friendly feature is the forward recline to 85°. Intense gamers often encourage players to lean forward. That's why many pros remove the Omega's head pillow and angle the backrest all the way forward. That provides consistent support as they lean forward during gameplay.
For these reasons, many pro esports teams prefer using Titan or Omega 2020 edition chairs. Secretlab partners include Team Liquid, Cloud9, OG Esports, G2 Esports, and several others.
For general computer users
As they serve pro needs, these chairs can also serve the needs of general computer users. Traditional office chairs force users to sit in static positions. That works the upper body muscles harder. As the back tires, the spine sags into a slouch.
In contrast, under the grueling conditions that pro players endure, these chairs shine. With comfort and easy adjustability, they support long periods of healthy computing.
Secretlab's esports partners have proven it. Consumers can take advantage of it.
General computer users who sit long periods in these seats can expect to thrive. Expect improved posture, a brighter mood, more energy, and greater productivity at work.
Conclusion
The Secretlab Omega 2020 is our top-rated compact chair for pros. This is a high-end ergonomic chair designed for slim, average-sized users.
Standout features include stiff padding, a narrow seat, and adjustable features. Combined, these elements support a healthy posture while sitting. With the 5-year warranty, you can count on consistent performance for years.
In conclusion, the Omega is the best choice for power users who spend long periods sitting in front of a computer.
Buy an Omega chair from Secretlab
Omega chairs sell for between USD $419 to $439. Available for sale in North America, Canada, the UK, Europe, Singapore, Malaysia, South Korea, Australia, and New Zealand.