Among compact gaming chairs, the Secretlab Omega 2020 Series is one of the best pro models. It provides a snug fit, super-dense padding, and crisp ergonomics. This Secretlab Omega review explores the qualities that make the Omega such a popular chair.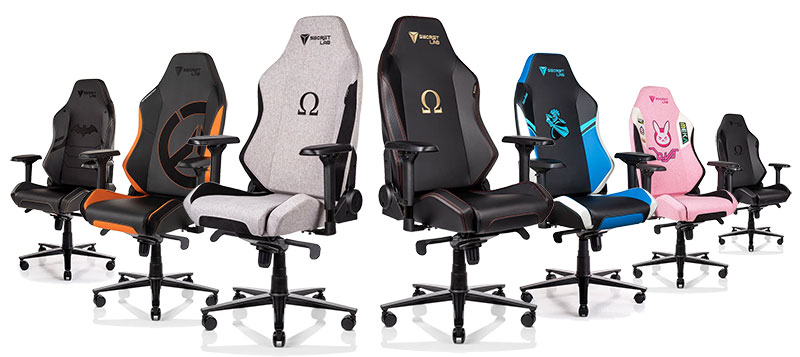 Secretlab makes high-end gaming chairs. These provide full-time ergonomic support for esports players and computer users. The Titan is their flagship model. The Throne is the smallest.
The Secretlab Omega chair fits between the Titan and Throne. It's a compact chair for average to small sizes seeking premium sitting support.
The Omega 2020 Series normally sells for USD $359 if you buy direct from Secretlab. Through the year, there are often special discounts.
Secretlab Omega Review
The Secretlab Omega 2020 Series is a snug luxury seat with superb ergonomic features. You can adjust the backrest, the height of the chair, and the padded 4D armrests. This gives you a full range of options to align the chair with your desk, computer screen, and your body.
Every time you stand up from a Secretlab Omega chair, the padding will spring back to its original shape. In fact, Secretlab guarantees the padding to hold its shape for five years. The padding plus features make this a superb option for computer users. Those seeking the best full-time sitting support will love this chair.
That is why so many top names in esports endorse Omega chairs. Secretlab partners include Newbee, Cloud9, SK Telecom T1 and Astralis.
For instance, Newbee team captain Hu "Kaka" Liangzhi likes that Omega chairs let him game longer. He said: "The first time we sat on Secretlab's chairs was at the PGL Bucharest Major. Their chairs were one of the most comfortable that we've tried… we immediately wanted to work with them. Their chairs allow us to train longer and make it easier to sit in front of a computer all day."
So what is it about these features that make Secretlab Omega chairs so special? Keep reading to learn how they exceed the highest standards for both pros and consumers.
Secretlab Omega chair features
The Secretlab Omega is a racing style gaming seat that has many of the same features as the higher-priced Titan.
Aside from smaller dimensions, there are two differences between the Omega and the Titan.
First, the Omega uses a traditional lumbar pillow, while the Titan's has integrated support. Second, the Omega seat has edges that maintain narrow sitting space for your legs.
The narrow sitting space ensures consistent ergonomics. Feet planted with legs together helps distribute body weight across the seat. This takes pressure off the spine and upper body muscles while you sit.
The result is solid ergonomic support for long sessions of computing. Keep in mind that less leg room can also restrict blood flow over long periods. If using an Omega, try to take walking breaks every 30 minutes or so to stretch your legs.
Features summary
Omega gaming chairs start with a robot-welded carbon steel frame. Over top goes premium cold cure foam and a choice of high-end cover fabrics.
All models have the same high-end features as the Titan:
Functionality: 4D armrests; recline to 165°, multi-angle tilt-lock.
Upholstery: choice of premium PU leather, genuine NAPA leather or Softweave Fabric.
Padding: patent-pending cold cure foam.
Support: neck & lumbar pillows; carbon steel frame; Class 4 gas lift; PU caster wheels.
Omega 2020 Series upgrades
Every two years, Secretlab upgrades their entire line of gaming chairs. The latest upgrade happened in late 2019. There are over 20 improved features in the Omega 2020 Series, with three notable ones.
First, Secretlab upgraded the leather to a Prime 2.0 PU blend. The 2.0 leather is 4 times more durable than the old (based on sweat, humidity, flexing and abrasion tests).
Second is a new blend of cold cure foam. Cold cure foam is the premier padding choice in the furniture industry. Secretlab's improved blend provides a firmer feel than before with enhanced durability. The firmness is deliberate.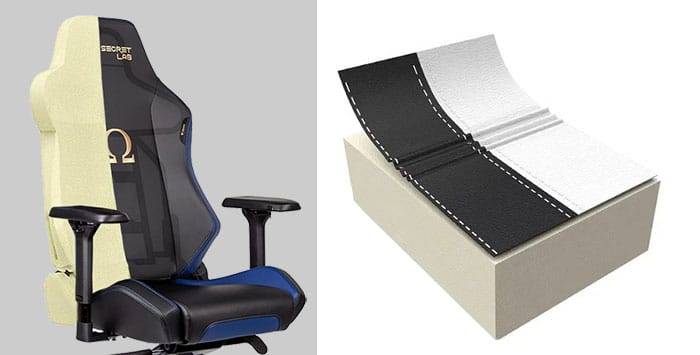 Secretlab believes that the key to good posture is firm support. The Omega's padding is stiff out of the box and still very dense after breaking in. Firm padding goes against the concept of soft "comfy" chairs. But Secretlab research shows that it's a key part of keeping your posture in check.
If you need a full-time computing seat, an Omega is ideal. If you prefer pure comfort, consider a cheap gaming chair. Cheap chairs use fluffier padding that feels plush. The problem is that cheap padding sags under heavy use. That's why the Omega's firm padding is the better choice for full-time sitting loads.
The third notable improvement are upgraded armrests. The new 2020 Series 4D armrests include chrome-plated components. These ensure better durability with enhanced usability. Adjust left or right; angled left or right; forwards or backward; up or down.
There is impressive attention to detail put into the Secretlab Omega chair armrests. For example, they lock in position with a gratifying click when adjusted. They also come with concave padding to cradle your elbows while you work.
Secretlab Omega chair warranty
As part of the 2020 Series upgrades, all Secretlab chairs now come with a 3-year warranty. That's one year longer than the Secretlab 2018 models.
Recently, Secretlab added an easy method to extend the warranty for an extra two years. Post a photo of your chair on social media and then share it with Secretlab. That will get you an extended 5-year warranty. For more information, check out Secretlab's Redeem Program.
Note that even if you don't get the extended warranty, this is a good sign about the durability of 2020 Series Omega chairs. These chairs are built to last for years.
Omega sizing
The Omega is the mid-sized chair in the Secretlab line.

It's a compact design for slim bodies. People over 5'10" or those wide wide waists may find the Omega too small.
Here are the key measurements of the Omega compared to the other Secretlab chairs:
| | Secretlab Titan | Secretlab Omega | Secretlab Throne |
| --- | --- | --- | --- |
| Outer seat width & depth | 20.5" (W) x 19.7" (D) | 22" (W) x 19.3" (D) | 20" (W) x 18" (D) |
| Backrest height & width | 33" (H) x 21.7" (W) | 31.5" (H) x 21" (W) | 32.3" (H) x 23" (W) |
| Floor to Seat Range | 18.7" to 22.4" | 18.9" to 21.9" | 16.1" to 19.9" |
| Overall height | 51.7" to 55.4" | 50.4" to 53.4" | 48.4" to 52.2" |
| Weight support | Up to 290 pounds | Up to 240 pounds | Up to 220 pounds |
| Height support | 5'9" to 6'7" | 5'3" to 5'11" | 4'9" to 5'3" |
Are you on the smaller side and looking for a compact, firm fit? The Omega is the best professional class compact model available.
Omega chair cover options
Omega chairs come in a choice of Prime 2.0 PU leather, nylon mesh fabric or genuine NAPA leather. There are also several specialty designs. There are designs for Dota 2, Game of Thrones, Batman and several pro esports teams.
Prime 2.0 PU leather
The Omega 2020 Series comes with Prime 2.0 PU leather. This upgraded material is four times more durable than 2018 Series leather. It feels soft to the touch, with no chemical smell and decent breathability. There are five color options:
Browse all Omega designs on Secretlab
Softweave fabric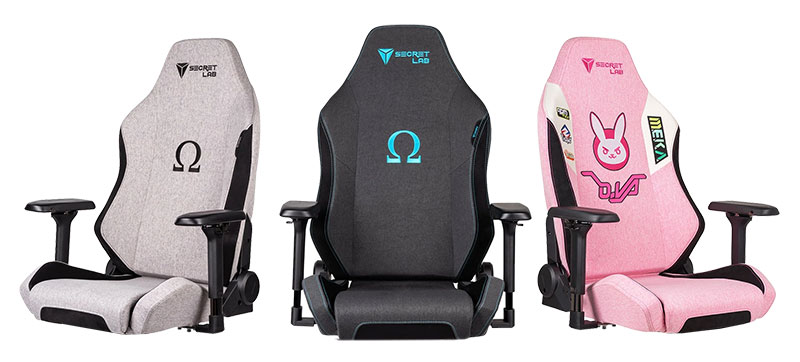 Secretlab's Softweave fabric is more breathable and durable than PU leather. Inspired by modern tech-wear, Softweave models provide cool cozy comfort in all conditions.
Special editions
Here's a quick look at some interesting Omega 2020 Series special editions.
Genuine NAPA leather
The plush genuine NAPA leather chairs cost around $400 more than PU leather models. Despite the price, this model is often sold out.
The Omega NAPA leather edition comes in all-black buttery-smooth genuine leather. Over time, the leather takes to the nuances of your body shape and provides a rich, luxurious fit.
Esports team chairs
Secretlab is partnering with a growing list of esports teams. There are currently five partner team models available for sale. These are the official chairs of Newbee, Team Secret, Astralis, SK Telecom T1, Cloud9.
Game of Thrones chairs
Secretlab got in on the Game of Thrones Season 8 hype before the season began. If we got the finale that was promised, these chairs would be flying off the shelves.
The lame ending killed hype for GOT gear, but that doesn't diminish these striking designs. Choose from House Lannister, House Stark or House Targaryen.
Browse all Omega designs on Secretlab
Secretlab Omega 2020 Series buying advice
Are you thinking of buying a Secretlab Omega gaming chair? This section answers lingering questions that potential buyers might have.
Secretlab Omega Pros and cons
As with all gaming chairs, there are things to like and dislike about the Omega. Below we summarize the pros and cons.
What we like
The Secretlab Omega is a high-end gaming chair with a well thought out design.
At first, some people may not appreciate the stiff padding on Omega chairs. But remember that the purpose of a gaming chair is to support good posture for long hours of sitting.
From that perspective, the Omega chair is one of the best you can buy. At first, sitting in an Omega may feel uncomfortable. That's because the Secretlab Omega encourages you to sit with good posture.
If you're used to sitting with a slouch, using an Omega may feel painful at first. Once your body adjusts, expect to gain all the benefits that come with having good posture. These include better circulation, deeper breathing, and more energy.
Buy the Secretlab Omega from $359
What we don't like
Many cheaper gaming chairs come with very soft padding that feels like sitting in a cloud. What's more, cheaper chairs offer plenty of room to curl up or sit in various positions.
In contrast, sitting in an Omega chair feels stiff and formal. The seat is very narrow, with almost no room to move your legs. People larger than 5'10" might feel like they're sitting in a tight tube.
Who should buy a Secretlab Omega?
The Secretlab Omega chair is for people willing to a premium for high quality. It is cheaper than a lot of the top pro chairs, but at the top for features, quality and durability.
Many who invest in high-end gaming chairs seek to gain a performance edge. If you are a driven and motivated computer user who spends long hours sitting, the Secretlab Omega chair is a great choice.
Serious gamers, streamers, programmers, and artists will enjoy this chair.
Secretlab Omega alternatives
Most gaming chairs fit average sizes. The Omega is one of the few that caters to smaller users. Check out our roundup of best gaming chairs for small sizes to learn about competing options.
Other alternatives to the Omega are Secretlab's other two models, the Titan and Throne Series. Check out our Secretlab brand review to see how these three models stack up against each other.
Conclusion
This Secretlab Omega review shows why this is such a great gaming chair. It's a high-end luxury product designed for average-sized users. It comes with stiff padding and narrow seat. These elements nurture healthy posture while sitting. Thus the Omega is ideal for power users who spend long hours sitting in front of a computer.
Are you looking for a gaming chair to support healthy sitting habits? The Secretlab Omega is our #1-rated compact option.