Secretlab are the preferred chairs for many of the world's top esports teams. Some pros use Omega gaming chairs, others use Titans. When deciding between a Titan and Omega, it's important to note some key differences. This Secretlab Omega vs Titan guide compares and contrasts the two chairs.
Before getting into the differences, here are the similarities between the Omega and Secretlab Titan. Last year, both enjoyed upgrades into 2020 Series chairs. While 2018 Series models came with a 2-year warranty, 2020 Series chairs have a 3-year warranty. That's extendable. By sharing a picture of your chair on social media, Secretlab will extend that to five years.
Both the Secretlab Titan and Omega chairs also share some common features:
Functionality: 4D armrests; backrest recline from 85° to 165°; multifunction tilt mechanism.
Padding: cold cure foam padding; memory foam neck pillow with cooling gel insert.
Style options: 24 variants with PU leather, Softweave fabric, and NAPA leather options.
The 24 variants offer a huge range of design concepts. Each chair comes in standard PU leather designs, pro esports team designs, bold Cyberpunk styles, and more.
Browse all in-stock Secretlab chairs
Explainer video
Check this brief explainer video for a succinct breakdown of the differences between the two chairs. After the video, we detail the differences with illustrations.
Omega vs Titan chair differences
Between the Secretlab Titan vs Omega chair, there are four key differences.
Size differences
The Secretlab Titan gaming chair is larger than the Omega. It has wider, taller dimensions plus a heavier weight capacity. Here are the specs of the Omega and Titan chairs:
| | Secretlab Omega | Secretlab Titan |
| --- | --- | --- |
| Outer seat width & depth | 22" (W) x 19.3" (D) | 20.5" (W) x 19.7" (D) |
| Backrest width & height | 21" (W) x 31.5" (H) | 21.7" (W) x 33" (H) |
| Floor to seat range | 18.9" to 21.9" | 18.7" to 22.4" |
| Space between armrests | 24.4" to 27.6" | 26" to 29.1" |
| Overall height | 50.4" to 53.4" | 51.7" to 55.4" |
| Weight support | Up to 240 pounds | Up to 290 pounds |
| Height support | 5'3" to 5'11" | 5'9" to 6'7" |
The specs show that the Titan has a deeper seat and larger backrest. The most striking size difference between the two chairs is the space between the armrests. The Titan offers a roomy 26″ to 29.1″ range. In contrast, the Omega has a more narrow range of 24.4″ to 27.6″.
It's mainly because of the armrest space that Omega chairs are best for slim figures. Those with wide hips or thick legs may find the space between the armrests too snug.
Narrow versus wide seat
On top of smaller dimensions, the Secretlab Omega chair differs with a classic bladed edge racing style seat. In contrast, the Titan has a flat, wide seat.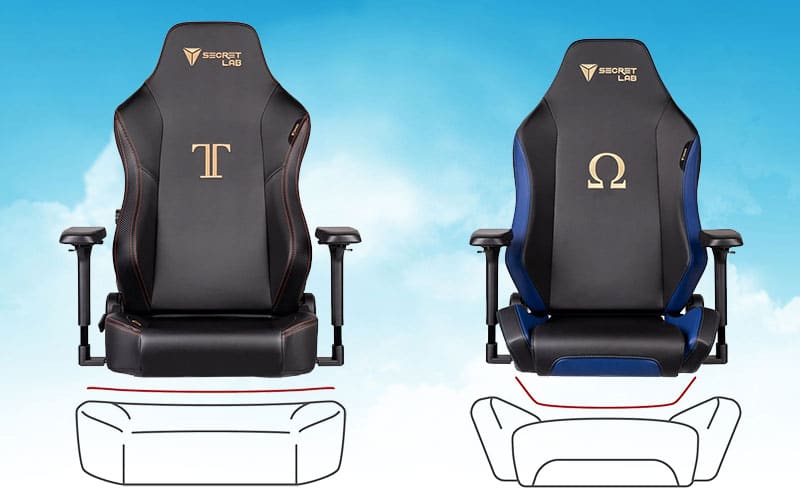 Those seat differences allow for different sitting styles. The Omega seat's ridged edges keep the user's legs pressed together.
Without any obstructions, the wide, flat, Titan seat gives more room for legs to move, or even sit cross-legged.
Lumbar pillow vs internal lumbar
The third key difference between the Omega and Titan is the lumbar support style. The two chairs each come with a memory foam head pillow, but only the former has an adjustable lumbar support cushion.
Instead of a lumbar cushion, the Titan chair uses an internal support system. Turning a knob on the side of the chair will increase or decrease the depth of the support.
Each type provides different adjustability. The Omega's adjustable lumbar support cushion is height but not depth adjustable. On the Titan, the lumbar support only controls depth, not height.
Lack of height adjustment on the Titan might be a problem if it doesn't fit perfectly into the curve of your back. The upside of the Titan lumbar system is that it doesn't move around as the lumbar pillow does. Once you set it to your preference, you can lock it in place and forget about it.
The Omega is cheaper
Secretlab Titan vs Omega chairs are a little more expensive. On the Secretlab website, Omega gaming chairs sell from $359 to $389. Titan chairs sell from $399 to $349.
Whether you choose an Omega or Titan, you can expect at least five years of use out of it. Thus, the price difference shouldn't be much of a factor when deciding on one or the other.
Should I buy a Titan or Omega?
The compact Omega gaming chair fits users from 5'3″ to 5'11". The larger Titan fits users from 5'9″ to 6'7″. Small sizes should obviously choose an Omega chair. Larger bodies should choose a Titan. For average sizes, the Titan and Omega are viable options.
The key consideration for average sizes is the seat style. If posture support is your priority, choose the Omega. The ridged seat edges give your legs less room to move. Legs together with feet planted on the floor help the chair to absorb the body's weight so the spine doesn't have to.
If comfort is a higher priority, choose the Secretlab Titan. The flat seat gives your legs plenty of room to move, but also more options to slouch. You can cross your legs or sit with one foot up. In fact, no matter what position you sit in, the Titan is insanely comfortable. if you have poor posture or sloppy sitting habits, you'll need more discipline when sitting in a Titan gaming chair.
Buy the Titan from $399 to $429
If you prefer the more compact option, buy the Omega directly from Secretlab from $359 to $389.
Conclusion
The Secretlab Omega and Titan are Secretlab's flagship models. Several of the world's top pro esports teams use a combination of Omega and Titan chairs.
Both the Titan and Omega share several pro ergonomic features. Those include backward and forward recline, 4D armrests, and a multifunction tilt mechanism. Each chair also comes in 24 different style variations with an option for an extended 5-year warranty.
There are four differences between the two Secretlab chairs:
Chair sizes: the Omega has smaller dimensions than the Titan.
Seat styles: the Omega seat has ridges edges, while the Titan's seat is wide and flat.
Lumbar support: the Omega uses a traditional lumbar pillow. The Titan uses an internal support system.
Price: Omega chairs are around $40 cheaper than Titan chairs.
Average sizes have the luxury of choosing either of these excellent gaming chairs.
For a more detailed drill-down of either chair, check out our Secretlab Omega review or Secretlab Titan review. For a comparison of the Secretlab Omega, Titan, and Titan XL chairs, check out our comprehensive Secretlab gaming chair overview.