Investing in high-end computing gear should be a thrill. But if you don't do proper research, thrills might fade into buyer's remorse. For instance, when deciding between a Secretlab Omega versus Titan chair. Choose wisely and gain the full benefits of high-end ergonomic seating. Choose wrong and endure awkward support that's less than perfect.
If you select the right Secretlab chair for your size (and needs), expect everything you imagined. Beyond stunning good looks, your chair will deliver superb posture support with consistent comfort over long periods. On the flip side, many who choose the wrong size will find an awkward fit that sort of works but never feels just right.
To ensure the best Secretlab chair for your needs, this article compares and contrasts Omega versus Titan chairs. As a start, this explainer video (1:41) summarizes the technical differences between the two chairs.
The gist is that the Omega is a smaller chair with a body-hugging fit. In contrast, the Titan has more spacious dimensions and a unique type of lumbar support.
Below, we summarize common features shared by both chairs, before getting into the differences.
Shared features
Last year, both the Titan and Omega chairs enjoyed "2020 Series" upgrades. That included upgraded leather, improved padding, refined armrests, and plenty more.
While 2018 Series models came with a 2-year warranty, 2020 Series chairs have a 3-year warranty. That's extendable. By sharing a picture of your chair on social media, Secretlab will extend that to five years (details).
Both the Secretlab Titan and Omega chairs also share some common features:
Functionality: 4D armrests; backrest recline from 85° to 165°; multifunction tilt mechanism.
Padding: cold cure foam padding; memory foam neck pillow with cooling gel insert.
Style options: 36 style variants (PU leather, Softweave fabric, and NAPA leather options).
The 36 style variants present a dizzying array of options. There are standard PU leather designs, custom pro esports team designs, bold video game-inspired styles, and more. For a summary of all design options, click here.
Browse all chairs on the Secretlab website
Chairs available from Secretlab in North America, Europe, the UK, Singapore, Malaysia, South Korea, and Oceania. Titan models cost $459 to $489. Omega versions cost $419 to $449.
Omega vs Titan chair differences
The simplest way to ensure the best fit for your size: stick with Secretlab's size ratings. Based on my tests at ChairsFX HQ (I am 5'9″ or 177 cm), these ratings are spot-on:
Omega: 5'3″ to 5'11"; maximum weight capacity 240 pounds.
Titan: 5'9″ to 6'7″; up to 290 pounds.
Side-by-side, the dimensions of both chairs look similar. There are only two immediate visual differences: the ridged edges on the Omega's seat, plus its included lumbar pillow.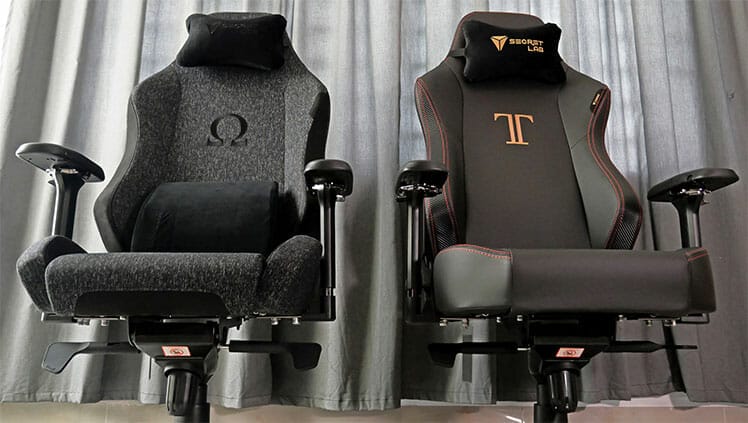 As a test, I sat a 5'5″ (165 cm) teen in a Titan chair. Surprisingly, the fit looked pretty good. After around 30 seconds, he proclaimed the fit as "perfect". To make sure, I cranked the internal lumbar support to the highest setting and had him lean back.
That's where the sizing fell apart for his size. The lumbar support is depth-adjustable, but you can't adjust the height. As a result, it was hitting him above the lumbar curve. Over time, sitting that way would result in poor posture and terrible pain in his lower back.
Interestingly, the problem went away when we dialed down the internal support and replaced it with an Omega lumbar pillow.
The key takeaway: if you're shorter than 5'9″ (175 cm), the Titan's lumbar support won't fit you. Without effective lumbar support, poor posture sets in. As a result, you will have wasted money on a chair that harms your posture instead of helping it.
To avoid that, stick with the Secretlab's size ratings. That will ensure the right fit, meaning superb comfort and back support for long periods of sitting.
Browse all chairs on the Secretlab website
Chairs available from Secretlab in North America, Europe, the UK, Singapore, Malaysia, South Korea, and Oceania. Titan models cost $459 to $489. Omega versions cost $419 to $449.
Size differences
There are size differences between the two chairs that don't look significant on paper. The Titan gaming chair is larger than the Omega. It has wider, taller dimensions plus a heavier weight capacity.
Even so, my 5'9″ (177 cm) frame looks to fit similarly in both models. In the comparison shot, the Titan has a fuller upper backrest. As well, its flat seat doesn't restrict the legs as the Omega chair does.
Here are the sizing specs of both models:
| | | |
| --- | --- | --- |
| | Omega | Titan 2020 |
| Outer seat width & depth | 22″ (W) x 19.3″ (D) | 20.5″ (W) x 19.7″ (D) |
| Backrest width & height | 21″ (W) x 31.5″ (H) | 21.7″ (W) x 33″ (H) |
| Floor to seat range | 18.9″ to 21.9″ | 18.7″ to 22.4″ |
| Space between armrests | 24.4″ to 27.6″ | 26″ to 29.1″ |
| Overall height | 50.4″ to 53.4″ | 51.7″ to 55.4″ |
| Weight support | Up to 240 pounds | Up to 290 pounds |
| Size Range | 5'3″ to 5'11" | 5'9″ to 6'7″ |
| Price | $419 to $449 | $459 to $489 |
The specs show that the Titan has a deeper seat and larger backrest. The most striking on-paper difference is the space between the armrests. The Titan offers a roomy 26″ to 29.1″ range. In contrast, the Omega has a narrower range of 24.4″ to 27.6″.
That's an indication of the Omega's better suitability for slim figures. Those with wide hips or thick legs may find the space between the Omega's armrests too snug.
Narrow versus wide seat
On top of smaller dimensions, the Secretlab Omega chair differs with a classic bladed edge racing style seat. In contrast, the Titan has a flat, wide seat.
Those seat differences allow for different sitting styles. The Omega seat's ridged edges keep the user's legs pressed together.
Without any obstructions, the wide, flat, Titan seat gives more room for legs to move, or even sit cross-legged. That makes it more comfortable, but less effective as a posture support tool.
Restricted legs provides better posture support
The Omega chair's ridged edges force users to sit with their legs closer together. That proves excellent posture support, whether you want it or not.
On the other hand, the Titan gives you lots of freedom to position your legs however you wish. That provides a more comfortable seat, with less potent posture support. That is because legs spread willy-nilly lessens the support that your legs give your spine while sitting.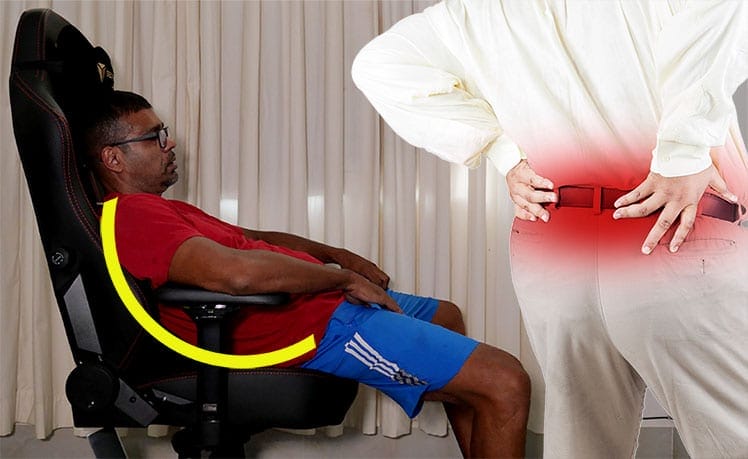 The solution: tuck your hips as deep into the seat as possible. That ensures crisp posture, with the added bonus of generous legroom.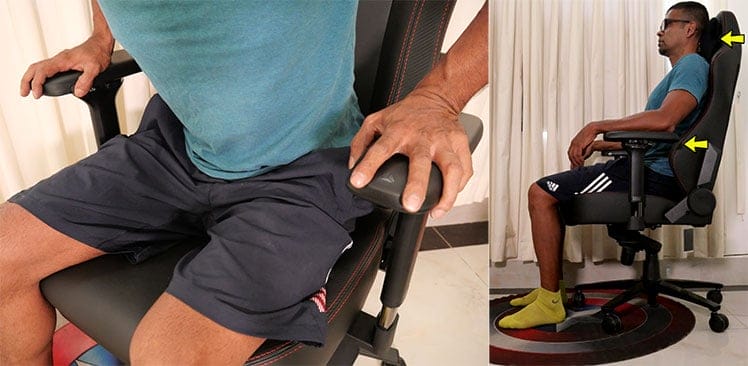 Once used to tucking your hips while sitting, the Titan provides incredible posture support that's insanely comfortable.
Browse all chairs on the Secretlab website
Chairs available from Secretlab in North America, Europe, the UK, Singapore, Malaysia, South Korea, and Oceania. Titan models cost $459 to $489. Omega versions cost $419 to $449.
Lumbar pillow vs internal lumbar
The third key difference between the Omega and Titan is the lumbar support style. The two chairs each come with a memory foam head pillow, but only the former has an adjustable lumbar support cushion.
Omega lumbar support
The Omega's lumbar support pillow is a 29×29 cm memory foam square covered in soft velour. To use, simply place against the backrest and lean back.
As your body makes contact, the foam compresses at the edges while filling in the curve in your lower spine. It's easy, intuitive, and effective.
Titan lumbar support
The Titan's depth-adjustable lumbar provides better support than the Omega's memory foam pillow. However, that is only if you fit within the 5'9″ to 6'7″ (175-200 cm) size range.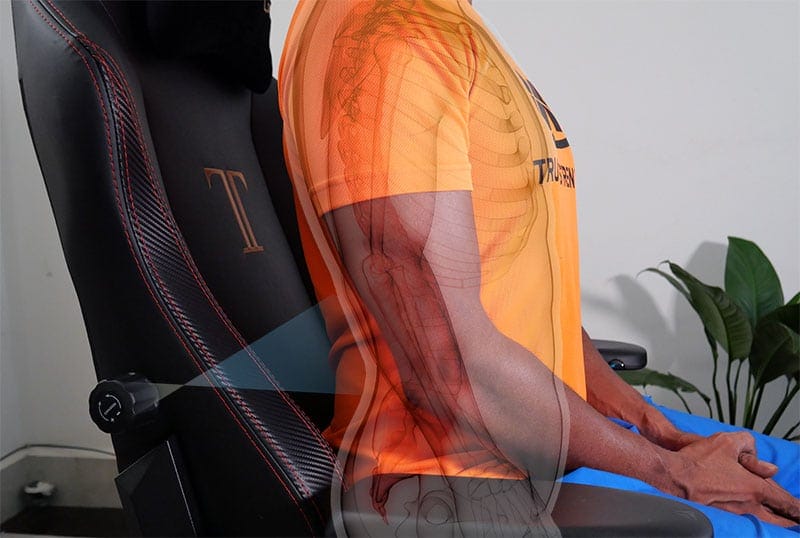 I like to use it at around 80% max depth (around 1.5 inches deep). It fits better than a lumbar pillow with firmer, more precise support. That combination makes it easier to sit upright, with or without the neck support pillow. Some prefer pillows, others use their Titan chairs without. Try out both variations until you find your sweet spot.
Both types work well. The Omega's memory foam lumbar support beats the conventional lumbar on my old DXRacer Racing PRO Series by a wide margin.
Compared to the DXRacer, the Omega is easier to use, more comfortable, softer to the touch, and more attractive. However, as a seasoned gaming chair user, I find the Titan's lumbar on a completely different level.
If you meet the sizing specs, go with the Titan. If not, the Omega is a nice consolation prize.
The Omega is cheaper
Secretlab Titan chairs are a little more expensive than Omega models. On Secretlab's USA website, Omega chairs cost $419 to $449. Titan chairs sell from $459 to $489.
Whether you choose an Omega or Titan, you can expect at least five years of use out of it. Thus, the price difference shouldn't be much of a factor when deciding on one or the other.
Buy the Titan from Secretlab $419 to $489
If you prefer the more compact option, buy the Omega from Secretlab for $379 to $449. Both models available from Secretlab in North America, Europe, the UK, Singapore, Malaysia, South Korea, Australia, and New Zealand.
Should I buy a Titan or Omega?
The bottom line is that two groups should stick to sizing specs, while a third group has a choice.
Users shorter than 5'9″ (175 cm) should choose an Omega chair.
Those 5'11" (180 cm) or taller should choose a Titan chair.
Users 5'9″ to 5'11" (175-180cm) can opt for either an Omega or Titan. Select the former for a body-hugging fit, and the latter for a more spacious one.
This Titan vs. Omega comparison is especially for users in the third category.
Summary of findings
I stand a shade over 5'9″ (177 cm). That puts me in a great spot to assess the mettle of both chairs. Here are my hands-on findings:
Easiest to use: using the Omega is simple. You can basically plop down the lumbar pillow and lean back. The Titan gives more freedom of movement. However, that requires a bit of user diligence to maintain good posture.
Most comfortable: up-front, the comfort levels are comparable. However, after a few years of perfect posture, you might start finding the Omega's dimensions a bit restrictive. Over the long-term, the Titan is more spacious and offers a more potent form of lumbar support.
Best for posture: for new gaming chair users, the Omega wins hands-down. It provides a comfortable base to train your body into normalizing good posture. For experienced users who want more space, the Titan is the premier option.
Conclusion
Should you buy a Secretlab Omega or Titan chair? The key consideration for users 5'9″ to 5'11" (175-180cm) is the seat style. If posture support is your priority, choose the Omega. The ridged seat edges give your legs less room to move. Legs together with feet planted on the floor help the chair to absorb the body's weight so the spine doesn't have to.
If you have poor posture or sloppy sitting habits, you'll need more discipline when sitting in a Titan gaming chair.
If comfort is a higher priority, choose the Secretlab Titan. The flat seat gives your legs plenty of room to move, but also more options to slouch. You can cross your legs or sit with one foot up. In fact, no matter what position you sit in, the Titan is insanely comfortable.
For a proper technical drill-down of either chair, check out our Secretlab Omega review or Secretlab Titan review. For a comparison of the Secretlab Omega, Titan, and Titan XL chairs, check out our comprehensive Secretlab gaming chair overview.
Browse all chairs on the Secretlab website
Chairs available from Secretlab in North America, Europe, the UK, Singapore, Malaysia, South Korea, and Oceania. Titan models cost $459 to $489. Omega versions cost $419 to $449.