Updated:
Founded in 2016, Noblechairs is a Berlin-based gaming chair company. They gave free reign to their team of German engineers to develop a range of upmarket gaming chairs. The EPIC is their original luxury gaming chair – and still their top seller.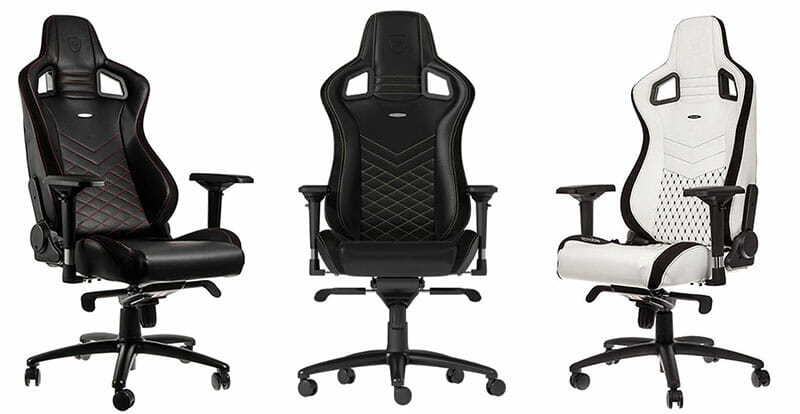 The EPIC is a masterpiece of German engineering. It uses high quality materials for a plush seating experience with solid ergonomics.
If you need posture support for long hours of computing, the Noblechairs EPIC is a great choice.
Noblechairs EPIC Gaming Chair overview
This section breaks down the pros and cons of the Noblechairs EPIC gaming chair. This will help you make an informed buying decision.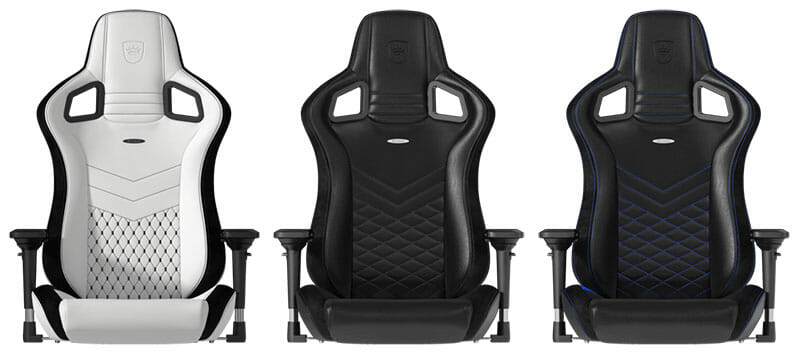 Key features
The Noblechairs EPIC is majestic. The above pictured PU leather models are finely perforated for optimal breathability and finished with diamond pattern stitching in the lumbar and seating areas. On the sides, the leather is framed by strips of rough faux velour leather that feels like suede.
Noblechairs Epic PU leather editions
Classy luxury car seat styling designed in Germany, made in China
Adjustable backrest reclines 90 to 135 degrees
Solid steel frame, cold foam padding, 5-point aluminium base, 60mm smooth rolling casters and hydraulic gas lift
4D armrests for maximum adjustability
Includes two pillows for lumbar and neck support
2 year manufacturer warranty
Who this product is for
The Noblechairs EPIC is designed to fit people between 5'4 and and 6'4 (165 to 195 centimeters) and support up to 330 pounds (150 kg). Of course the primary benefit of a gaming chair is to promote good posture while seated for long hours. To that end, the Noblechairs EPIC works perfectly.
If you are willing to pay a premium for higher quality materials and manufacturing, both the genuine leather and PU leather options are worth considering. Expect a gaming chair that looks great and more importantly makes you feel great.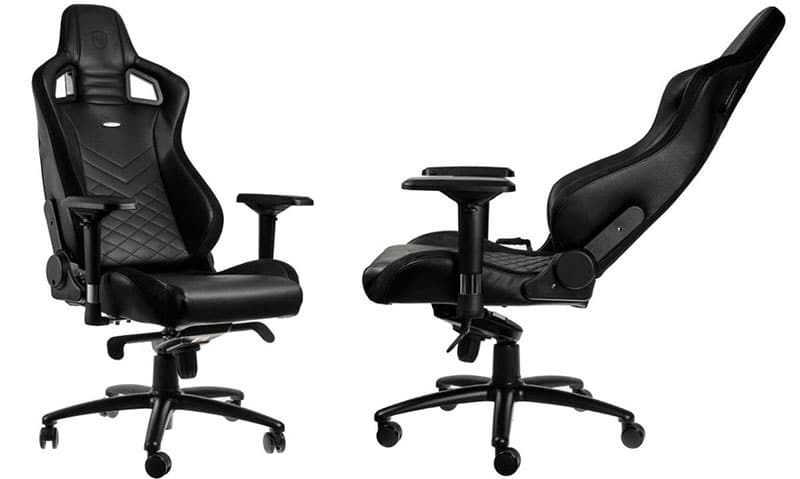 What we like
The Noblechairs EPIC gaming chair is designed in Germany, made in China, and built using the highest quality materials. The wheel base is solid and the casters roll smoothly. The gas lift works as it should, and the entire package feels very sturdy. In addition the perforated diamond-stitched design looks sublime.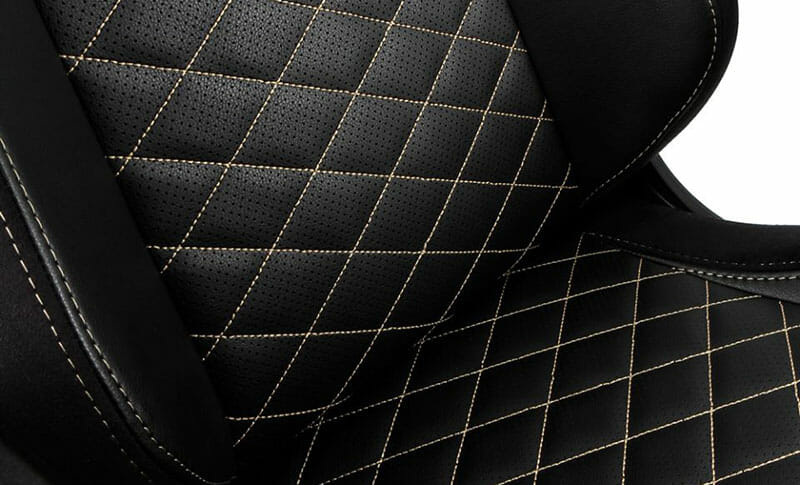 What we don't like
The Noblechairs Epic is an incredible gaming chair – outside of the premium pricing, it's hard to find flaws in this masterpiece.
The only thing we could come up with is the lumbar and neck cushions. Their quality is great and they work as they should. However, notice that most promotional images of the EPIC are taken without the cushions, which makes them look like works of art.
With the cushions in place (which are necessary for proper ergonomic support), the EPIC looks less spectacular – an internal lumbar mechanism (like that found on the Secretlab Titan) would make a huge styling difference.
Other Noblechairs models
Because of the popularity of the EPIC model, Noblechairs has since expanded their line to include two even more luxurious models. Both have similar features to the ICON  with some enhanced luxury features and specialized support for large-sized users.
Noblechairs ICON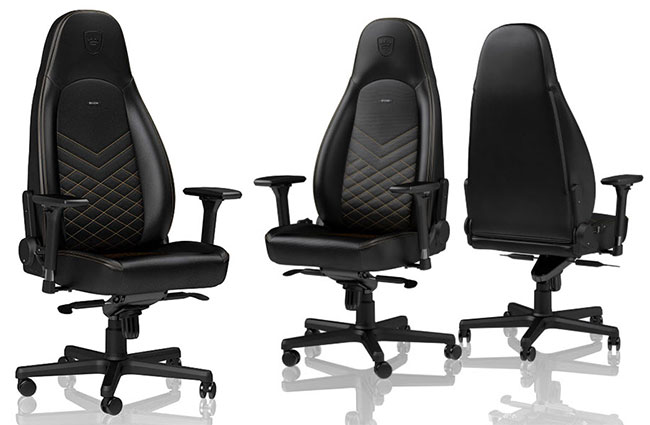 This spinoff of the Epic features a modified backrest design and has larger dimensions designed to support users up to six foot four and weighing up to 330 pounds. While the Epic has been the longtime flagship pf the Noblechairs brand, this model looks set to become it's equal for big and tall users in particular.
Noblechairs HERO
The HERO model borrows much of the same elements as the EPIC but sets itself apart with an enlarged seat area and backrest, plus enhanced lumbar support for extra luxurious ergonomic support. Like the ICON, it supports large sizes up to six feet four weighing up to 330 pounds.
Noblechairs EPIC Alternatives
Like most luxury gaming chairs, Noblechairs products offer superb quality, excellent ergonomics and stunning design. Check out our mega-guide of the best premium gaming chairs on the market to see how the Epic compares.
Those looking for a wider set of features (like footrests, Bluetooth speakers and deep recline to 180 degrees, check out our list of top budget gaming chairs instead. Note that while many top budget models beat Noblechairs products in terms of features, they fall far behind in terms of quality and comfort.
Why invest in a gaming chair?
At $300+, a premium chair investment really needs to offer more than just good looks. In that light, the Noblechairs Epic really delivers, offering superior ergonomic support that will benefit your health, work habits and vitality in ways you never imagined possible.
Conclusion
The Noblechairs Epic bills itself as one of the most luxurious gaming chairs on the market and delivers. At around $50 less than some of the other leading brands, you get supreme comfort and excellent ergonomic support in a very stylish package that will make you look and feel like royalty.
However, there aren't any standout features – just top-to-bottom quality and good looks. If you're looking for cutting edge ergonomic gaming chair designs, look elsewhere. If you're looking for ergonomic support and comfort in a durable build that looks great, the Noblechairs Epic is a solid choice.