Natus Vincere (NaVi) is one of the most successful teams in the history of esports. Based on career earnings, the team ranks sixth all-time. Founded in Ukraine in 2009, this perennial contender has won 20 Tier 1 events. To celebrate their success, Anda Seat has collaborated with the team. Check out the official NaVi esports team chairs from Anda Seat.
Anda Seat now partners with two of the top-10 esports teams of all time (based on earnings). In May 2020, the team partnered with Fnatic, ranked #4 in career earnings. NaVi ranks sixth overall, with $14.5 million in career earnings.
The team has enjoyed a sizzling 2021 CS:GO season, winning two majors. Most recently, NaVi won the 14th Season of ESL Pro League (European championship). Earlier this year, they also won IEM Cologne 2021.
Anda Seat X Navi Official Team Chair
In June, Anda Seat bolstered its partnerships with elite esports teams. First, the company renewed its partnership with Fnatic for another year. Then, it announced deals with NaVi, Excel Esports, and other top teams.
The Anda Seat NaVi edition is based on its Dark Demon gaming chair. It comes in two styles. The yellow edition is a blindingly bright chair with a futuristic, high-tech feel.
There's also a dark edition that tones down the brightness in favor of a techy grid pattern. Both feature the new NaVi motto "Obsessed We". It's on the front of the yellow edition, and on the back of the dark version.
The old team motto "Born to Win" was adopted when NaVi formed in 2010. Their rationale for the new motto: "We've always been and will remain Born to Win. This is where the club started in 2010. But we had enough matches, wins, and turning points to realize another important truth. There is something more important than winning."
That 'something' is the obsession with winning. If you're as obsessed with winning as NaVi, you're going to need a good ergonomic chair. Anda Seat and Navi have you covered.
NaVi Chair Specifications
The official NaVi team chair is based on the Anda Seat Dark Demon. That's one of the original Anda Seat chairs that enjoyed a revamp earlier this year.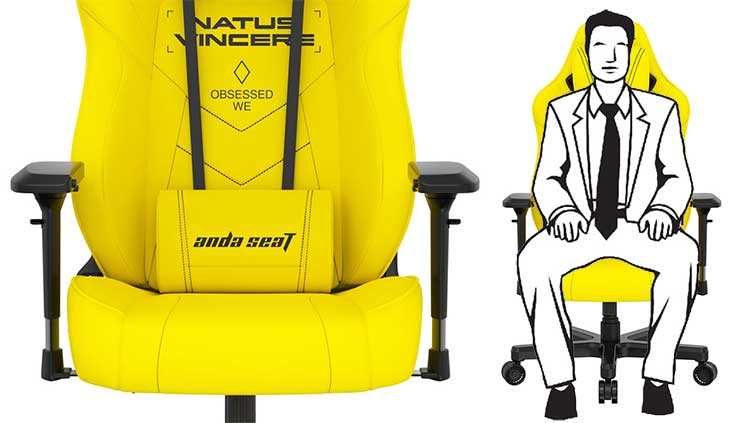 It's a versatile chair with a flat, spacious seat and a large seat height range of 16.9-21.2″. Anda Seat rates it for sizes 5'6″ to 6'8. Slim to moderately-wide users within that range should enjoy a decent fit.
Features are fully adjustable to pro esports standards. Highlights include 4D armrests, a multifunction tilt, and deep recline functionality.
Ergonomic features
Dimensions
Functionality: 4D armrests; recline to 160°; multifunction tilt.
Comfort: regular-sized neck and lumbar pillows.
Cover options: black or yellow PVC faux leather.
Warranty: 2 years, extendable to six year.
Seat width x depth: 21.26″ (W) x 22.32″ (D) | 54 cm (W) x 56 cm (D)
Seat height: 16.9-21.2″ | 43-54 cm
Backrest width x height: 20.47″ (W) x 34.17″ (H) | 52 cm (W) x 87 cm (H)
Size rating: fits people 5'6″ to 6'8″ tall; up to 350 pounds | 167-203 cm; 158 kg weight capacity
Like all Anda Seat gaming chairs, the NaVi edition comes standard with a 2-year warranty. However, Anda offers a free upgrade to 6-year warranty protection.
After receiving your chair, post a photo of it on Facebook, Instagram, Twitter, Reddit, Youtube, or Twitch. Use the hashtag #AndaSeat. Once Anda Seat sees your post, your warranty extension kicks in.
How To Buy
NaVi edition gaming chairs are available from AndaSeat.com for users in America ($449), the UK (£332.99), and the EU (€386.99).
Both the yellow and dark editions are available on the same page, for the same price. If you're in the US, EU, or UK, click the button to access the appropriate Anda Seat store for your region:
Updated Elite Team Chair Rankings
Anda Seat now partners with two of the top-earning esports teams of all time. We get real-time earnings info from esportsearnings.com and compile chair partners for each team in this spreadsheet.
Team Liquid: Secretlab
OG: Secretlab
Evil Geniuses: Secretlab
Fnatic: Anda Seat
Virtus.pro: no chair partner
Natus Vincere: Anda Seat
Vici Gaming: DXRacer
Team Secret: Secretlab
Invictus Gaming: Secretlab
LGD Gaming: no chair partner
Secretlab dominates with nine elite esports partners. Anda Seat comes second, with DXRacer also making an appearance. Check out our elite team chair partner listings to learn more: