The AKRacing gaming chair brand has been in business since 2008. For over a decade, its Core Series EX collection has been one of its most popular. These are fabric-upholstered gaming chairs with good adjustability and incredible durability. Unlike racing-style chairs, these deliver subdued office-style aesthetics for professional desk workers. If you're not a gamer but need back support, this Core Series EX review presents a great gaming office option.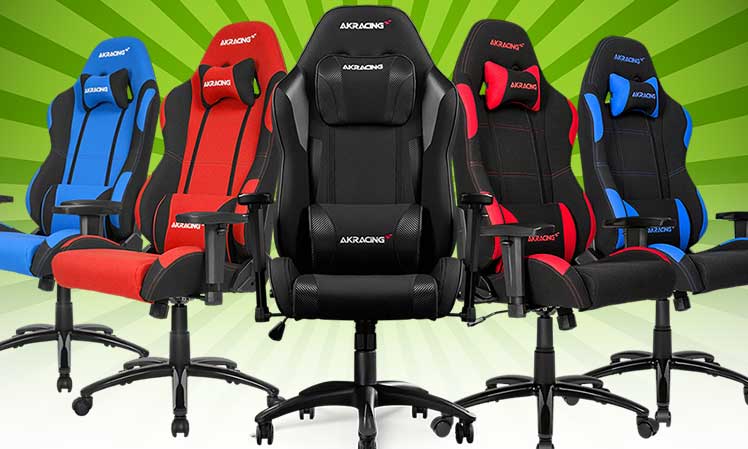 In recent years, a growing number of people have turned on to the benefits of fabric gaming chairs. Like all gaming chairs, these support good posture for long sitting periods.
But unlike PU leather chairs, fabric versions deliver a softer and more breathable sitting experience. In 2021, the Core Series EX ranks as the 6th best fabric gaming chair on the market.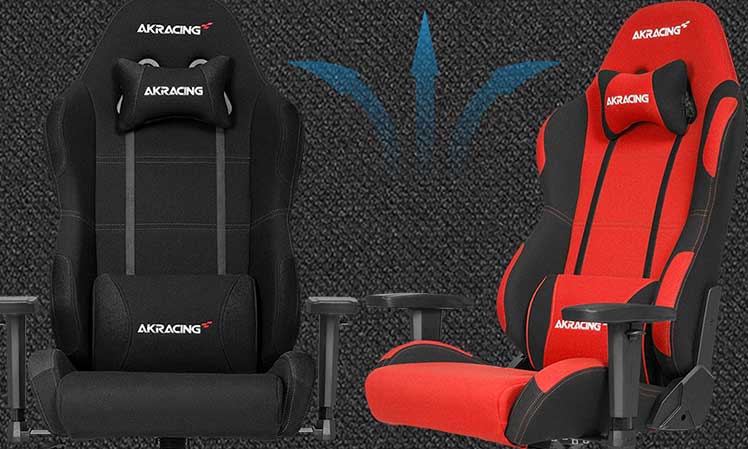 Higher-ranked fabric chairs offer slightly better adjustability. Even so, only a few match up to the Core EX collection's durability or value for money.
Core Series EX from AKRacing $359
You can also buy the Core Series EX gaming chair from Amazon for $359.00
AKRacing Core Series EX review
The AKRacing Core Series EX is a mid-range fabric gaming office chair. Compared to cheaper chairs, it offers a longer warranty and better armrest adjustability.
But compared to high-end pro esports chairs, the Core Series EX cuts back on a few features. For one thing, you only get 3D armrests instead of 4D ones. For another, you can rock the Core EX and adjust rocking tension, but you can't lock the seat at angles.
Another key cutback is the amount of padding. The Core Series EX has 70% less padding than AKRacing's flagship Master Series Pro.
Core Series EX Features
The AKRacing Core Series EX gives you a fabric cover, a solid build, and decent features. It's more luxurious than a cheap gaming chair, but not as much as a premium one. Here are the highlights:
Breathable Fabric
All Core Ex models come upholstered in 100% polyester fabric on the front and back. Compared to PU leather, this material is softer, more breathable, and more durable.

By the end of the 5-year warranty period, an AKRacing leather model will show signs of degradation. In comparison, unless stained, a Core EX model will still look like new.
Semi-firm padding
Many gaming chair brands like Secretlab come with ultra-high density foam. In contrast, Core Series EX padding comes with a moderate foam density of 55 kg/m³. Notably, the Core Ex has seventy percent less padding than AKRacing's flagship Master Series Pro.
This configuration delivers steady, comfortable support. The mid-range density gives a hint of pliability, while the thinness against the steel frame brings consistency.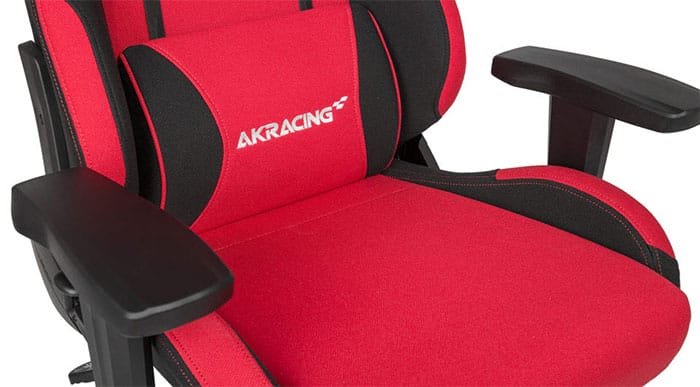 On the downside, sitting in a Core Ex is less plush than sitting in a Master Series Pro. Instead of being blown away by luxurious comfort, expect to feel pleasantly satisfied.
Adjustable features
The adjustability of the Core Series EX is decent. You get 3D armrests and a deep recline to 180°. You can also rock the chair and adjust rocking tension. But you can't angle and lock the seat like you can with pro-quality chairs.
In a corporate setting, these features would make Core EX standout chairs. But among savvy esports pros, Core EX chairs do the job with no frills.
Summary of Core Series EX features
Functionality: 3D adjustable armrests; recline to 180°; tilt tension & rocking.
Comfort: cold cure foam padding guaranteed to retain shape and density for five years.
Upholstery: 100% polyester mesh fabric with colored accent stitching.
Support: steel frame; metal base finished in glossy black; class 4 gas lift; 2.5″ casters.
Warranty: 5-year warranty on parts, 10-year warranty on the steel frame.
Core Series EX from AKRacing $359
You can also buy the Core Series EX gaming chair from Amazon for $359.00
Sizing
The Core Series EX comes in two sizes. The standard-sized model has slim-fitting dimensions with a low seat height range. That makes it a good option for smaller users with slim figures.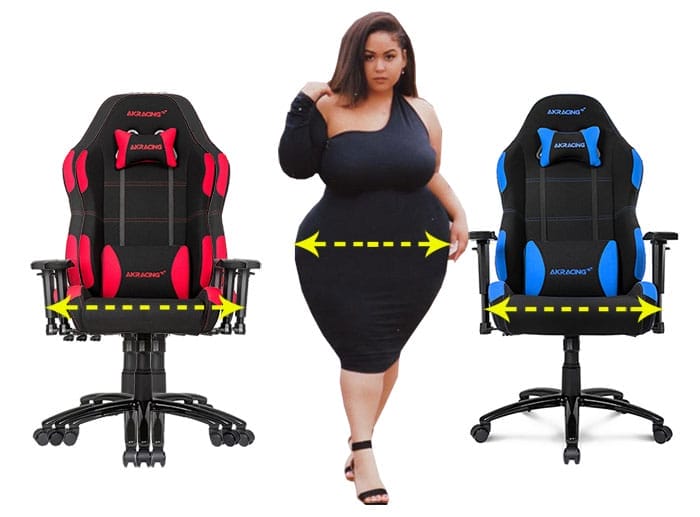 There's also a Core EX-Wide edition. It has similar dimensions as the standard version, with around two inches of extra seat width. Short users with thick legs or wider hips can consider the Core EX-Wide.
| | | | |
| --- | --- | --- | --- |
| Model | Seat width x depth | Backrest height x width | Total height |
| Core EX | 20.9″ (W) x 19.7″ (D) | 32.6″ (H), 21.2″ | 46″ to 49.3″ |
| Core EX-Wide | 22.8″ (W) x 19.7″ (D) | 33.5″ (H), 22.8″ | 46.9″ to 50.2″ |
Core EX-Wide from AKRacing.com $399
The Core EX-Wide is also available from Amazon for $378.15.
Core EX Style Options
One of our biggest complaints with the Core Series EX in recent years has been the lack of development. For almost a decade, the collection included the same five chair models.
It's an attractive set of chairs, with enough variety to suit all tastes. Even so, they're all older designs, without any signs of development.
Core Series EX from AKRacing $359
You can also buy the Core Series EX gaming chair from Amazon for $359.00
That has finally changed. In mid-2021, AKRacing released a trio of Core Series SE chairs. These have the same features and dimensions as the classic models, with a design twist.
All SE chairs come with fabric upholstery and PU leather color accents. On the black model, the accents are PVC Carbon Fiber leather. As well, all SE editions come with a new extra-large headrest pillow.
Beyond these differences, SE editions are also a bit more expensive. In the AKRacing store, they're priced $20 higher than classic edition models.
Core EX SE from AKRacing.com $379
The Core EX SE is also available from Amazon for $379.00.
AKRacing Warranty
All AKRacing chairs come with an industry-leading 5+10 warranty. That means five years on parts, plus ten years on the frame.
Over the years, the reliability of this warranty has made AKRAcing synonymous with long-term reliability. Most who buy a Core Series EX can count on a half-decade of full-time sitting support.

Compared with AKRacing's PU leather chairs, the Core EX fabric upholstery is also a lot more durable. Thus, even after the warranty expires, you can expect your chair to look almost like new.
Core Series EX Alternatives
The Core Series EX is a compact fabric gaming chair with semi-pro features. For a full list of alternatives, check our review of the Best Fabric Gaming Chairs.
Here are three models from that list that are the best alternatives to the Core EX:
Secretlab Omega
Secretlab is one of the few gaming chair brands on the market that matches AKRacing's 5-year warranty. Beyond that similarity, Secretlab gaming chairs come equipped with better features and a wider array of styles.
The Secretlab Omega is its small-sized chair. It has similar dimensions as the Core Series EX, but superior features. These include 4D armrests, a multifunction tilt-lock, and forward-leaning support.
The Omega comes in four Softweave fabric designs. If you want more luxury than what the Core EX offers, this should be your first choice.
Omega Softweave from Secretlab $379
Learn more in this Secretlab Softweave Gaming Chairs Review.
E-Win Champion Series CPG Fabric Chair
Even though E-Win isn't as famous as AKRaicng, its chairs offer much better value for money. As an example, the E-Win Champion Series CPG fabric gaming chair comes stacked with impressive features.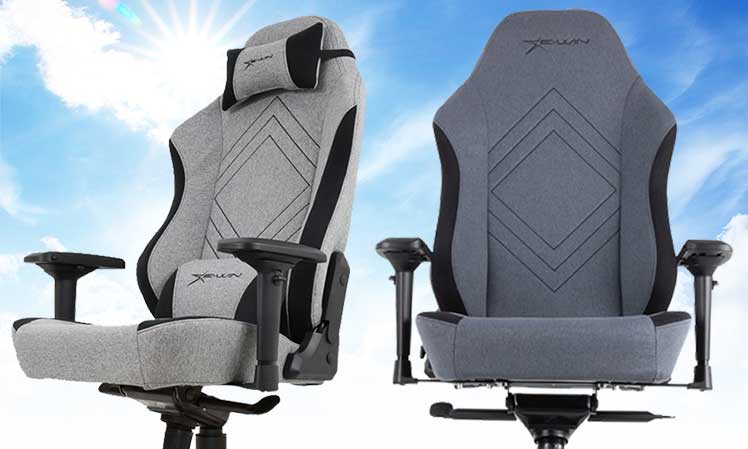 For one thing, these chairs come with flat, extra-wide seats and support for 400 pounds. Second, all come with better features adjustable than the Core EX. Third, these models are a lot cheaper. Fouth, using the coupon code ChairsFX makes them even 20% cheaper!
CPG Fabric Edition from E-Win $247 $309
To learn more, check out this Champion Series CPG Fabric Chair Review.
Conclusion
AKRacing Core Series EX gaming chairs are soft, breathable, comfortable, and durable. They come with lesser features than premium gaming chairs, but better features than basic ones.
Both gamers and desk workers will find solid but not spectacular support in these chairs. Over full-time sitting hours, expect solid comfort with enough adjustability to keep yourself comfortable.
Pros
Soft, breathable, high-quality fabric upholstery
3D armrests
5-year warranty
Cons
Not as adjustable as competing chairs
More expensive than competitors with better features
The biggest downside is that many cheaper chairs offer better ergonomic features. Even so, few competitors have the history or the proven reliability that AKRacing does.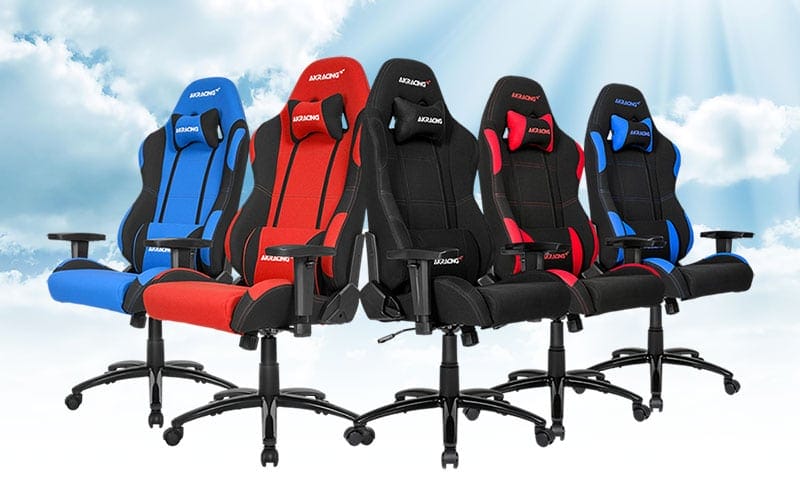 In that sense, if you're looking for rock-solid reliability from an ergonomic desk chair, the Core EX is a solid option.
Core Series EX from AKRacing $359
You can also buy the Core Series EX gaming chair from Amazon for $359.00
Related Articles