Behold the flagship of AKRacing's entire product line. AKRacing is one of the oldest and most well-established makers of pro gaming chairs. This AKRacing Masters Series Pro review looks at their most outstanding gaming chair.
The feature that usually gets top billing with this chair is the super-thick padding. The Masters Pro has seventy percent more padding than the AKRacing's basic Core Series Ex.
But stacked on top of the padding is a complete suite of pro ergonomic features. These offer everything you need to enjoy comfort, dynamic sitting, and posture support.
What's more, the Masters Series Pro also has spacious dimensions. This chair should fit most average and large bodies, with plenty of room to spare.
Master Series PRO $579 from AKRacing.com
The Master Series Pro is also available on Amazon for $529.00.
AKRacing Masters Series PRO review
Among all of the chairs reviewed on ChairsFX, the AKRacing Masters Series Pro ranks as the second-best professional gaming chair in the world. Only the Secretlab Titan beats the Masters Pro, and only a few millimeters.
Head-to-head, the Titan has more precise back support, a wider range of styles, and backrest incline. The AKRacing Masters Series Pro doesn't. But beyond those subtle differences, the two rank #1 and #2 as the very best pro chairs on the market.
The next segments explain why the AKRacing Masters Series Pro ranks so high.
Features
For a start, all AKRacing gaming chairs come with an industry-leading five-year warranty on parts plus a 10-year warranty on the frame. This is legit — AKRacing is one of the oldest and most well-established gaming chair brands. Beyond great chair features, AKRacing chairs also come with crisp and effective customer support. The Masters Series Pro is for full-time computing use, to a pro esports level.
That means you can use your chair for 10-12 hours per day. Over five years, AKRacing guarantees that the padding, frame, and features will hold up. But the highlights don't stop there.
Extra-thick cold cure foam padding
Cold cured foam is the premier padding choice in the seating industry. The Masters Series Pro has 70% more padding than AKRacing's Core Series Ex. The density rates at 55 kg/m³ (seat) and 50 kg/m³ (back).
This provides soft, luxurious resistance to support full-time sitting. Even after eight hours, the foam will cushion your body with even, consistent support. When you stand, the foam pops back into its original "like new" shape.
Pro features
Stacked on top of the super-sturdy frame is a full suite of professional features. Two of the most important are the 4D adjustable armrests and the seat angle tilt-lock system. Both offer methods to absorb the weight of your body so that your muscles don't have to.
The average arm weighs around 6% of a human's body weight. That means a 170-pound person's arms would weigh around 10 pounds each. 4D armrests give you the most options to support your arms and wrists while computing. When your arms shift position, it's easy to adjust the armrests to keep supporting them.
Seat angle tilt-lock is one of our favorite pro features. This lets you tilt the seat and lock it at different angles. In doing so, you switch up the muscles in play that support your back. It's a handy feature to have during very long periods of computing. As your body starts to tire, tilt, and lock the seat for a fast and easy refresher.
Perforated PU leather
World-class durability and professional features demand a high-quality chair cover. The Masters Series Pro delivers with a premium blend that's soft and supple. The problem with PU leather is that it lacks breathability. That means in hot weather, the chair can get hot or sticky, especially against bare skin.
AKRacing gets around this issue by perforating Masters Pro leather. Perforations along the seat and backrest contact spots ensures optimal breathability. That means no matter how long you sit in a Masters Series Pro, it will remain cool and comfortable.
This is a good example of the impressive attention to detail AKRacing put into this chair.
Summary of features
Functionality: 4D armrests; deep recline to 180°; 12° tilt-lock.
Padding: 70% more cold cure foam padding; neck & lumbar pillows.
Upholstery: perforated PU leather in five color combinations.
Master Series PRO $579 from AKRacing.com
The Master Series Pro is also available on Amazon for $529.00.
Chair dimensions
The Master Series Pro fits wide and slim users of around average height. Here's how it compares to the two other Masters Series chairs:
| | Pro | Premium | Max |
| --- | --- | --- | --- |
| Seat width x depth | 23.6" (W) x 21.6" (D) | 22.83″ (W) x 21.65″ (D) | 23.25" (W) x 20.5" (D) |
| Backrest width x height | 23.6" (W) x 33.8" (H) | 22.75″ (W) x 34.25″ (H) | 24.25" (W) x 34.25" (H) |
| Overall height | 48.25" to 51.75" | 51.4" to 54" | 51.4" to 54.4" |
| User height rating | 5'7″ to 6'7″ | 5'5″ to 6'5″ | 5'6" to 6'6"; 390 pounds |
| Weight support | 160-290 lbs (max 330 lbs) | 150-270 lbs | 170-390 lbs (max 400 lbs) |
The Masters Series Pro will is a good fit for average to large-sized users. But because of its extra wide and deep seat, users with wide hips should also fit in this model. Heavy people with wide hips will find a snug but comfortable fit. Slimmer people will find good support with plenty of legroom. Since this chair comes with 4D armrests, it's easy to narrow them if the seat is too wide.
Cover options
All AKRacing Master Series Pro models use high-quality PU leather. The leather is solid on the trim and perforated in the middle of the chair (across the seat and backrest). There are five color styles.
The Master Series Pro upholstery is easy to maintain. To keep it looking like brand new, wipe down every few days with a damp cloth. Also, use disinfectant spray on cushions and armrests to keep your workstation hygienic.
AkRacing Master Series Pro buying advice
Are you thinking of buying an AkRacing Master Series Pro gaming chair? This section answers lingering questions for interested buyers.
How to buy
AKRacing chairs are available on Amazon and also from AKRacing.com. Usually, chairs on Amazon tend to be a few dollars cheaper. It's a better idea to buy direct from AKRacing when they run discount specials. So if you're thinking about buying this chair, check in both places first to make sure you get the best price.
Master Series PRO $579 from AKRacing.com
The Master Series Pro is also available on Amazon for $529.00.
Who should buy a Master Series Pro?
As its name suggests, the Masters Series Pro is a chair for professional power users. Programmers, writers, video editors, and digital marketers are examples of power users. These are people who use their brains for a living — while sitting down for 10+ hours per day in front of a computer.
People doing complex work can suffer brain fog in cheap chairs. Gaming chairs support good posture over long hours of work. Premium chairs do so with more luxury. The Master Series Pro is one of the most luxurious chairs you can buy.
It's also one of the most expensive. Students looking for a chair to play games will find the price too high. Professionals seeking a productivity boost will find the price reasonable. The Master Series PRO comes with a 5-year warranty on parts. Its price divided by five is a reasonable investment for pros.
What we like
We like almost everything about this gaming chair.
For example, the upholstery looks great, is very durable and easy to clean. The perforated strip along the backrest and seat keeps the chair cool. It also adds subtle contrast to the overall styling.
In fact, subtle luxury is what stands out about the Master Series Pro. At first glance, nothing stands out about this chair that will blow you away. Sitting in it for a few minutes at a showroom will feel comfortable.
However, its true merits will shine through after a few days of heavy use. The recline and tilt lock is crisp. The padding is thick and soft yet resilient. Between too hard and too soft, it feels just right. The upholstery is soft and plush. It doesn't get clammy and feels almost as breathable as mesh fabric.
After a week of using this chair, you will forget you are sitting. That's because your body will feel perfect and locked in on the computer screen. Without distractions, you will find greater focus. Many productive hours will whiz by in a blur.
This chair feels so comfortable that you will need to force yourself away from work. Try to take a break at least once every hour to stretch your legs and get the blood flowing.
What we don't like
High-end luxury gaming chairs start at $300. The Master Series Pro currently costs a lot more. Thus the biggest downside to the Master Series Pro is the price. Its expensive, but worth it for those seeking a performance edge.
Masters Series Pro alternatives
The most obvious alternatives to the Master Series Pro are other AKRacing models. See our AKRacing brand review for a broad look at their entire product line.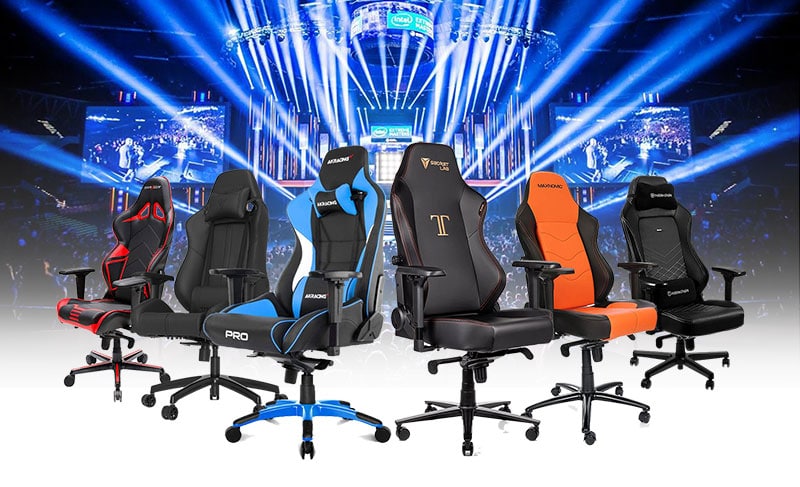 Among pro-caliber gaming chairs, the Secretlab Titan is our top pick. It's cheaper than the Master Series Pro. It's also the taller chair, although the Master Series Pro has a wider and deeper seat. Another top pick is the Maxnomic Office Comfort chair. The AKRAcing Masters Series Pro completes the trinity. If you're looking for the very best pro gaming chair in the world, these are the top three.
See how these and other top models compare in our detailed review:
Conclusion
The AKRacing Masters Series Pro is one of the best pro gaming chairs you can buy. It's the most expensive AKRacing chair, but worth the extra for serious pros. This chair packs in 70% more padding than other AKRacing chairs. It also layers one premium feature after the other. The cherry on top is the industry-leading 5-year warranty.
This chair is for power PC users. That means people who spend long periods sitting — while doing complex tasks. For security guards who sit all day, a cheap office chair will suffice. The AKRacing Masters Series Pro is for sitting thinkers. In a cheap chair, gamers, programmers, and designers often suffer from poor posture. That leads to brain fog and body pain, which distracts from work.
In a high-end chair, power users enjoy healthy sitting support and better focus. In a super-luxurious chair like the Masters Pro, benefits are even more pronounced.
Master Series PRO $579 from AKRacing.com
The Master Series Pro is also available on Amazon for $529.00.