Most people who show interest in Maxnomic chairs flock to their Pro Series. One reason is that famous Maxnomic partners like Ninja and Team Liquid use Pro chairs. But in our opinion, Maxnomic Office Comfort (OFC) chairs are better than Pro chairs. This Maxnomic OFC chair review explains. Learn why ChairsFX hails the OFC collection as Maxnomic's flagship gaming chairs.
As a glance, Maxnomic chairs look like many other high-end PC gaming chairs. But if you take a closer look, four things stand out:
Flat, wide seat: a flat seat gives more legroom. Other Maxnomic chairs have ridged edges that restrict you from spreading your legs.
No lumbar pillow: OFC chairs only come with a neck pillow.
Internal lumbar support: instead of a lumbar pillow, OFC chairs use an internal support. Turn a knob on the side of the chair to increase or decrease lumbar support depth.
Finger-rests: this function comes on all Maxnomic chairs, not only OFC ones. But we mention it as a good example of the fine attention to detail put into Maxnomic chairs.
Where to buy Maxnomic chairs?
The best place to buy OFC chairs is from Maxnomic's NEEDforSEAT website. Maxnomics sells their chairs in North American and European markets. Depending on your country, you should get redirected to the appropriate country store. There, you can buy a chair in your local currency. At present, Maxnomic sells its OFC chairs for between $459 and $499.
Maxnomic OFC chair review
This Maxnomic Office Comfort (OFC) chair review begins by looking at specs. Then we compare the OFC chair to competing models. After that, we bundle our findings into a conclusion. The point is to assess the value for money that OFC chairs provide.
Sizing
Maxnomic OFC chairs stand out with a flat wide seat and an internal lumbar support system. The Secretlab Titan also has those two features. Those are two of the reasons the Secretlab Titan is our top-rated pro chair.
Here's how the dimensions of the Maxnomic OFC compare to the Titan:
| | Maxnomic OFC | Secretlab Titan |
| --- | --- | --- |
| Outer seat width & depth | 20.1" (W) x 20.9" (D) | 20.5" (W) x 19.7" (D) |
| Backrest height & width | 33.5" (H) x 22" (W) | 33" (H) x 21.7" (W) |
| Floor to seat range | 19.7" to 23.6" | 18.7" to 22.4" |
| Chair height | 51.2" to 55.1" | 51.7" to 55.4" |
| Height rating | 6'2" to 6'5" | 5'9" to 6'7" |
| Optimal load | 221-285 pounds | Up to 290 pounds |
Both chairs have similar dimensions. The OFC has a larger backrest and a taller floor-to-seat range. On the other side, Secretlab rates the Titan for a wider range of users.
In contrast, Maxnomic rates OFC chairs for users 6'2″ and up. But given how similar the dimensions of these chairs are, we reckon both are a good fit for average to large sizes.
Features
All Maxnomic chairs share the same features. The one difference is that OFC models use an internal lumbar system. All other models use an external pillow. Internal lumbar systems first gained prominence on high-end Herman Miller chairs. The advantage is that you can control the depth of the support into the small of your back. But the famous ergonomic chairs with adjustable lumbar supports cost as much as $1500.
On PC gaming chairs, only three pro-quality models have integrated this feature. There's the OFC, the Secretlab Titan, and the Noblechairs HERO. Maxnomic's OFC version works the same as the others. Turn a dial on the side of the chair to increase or decrease the depth of the support.
Tilt-lock and forward recline
The rest of the features are the same as other Maxnomic chairs. There are a few standouts worth mentioning. First, the backrest recline on most chairs starts at 90°. Maxnomic chairs recline from 83°(forward tilt) to 139°. With this option, users can still get back support even when they are leaning forward.
Maxnomic chairs also let you adjust and lock the angle of the seat. Tilt-lock is a handy features that doubles your adjustment options while sitting. It works independently of the backrest recline, giving you double the adjustment options while you sit.

4D armrests with finger indents
Another nice touch is the indented finger rests on the 4D adjustable armrests. An average human arm weighs around 6% of a person's body weight. So a 170-pound person's arms would weigh around 10 pounds apiece. 4D armrests give you the most options to support your arms and wrists while computing.
The finger indents add an extra touch of comfort. Because they feel so comfortable, your arms have more incentive to stay in a healthy position. Lean back into the chair, rest your arms on the armrests and put your fingers into the indents. Then close your eyes and enjoy a sensation of weightless floating.
Steel frame & cold foam padding
Maxnomic chairs start with a high quality welded steel frame and aluminum base. Over top of the seat and backrest area goes a thick layer of cold foam padding. That's the stuff used in the most expensive luxury car seats. Chairs with cheap padding tend to sag in different spots, resulting in uneven support. In contrast, cold foam padding is super resilient and very dense. The point of the density is to provide even, consistent support over long periods of sitting.
Summary of features
Across all product lines, Maxnomic chairs come with this bundle of adjustable features:
Backrest: backward recline to 139°; forward recline to 83°.
Seat tilt: height adjustment of around 4″; five lockable tilt positions spanning 11°.
Armrests: padded and 4D adjustable.
Foundation: steel frame; high-density cold molded foam padding; aluminum base.
Support: adjustable neck and lumbar pillows.
There's nothing missing. Rich features, large dimensions, and an internal lumbar make OFC chairs very appealing.
Warranty
All Maxnomic chairs (OFC models included) come with a two-year warranty. This covers you against defective parts or damage caused during shipping. Note that this does not cover normal wear and tear. After you receive your chair and spend a few days with it, it should be clear if you have a problem. If everything works as expected, the best way to prolong the life of an OFC chair is to take care of it.
All you need to do is keep the chair clean. Wipe down the seat, backrest, and armrests once per day if possible. Using the chair too much isn't a problem — the steel frame and padding will last for years.
Maxnomic OFC style options
Like most big-name gaming chairs, Maxnomic models are in huge demand in the lockdown era. Luckily, the Pro models get most of the attention. Maxnomic chairs are a massive name in the esports world. Most gamers tend to use the same chairs the big names like Ninja and Team Liquid use.
That means OFC chairs tend to fall under the radar, even though they are better chairs. As a result, many OFC models are still in stock, while a lot of the Pro models have sold out.
Browse Office Comfort (OFC) chairs from Maxnomic
Fortunately, many OFC chairs are still in stock. The most popular ones (summarized below) range from $459 to $499.
Leader OFC
The Maxnomic Leader is the cheapest OFC version. It comes in five different color styles.
Maxnomic Leader OFC chairs $459
Commander OFC
The Commander OFC Series comes in all black plus a pair of two-tone options. As with all OFC chairs, there's only a neck pillow. The lumbar support comes from inside the backrest. Turn a dial on the side of the backrest to increase or decrease lumbar support depth.
NEEDforSEAT OFC
This unique design features integrated synthetic suede applications with orange. The quilted applications cover the seat and backrest. Those add extra comfort and support while giving the chair a compelling look.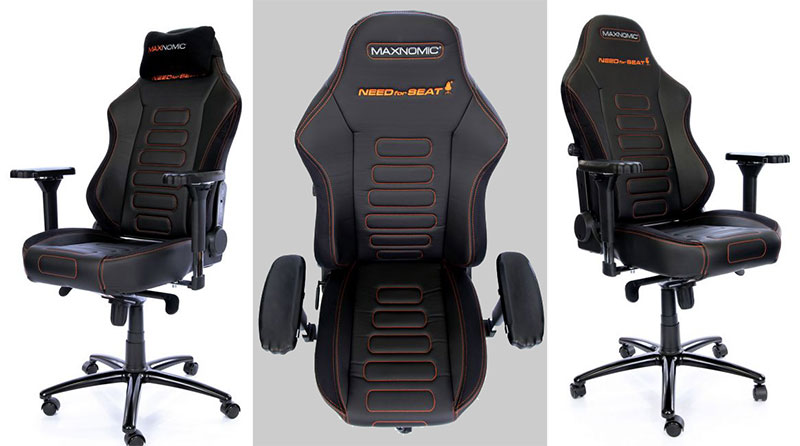 Other models
Also available: Evil Geniuses, Team Liquid, Classic, Ergoceptor, Quadceptor.
Office Comfort (OFC) chair advice
Buying a gaming chair of this quality will give you something to sit in for years. It is thus a good idea to make sure this is the right chair for you before buying.
Who should buy a Maxnomic OFC chair?
Maxnomic makes professional computing chairs made for professional users. So what's a professional user? In esports, most work full-time as pro players, Twitch streamers or content creators. All demands long periods of sitting at a desk.
In the office world, professionals also spend their days sitting in front of a computer. But that doesn't mean everyone who sits down a lot should buy a Maxnomic chair. The point of a Maxnomic chair is to help you boost performance when sitting at a computer. That's the reason people pay extra for the features and quality.
Thus, the ideal person to buy a Maxnomic chair would be:
Sitting 8-10 hours per day at a computer for their job.
Driven, passionate and hungry to improve.
There's no point in buying a high-end gaming chair if you lack passion for your work. If your job is just a source of income, a high-end chair might be a good idea. Without the passion for your work, you won't appreciate the performance-enhancing abilities.
But if you have the same drive to succeed that esports pros do, a Maxnomic chair is a wonderful investment. An OFC chair will help you strengthen your core muscles and improve posture while sitting. That yields wonderful benefits like a brighter mood, improved concentration, and greater work output.
Looking for a performance edge? Maxnomic OFC chairs are a good pick. Consider buying one as an investment. The point is to help you sit longer, work smarter and be more productive.
Maxnomic OFC chair alternatives
In our opinion, Secretlab and Maxnomic rank as the top two pro-quality gaming chair brands. Both brands launched in 2014 and went on to become massive names in the esports industry. Another luxury brand is Noblechairs. Like Maxnomic, they are also a German company that makes high-end ergonomic chairs.
Both Secretlab and Noblechairs also have flagship gaming chairs with internal lumbar systems. Below is a quick summary of those chairs plus a few other alternatives to the Maxnomic OFC.
Secretlab Titan
The Secretlab Titan has been the top-rated chair on ChairsFX for two years running. It has the same rich adjustable features as Maxnomic OFC chairs. It also uses an advanced internal lumbar system. What's more, it even shares similar dimensions to OFC chairs.
But the Titan is a little bit cheaper. It also comes with a longer warranty. It also has a wider range of styles in faux leather, mesh fabric and NAPA leather. Head-to-head, these factors rank the Titan as the better chair.
That said, the comfort, features, and pro-quality support is a coin-toss. Either chair will blow your mind. Expect superb quality and luxurious comfort that makes you feel and perform like a pro.
Detailed Secretlab Titan review
Noblechairs HERO
German brand Noblechairs makes three different gaming chairs. The Noblechairs HERO is their flagship chair. It has a high-quality build, impressive design and also an internal lumbar system.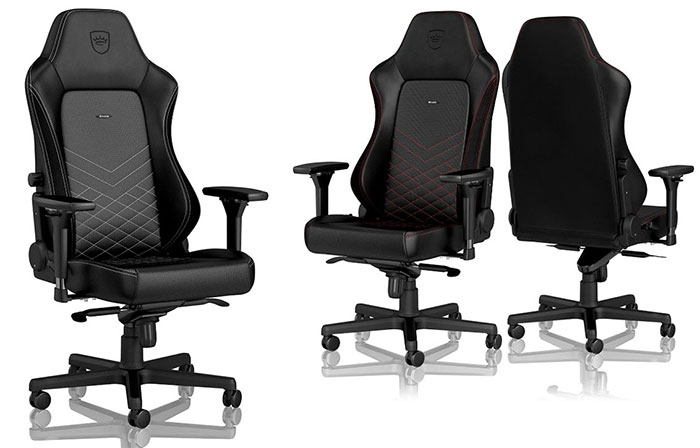 Compared to the OFC, it has the same features and a 2-year warranty. HERO chairs only come in black with a choice of colored stitching. These chairs have a regal design that makes them look more like office chairs than gaming chairs.
Detailed Noblechairs HERO review
Other high-end pro gaming chairs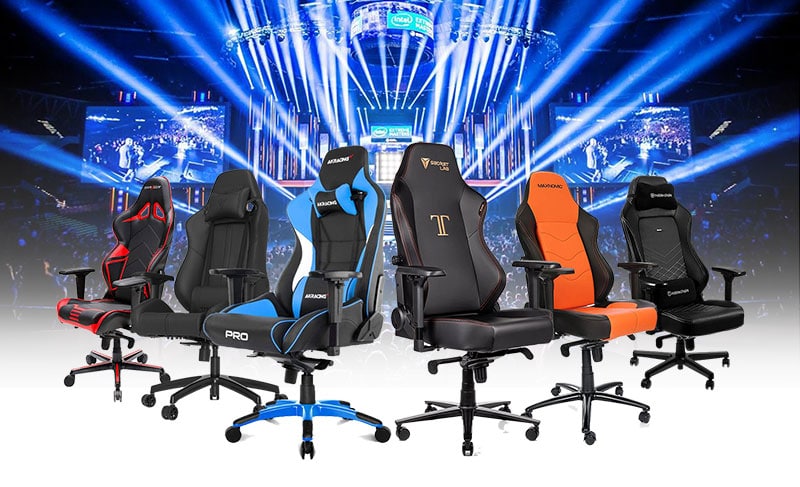 There are a handful of other chairs that meet pro quality standards. DXRacer, AKRacing, Vertagear and several other brands also make outstanding chairs. Check out the best of the best in our detailed review:
Conclusion
Maxnomic makes some of the best gaming chairs in the world. They market their OFC collection as a large chair for big, heavy bodies. We disagree. The dimensions of OFC chairs also make them a good fit for average-sized bodies and up.
Classic racing style gaming chairs usually have a very snug fit. That's because a tight fit is more effective at helping the user to sit with a healthy posture.
But some people find the classic fit too restrictive. It feels like sitting in a sports car seat. The point is to keep the driver strapped into the seat while racing at high speeds. But sitting for eight hours strapped down can make some people feel claustrophobic.
That's where chairs like the Maxnomic OFC come in. They offer more room and more potent back support. The internal lumbar in tandem with rich features give you full control over all nuances.
Need a comfortable computing chair? Check out Maxnomic Office Comfort (OFC) chairs. Enjoy a roomy seat, superior lumbar support, and luxurious comfort.