NeedForSeat produces Maxnomic gaming chairs. That is the most prominent esports chair brand in Europe. Our earlier Maxnomic review focused on chairs available in America. In Europe, there is a wider selection and greater availability. This article reviews the Maxnomic line of gaming chairs available for European users.
In Europe, Maxnomic operates shops in English and German. Most countries in Europe can order chairs, with variable delivery rates depending on the country.
Maxnomic chair overview
Maxnomic gaming chairs come in four different sizes, ranging from extra-small to extra-large. Here is a summary: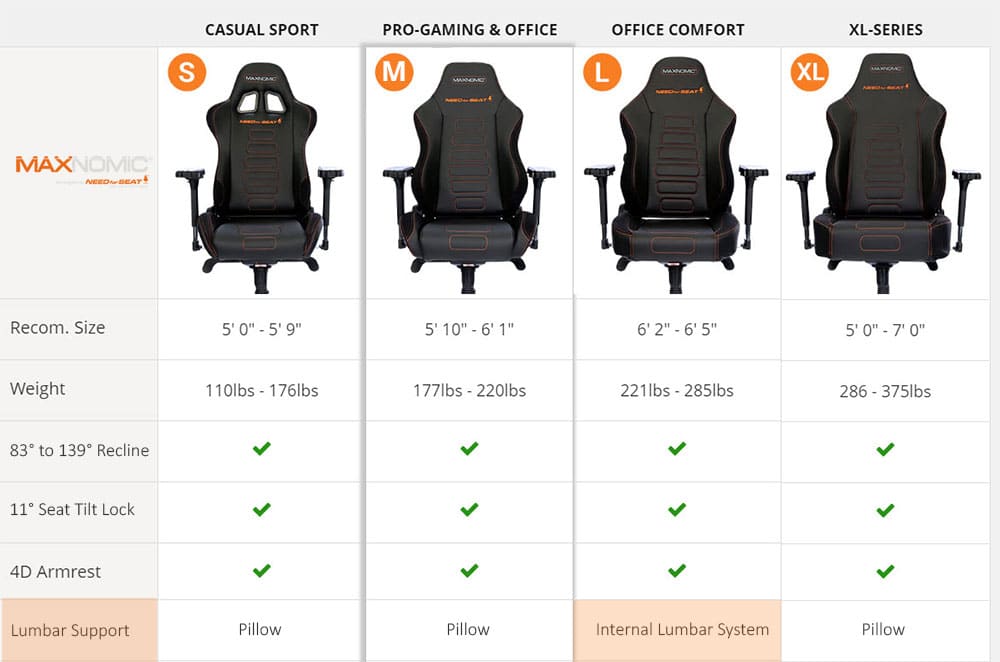 All chairs come with the same pro ergonomic features. Maxnomic Office Comfort (OFC) chairs have one difference. Those come with a depth-adjustable internal lumbar system instead of a pillow. That is similar to the internal lumbar deployed on the Secretlab Titan.
Review: Maxnomic chairs for Europeans
This section summarizes the chairs among four product lines available for Europeans.
About the Maxnomic brand
NEEDforSEAT maintains a head office in Germany, plus regional offices in USA, France, and China. The company launched in 2011, and released its first Maxnomic gaming chair in 2014. Soon after, Maxnomic became the official gaming chair partner for Dreamhack 2014.
To browse the chairs available in America, check out our USA-centric Maxnomic review.
Conclusion
Maxnomic gaming chairs rank among the best esports gaming chairs in the world. In particular, the Executive Editions stand out. The Dominator Pro (medium) and Leader Executive Edition (large) both come with internal lumbar support systems. Both also feature an upgraded microfiber faux leather that is more breathable and durable.
Another standout option is the MIG Series. It's made in Germany and comes with a unique flattened backrest that delivers a more natural fit.
Beyond the standouts is a solid range of options to fit all sizes from extra-small to extra large.
The bottom line is that there are few better high-end chair options on the market for Europeans. Users in Germany, the UK, Spain, Croatia, and all other parts of Europe should all look into buying a Maxnomic gaming chair.