NeedForSeat is a German company launched in 2014. The company makes Maxnomic gaming chairs. These are high-end ergonomic models for pro esports players and power computer users. In America, Maxnomic operates an office in Michigan. This Maxnomic chair review covers all models available for sale in the United States.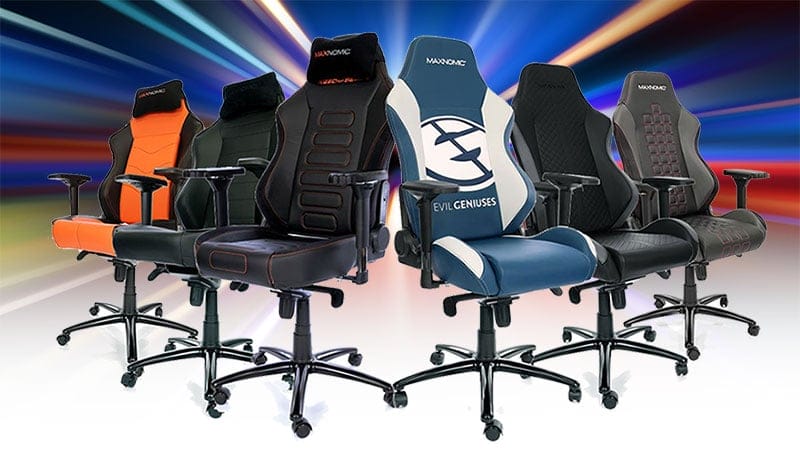 The American selection of chairs is smaller than what Maxnomic offers in Europe. European and UK users should check our article Best Maxnomic Chairs for Europeans.
In America, Maxnomic offers four different chair sizes, ranging from extra-small to extra-large. Across all sizes, chairs come with 4D armrests, a multifunction tilt-lock, cold-cured foam padding, and more.
Office Comfort (OFC) chairs have two differences. Instead of a pillow, OFC chairs use an internal support system. Turn a knob on the side of the chair to increase or decrease the depth of the support.
The other difference is the seat style. Most Maxnomic chairs have seats with ridged edges that restrict leg movement. In comparison, OFC chairs have flat seats with enough width to sit cross-legged in.
About the Maxnomic brand
Maxnomic has been a major name in the esports world for several years. Drawn by the quality features and custom logo options, many of the world's top streamers, teams, and organizations use Maxnomic chairs. That exposure has made Maxnomic a prized item among gamers for almost a decade.
This section looks at the qualities that make Maxnomic a standout brand.
Maxnomic's role in esports
Maxnomic released its first gaming chairs in 2014. Many consider that as the year esports broke into the mainstream. That year was the first time a Dota 2 prize pool matched that of a PGA Tour event. Also that year, more people watched esports finals than the NBA finals.
Months after launching their first chairs, Maxnomic became the official gaming chair for Dreamhack 2014. Soon after, Maxnomic partnered with Ninja, the world's most-watched streamer. Many other streamers soon followed, such as Tfue and KayPea.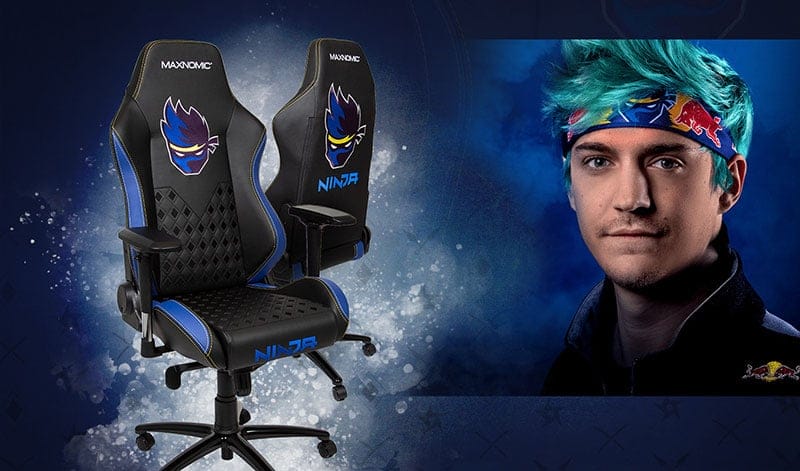 Current partners include Microsoft, Xbox, Red Bull, and the ESL gaming network. To learn more about what chairs the pros prefer, check this feature:
Customized logo option
Maxnomic is the only high-end gaming chair brand that lets you add a custom embroidered logo onto your chair. Send in a logo image file When you order your chair, you can send them a logo. Maxnomic does its embroidery in-house. Someone from the team will assess your logo and then send you a price for the job.
If you agree to the cost, your custom Maxnomic chair will arrive at your door in around one week. This makes it easy for teams, streamers, and events to create personalized chair designs.
Where to buy Maxnomic chairs
Maxnomic chairs are available in the USA from Maxnomic's NeedforSeat USA website.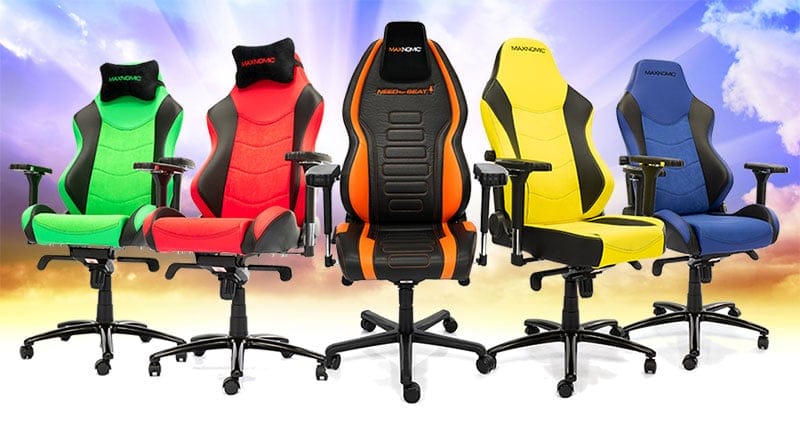 In Europe, Maxnomic sells a larger range of chairs from the NeedforSeat EU website. The EU site caters to consumers in the UK, Germany, and all parts of Europe.
For a review of offerings from the European shop, check this feature:
Maxnomic Esports Chair Overview
At a glance, Maxnomic chairs have standard luxury gaming chair features. Those include a thick padded seat, adjustable armrests and backrest recline.
A closer look reveals some subtle tweaks that make these chairs ideal for esports.
Chair features
On top of standard pro-quality features, Maxnomic chairs offer a few standout ones. First is a more versatile backrest recline range. All Maxnomic chairs recline from 83°(forward tilt) to 139°. The point of the 83° tilt is so that you can still support your back even when leaning forward.
A second important pro feature is Maxnomic's 5-click seat angle tilt-lock system. That lets you angle and lock the seat at different angles with an 11° range. Tilt-lock is a subtle but powerful feature. It gives you the ability to angle the seat and backrest independent of each other.
That gives you a greater range of options to stay comfortable while you sit. For example, if your back starts to tire while sitting, angle the seat up a few degrees and lock into place. That will switch up the muscles your back uses, activating rested ones and resting tired ones.

Another nice touch: indented finger rests on the 4D adjustable armrests. It's a pleasant tweak that makes you want to use the armrests. Armrests absorb body weight while sitting, so getting into the habit of using them is prudent.
Finally, all Maxnomic chairs come with thick slabs of cold cure foam padding. This is the premier padding choice in the furniture industry. For pro gamers training 10 hours per day, cold foam padding holds up best under extended use.
When you sit, cold foam padding gives slightly to conform to your body. When you stand, it pops back to the original shape. After two years of everyday use, these seats will still work like new.
Summary of Maxnomic esports chair features
All Maxnomic chairs have the same features, except for the lumbar support. Three models use traditional pillows, while OFC chairs come with an internal lumbar device.
Summary of features:
Functionality: recline from 83° to 139°; 4D adjustable armrests
Comfort: high density cold foam padding; neck and lumbar pillows (OFC models use an internal lumbar).
Upholstery: high quality PU leather (stain-proof, easy to clean, durable).
Support: aluminum base with scratch resistant matte gloss finish; gas lift; smooth rolling casters.
Warranty: 2-year warranty on parts; 30 days return policy.
Free shipping: included.
Maxnomic warranty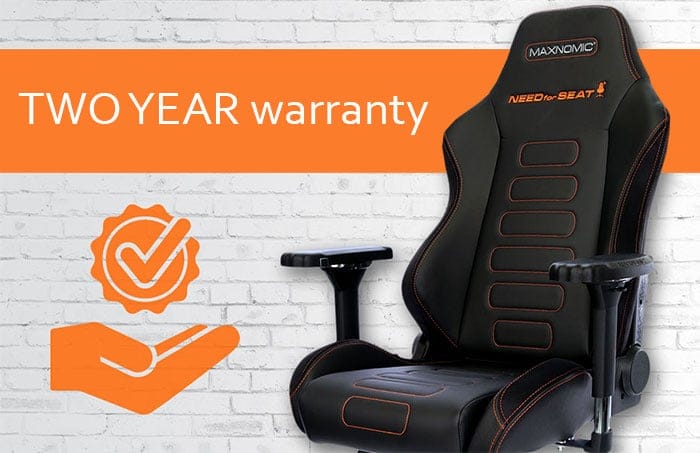 All Maxnomic Pro chairs come with a two-year warranty. This covers missing parts, defective parts or damage during the shipping process. It does not cover normal wear and tear.
Two-year coverage is good but not great. It's the same as other brands like DXRacer, Noblechairs and Arozzi. But it falls behind the 5-year warranties offered by Secretlab and AKRacing.
But that doesn't mean Maxnomic chairs will only last two years. In fact, most pro chairs that use premium cold-foam padding can last well past the warranty period. Learn more about the durability difference you get with pro chairs in our detailed analysis:
Review: Maxnomic gaming chairs
This year has seen millions forced to work from home. As a result, there has been a massive growth in demand for high-end ergonomic chairs.
Usually, in our brand reviews, we summarize our favorite models. But many of those chairs are now out of stock. With many factories still closed, it may be a while before restocking happens.
Thus, the summary of chairs below only lists what is still in stock and available for sale.
Pro Gaming & Office
Most of the top pro teams and Twitch personalities use Maxnomic Pro chairs. Ninja (the world's #1 streamer) uses a Maxnomic Pro. So do the Team Liquid and Evil Geniuses squads. Both are among the top-3 highest-earning esports teams of all time.
This massive exposure put Maxnomic on the esports map. On top of that, the custom logo option was a hit with streamers and esports teams. As a result, Maxnomic became one of the biggest chair brands in the esports industry.
Right now, only a few Maxnomic Pro models are still available. All sell for between $399 and $429. Here are the models still in stock:
$429: ESL team chair; Quadceptor, Ergoceptor.
$399: official PUBG game chair; official Evil Geniuses team chair.
Another reason for the popularity of Pro chairs is that they're a good fit for average sizes:
Seat width & depth: 21.7″ (W) x 19.3″ (D)
Backrest height & width: 32.3″ (H) x 21.7″ (W)
Size rating: 5'10" to 6'1″; 177-220 pounds
Office Comfort (OFC)
Maxnomic Pro series chairs are the most popular, but we prefer the Maxnomic Office Comfort (OFC) series for two reasons. First, it's a large chair, but not too large for average sizes. It gives a roomy fit for average bodies, like wearing sweatpants versus skinny jeans.

The second thing that stands out about OFC chairs is the internal lumbar support system. Instead of a lumbar pillow, turn a knob on the side of the backrest. That will increase or decrease the depth of the lumbar support. Once you find your sweet spot, set, forget and enjoy the support.
Dimensions are versatile:
Seat width & depth: 20.1″ (W) x 20.9″ (D)
Backrest height & width: 33.5″ (H) x 22″ (W)
Size rating: 6'2″ to 6'5″; 221-285 pounds
Fortunately, most OFC chairs are still in stock. The most popular ones (summarized below) range from $459 to $499. Check out our detailed review for all options:
Buy an OFC chair from Maxnomic for $459-$499
To learn more about this chair, check out our detailed Maxnomic OFC chair review.
XL-Series
The main XL Series chairs are called the Titanus Series. These chairs come in three different color styles.
These heavyweight chairs has flat, wide seats and heavy-duty support for up to 375 pounds.
Seat width & depth: 22.8″ (W) x 22.8″ (D)
Backrest height & width: 35″ (H) x 24″ (W)
Floor to seat range: 21.7″ to 26.6″
Chair height: 54.3″ to 58.3″
Size rating: 5'0″ to 7'0″; 286-375 pounds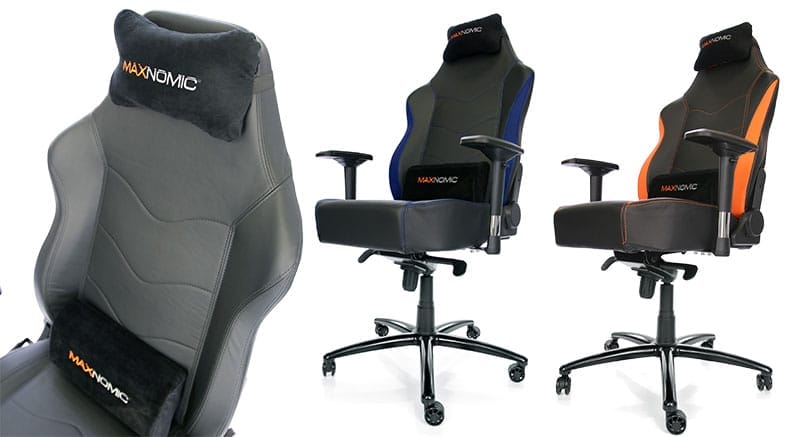 XL Series chairs use the same flat, wide seat style as OFC chairs. However, while OFC chairs come with an internal lumbar support system, XL Series chairs use a traditional lumbar pillow.
Maxnomic buying advice
Thinking about buying a Maxnomic gaming chair? This section will help you to make an informed buying decision.
Pros and Cons
Learn what's to like and dislike about the Maxnomic gaming chairs.
What we like
Maxnomic makes some of the best gaming chairs in the world. That's why so many pro streamers and teams use their chairs. The Pro and OFC Series make an amazing 1-2 combo for esports. Choose a Pro model for a slim fit, or choose an OFC one for more room. In both cases, these chairs support long sitting sessions with superb ergonomics.
Whether you're a pro gamer, an aspiring one or a computer user, these chairs offer a pro-class sitting experience.
What we don't like
Maxnomic chairs are expensive. Prices average between $360 and $590. Also, Maxnomic chairs only come with a 2-year warranty. That's less than the 5-year warranty you get from Secretlab and AKRacing.
Those quibbles aside, these are some of the most comfortable and full-featured gaming chairs in the world.
Maxnomic alternatives
In the high-end gaming chair market, we count Maxnomic, Secretlab, and AKRacing as the top three brands. All offer outstanding gaming chairs with the best features and materials. Choosing between these brands usually comes down to which styles you prefer.
Secretlab
Like Maxnomic, Secretlab released their first chairs in 2014. They are also a major name in esports. These days, most top teams that aren't partnered with Maxnomic are with Secretlab. At present, seven top esports teams use Secretlab chairs.
Another interesting similarity is that both brands have similar flagship chair. The Secretlab Titan has a flat, wide seat and an internal lumbar instead of a pillow. Maxnomic's OFC chairs have those exact same features. Prices are comparable, but the Titan has a longer warranty. other than that, choosing between Titan or OFC is a tossup. Both chairs rank as among the best in the pro esports industry.
Secretlab review: overview of all chairs
AKRacing
American company AKRacing is one of the oldest and most well-established gaming chair brands. They're also a big name in pro esports, but with a less robust presence than Secretlab or Maxnomic.
AKRacing makes two lines of gaming chairs. Their Core Series have basic padding and solid features. Their Pro Series adds seventy percent more padding than their Core chairs. On top of that, Pro features rival those of Maxnomic and Secretlab chairs.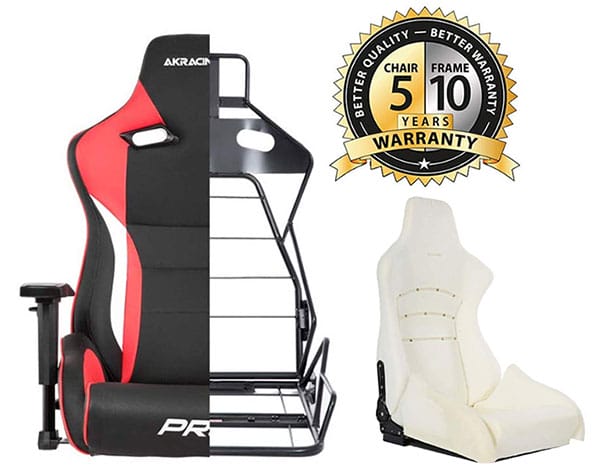 AKRacing offers the longest straight-up warranty in the business. Secretlab offers three years, with an option to extend by sharing a social post.
If you're looking for an alternative to Maxnomic or Secretlab, AKRacing is a solid third.
Conclusion
Maxnomic has a rich history in the esports world. Today, they remain one of the leading brands for esports professionals.

If you're into esports and want to game like the pros, Maxnomic chairs are a great pick. No matter which model you choose, expect to enjoy long, comfortable computing sessions with superb back support.
Click the button below to see what's available right now in the USA store. All models appearing on that page are ready to ship within 1 business day.
Browse available chairs in the Maxnomic USA store
To lean about chairs available in the European shop, browse our review of the best Maxnomic chairs for Europeans.