Homall is the original maker of cheap gaming chairs. In business since 2012, the company sells through third-party sites like Amazon. Homall's flagship Classic gaming chair is Amazon's #1 seller. Several variations of the flagship are also top sellers. This Homall gaming chair review covers the best of the brand's entire product line.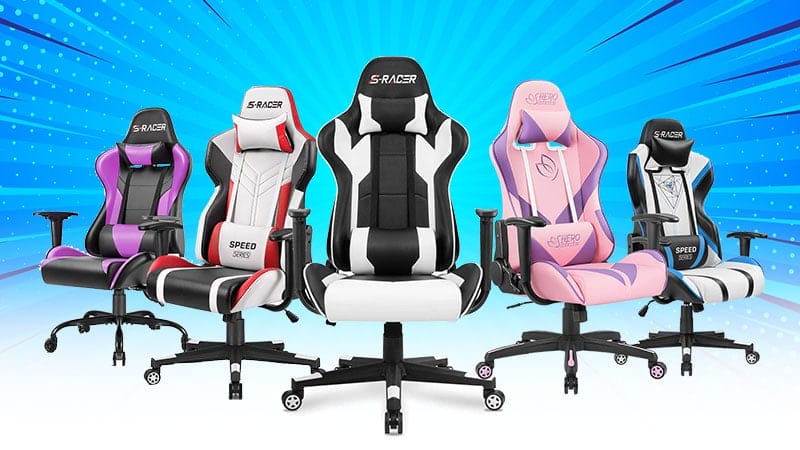 Homall makes racing-style ergonomic gaming chairs. They are comfortable, cheap, and ergonomically designed to support good posture. Used at a desk, they provide comfortable support for light office work, gaming, or relaxing.
On Amazon, the original Homall chair has over 39,000 customer reviews and a 4+ star rating. Buyers rave about its comfort, style, and excellent value.
Browse the Homall Amazon store
Homall gaming chair overview
Compared to pro esports chairs, Homalls have comparable design qualities. Under the hood, you'll stripped down upholstery and adjustability.
But compared to non-ergonomic office chairs, they are a huge upgrade.
Build quality
Build quality is cheap but tough. Chairs start as a 1.5 mm steel frame. Over that goes resilient foam padding and an average-quality PU leather cover. Addons include a headrest and lumbar support pillow.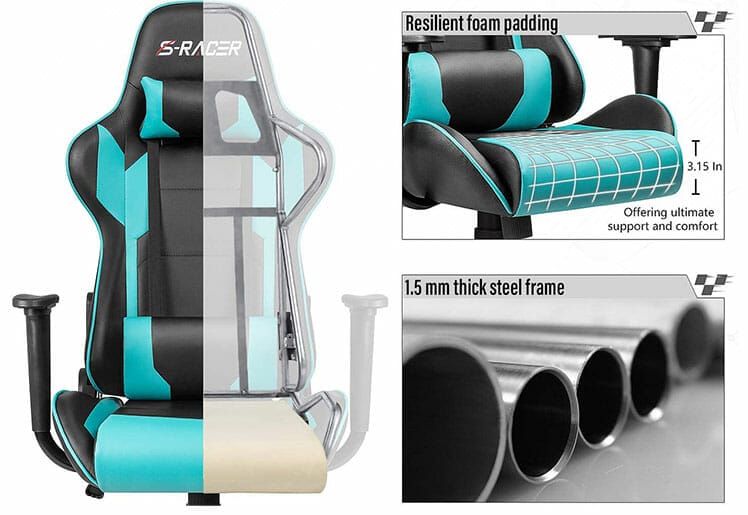 Both the padding and faux leather material are of average (not premium) quality. Homall's PU leather is not as soft or breathable as pricier leathers. On the upside, it's a thick, tough, material that is almost indestructible.

The padding is also of average quality. It has anti-oxidation qualities and reasonable elasticity resilience. But if used full-time, expect the elasticity resilience to diminish after around six months.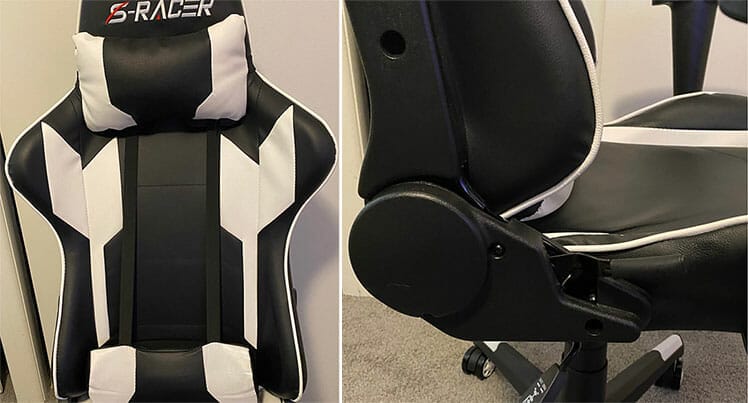 Eventually, it will flatten enough that you can feel the steel frame under the seat. At that point, consider buying a replacement.
Homall gaming chair features
Every Homall gaming chair comes with the same ergonomic design qualities and features. Key features include a high back with deep recline and non-moving armrests.

The biggest downside is that Homall armrests are not adjustable. The point of adjustable armrests is to sync them with your desk height.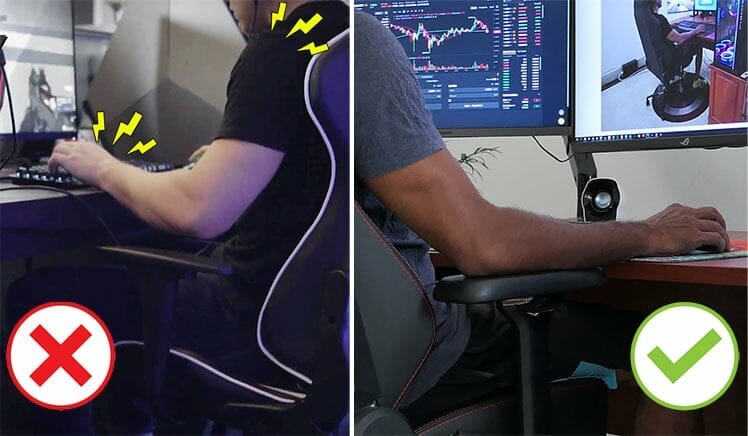 Each human arm weighs around 10 pounds. Without proper arm support, the spine must bear the load.
Summary of features
All chairs in the collection have the same basic feature set. (The RGB model differs with lighting effects and 3D armrests.) Summary:
Functionality: fixed armrests; recline to 180 degrees, rocking function with seat-lock.
Upholstery: high-density foam padding; PU leather cover material.
Support: height-adjustable lumbar support pillow and headrest.
Foundation: steel frame; Class 3 gas lift; 360 degree swivel; five star base; color caster wheels.
Warranty: one year (contact through their Amazon storefront for support).
Several cutbacks to keep the price low. For instance, the padding and faux leather are of middling quality. As another example, a class 3 gas lift is a cheaper part. Its gas spring supports less weight than a class 4 variant.
Best value Homall chairs
This section covers the brand's top models. Most cost less than $150.
Original Homall Classic
Current price: $99.99 Value for money good
These are the original Homall gaming chairs and still the most popular. Original chairs have over 39,000 customer reviews on Amazon, with an average 4.5-star rating. Prices differ based on design. The best value models cost less than $150.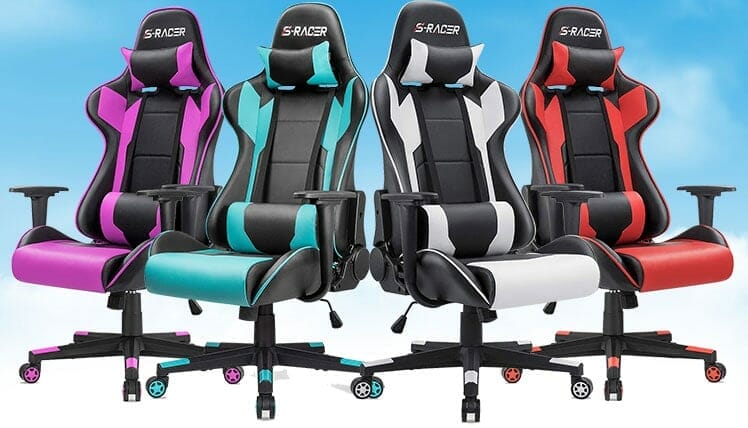 The entire collection comes in racing-style designs with standard features (fixed armrests, recline to 180 degrees). But every chair is priced differently based on the PU leather colors used. Each colored model also comes with a matching set of color caster wheels.
Overpriced designs to avoid
At present, four designs cost over $150. The pink edition costs on Amazon. Other pricey models: black and green $119.99; all-black $139.99; black and grey Price not available.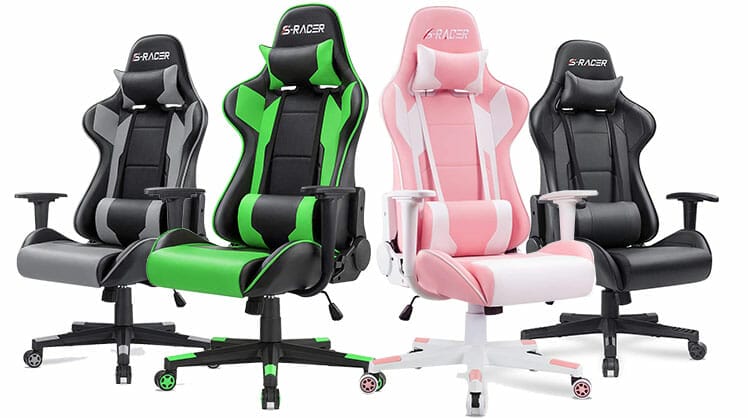 Given the limited feature set, we suggest only buying versions priced under $150. Above $150, many cheaper alternatives from other brands offer better value for money.
Advice
These chairs have basic adjustability. Even so, they are comfortable, supportive, and good for your back. Stick to the models priced under $150 for the best value.
To learn more about Classic chairs, check this in-depth Homall Classic review.
A few other versions cost under $150 on Amazon. Choose black and magenta for $114.99; black and red for $134.99; black and cyan for $124.99.
Homall Classic V2
Current price: Price not available Value for money good
In 2019, Homall released a stylistic upgrade of its original model. It's a tri-color design with embroidery accents in three variants. All cost under $130, offering good value for money.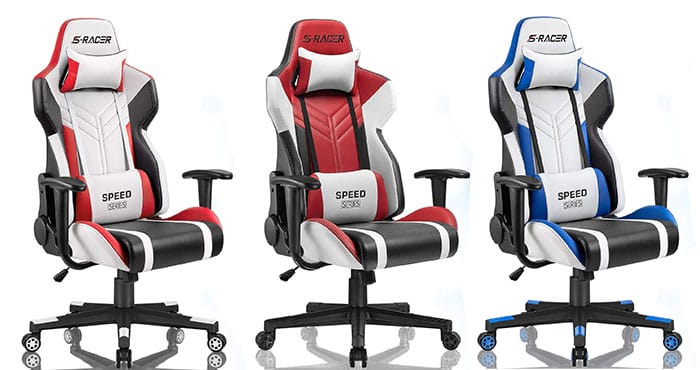 This model differs with an upgraded design and smaller recline range (90-150°). For everything from upright desk work to watching movies, that range works fine.

In fact, that cutback makes this racing-style gaming chair the cheapest in the whole collection. Thus, its advantages are upgraded designs and rock-bottom prices. To learn more, check our Homall V2 chair review.
V2 (white with red) on Amazon Price not available
The V2 white edition with blue trim is also available on Amazon for Price not available. At present, the red version with white trim is out of stock.
S-Racer Speed Series Light
Current price: $79.99 Value for money good
Speed Series chairs come in light and dark variations. The Dark chair offers poor value, priced at $79.99 on Amazon. The light editions are better value at $79.99. Both come with non-adjusting arms and a 180-degree recline.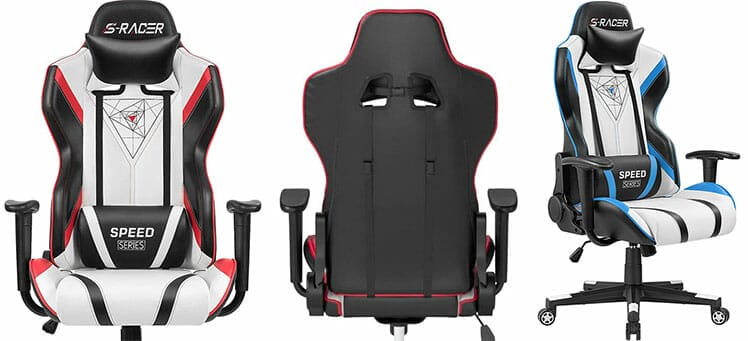 Compared to other models, Speed Series models have unique racing-style designs, and also thicker seat padding. There's a fractal pattern embroidered on the front, plus speed-racer colored striped across the seat.
Speed Series light (red trim) on Amazon $79.99
Speed Series light chairs with blue trim are also available on Amazon for $79.99.
Homall gaming chair with footrest
Current price: $109.99 Value for money good
Homall footrest chairs are nice for living room console gamers. With the footrest retracted, you can game in comfort as if in a La-Z-Boy recliner. With the footrest under the seat, this chair works like a standard ergonomic office chair.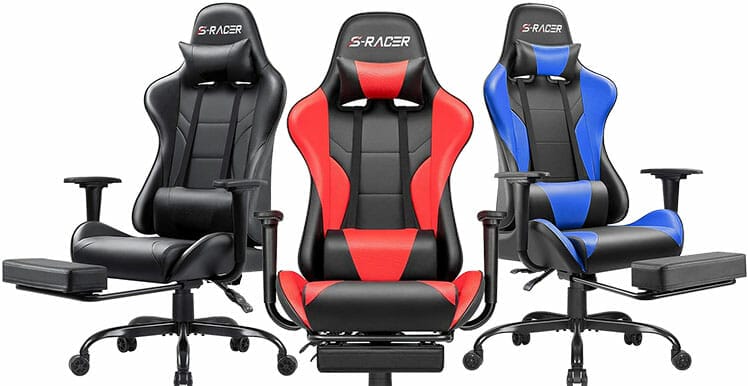 All footrest editions recline to 160 degrees. Dimensions are slightly smaller than other Homall chairs.
Seat width x depth: 18.7″ (W) x 19.7″(D)
>Backrest width x height: 20.6″ (W) x 30.5″
Seat height range: 14.3-17.5″
Size rating: 5'5″ to 6'0″; weight capacity 280 pounds
These are the cheapest footrest gaming chairs available from an established brand. For casual use in a living room, the non-adjustable armrests work fine.
There are four gaming chair designs to choose from. All are priced very reasonably.
Footrest edition (black) on Amazon $109.99
Other footrest variants available on Amazon cost $119.99. Options: black and blue, black and red, black and green.
More about Homall Gaming Chairs
Buying a Homall gaming chair is like buying an economy car. It will do the job, but with less luxury than pricier models.
Even so, Homall gaming chairs provide a decent-quality gaming experience. That's mainly because they have the ergonomic necessities to support good posture.
How to use a Homall gaming chair
The point of any gaming chair is to support good sitting posture for long hours. Homall chairs are up to the task.
First, a padded seat and high back support cradle the body with semi-firm resilience. That lets you sit for a long time with consistent comfort.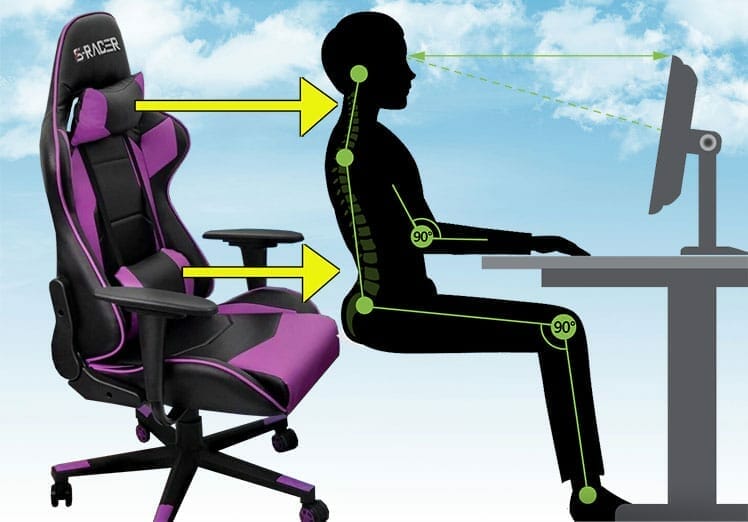 Second, a lumbar support pillow attaches to the backrest. Adjust its height to fit into your lower back curve. Do the same with the headrest pillow to support your neck. Doing so will align the back, shoulders, head, and neck while you sit.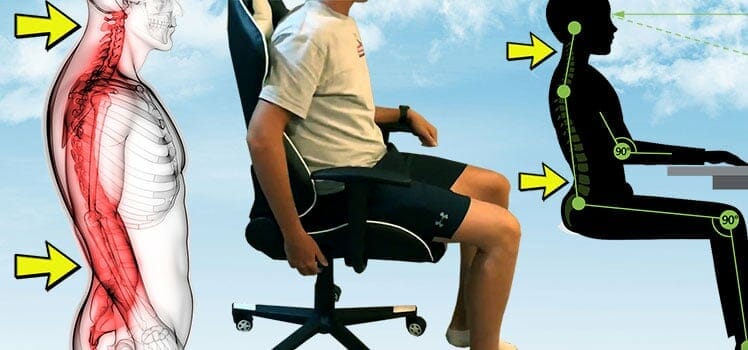 If you feel fatigued, toggle the backrest recline. Alternatively, engage the rocking function. Either will increase blood flow to deliver an energizing boost.
Simple user tips
For best results, keep your feet planted on the floor while resting your body weight against the backrest. This is called a 'neutral' sitting position. Neutral postures exert the least amount of stress on your body while sitting.

However, staying in any fixed position for too long can still stress muscles. To address this, make use of your chair's recline functionality. Angle the backrest to around 110° for working and around 135° for relaxing. In sum:
Plant your feet flat on the floor.
Adjust the lumbar cushion so it fills your lower back curve. Do the same with your headrest pillow into the nape of your neck.
Lean back, resting your entire upper body weight into the backrest. The pillows will keep your spine in a healthy alignment.
Toggle the backrest recline every so often to move while you sit. This will improve blood flow and keep your hips in motion.
For a step-by-step walkthrough, check this:
Who should buy a Homall gaming chair?
Homall gaming chairs work best when used over part-time hours.
Best for casuals
As a homework seat for students or a gaming chair for hobbyists, Homalls deliver. For a few hours at a time, expect a comfortable and supportive working or gaming experience.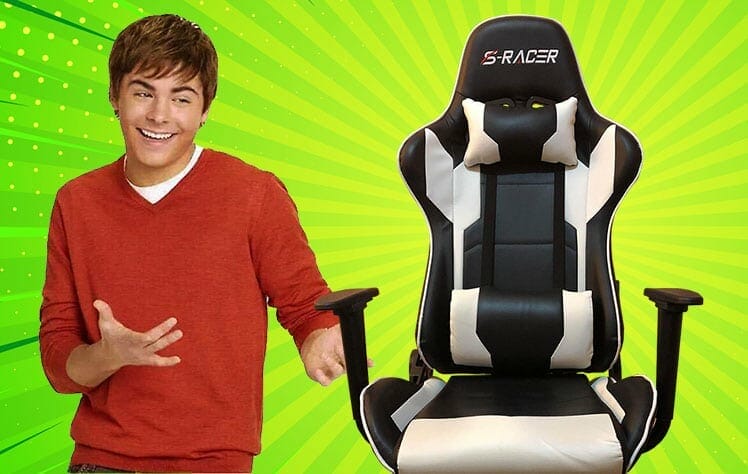 Not ideal for full-time use
On the flip side, as a full-time office chair, performance is mediocre. For one thing, the non-adjustable arms can stress out your back over long hours. For another, the padding will flatten out faster.
If you need to game or do office work full-time, many affordable models offer superior features:
Pros and cons
These chairs will let you sit for hours without back pain, but they're not perfect.
What we like
Buying a Homall gaming chair priced under $150 delivers good value for money. These chairs are easy to assemble, comfortable, and ruggedly-built.
The ergonomic qualities also work well. The lumbar support helps the spine to stay straight while sitting. Even when sleeping in a deep recline, the lumbar support will keep your posture on-point.
Homall's PU leather is also decent. PU leather is a chemical polyurethane coating spread over a thin layer of fabric. Homall's blend is durable, waterproof, and stain-proof. Wipe down with a damp cloth to keep the material from getting clammy.
What we don't like
With heavy use, the padding will flatten until the seat becomes unusable. Parts will also begin to loosen. Then, the chair will rattle and squeak.
Fixed armrests: these fail to provide adequate arm support over long periods. Adjustable height versions of at least 1D work better.
Cheap leather: gets saggy over time. The lack of breathability can also make the leather sticky.
Unpredictable quality: quality control is hit-or-miss. Broken chairs bases is a common problem. Noisy chairs (squeaky or rattling) is another.
The squeaking chair issue is because of the cheaper parts holding chairs together. If your chair gets squeaky, turn it upside down.
Then, tighten the bolts holding the seat, armrest, and backrest together. This should stop the squeaks — until the bolts come loose again.
Conclusion
For years, the Homall gaming chair has ruled as Amazon's best-selling gaming chair. It currently has over 15,000 more customer reviews than any other chair.
But you get what you pay for. Homall racing chairs have an ergonomic design. They also provide better support than cheap office chairs. But durability is lacking.
If you can live with that, a Homall gaming chair priced under $150 offers good comfort and value for money. If you want a decent-quality gaming experience on a budget, these chairs will do the job.