Homall is an office furniture producer based on China. They don't have a company website, selling mainly through places like Amazon. Homall's flagship gaming chair is Amazon's #1 seller. In fact, Homall has several top-sellers on Amazon. This Homall gaming chair review covers the best of the Homall product line.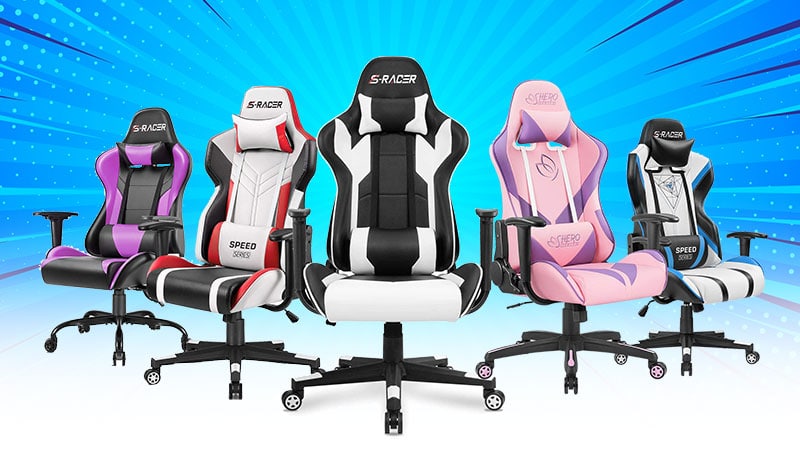 Homall gaming chairs are cheap, comfortable and compact. Amazon reviews rave about the comfort, style and support of their flagship product. People looking for a proven budget-priced gaming chair should take a close look at Homall's product line.
Homall gaming chair overview
All Homall chairs come in a racing-style design. Standard features include thick padding, multiple reclining modes and PU leather upholstery.
Homall warranty
Homall guarantees their gaming chairs for one year. This covers normal wear and tear.
Note that customer service access is limited. Homall doesn't have a website. When buying from Amazon, the only means of contact is through their Amazon storefront.
Homall sizing
Chairs across the Homall product line share the same dimensions. These are compact chairs designed for small, slim sizes. Taller people can use these products, but the neck pillow won't fit. People with wide hips might struggle to fit between the armrests.
These chairs are best for kids, petite women and slim adults under 6 feet tall.
Most chairs are in and around these dimensions:
Seat: 20.4″ wide X 20″ deep
Backrest: 21.75″ wide, 31.75″ deep
Overall height: 49.25″ to 52.5″
Weight support: up to 260 pounds
Height support: 5'3″ to 5'8″
The Secretlab Titan is a top rated large sized chair. DXRacer Drifting Series is a compact one for small sizes. Here's how Homall chairs compare with those models.
| | Homall Classic Series | Secretlab Titan (large) | DXRacer Drifting Series (compact) |
| --- | --- | --- | --- |
| Seat width & Depth | 20.5" (W) x 19.8" (D) | 22" (W) x 21" (D) | 20" (W) x 21.75" (D) |
| Backrest Height & Width | 30.5" (H) x 22.5" (W) | 33" (H) x 23" (W) | 31.75" (H) x 21.75" (W) |
| Floor to Seat Range | 18.5" to 22.5" | 19.5" to 23" | 19" to 22" |
| Overall height | 49" to 53" | 52.5" to 56" | 49.25" to 52.5" |
| Weight support | Up to 300 pounds | Up to 270 pounds | Up to 200 pounds |
| Height support | 5'5" to 5'10" | 5'9" to 6'7" | 5'5" to 5'8" |
Based on the numbers, Homall chairs stand taller than Drifting Series chairs. Both have narrow, compact seats.
According to Homall specs, their chairs support 300 pounds. In reality, anyone over 200 pounds likely has hips too wide for Homall chairs.
Upholstery and support
Homall chairs come with steel frames, memory foam padding, and PU leather upholstery. The more expensive chairs come with upgraded upholstery and thicker layers of memory foam padding.
Most models come in a classic racing style design that supports good posture. The high backrest supports the upper body, while the neck and lumbar cushions keep the spine aligned.
It's important to mention that Homall chairs won't last long under heavy use. That makes these models ideal for people on a budget who will use the chair infrequently. As a bedroom chair, study chair or part-time gaming chair, Homall chairs work well.
Homall's best gaming chairs
This review of Homall's best chairs starts with Homall's top-selling flagship model. Then it covers the upgraded 2019 flagship model. After that, it runs through Homall's other notable products.
Note that Homall chairs don't have official product names. That's why each chair reviewed has a generic descriptive name – made up by our writers.
Homall Classic Gaming Chair
Current price: $160.98
Homall's flagship Classic model is Amazon's #1 best selling gaming chair. It has over 4,000 reviews with an average 4-star rating.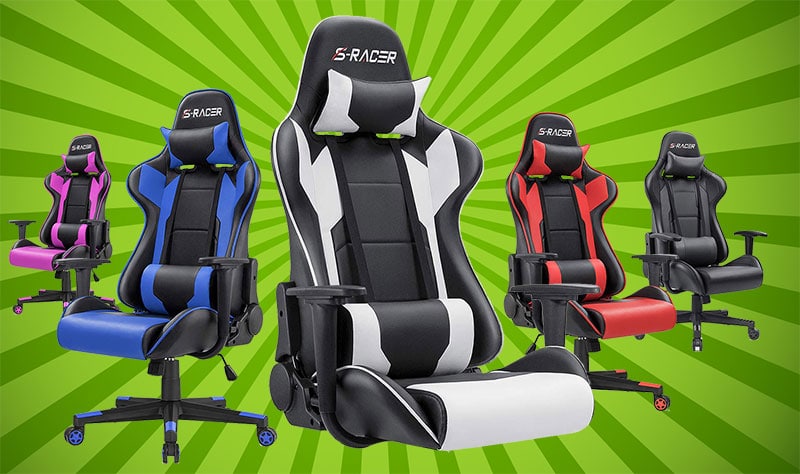 The Classic Series comes in seven different PU leather styles. All share the same features and size, but each color model has a different price.
Classic White on Amazon $160.98
The Classic White is the top seller and most reliable product. Niche colors like purple and pink use lower quality leather. These are the cheapest options. The blue and red models are solid but more expensive.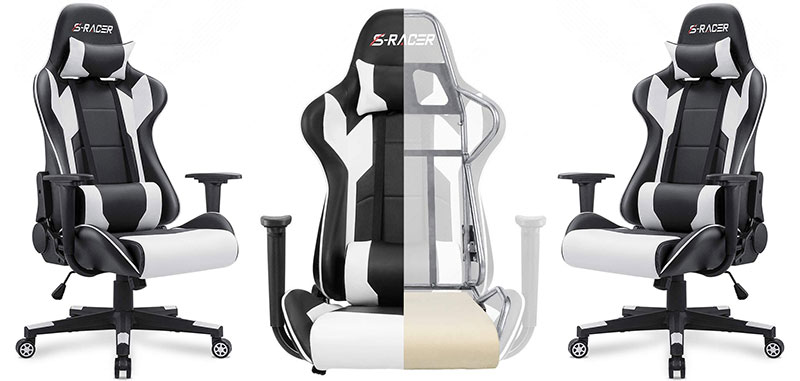 To make sense of the different models, read our Homall Classic review.
Detailed Homall Classic Series Review
Key features
Classic Series models have basic features. These include 180° recline, 360° swivel, and gas-powered lift. The armrests are not adjustable.
Functionality: fixed armrests; recline to 180°
Comfort: high density foam padding; neck and lumbar pillows.
Upholstery: standard quality PU leather.
Support: steel frame; aluminium base; class 3 gas lift; rubber casters.
Warranty: one year on parts; 30 days return policy.
Free shipping: included.
Classic White on Amazon $160.98
Buying advice
Homall Classics have the same features, but each style has a different quality PU leather. Read our detailed Homall Classic Series review to learn the differences between models.
The most popular and reliable model is the Homall Classic White. Grey, carbon, red and blue models are also solid. Two qualities make these models so popular. First is obviously the price. Second is that they provide ergonomic support just as well as expensive models do. The neck and lumbar cushions support the muscles against the high backrest. This keeps your spine in healthy alignment while you sit.
Working or gaming with poor posture can lead to lethargy, stiffness and chronic health problems. Homall's Classic gaming chairs support good posture at a cheap price.
2019 upgraded classic model
Current price: $239.99

In 2019, Homall released an upgrade to its flagship classic model. It has the same features, but with thicker padding and revamped styling. This model is already selling like hotcakes. The hot new styling in three color styles makes a great option for the bedroom or home office.
2019 Flagship on Amazon $239.99
Armrests: fixed; recline to 150°
Warranty: one year on parts; 30 days return policy.
Free shipping: included.
S-Racer Speed Series
Current price: $299.99

The Speed Series is the same as the classic model, with alternative styling. Paying a few dollars extra for this model only gives you a different look. Is it worth it? The Speed Series comes in three color combinations that all look really nice. It might be worth paying a bit more if styling is a priority.
Armrests: fixed; recline to 150°
Warranty: one year on parts; 30 days return policy.
Free shipping: included.
Homall Pink gaming chair for girls
Current price: Price not available
Homall's Pink Gaming Chair for girls has fixed armrests, 180° recline, and narrow dimensions. This model will fit slim adults and kids.
Seat width and depth: 18.7″ (W) x 20.5″ (D)
Backrest width and height: 22.1″ (W) x 33.2″ (H)
It's a basic Homall chair with a vibrant design. We suggest this as a great starter chair for adolescent girls who love pink.
Homall Gaming chair with footrest
Current price: $299.10

This model comes in two color styles (black and blue, black and red). Features include a retractable footrest and heavy-duty support for up to 330 pounds. It also comes with 2D adjustable armrests that move up and down.
Most users report this as a sturdy, comfortable chair. If you need a recliner suitable for long hours of computing, this is a solid pick.
Armrests: 1D (up and down); recline to 180°
Warranty: one year on parts; 30 days return policy.
Free shipping: included.
Homall Super Premium Luxury Chair
Current price: $299.99

This is Homall's most expensive gaming chair. Draped in premium PU leather upholstery, it comes in three stunning color combinations.
For the premium price, you also get the thickest padding of all models. Other features include 180° recline and 2D adjustable armrests.
If you're looking for the highest-quality Homall experience, this is the one.
Warranty: one year on parts; 30 days return policy.
Armrests: 1D (up and down); recline to 180°
Warranty: one year on parts; 30 days return policy.
Free shipping: included.
Cheapest Homall gaming chair
Current price: Price not available
Homall's cheapest chairs come with Pu leather covers in four striking color combinations. These are among the most basic gaming chairs you can find. Expect a solid build and decent comfort for the price. The neck and lumbar cushions work the same as they do on ultra-expensive chairs.
To ensure good posture while sitting, set the backrest to a recline of around 110°. Then adjust the pillows so that they fit in the curves of your neck and lower back. Lean into the backrest and enjoy perfect posture while you work.
Even at such a low price, this model delivers basic back support that will help you sit longer and work smarter.
Armrests: fixed; recline to 170°
Warranty: one year on parts; 30 days return policy.
Support:  up to 300 pounds.
More about Homall Gaming Chairs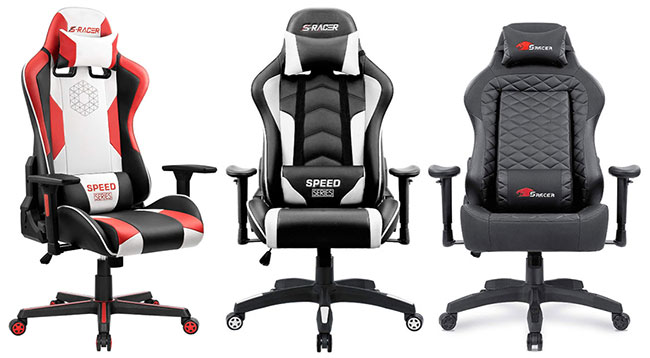 Homall Executive gaming chairs are like Chinese-made DXracer knockoffs. They boast all the features of high-end gaming chairs – at a fraction of the cost.
Despite the low prices, these chairs provide great ergonomics. All models come with a removable headrest and lumbar support pillow. These lend great support to the back, shoulders, head, and neck.
Further, all models give a range of reclining options. Position around 110° for working and around 135° for relaxing. While some models offer a full 180° recline, this is only good for sleeping. While these chairs make decent sleepers, beds are still preferable!
All listed models use PU leather upholstery. This is a chemical Polyurethane coating spread over a thin layer of fabric. PU leather is durable, waterproof and stain-proof. On the downside, it isn't very breathable. Apply a regular wipe-down with a damp cloth to keep the material from getting clammy.
Who are these products for?
Are you interested in gaming chairs but not willing to pay a lot for one? If yes, Homall brand chairs are a great choice.
Unlike other low-priced chairs, Homall has a proven support record. That means if anything goes wrong with your chair, Homall staff will send you a replacement.
As a result, Homall chairs offer a great introduction to what gaming chairs have to offer.
Companies seeking to improve office ergonomics can use these chairs as low-cost options. At home, parents can gift these to their kids to support their gaming and studying.
Also, people who work from home should consider these chairs if they need support on a budget. While Homall chairs aren't durable, they offer excellent ergonomic support.
Pros and cons
Homall chairs offer excellent value but limited features. They work best as entry-level models for first-time gaming chair users.
What we like
Gaming chairs are becoming more popular. As a result, a huge number of off-brand gaming chairs are flooding the market. The problem with unbranded gaming chairs is lack of transparency. In contrast, Homall has a proven record producing solid chairs with reliable customer service.
Thus, among budget gaming chairs, Homall is one of the safest picks. Chairs ship to your door in a box with easy assembly instructions.
After assembly, expect a stylish, comfortable well-padded gaming chair. Included features stack up well with more expensive chairs.
Also, the ergonomics are stellar. Homall chairs support long hours of sitting with perfect spinal alignment.
What we don't like
Homall chairs are cheap and work great, but they lack durability.
With heavy use, Homall chairs will break down fast. First, the padding will start to flatten. Then the parts will begin to loosen. After a while, the upholstery will start to degrade. If you stack them up against the best gaming chairs on the markets, they don't measure up.
No armrest adjustability: to most glaring missing feature locks the armrests, whereas the top gaming chairs generally allow you to adjust the armchair height, and in some cases even the angle.
Cheap leather: cheap leather looks great when brand new, but tends to get wrinkled and saggy over time. In addition, if you sit down in shorts, the material isn't breathable, meaning you will start forming pools of sweat. TO keep the leather preserved, we suggest a thorough wipe with a damp cloth at least once a day.
Unpredictable quality: we've heard reports of chair bases breaking soon after purchase. We also noticed that over time, the leather begins to peel and then you will start to realize that you get what you pay for.
Many users also report annoying squeaks when reclining after a few months of use. This is because of the cheaper quality parts that hold the chair together.
If your Homall chair gets squeaky, turn it upside down. Then, tighten the bolts holding the seat, armrest, and backrest together. This should stop the squeaks – until the bolts come loose again.
Homall Gaming Chair Alternatives
Homall is just one of many gaming chair manufacturers that produce inexpensive gaming chairs. Homall's top competitors in the budget area include Killabee, GTRacing and Elecwish.
For more budget-priced alternatives, check our mega review of the world's best budget gaming chairs.
Getting started with your new chair
If you decide to buy a Homall Gaming Chair chair, it will arrive at your door in a very heavy box. Unpacking is simple – the needed tools are included, along with an assembly manual.
Set it up, position it in front of your computer, then take the time to play around with the functions. For help, check our Ultimate Gaming Chair User Guide.
Otherwise, stick to the basics:
Focus on sitting at around 110 degrees, using the backrest and lumbar cushion for support
Take regular breaks to stand up and walk around
Make your new gaming chair the centerpiece of a clean workstation
Frequently wipe down your Homall Executive Gaming Chair with a cloth and cleaning spray
Conclusion
This Homall Gaming Chair review shows that Homall offers decent chairs for reasonable prices. These are great gaming chair for beginners, as a gift for others, or even as a test case.
Keep in mind that you get what you pay for. Premium gaming chairs cost more than $300. These offer great features and impressive durability.
While Homall chairs offer comparable features, their durability is far behind. Over time these chairs will degrade faster than expensive models. ​
In conclusion, Homall Executive Gaming Chairs offer great value for money. If your budget is limited but you want the full gaming chair experience, these chairs will do the job.