Over the past few months, DXRacer has been teasing a new Craft Series gaming chair collection. Previews showed sleek racing-style chairs with brilliant embroidery. The first model just dropped. It's an official Guild Wars 2: End of Dragons edition. It's available as a limited edition until Nov. 30. Here's a look at the first DXRacer Craft Series release.
What is the Craft Series? According to DXRacer, it's an upgraded version of the DXRacer Drifting Series. First released in 2017, it was one of the world's first gaming chairs designed for office workers.
D-Series chairs came with prosumer features, compact dimensions, and powerful executive designs. Sadly, DXRacer dropped the Drifting Series from its roster earlier this year.
Now it's back, with upgraded features deployed as a series of limited releases. The first edition is a 30-day limited edition Guild Wars 2 chair.
Guild Wars 2 Gaming Chair Limited Release
Guild Wars 2 is a massively multiplayer online role-playing game. Set in the fantasy world of Tyria, it follows a guild dedicated to fighting Elder Dragons. Guild Wars 2: End of Dragons is the third expansion of the game. It's slated for release in Feb. 2022 but is now available for pre-purchase.
The DXRacer x Guild Wars 2 gaming chair is available for pre-purchase from Nov. 1-30. Limited quantities are available. It's also the public debut of the DXRacer Craft Series.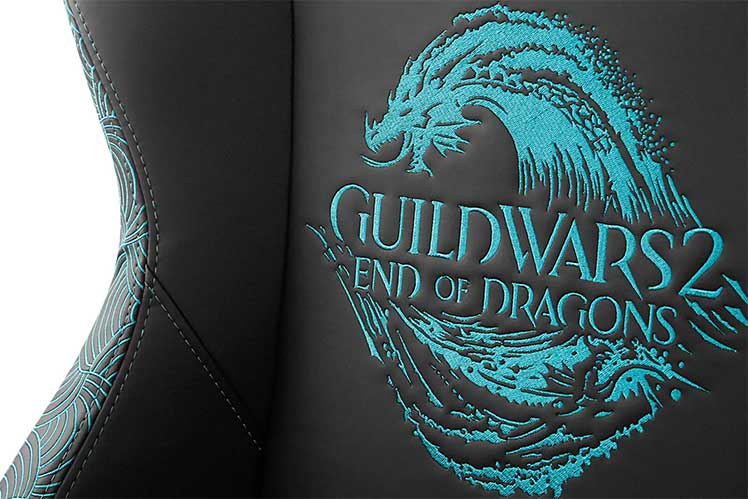 It's an all-black chair with splashes of rich teal embroidery. An elaborate Guild Wars 2 logo adorns the front of the chair. On the back is the head and tail of an Elder Dragon.
Embroidered teal patterns adorn the side wings of the seat and backrest. These contrast perfectly against the black PU leather to add plenty of visual activity to the design.
Guild Wars 2 Chair from DXRacer $479
Available for pre-purchase from DXRacer between Nov. 1-30, 2021.
Craft Series Functionality
According to DXRacer, the DXRacer Drifting Series frame has been repurposed into the Craft Series. Besides the frame, everything else has been upgraded. Here are some highlights:
Integrated Lumbar Support
This feature made its debut with the DXRacer Master Series earlier this year. You can adjust the depth by turning the dial on the side of the backrest.
In the Master Series, you can also flip up the backrest to manually adjust the height of the unit. The Craft Series comes with the same mechanism, although you can't flip up its backrest padding.
The lumbar itself is a curved steel unit operated by pulleys. When you turn the dial, it increases or lowers the depth of the curve. It's covered by two layers of padding so that all you feel is a gentle bump.
Craft Series chairs also come with a memory foam headrest with cooling gel insert. Overall it's a premium package with fully-loaded functionality:
Functionality: 4D armrests, multifunction tilt-lock, 135° recline, integrated lumbar support.
Upholstery: high-density mold-shaping foam; black PU leather cover.
Extras: memory foam headrest with cooling gel inset.
Warranty: 2 years on parts; lifetime on the frame.
Based on our in-house tests, DXRacer gaming chairs are extremely durable. Used full-time, you can expect yours to exceed its warranty period.
Craft Series Dimensions
Like the original Drifting Series, the Craft Series is an average-sized chair designed for slim figures. To fit at a normal-sized desk, smaller bodies around 5'4″ or less should add a footrest. That will let you use a taller seat height with your feet still planted.
Seat: 20.4″ (W) x 22″ (D)
Backrest: 20.8″ (W) x 31.5″
Seat height: 17.3-20.8″
Size rating: 5'4″ to 6'2″; 250-pound weight capacity
Conclusion
In case you haven't heard, gaming chair prices are going up industry-wide. Skyrocketing global shipping costs have left most brands with no other option.
In 2020, $400 was a high price to pay for a premium gaming chair. In 2021, $500 seems to be the new high-end norm. From that perspective, the DXRacer Guild Wars 2 edition offers good value for money.

If you're a fan of the game, this limited edition showpiece delivers the goods. Beyond its rich embroidered design, you get the rock-solid, ultra-comfortable gaming experience that DXRacer is famous for.
To learn more about this brand, check out our review of the Best DXRacer Gaming Chairs.
Guild Wars 2 Chair from DXRacer $479
Available for pre-purchase from DXRacer between Nov. 1-30, 2021.