Luna Lovegood once said "The things we lose have a way of coming back to us in the end… if not always in the way we expect." For instance, it was 20 years ago that Harry Potter and the Sorcerer's Stone was released in theaters. Now, that spellbinding magic has returned — unexpectedly — as a chair.
Secretlab has released the world's first Harry Potter gaming chair. Like other Titan 2022 chairs, the Harry Potter edition comes in small, medium, and XL sizes (for ages 12 and up). Unique to these chairs are optional lumbar support pillows.
Note that the Titan comes with an integrated 4-way adjustable lumbar. These are designed to lay over the integrated lumbar for an extra layer of support.
But the big attraction is that the pillows come designed as the four Houses of Hogwart. Thus you can customize the base edition chair by showing your allegiance to your favorite House.
A Closer Look At The Harry Potter Chair
Secretlab's Harry Potter chairs come clad in maroon leatherette with cream-colored accents. Embroidered on the front is the Hogwarts School of Witchcraft and Wizardry emblem.
On the back is the Marauder's Map, which reveals all Secrets of Hogwarts castle and grounds.
Chairs are available for pre-order, with an estimated shipping date of Jan. 13 or earlier. To sweeten pre-order buys, Secretlab is also offering a special Xmas bundle deal.
Available from Secretlab in North America, the EU and UK, Australia, New Zealand, Singapore, and Malaysia.
Harry Potter Titan Evo 2022 (medium) $529
Small Harry Potter Edition $529 | XL Harry Potter Edition $579
Harry Potter Chair Specs
The Titan Evo 2022 Series comes in three sizes with superb ergonomic features. For a detailed breakdown, see this Titan Evo 2022 Chair Review.
One of the standout features is integrated lumbar support. It's the only gaming chair version in the world that lets you adjust both the depth and the height.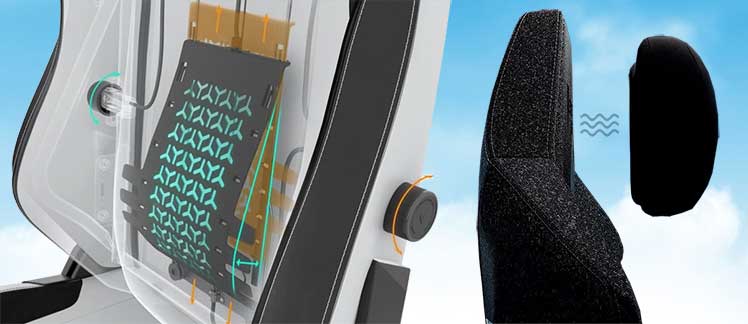 The integrated lumbar makes the add-on lumbar pillow unnecessary. For 90% of people, the built-in lumbar will work fine. Quick specs:
Key Features
Sizing Options
Functionality: 4D armrests; multifunction tilt-lock; recline from 85-165°.
New 2022 Series Features: integrated 3D-adjustable lumbar support; magnetic headrest pillow; pebble seat base with waterfall edge; CloudSwap armrest caps.
Upholstery: Neo Hybrid Leatherette (21 styles); Softweave Plus Fabric (6 styles).
Sizing: small 4'11" to 5'6″; medium 5'7″ to 6'2″; XL 5'11" to 6'9″.
Warranty: five years.
Chairs come with flat, wide, seats, suitable for both slim and thick figures. For best results, choose the size that matches your height: [table id=120 responsive="scroll" /]
Harry Potter Lumbar Pillows
Secretlab memory foam lumbar pillows work with all types of gaming chairs. Each unit has two parts. Inside is a slab of dense memory foam 11.4″ x 11.4″. On the outside is a soft velour cover.
Using one with a Titan Evo 2022 chair isn't necessary. Even so, it's a nice way to switch up how you use your chair. Sometimes when my sitting posture feels stale, I'll use my lumbar pillow over top of my built-in lumbar. It's a comfy changeup!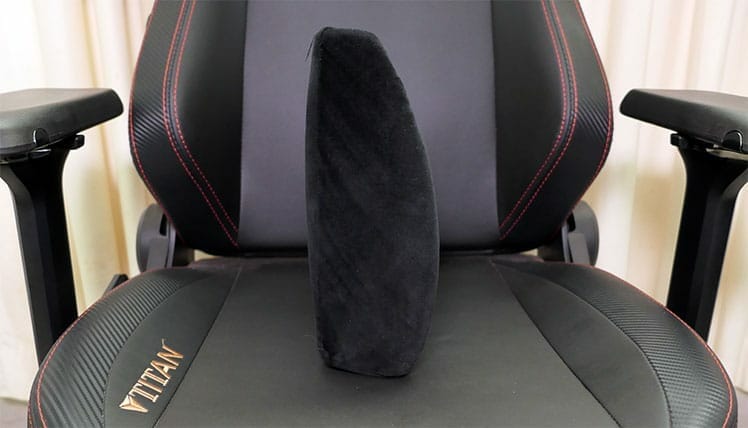 Another benefit of these pillows is that they work with all types of chairs. On top of that, they're easier to use than conventional lumbar pillows. Simply chuck it behind you, position roughly around your lower back area, and lean back.
The pillow is large enough to hit your lumbar curve with room to spare. As you lean back, it will gently compress, filling your lower back with soft, squishy pressure. It's almost foolproof!
Harry Potter Lumbar Pillows
The previous section makes it clear that you don't need a lumbar pillow with a Titan Evo 2022 Series. Even so, each design adds striking contrast to the stock Harry Potter chair.
There are four reasons to consider buying one:
It provides comfortable lumbar support in all types of chairs with backrests.
Using one with a Titan 2022 Series provides a slightly different (but equally comfortable) sitting experience.
Paired with a Harry Potter chair, each design looks amazing!
It also works as a potent (and stylish) lumbar support in a car seat.
This is the second batch of custom lumbar pillow designs in recent months. There's also a League of Legends quartet of pillows with super-cute designs worth checking.

Standalone Harry Potter pillows cost $59. However, Secretlab is running a special until Dec. 20. See details in the next section.
Available from Secretlab in North America, the EU and UK, Australia, and Singapore.
Harry Potter Xmas Bundle Offer
As a Xmas promotion, Secretlab offers a $25 discount on Harry Potter bundles. The sale ends on Dec. 20. To qualify for the discount, follow these steps:
Buy a Harry Potter gaming chair.
Buy your choice of Harry Potter lumbar pillow.
If you buy both before Dec. 20, you'll get $25 applied automatically during checkout.
Available from Secretlab in North America, the EU and UK, Australia, New Zealand, Singapore, and Malaysia.
Harry Potter Titan Evo 2022 (medium) $529
Small Harry Potter Edition $529 | XL Harry Potter Edition $579
Conclusion
Beyond solid ergonomics, Secretlab offers the most diverse design collection in the industry. In fact, for aesthetic freaks, that's one of the downsides of buying any Secretlab chair.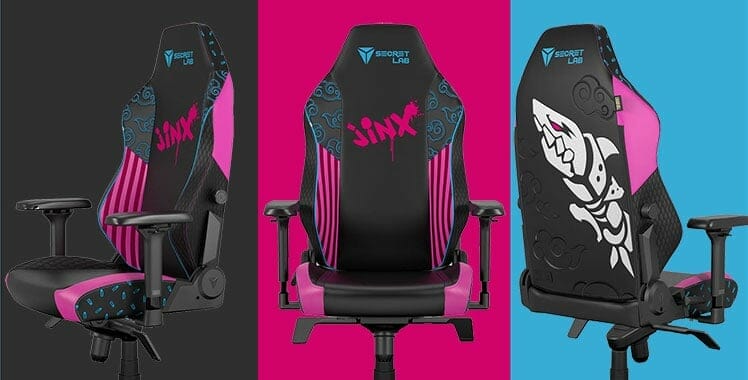 In the past two months, the company has served up a blistering run of delightful new releases. Those include:
It's likely that the new Harry Potter chairs will inspire enough fans to buy a full bundle. The designs are indeed thrilling, but based on recent history, the thrill won't last long.
In short order, Secretlab will surely release new designs that top the Harry Potter ones. Keep that in mind before you take the plunge on a Harry Potter bundle!
Harry Potter Lumbar Pillows are also available for $59.
Harry Potter Titan Evo 2022 (medium) $529
Small Harry Potter Edition $529 | XL Harry Potter Edition $579