This year, several big video game releases have branded gaming chairs. These have color schemes and embroidered artwork that pay homage to the game's lore. Using one can ascend your gaming experience to a higher level. But even if not a gamer, the aesthetic punch of these designs will dazzle. Looking for a contemporary workstation centerpiece? Here are the chairs representing some of the biggest video game releases of 2022.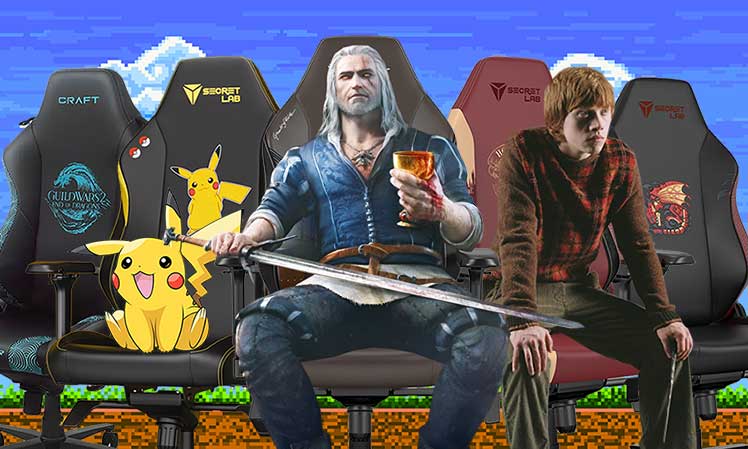 This year, a robust crop of games assures that gamers will spend a lot of time sitting in 2022. If good back support is all you need, a cheap, basic gaming chair can do the job.
Even so, a branded video game chair can boost your gaming experience on many levels. First, all are premium models with top-tier features and upholsteries. From an ergonomic perspective, these chairs will help you to sit longer, feel better, and game longer.
From an aesthetic perspective, a video game chair will stand out as a centerpiece. Every time you walk towards your battle station, expect it to ignite your passions before you even sit down!
Official Chairs Of Top 2022 Video Games
At present, there are twelve official video game chairs on the market. Most come from Secretlab, with Noblechairs and DXRacer also in the mix.
Moving into 2022, a handful of notable video game releases have branded chairs:
Jan. 13: Monster Hunter Rise (Secretlab Titan)
Monster Hunter is a Japanese fantasy role-playing video game for Nintendo Switch. First released by Capcom in 2004, the game was mainly popular locally until 2018. Then, Monster Hunter: World went global, selling 20+ million copies (70% outside Japan).
In 2021, the franchise positioned itself to reach new heights. In March 2021, Capcom released Monster Hunter Rise, the sixth edition after Monster Hunter: World. That August, Netflix released the anime film Monster Hunter: Legends of the Guild.
In September 2021, Secretlab released a Monster Hunter gaming chair. Finally, on Jan. 12, Steam releases the long-awaited PC version of the game.
Secretlab Monster Hunter Gaming Chair
Long-time Monster Hunter fans waiting for the PC version to drop will love this chair. This dark leatherette Titan Evo 2022 model pays tribute to the fire-breathing wyvern Rathalos.
The front of the chair shows Rathalos in intricate multi-colored embroidery. Red scales adorn the side wings. On the back of the chair is a red silhouette of his skull.
'Look closer and you'll find even finer detailing. For instance, Rathalos' poison talons run along the edges of the seat and backrest. Beyond the sweet styling is a package of industry-leading ergonomic features. Highlights:
Functionality: 4D armrests; multifunction tilt-lock; recline from 85-165°.
New 2022 Series Features: integrated 4-way adjustable lumbar support; magnetic headrest pillow; pebble seat base with waterfall edge.
Sizing: small 4'11" to 5'6″; medium 5'7″ to 6'2″; XL 5'11" to 6'9″.
Warranty: five years.
Available from Secretlab in North America, the EU and UK, Australia, New Zealand, Singapore, and Malaysia.
Monster Hunter Titan (medium) $529
The Monster Hunter edition is also available in an XL size for $579.
Monster Hunter Rise PC Release
The PC version will include all content up to Ver.3.6.1 of the Switch edition. Based on the PC features trailer, the PC version will look a lot better. Expect 4K resolutions, high-res textures, and higher frame rates.
On top of that, the PC version supports voice chat, which Nintendo Switch doesn't. As well, Capcom has hyped optimized keyboard and mouse controls.
In short, Monster Hunter fans can expect to spend a lot of time sitting come Jan. 13. If your current seating isn't up to scratch, a Monster Hunter gaming chair is the ultimate solution!
Check Out the Monster Hunter Rise game on Steam
Jan. 28: Pokémon Legends: Arceus (Titan)
On Jan. 28, Pokémon Legends: Arceus comes out for Nintendo Switch. It's part of the 8th generation of thePokémon video game series. This game takes us back to the earliest point in the series history to the Hisui region.
Your job is to explore the land and build the region's very first Pokedex. Find new Pokémon like Wyrdeer and new regional forms like Hisuian Growlithe. Catch, document, and expand the Pokedex.
Secretlab Pokémon Gaming Chairs
Secretlab recently came out with a pair of Pokémon gaming chairs. Released in collaboration with Capcom Asia, they're only available for sale in Japan.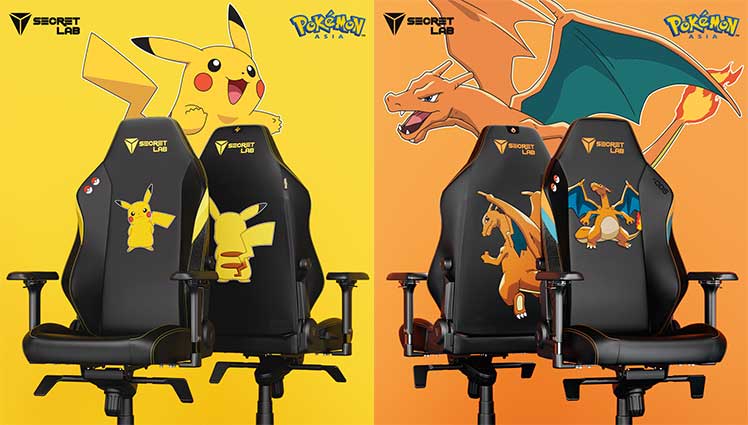 The Pokémon #025 edition pays homage to Pikachu; the #006 does Charizard. Both come upholstered in dark leatherette. The #025 edition has yellow color accents and embroidered Pikachu artwork. The #006 is more colorful, with intricate Charizard embroidery.
We're guessing that the Japan limitation has to do with regional licensing. Once Secretlab reaches terms with Capcom USA, we expect Pokémon chairs will become available in the west.
Feb: Guild Wars 2 (DXRacer)
Guild Wars 2 is a massively multiplayer online role-playing game ( MMORPG). In the fantasy world of Tyria, you join a guild dedicated to fighting Elder Dragons.

Guild Wars 2: End of Dragons is the third expansion of the game. It's scheduled for release in Feb. 2022 (now available for pre-purchase).
DXRacer x Guild Wars 2: End of Dragons Edition
The DXRacer Craft Series is an upgraded version of the DXRacer Drifting Series. First released in 2017, the D-Series was one of the world's first gaming chairs designed for office workers.
The DXRacer x Guild Wars 2 chair comes fully loaded. Highlights include 4D arms, multifunction tilt, and integrated (depth-adjustable) lumbar support. It's clad in a black PU leather chair with teal embroidered accents.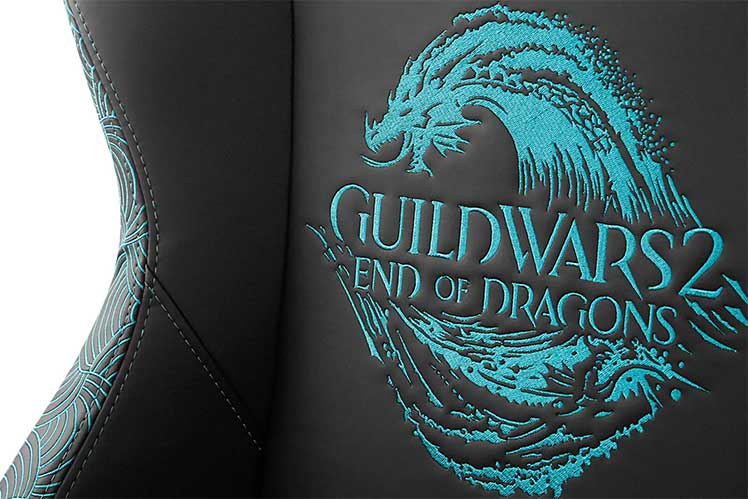 An embroidered Guild Wars 2 logo decorates the front of the chair. On the back is the head and tail of an Elder Dragon. Learn more in these DXRacer x Guild Wars 2 chair release notes.
Q1: Cyberpunk 2077 Next-Gen Update (Titan)
There are two big 2022 updates planned for this game intended to boost the visual 'wow' factor. Assuming success, one of the most striking video game chairs will enjoy new relevance.
CD Projekt Red's Cyberpunk 2077 first launched on December 10, 2020. It enjoyed commercial success despite some kinks. Mainly, most visual effects could only run well on ultra-high-end PCs. Two 2022 patch 1.5 updates are intended to address that:
PS5 and Xbox Series X: fully-realized versions that use the full power of the hardware
PC version: fixing big bugs and refining the overall experience.
Secretlab Cyberpunk Gaming Chair
I'm not a fan of the Cyberpunk game in any way. Even so, this is one of my favorite gaming chair designs of all time.
It's a party on the front side, with brilliant yellow and cyber detailing. The back side takes a more sinister tone, with a Samurai logo against a black backdrop.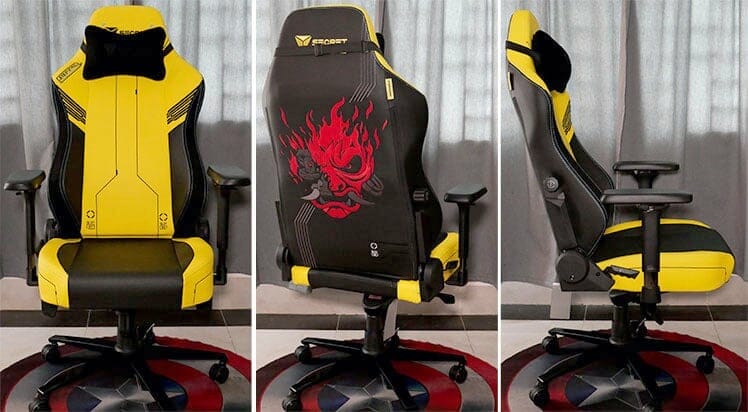 If you're willing to give CP 2077 another chance, keep this design in mind. But even if not into the game, this is one of the most striking designs money can buy. Check out this hands-on Cyberpunk chair review for a closer sense of a vibrant sitting experience.
Available from Secretlab in North America, the EU and UK, Australia, New Zealand, Singapore, and Malaysia.
Q1: League of Legends Updates (Titan)
Every year brings new Champions, skins, or concepts to League of Legends. Secretlab keeps pace with a growing collection of League of Legends gaming chairs. Often, annual LoL updates happen in summer. According to the LoL roadmap, a new Champions will debut in 2022.
The new Champion comes out in January 2022. LoL publisher Riot says it will be an ADC Marksman "pulsing with sparky determination". Around the same time, two new dragons will emerge:
Hexatech Dragon: additional ability haste and attack speed.
Chemtech Dragon: deal increased damage while low on health.
In 2021, Secretlab released four League of Legends chairs. In total there are now eight gorgeous character designs. With two dragons and a new champ inbound, new Secretlab designs are likely! To explore the current collection, see this:
2022: Hogwarts Legacy (Titan)
There are dozens of Harry Potter video games out there. Later this year, one of the most ambitious gets released. Hogwarts Legacy is an open-world game set in the 19th century. That's well before the emergence of He Who Must Not Be Named and The Boy Who Lived.
Hype so far has been mild because of limited details from producers (Warner Bros. Games and Avalanche Software). Versions will come out for PC and all consoles. Players will be able to explore Hogwarts, learn spells, and tame magical beasts.
Secretlab Harry Potter Gaming Chairs
Secretlab's Harry Potter chairs come upholstered in maroon leatherette with cream color accents. Rich embroidered detailing shows the Hogwarts School of Witchcraft and Wizardry emblem on the front of the chair.
On the back is a detailed Marauder's Map. Look closely to find all the hidden secrets of Hogwarts castle and grounds. Sweetening the deal are four optional lumbar pillows styles.
The Titan comes with an integrated 4-way adjustable lumbar. You don't need a lumbar pillow on top of that. Even so, adding one is an enticing option.
These pillows serve as a nice upgrade for all types of gaming chairs. Compared to cheap generic lumbar pillows, these make a big difference! They also work with Titan chairs and pair wonderfully with the Harry Potter edition. For a closer look, see these Harry Potter Gaming Chair Release Notes.
All four Hogwarts Lumbar Pillows cost $59 from Secretlab.
Harry Potter Titan Evo 2022 (medium) $529
Small Harry Potter Edition $529 | XL Harry Potter Edition $579
2022: Witcher 3 Complete Edition (Titan)
CD Projekt Red first released The Witcher 3: Wild Hunt in 2015. It's a gorgeous, beginner-friendly open-world game played from a third-person perspective. Players control Geralt of Rivia, a bounty-hunting monster known as a Witcher.
Before June 2022, Witcher 3: Wild Hunt – Complete Edition comes out in two parts. The first is a next-gen port for Xbox Series X and PS5. That will ensure a steady 60fps with faster loading times and ray tracing.
The second part is an updated PC version. That will feature new DLC inspired by the Netflix show. For instance, you'll be able to wear the armor Geralt uses in the Netflix series.
Secretlab Witcher Gaming Chairs
When Witcher 3 Complete Edition releases, it's likely to entice three types of gamers. Newbies will find it a great introduction to immersive open-world role-playing games. It's beginner-friendly, with a rich story and lush visuals. a deep game with a great story and lush visuals,
Long-time console fans will be able to relive the game with greater visual glory. As well, PC gamers can enjoy a refreshed experience with some new DLC tweaks.
In all cases, a Secretlab Witcher 3 gaming chair can sweeten your experience. Witcher 3 gaming chairs come clad in stealthy brown leatherette. As with all SL video game designs, there are plenty of embellishments.
Copper-colored diamond-pattern side wings recall Geralt's armor. An embroidered Witcher Wolf emblem decorates the front of the chair. On the back are his two swords set against a crimson swirl.
Available from Secretlab in North America, the EU and UK, Australia, New Zealand, Singapore, and Malaysia.
Conclusion
Moving into 2022, Secretlab dominates the licensed video game chair scene. Those wanting brand variety can also look to DXRacer and Noblechairs for alternative takes. As the year unfolds, all three brands will likely release fresh crossover video game designs.
For the moment, these are the most notable chairs tied to 2022 game releases:
To check out all licensed video game chairs, see this: