Sidiz is a furniture design company headquartered in South Korea. In the chair business since 1987, the company released the Sidiz T50 ergonomic chair in 2013. Over the years, it won several awards but had only been available for sale in Korea. Recently, that changed. This article reviews the Sidiz T50, now available for sale in America.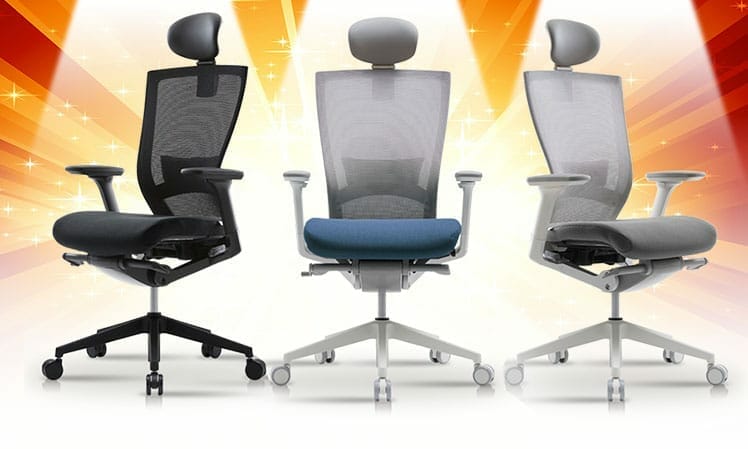 Among office-style ergonomic chairs, there are three price classes. In the top tier are pricey Herman Miller, Steelcase, and other models costing over $1000. Those models offer the most robust ergonomic and longest warranties in the industry.
The next price tier down offers mid-range chairs for between $350 to $600. Among the best chairs in this class, we rank the Sidiz T50 third. It's one of the cheapest models, but also one of the most full-featured.
The T50 chair comes with a white frame and grey seat (above). You can also choose a white frame with blue seat. There's also a black frame model with black seat.
Sidiz T50 ergonomic chair review
This section explores the features, dimensions, and value for money offered by the Sidiz T50.
Chair features
In the Sidiz South Korea store, the T50 comes in several variations. There are both black and white frame models with various seat colors. You can also choose with or without a headrest and/ or lumbar support.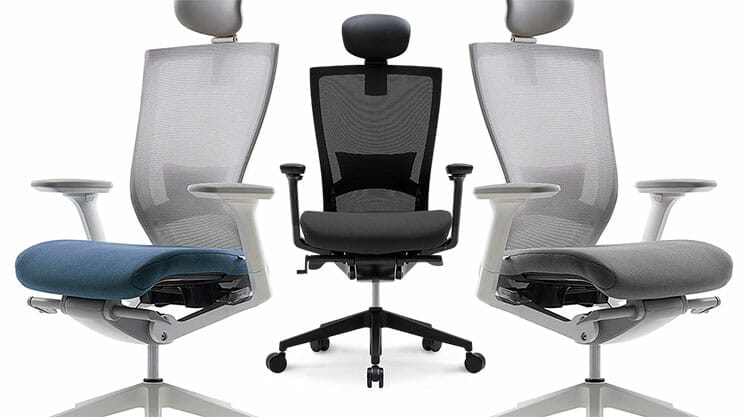 On Amazon, the buying process is a lot simpler. All Amazon models come fully-loaded with a headrest and adjustable seat support. However, Amazon only offers three style options at present.
Here are some highlight ergonomic features, followed by a summary of all features:
Summary of Sidiz T50 features:
There are few chairs on the market offering such rich ergonomic features for so little money. For example, luxury task chairs come with a feature called synchro-tilt. That automatically tilts the seat as you recline in the chair.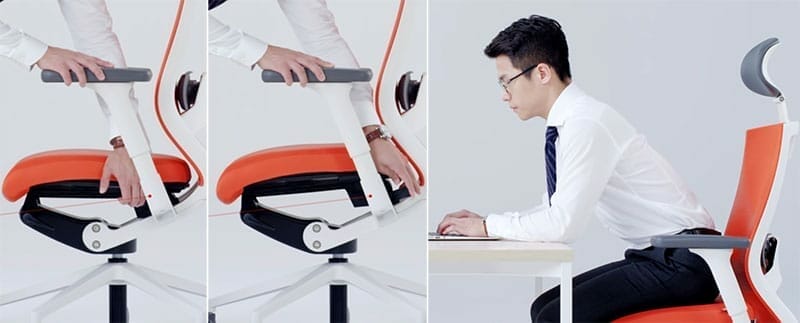 Instead of a pricey sync-tilt, the T50 comes with a manual seat slope adjustment. That lets you angle the seat down to better support forward-leaning postures. It's a nice touch very useful for FPS gamers and others who lean forward during intense computing.
Backrest: recline and lock in five positions (90, 96, 103, 109, or 115 degrees).
Lumbar support: height and depth adjustable.
Headrest: height and depth-adjustable.
Upholstery: breathable mesh backrest; fabric padded seat.
Seat: you can adjust the height, depth, and seat slope.
Armrests: 3D adjustable (up/down, forward/back, angled left or right)
Warranty: 30-day money back guarantee; 3-year warranty.
Another impressive notable is the 5-degree backrest tilt. Some other chairs in this price range only offer a 3-position lock. Within the 90-115˚ range, you get five viable upright working positions.
All five positions provide support for upright working postures. Moving through the ranges while you sit will keep the body active, boost circulation, and increase energy levels.
On the downside, the T50 doesn't recline deep enough for napping. If you need this chair for productivity, that shouldn't be a problem.
The T50 chair comes with a white frame and grey seat (above). You can also choose a white frame with blue seat. There's also a black frame model with black seat.
T50 chair dimensions
The T50 has a flat, wide seat, with 26.5″ of space between the armrests. That provides a decent fit for both slim figures and wide ones.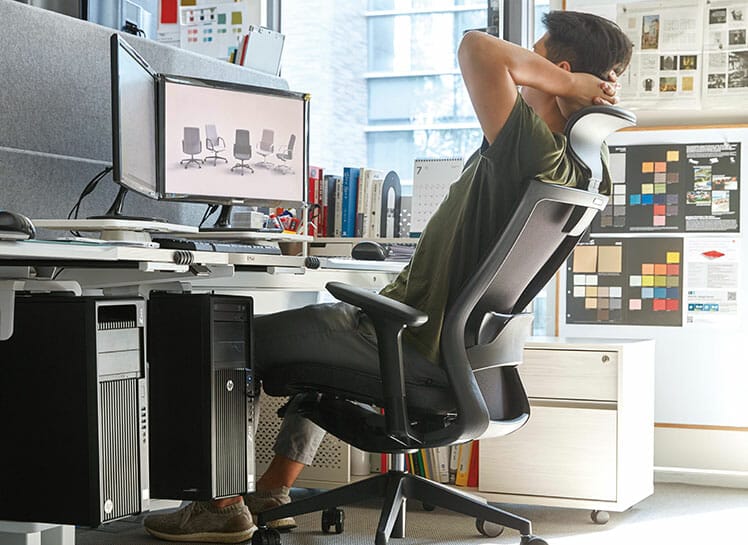 Because the lumbar and headrest are both height-adjustable, the T50 also caters to both small users and those of average height.
Seat width x depth: 19.9″ (W) x 18.9″ to 21.6″ (D)
Backrest width x height: 19.1″ (W) x 20.5″ (H)
Seat height: 18.1-21.5″
Headrest height range: 7.2-9.6″
Lumbar support height range: 4.7-6.7″ (from the seatbase)
Armrest height range: 5.8-7.9″
T50 chair size rating: 5'3″ to 6'0″; up to 300 pounds
Warranty and after-care
In America, Sidiz runs an informational website, while managing all sales via Amazon. On the Sidiz USA customer service page, it states a 3-year warranty, plus a 30-day money-back guarantee.
The page also provides a link for after-care via Amazon's seller messaging service. If you have questions before buying, there's also an email address you can use.
Sidiz T50 alternatives
Sidiz T80
The only feature missing in the T50 kit is a synchronous-tilt mechanism. That automatically tilts the seat up as the user leans back in the chair. It's a nice luxury that adds extra movement to the hips while sitting.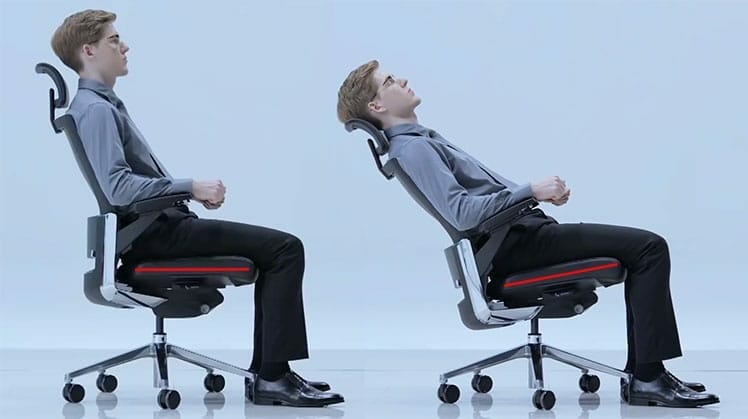 The Sidiz T80 is a luxury version of the T50 chair. It has similar features, a more refined design, and a sync-tilt feature.
Its seat pan angle has a 1° range; the backrest reclines from 90° to 114°. As you lean back, the seat tilts upward, angling the alignment of your hips.
The T80 chair costs $689.00 on Amazon. Learn more in this detailed chair review:
Other mid-range ergonomic chairs
The best mid-range ergonomic task chairs on the market cost between $350 to $600. Among those, the T50 ranks are the third-best, despite being one of the cheapest.
The top-ranking Neue Chair beats the T50 with nice luxury extras but costs $509. The second-ranked Steelcase Jack ($400) also beats the T50 with slightly better features and a longer warranty. On the downside, the Jack chair's plain, old-school design pales compared to the modern T50 style.
Check out all models with comparable features in this review:
Conclusion
Since its 2013 debut, the T50 has won several design awards and sold over 1.6 million units. However, most of those sales were in Korea and Japan.
Now that Sidiz has focused on sales in America, expect T50 chair popularity to spread. Among all mid-range ergonomic chairs, the T50 is near-perfection. It has all the features you need to support healthy sitting. It's also stylish and very comfortable. Plus, you get a 3-year warranty with superb after-care support.
On top of everything else, the T50 is one of the cheapest models in its price class. The bottom line is that the Sidiz T50 is an excellent ergonomic chair offering fantastic value for money.
The T50 chair comes with a white frame and grey seat (above). You can also choose a white frame with blue seat. There's also a black frame model with black seat.