These days, a normal-sized adult is one shorter than 6'1″ (185 cm) with a body mass index (BMI) under 25. People who are taller or heavier suffer unique musculoskeletal challenges. For instance, both are more likely to suffer from lower back pain than 'average sizes'. Therefore, one's body type should be considered as they shop for ergonomic seating. Which type of chair is best for your body type? Here are the ergonomic seating challenges — and solutions — for overweight, obese, tall, and big & tall sizes.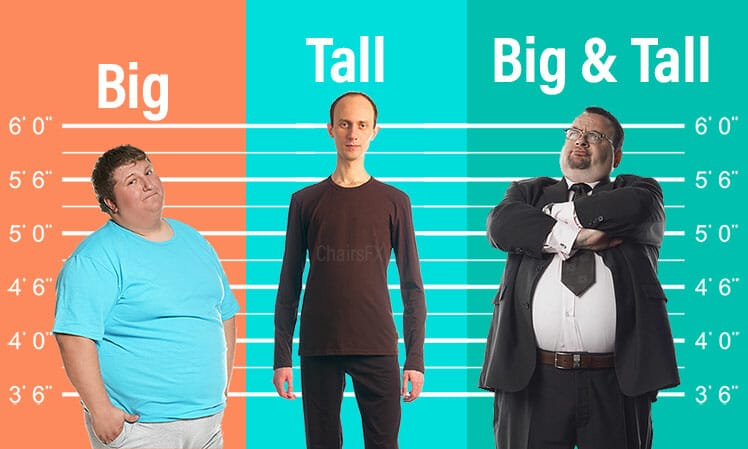 The point of an ergonomic chair is to support good posture while sitting for long periods. Adjustable lumbar support keeps the spine in alignment. Then, adjustable armrests provide extra bracing to hold the spine up against gravity.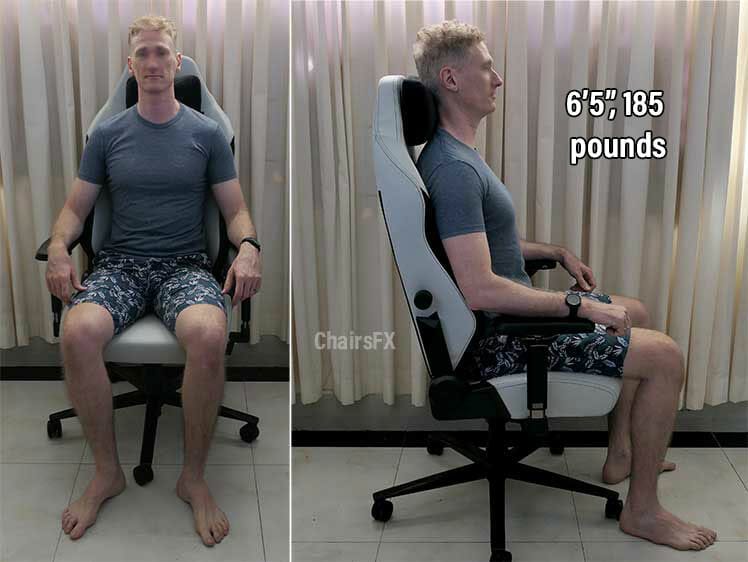 Feet planted firmly on the floor completes the trifecta. That aligns a seated body into healthy neutral sitting posture. For best results, it's important to choose the right type of ergonomic chair, and also the right size.
The two types are mid-back office chairs and full-back gaming chairs. Both offer 'big and tall' seating options.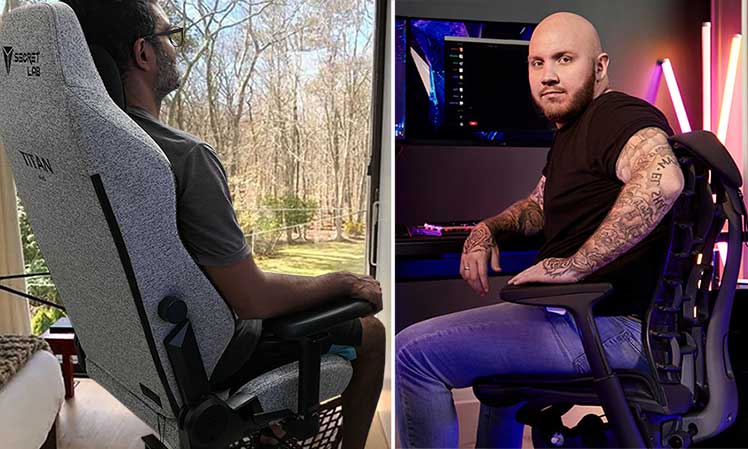 However, 'big and tall' can refer to three very different body types: big, tall, or big and tall. Each type has unique musculoskeletal challenges. Understanding these will likely have an impact on your choice of ergonomic seating.
Global Big & Tall Size Averages
Most chair manufacturers build their chairs roughly around global size averages:
Tall: men 6'1″ and women 5'7″ are considered taller than normal people.
Big: refers to body weight. A body mass index (BMI) over 25 is overweight; over 30 is obese.
Big and tall: a person taller than 6'1″ with a BMI greater than 25.
Big & Tall Musculoskeletal Challenges
Modern desk workers of all sizes face the same battery of musculoskeletal challenges. These can be overcome with proper usage of ergonomic equipment.
Failure to address each problem will worsen misalignments. That will increase the severity of long-term outcomes:
Unsupported sitting = tight lower back.
Excessive phone use = hyper-extended neck.
Tight back + tilted neck = anterior pelvic tilt.
Misaligned spine = chronic pain and limited mobility.
Sedentary lifestyle = weight gain, depression, and serious diseases.
Taller people and bigger people both face additional challenges — on top of the ones above.
Best Big And Tall Ergonomic Seating
The previous section clarified the unique musculoskeletal challenges faced by big people and tall ones. This section matches different XL sizes with different ergonomic seating types. The two options are mid-back office-style chairs or full-back racing-style ones.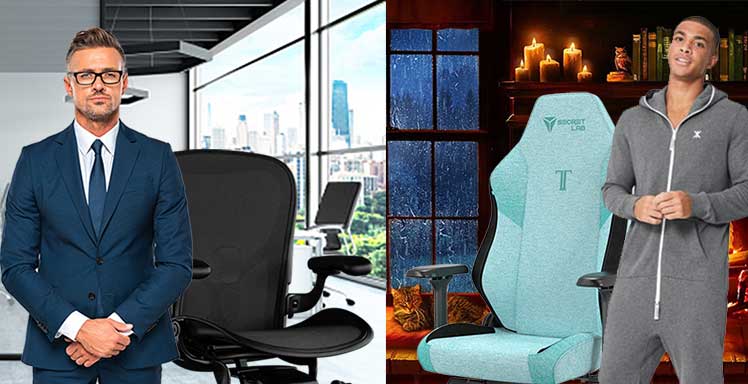 What's the difference? The former provides better physiological support by forcing users into upright postures at all times. That's a nice fit for shift-style office work.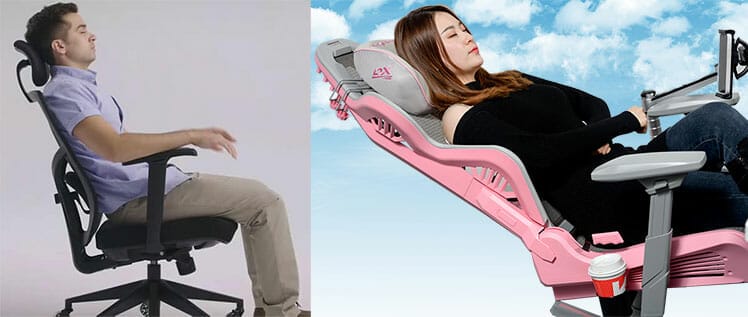 The latter supports upright postures plus casual ones. That's a better choice for all-day sitting support. Beyond deskwork, a gaming chair also provides support for chilling out, watching movies, or even napping!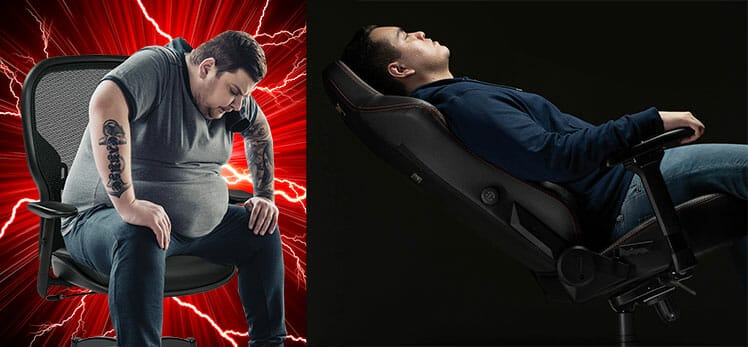 These extras are especially useful for the obese. Mid-back chairs force users to sit upright at all times. Those who struggle to do so can instead use a gaming chair. With a backrest recline of 110° or more, gravity holds the spine in place — while giving back muscles a rest.
Gaming Vs Office Chair Comfort Factors
Concluding Advice For XL Sizes
Overweight, obese, tall, and big and tall sizes each have unique musculoskeletal challenges. Each should factor these in while choosing the perfect ergonomic chair for their needs.
Overweight (under 6'1″ with a BMI over 25): no unique challenges except for thickness. To ensure enough space, choose a chair with flat (not bladed) seat edges.
Obese (shorter than 6'1″ with a BMI greater than 30): often suffer from weak joints, chronic pain, and sore feet. Full-back gaming chairs provide easier, gentler posture rehabilitation.
Tall (6'1″ or taller with a BMI under 25): vulnerable to a forward neck tilt and slouched posture. Beyond a good chair, a height-adjustable desk set to 32″ high or more will help to remedy that.
Big and tall (6'1″ or taller with a BMI over 25): suffers from chronic pain, slouching, sore feet, and weak joints. Choose whichever seating type best fits your size.
After Deciding On A Chair
Studies have shown that many professionals struggle when working from home (WFH) for two reasons. First is a lack of ergonomic equipment. Second is sloppy usage habits.
Therefore, after deciding on a chair, make sure to address both issues. First, beyond a good chair and desk, an external screen, mouse, and keyboard will help to prevent a forward head tilt.

Then, make it a point to use your ergonomic gear properly. That means sitting in neutral postures, taking movement breaks, and getting in some exercise. That leads to this trajectory:
Improved posture: an ergonomic setup used properly will help you to develop an aligned, healthy spine.
More energy: good posture relieves muscular stress. That leaves tons of excess energy for other endeavors.
Improved focus: when the body is comfortable and rested, the brain gets more power to play with.
Then, expect bonus surprises. These include weight loss, supercharged motivation, and greater well-being. Learn more:
WFH Setup Guide For Ergonomic Beginners
Footnotes