The Secretlab Titan Evo is widely-regarded as one of the best gaming chairs in the world. Beyond its technical supremacy, it also boasts the widest array of available styles. In 2023, Secretlab's design team raised its game to a higher level. The result has been a kaleidoscopic blur of dazzling Titan designs. This article recaps the most beautiful Titan Evo designs released in 2023.
There are now over sixty different Titan Evo gaming chair styles. In 2023, seventeen new designs were added — so far. Here is a summary of my subjective favorite releases:
| | |
| --- | --- |
| Model | Details (available in medium and XL sizes only) |
| | A regal tribute to the charismatic League of Legends assassin. Royal purple accents, golden side panels, and stunning embroidered detailing. |
| | Choose the teal Jett, dark Valorant, or rich purple Reyna editions. Then, stack it with an array of Valorant accessories. |
| | Defend humanity from demons with anime-inspired gaming chairs. Distinctive colors, patterns, and weapons pay tribute to 5 popular Demon Slayer characters. |
| | Who will you fight for? You can bask in the light of the High Heavens with stark white Inarius. Or, you can bow to the image of Lilith, in dark leatherette with blood-red suede accents. |
| | Join the Empire and command your galaxy atop the dark Empire edition. Or, choose the stark, monochromatic Stormtrooper edition. Both come with textured side panel ribbing and intricate embroidery. |
Best Titan Evo Gaming Chair Styles 2023
My picks cover thirteen Titan Evo gaming chairs spanning five collections:
League of Legends Jhin Edition
Jhin is a meticulous assassin who believes murder is art. Using his steel cane/ gun as his paintbrush, he creates works of artistic brutality. Secretlab captures this gruesome theater with his pistol embroidered on the backrest.
The front of the chair shows off the theater mask he wears while on the job. Golden side panels and suede scarlet wings reflect his assassin's garb.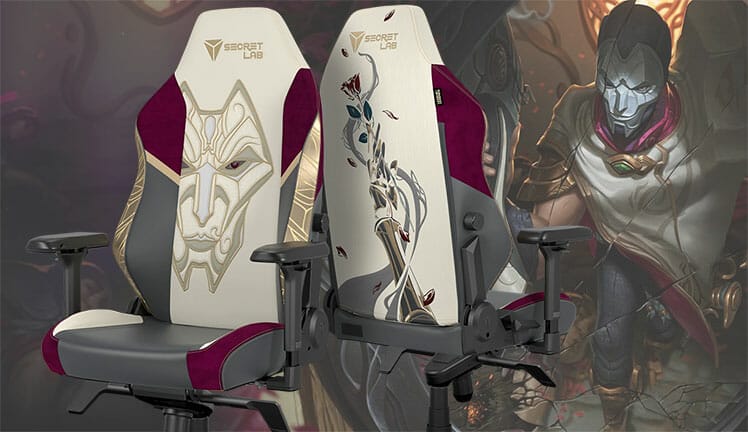 Verdict: despite the murderous lore, the color combinations and backrest artwork give this chair a deeply romantic feel. It's a perfect Valentine's gift for your loved one.
The Jhin edition is also available in an XL size for $674.
Valorant Collection (3 Styles)
Valorant's unique story, vibrant characters, and unique FPS gameplay have made it a huge hit. Secretlab gets in on the action with a trio of Valorant gaming chairs.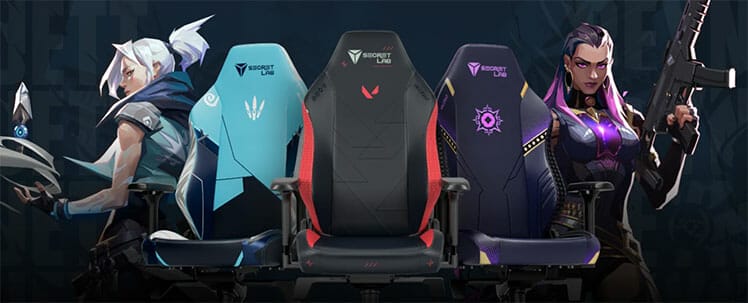 There's a teal Jett edition, a dark Valorant one, and a stunning Reyna edition. Beyond chairs, Secretlab also offers Valorant-themed lumbar pillows.
The Titan Evo comes with a superb 4-way adjustable integrated lumbar. These pillows work as an alternative form of (very comfortable) support.
Beyond chairs and pillows, Secretlab also offers Valorant desk mats for the Magnus Pro desk. To browse all Valorant-themed gear, click the button:
Valorant Gear in the Secretlab Store
Medium-sized Valorant chairs cost $624; XL versions cost $674.
Demon Slayer Collection (5 Styles)
The Secretlab Demon Slayer Collection features five exclusive variants. Each includes fan-favorite elements from the series that bring the lore to life. The collection includes four Softweave fabric designs and one leatherette edition.
The Giyu edition is the lone leatherette chair in the mix. It stands out with a temperature-sensitive sword on the front side. When not in use, the sword's blade is white. When in contact with your back's body heat, it turns blue.
There are also four Demon Slayer Softweave chairs. My favorite of the four is the pink Nezuko edition. Like the others, this model captures the character's lore with rich detailing.
Look closely and you'll find Nezuko's bamboo muzzle, her checkered hana obi, and her kimono's hemp leaf patterns.
Demon Slayer chairs in the Secretlab Store
Medium-sized Demon Slayer chairs cost $624; XL versions cost $674.
Diablo IV Collection (2 Styles)
These two chairs take you from the depths of the Burning Hells to the purifying light of the High Heavens. Choose your place in the Eternal Conflict.

Bask in the light with the Inarius edition's golden wrap around wings. If you're feeling edgier, bow to Lilith in dark leatherette with blood-red accents.
Verdict: even if you know nothing about Diablo lore, both provide a sharp contrast of uplifting versus sinister dynamics. If looking for either vibe in your workspace, Diablo IV chairs are ideal.
Diablo chairs are also available in XL sizes for $674.
Star Wars Collection (2 Styles)
Secretlab's Imperial Collection pays tribute to the dark side of the force with a pair of striking leatherette chairs.
The ominous black-and-red Empire edition takes inspiration from Darth Vader. The Imperial crest takes center stage on the chair. Textured ribbing on the back end reflects Darth Vader's armor.
The Stormtrooper chair comes in white leatherette with black textured ribbing on the side wings. This mimics the white plastoid plates that the soldiers wear over a black body glove.
Star Wars medium editions $624
Star Wars chairs are also available in small ($624) and XL sizes ($674).
Is the Titan Evo Worth The Investment?
This article summarizes 13 of the most attractive Titan Evo gaming chair styles released in 2023. Despite the aesthetic appeal of each one, beauty is only skin deep. Under the skin, the Titan is legit.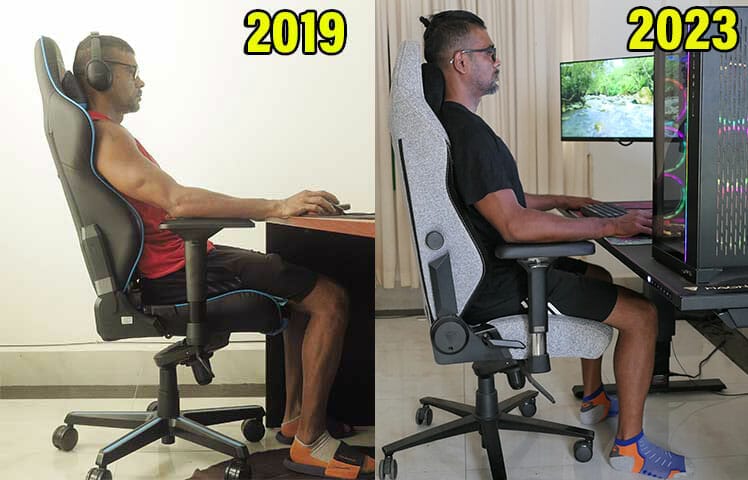 I've been using Titan Evo chairs for full-time work for almost two years now. While all gaming chairs are capable of supporting good posture, the Titan Evo does everything better.
In my experience, there are three functional highlights. The first is the backrest support. That's made up of a 4-way adjustable integrated lumbar, plus a strapless magnetic headrest.
The other is the Titan's firm 65 kg/m³. Although some complain it's too firm, the stability it provides is superb. What's more, it only takes a few days of practice to adjust to the padding density.
Titan 2022
Small
Medium
XL
Size Rating
4'11" to 5'6″; 285 pounds
5'7″ to 6'2″; 285 pounds
5'11" to 6'9″; 395 pounds
Seat
17.7″ (W) x

18.9″ (D)

18.5″ (W) x

19.3″ (D)

19.3″ (W) x

19.7″ (D)

Backrest
20″ (W) x 32.3″ (H)
21″ (W) x 33.5″ (H)
22″ (W) x 35″ (H)
Seat Height
17.7″ to 20.5″
17.7″ to 20.5″
18.1″ to 21.9″
Price
$549
$549
$599
Titan Evo User Guides
Over my two years of using Titan Evo chairs, I've also written up several user guides. Here are the most important ones for first-time Titan users:
Trending Titan Evo Accessories
Beyond the Titan, Secretlab also offers the Magnus Pro sit-to-stand desk, Cloudswap armrest caps, footrests, and lumbar pillows.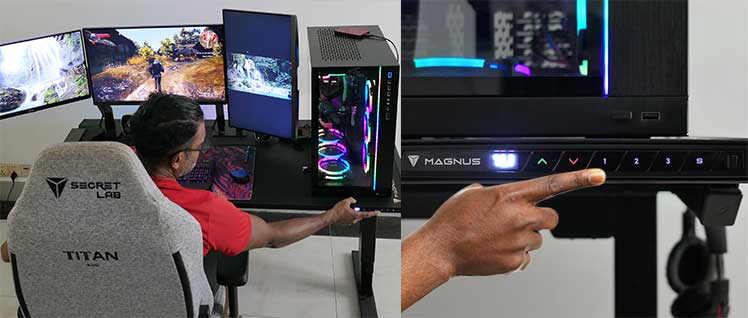 Here at ChairsFX, I've done hands-on tests of most Secretlab accessories. One of this year's newest editions that I haven't yet tested is Secretlab skins.
These are styled slipcovers for Titan Evo chairs. At present, there are 24 different skins available in the Secretlab Store. The collection includes several standard Softweave skins.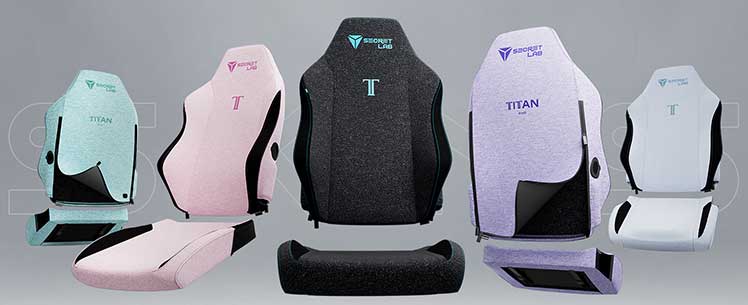 There are also a handful of themed skins. These are easy to add and remove from your chair — and also machine-washable. That gives you the luxury of having two looks with one chair!
Skins cost $169 for standard designs and $199 for special editions. Browse them all in the Secretlab Store:
Browse All Skins In The SL Store
Learn more: Summary of All Secretlab Titan Accessories
Recap: Best Titan Evo Styles 2023
So far, Secretlab has added seventeen new Titan Evo styles in 2023. My picks span five collections and include thirteen chairs. Recap: