Every ergonomic chair is designed to support good sitting posture while desktop computing. But institutional design guidelines now prioritize multi-device (PC and mobile) support. On the mobile support front, the best Herman Miller and Steelcase chairs fall short of optimal. That's not likely to change. Instead, proper multi-device support will need a good chair + a sit-to-stand desk. Proof: a hands-on look at the mobile support offered by the top ergonomic chairs.
Most people use mobile devices with a severe forward head tilt. As mobile computing times keep rising, solving this problem has become more pressing.
That's why the Handbook of Human Factors and Ergonomics (HFE) now touts multi-device support as the primary design challenge of this era. Its late 2021 5th edition brought the mobile support problem to the forefront.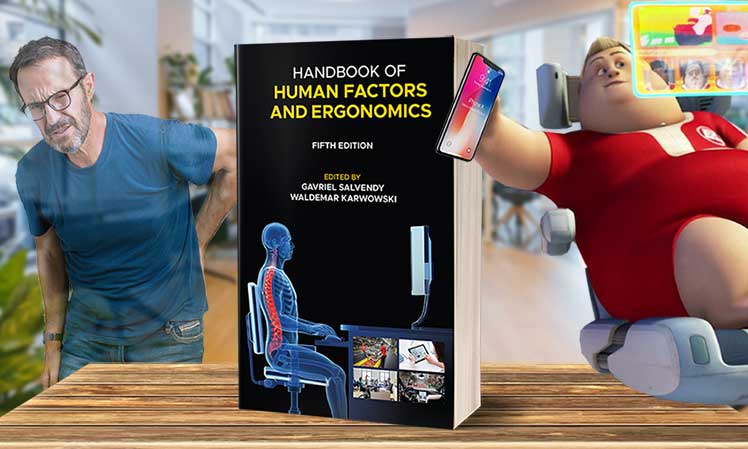 Good back support becomes a foundational priority. Also in late 2021, a Thai research team worked out an optimal mobile computing posture.
With a supported 30° elbow bend and braced chin, users can maintain a clean 0° neck tilt — without muscle strain. That prevents a kyphotic slumping of the upper spine.
At present, the Steelcase Gesture (released in 2013) is the only model hyped as fully-mobile compliant. But against modern benchmarks, its armrest max height of 11.5″ doesn't prevent a bent neck posture (for my 5'9″/ 177 cm size).
Other models with shorter armrest ranges provide even less effective mobile support.
Ergo Chair Vs Standing Desk Mobile
The best chairs from Steelcase and Herman Miller represent the peak of the ergonomic seating industry. On paper, the Steelcase Gesture is supposedly the 'best' at supporting mobile computing. In practice, it's a different story.
Steelcase Mobile Support Tests
The best Steelcase chairs all have armrests that adjust at least 11″ high above the seat. That range is the industry's best (among the elite ergo chair brands).
| | | | | |
| --- | --- | --- | --- | --- |
| Model & Type | Height Range | Width Range | Arm Cap Pivot | Amazon price |
| Gesture; 4D | 7.25-11.5″ | 10.25-22.5″ | 360° rotation | $1,076.25 |
| Leap; 4D | 7-11″ | 12.75-20″ | 30° pivot | $1,039.20 |
| Think; 4D | 7-11″ | 14-21.25″ | 30° | $993.00 |
| Series 1; 4D | 6.5-11″ | 2″ lateral range per cap | 40° | $448.20 |
Gesture
The Gesture has the most 'advanced' mobile-support arms in the business. They have the largest height adjustment range: from 7.25-11.5″ above the seat. They also have full 360° rotating functionality.
Even so, the industry's best mobile armrests provide toy-like support when compared to a sit-to-stand desk. The 11.5″ height-adjustment range isn't high enough to raise a device to eye level.
That exposes the text neck syndrome problem in a nutshell. Excessive mobile computing with a tilted neck causes kyphosis. That excessive rounding of the upper spine inevitably manifests as upper back, neck, and shoulder pain.
Leap
The Gesture's arms adjust from 7.25-11.5″ above the seat. All other Steelcase models (including the Leap) have a max height range of 11″. Also, instead of 360° rotating arms, the other models offer smaller rotations:
| | | | | |
| --- | --- | --- | --- | --- |
| Model & Type | Height Range | Width Range | Arm Cap Pivot | Amazon Price |
| Gesture; 4D | 7.25-11.5″ | 10.25-22.5″ | 360° rotation | $1,076.25 |
| Leap; 4D | 7-11″ | 12.75-20″ | 30° pivot | $1,039.20 |
Based on the numbers, the Leap provides slightly inferior mobile support than the Gesture. In practice, its 30° pivot range feels sufficient. On the flip side, its 11″ armrest height range isn't enough to support long mobile computing sessions.
Bottom line: the Leap chair's 7-11″ height adjustment range is enough to support short periods of mobile computing. But for longer periods, the 11″ height limit will encourage a forward-tilted neck.
Think & Series 1 Chairs
| | | | | |
| --- | --- | --- | --- | --- |
| Model & Type | Height Range | Width Range | Arm Cap Pivot | Amazon Price |
| Leap; 4D | 7-11″ | 12.75-20″ | 30° pivot | $1,039.20 |
| Think; 4D | 7-11″ | 14-21.25″ | 30° | $993.00 |
| Series 1; 4D | 6.5-11″ | 2″ lateral range per cap | 40° | $448.20 |
Two of the cheapest chairs in the Steelcase collection offer similar mobile computing support as the pricey Leap and Gesture.
Like those models, the armrests support mobile computing for short periods only. Longer ones will tilt the head forward until upper body discomfort arises.
Herman Miller Mobile Support Tests
Surprisingly, none of Herman Miller's pricey luxury chairs support mobile computing as well as the Steelcase collection. For instance, the $1830 Embody has 2D arms with no pivoting ability.
Embody Vs Gesture
The Gesture's arms can adjust to 11.5″ above the seat. The Embody's are 2.75″ shorter, with a max height of 8.75″. Even so, it's easier to maintain a straight neck and upper back in an Embody!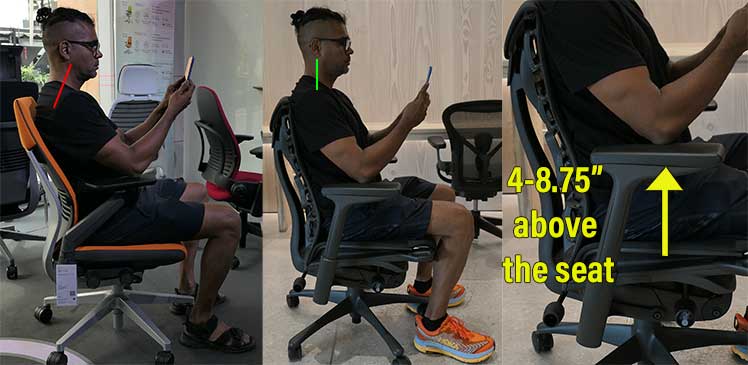 The Embody's secret is its back support concept. Using the Backfit dial, toggle the backrest angle until it cups your upper spine. Once you've got the angle dialed in, it works really well — it feels like your spine is floating!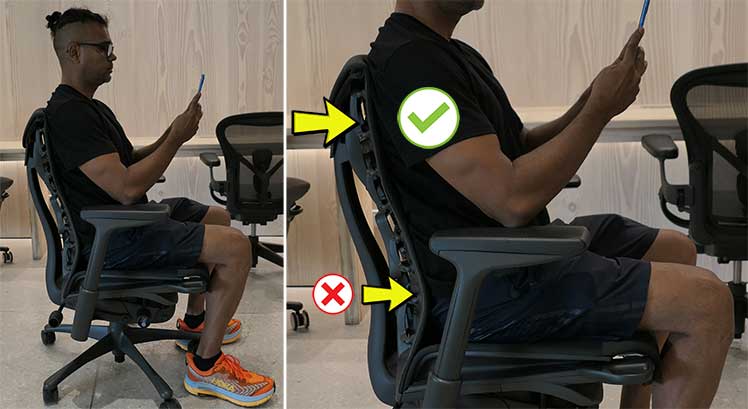 Even so, the Embody falls just short of perfect. That's because its built-in lumbar curve is set too low for most average sizes (like my 5'9″ 175 cm frame). Learn more:
Aeron Vs Embody
The first version of the Herman Miller Aeron was released in 1994. The modern-day Aeron Remastered landed in 2017. From the ground up, this is an old-school desktop computing chair.
The Aeron is not designed for mobile computing. In fact, I find that doing so is depressing. It makes the chair feel old — like a relic from a bygone era.
Circa 2023, it's a luxurious old-school desktop computing chair. Upgrades to fancier mobile armrests aren't likely.
Even so, stacking an Aeron with a Herman Miller Motia sit-to-stand desk will skyrocket its multi-device support to the cutting edge.
Mirra 2 and Sayle Chairs
Cheaper Herman Miller chairs don't cut back on armrests. In fact, both the Mirra 2 and Sayle chair armrests offer better adjustability than the Embody:
Here's a shot of the Embody set to a 94° recline vs a Mirra 2 (95° recline) and Sayle (101°). The Embody's upper back support gives it a clear edge in keeping the neck straight.
Even so, the cheaper variants do decent jobs as well. For short periods of light mobile computing, the Mirra 2 and Sayle work well enough.
Best Mobile Support = Chair + Standing Desk
To properly ward off text neck, none of the elite chair armrests provide sufficient armrest support. In contrast, any height-adjustable desk can provide first-rate mobile support.
Notably, all of the top brands also offer sit-to-stand desks. Therefore, those seeking complete multi-device support should look past chairs towards sit-to-stand desks.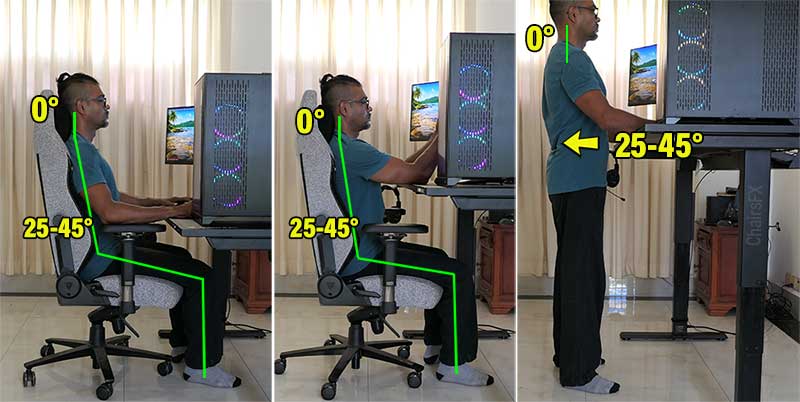 To validate this concept, I've been using a cutting-edge workstation (provided by my friends at Secretlab). I'm 5'9″ / 177 cm; I'm using the kit for multi-device purposes (I'm 5'9″ / 177 cm):
While using the kit, I've been applying the cookie-cutter esports performance model:
Frequent breaks to stand up and move.
Resistance and cardio training at the gym 4 x per week.
Clean eating and stable sleep habits.
Other Overhyped Features?
The Steelcase Gesture is widely hyped as the world's most advanced multi-device computing chair. Even so, its mobile support looks clumsy and toylike compared to an adjustable-height desk.
As this article shows, none of the elite chairs properly support mobile computing. Someone who buys a $1000+ chair based on marketing hype may be underwhelmed by the reality.
That made us wonder: what other pricey chair features provide more sizzle than actual value? Including fake mobile support hype, we found four:
Back support technologies have peaked: planted feet, tucked hips, and supported lumbar + arms at a 100° recline = neutral postures in any ergonomic chair.
Premium chair mobile support is outdated: the Steelcase Gesture is specially designed for mobile computing – but only by 2013 standards.
Synchronous tilt functionality is extraneous: pricey tilting functions pull you away from the keyboard. But frequent walking breaks are better movement boosters than syntho-sync-tilt.
Strict neutral postures are overkill? Herman Miller engineers and esports docs agree. Semi-neutral postures mixed with frequent breaks work well enough. Add gym time, sound sleep, and clean eating to supercharge.
To avoid getting blinded by the lights, bring yourself up to speed. Learn which 2000s-era ergo chair features hold genuine value in the modern computing landscape:
Conclusion
Most ergonomic chairs provide a similar, predictable level of back support. None (without a standing desk) is fully mobile-compliant. As well, fancy, complicated sync-tilt functions are extraneous.
Meanwhile, Herman Miller executives are now touting relaxed, semi-neutral postures. They're even on record claiming that existing Aeron and Embody users will need 'retraining'.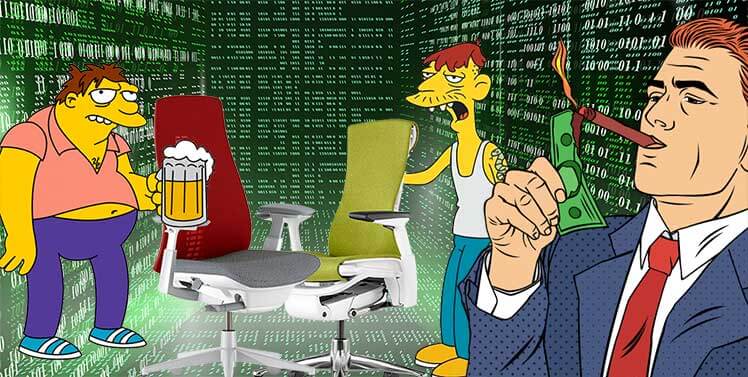 Thus, first-time ergonomic chair buyers are vulnerable to getting overwhelmed by a blur of fancy chair features and concepts.
That yields fat commissions for sales sharks, and possible disappointment for big-spending newbies expecting fireworks. Do you really need to spend $1800 to enjoy good back support?
Our updated review of the world's best chairs strips away the gimmicks. Laid bare, some models justify their high price tags with objective benefits. Review the best from Herman Miller, Steelcase, and Haworth. Which models offer justifiable value for money?