DXRacer began in 2001 as a car seat maker. In 2006, they released the world's first gaming chair. Since then, they have been one of the leading names in the industry. This DXRacer Racing Series review looks at their flagship chair. It's a classic racing style model used by more pro esports teams than any other gaming chair.
There are two classes of DXRacer Racing Series chairs.
Standard Racing Series chairs are for small sizes. These support users up to 5'8″ with a 200 pound weight limit. These are the cheapest models. All come with 3D adjustable armrests.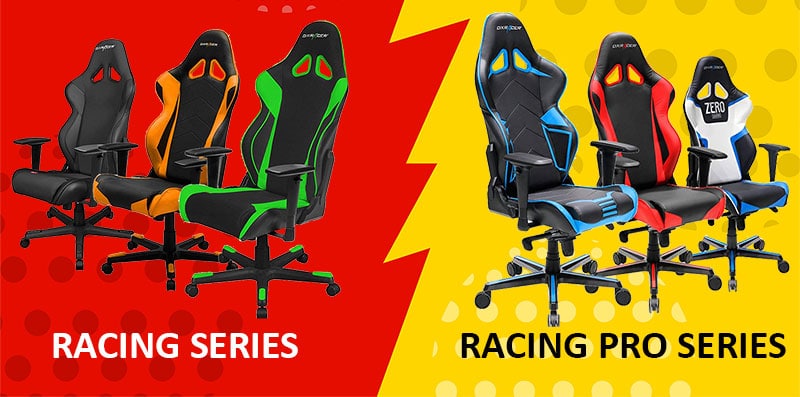 The Racing PRO Series chairs are a bit larger. They support users up to 6′ tall and up to 250 pounds. These models come with a full suite of pro features including 4D adjustable armrests.
DXRacer in esports
Esports refers to competitive video gaming tournaments. Some of the top esports games include Dota 2, League of Legends, CS:GO and Fortnite. Every year top esports players compete in these games for millions in prizes.
Most top players belong to teams. Among the top 50-earning teams, more use DXRacer chairs than any other brand. DXRacer partners include Fnatic, Ninjas in Pyjamas, Virtus.pro, and others.
That Racing Series chairs get used by so many pros is a testament to their quality. The purpose of pro chairs is to support a healthy sitting posture for long periods.
For example, during training, Fnatic's Dota 2 team plays at least eight hours per day. Team member Khoo "Ohaiyo" Chong Xin says that every player has a limit. At some point during the day, their gaming potency will peak. After that point, they will only play worse.
Prolonging peak potency is where DXRacer Racing Series chairs come in. As proven by the pros, these models support optimal sitting for long periods.
Instead of worrying about a sore back or tight muscles, these chairs help you focus on computing. That means longer periods of peak performance and greater productivity.
FEATURE: the Amazing Benefits of Gaming Chairs
DXRacer Racing Series overview
These chairs come in regular (consumer class) and PRO versions. Both have a slim fit like the Formula Series, with a taller backrest. All models come with high density foam padding, 135° recline and a 2-year warranty.
Many esports players rely on DXRacer Racing PRO Series chairs to maximize performance. That's because PRO chairs offer more options to adjust position while computing. Changing position increases blood flow. It also giving supporting muscles a rest by letting others take over.
These options help users maintain productivity over longer hours. For full-time computer users, that's the biggest benefit that PRO models provide.
Racing PRO Series models
These are professional class chairs with 4D armrests and a tilt lock. These extras help pros to maintain peak performance for longer periods. Whether you are a gamer or computer user, Racing PRO models are the best in the DXRacer product line.
Consumer Series models
Racing Series consumer models have 3D armrests, while PRO models have 4D. Consumer models also lack a tilt lock mechanism – that means you can only adjust the seat height, not the angle.
Racing Series consumer chairs are also a bit smaller than PRO Series chairs. These are compact models best suited to small sizes.
Racing Series buying advice
Thinking about buying a Racing Series gaming chair? This section will help you to make an informed buying decision.
Conclusion
DXRacer released the original racing style gaming chair in 2006. Today, they still produce racing style models as the most famous gaming chair brand in the world.
The Racing PRO Series is DXRacer's flagship gaming chair. It has the high-end features that pros need and hobbyists will appreciate.
Are you looking for a high-end ergonomic chair that supports full-time computing hours? Do it like the pros: buy a DXRacer Racing Series.