Shoring up posture habits in one area may expose poor ones in others. For example, I recently tested the feasibility of using a gaming chair with perfect neutral postures. The results have been great — during the day. But every morning, I woke up feeling stiffer than usual. That shed light on my very sloppy sleep habits. Luckily, these are easy to identify and fix. Here's a quick primer on healthy nighttime sleeping postures. Use these to enhance the daytime use of your gaming chair!
My recent conversion to mechanically-precise daytime posture exposed my unhealthy sleep habits. A textbook neutral sitting posture includes a 25-45° lower back curve and a 0° neck tilt.
This alignment exerts the least amount of stress on a seated spine. As such, widely accepted as the healthiest method for working or gaming at a computer.

But in a gaming chair, perfect neutral postures are optional. Many (including myself) prefer using relaxed ones. For instance, many accept a slight postural loss for the comfort of letting the neck roam freely.
But for the sake of science, I recently tried using a gaming chair with perfect biomechanics. I'm already used to sitting with a 25-45° lower back curve. With the help of three leading esports doctors, I locked down a 0° neck tilt as well.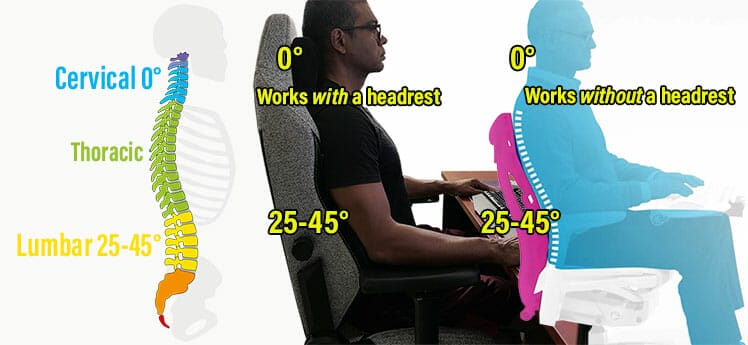 The first week of sitting that way was super-annoying — my head kept tilting forward. In week two, I felt mild pain as my stomach and upper back muscles opened up. By week three, I was sitting — and standing — taller. It felt great!
But in week four, I started waking up with severe tightness. Light yoga and perfect neutral sitting in my chair would loosen me. Every night, I'd go to sleep feeling aligned and lithe. But then each morning, everything was locked up again!
Sleep Posture Fundamentals
Achieving a 0° neck posture was a test of the muscle memory ergonomics concept. That is: people adopt poor postures because they've forgotten what healthy ones are.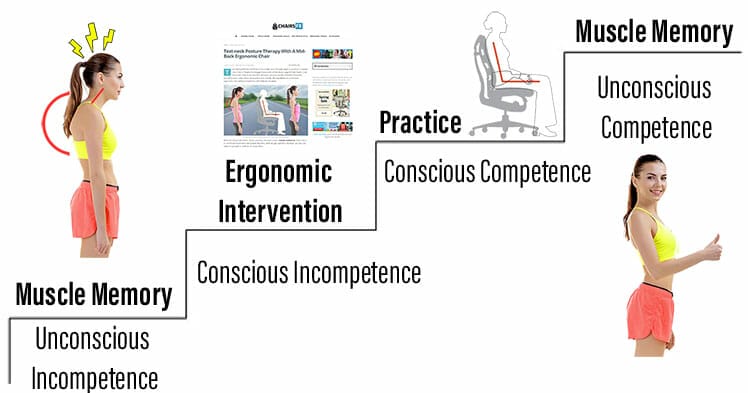 The solution: give the intellect clear targets to shoot for. With those, the mind can then train the body.
Recipe: Biomechanical Targets + Muscle Memory = Perfect Posture + Benefits
To address waking up stiff each morning, I rolled the dice on using this formula again. All I need to start with are clear biomechanical targets. These come perfectly laid out by a trio of doctors at the University of Rochester Medical Center(1).
Ergonomic Mattress May or May Not Help
The global mattress industry is worth over $80 billion, with around half of sales done online(2). As a result, the internet is filled with hypemen peddling pricey 'ergonomic' mattresses.
The Emma Motion Smart Bed is one of the fanciest mattresses marketed to esports players. It's a 'smart' mattress with a grid of AI sensors under the padding.
As the body moves during sleep, the sensors analyze data in real-time. Then, foam sections compress or expand to keep the spine balanced. A single-sized Emma Premium Mattress costs £399.50 (single-size) from the Emma website.
The king-sized version costs £649.50. Both come stacked with several layers of padding plus five CarbonFlex Springs. At present, Emma Motion mattresses are being used by Schalke 04 Esports. They're the gaming division of a German pro football team.
Benefits Not Supported By Clear Science
Famous ergonomist Dr. Alan Hedge lists very vague guidelines for choosing a mattress(3). He suggests that a good one should evenly distribute pressure and support your spine's natural curves.
The Rochester U guidelines confirm this. "Little scientific research exists on which mattress is best for back pain." Instead, "The mattress that's right for you lets you wake up feeling rested and free of pain or soreness."
Further, the key to good sleeping posture — on any type of mattress — is by using pillows to support your spine.
Best Posture To Sleep On Your Back
If you sleep on your back, place a small pillow under the back of your knees. That will reduce stress on your spine while supporting a healthy lower back curve.
At the same time, use a head pillow that cradles the natural curve of your neck, and your shoulders.
Best Posture To Sleep On Your Side
If you sleep on your side, place a firm pillow between your knees. Doing so will stop your upper leg from pulling your spine out of alignment. That, as a result, will reduce stress on your hips and lower back.
Try to position your knees up and slightly toward your chest. Then, your head pillow should keep your spine straight.
If you need more support, place a rolled towel or small pillow under your waist.
Best Posture To Sleep On Your Stomach
Sleeping on your stomach is the worst option. Doing so pushes the spine out of position. To ease that, place a flat pillow under your stomach and pelvis area.
To keep your neck aligned while on your stomach, use a very flat pillow. Better yet, sleep without a pillow!
Cervical Pillows Are Designed To Help
Good pillows are essential for good sleeping posture. The problem is that adhering to the suggested positions while sleeping is very difficult! As a result, I just ordered one of Amazon's top-rated cervical pillows.
The Elviros Cervical Foam Pillow comes with crazy-looking contours designed to support healthy sleeping postures. Three aspects piqued my interest. First, it supports healthy neck postures in stomach, back, and side sleeping positions!
Second, it's the top-rated model on Amazon, with over 26,000 positive ratings. Third, many of the reviews are glowing. Examples:
"I'm usually a side sleeper but with this pillow, I can actually sleep comfortably any way now!"
"It supported my neck just right with its shape. It even has crevices that allow your arms to go under for comfortable sleep."
"Since I have been using this pillow, I have not had the neck/shoulder pain I was experiencing prior."
I'll update this section once my pillow arrives. To learn more, check it out on Amazon:
Elviros Cervical Memory Foam Pillow $46.99
Check out all of Amazon's top-rated cervical pillows.
Conclusion
If you usually wake up feeling stiff, your sleeping posture might be off. That could impact your use of a gaming chair during the day.
Luckily, unhealthy sleep positions are easy to diagnose and fix. Whether you sleep on your side, back, or stomach, smart pillow placement will help.
Checking your sleep habits is one of many troubleshooting tips to consider. Others include improper chair sizing, improper chair usage, and unhealthy working habits.
For a full run through all possible pain problems, see this feature:
Troubleshooting: Why Does My Gaming Chair Hurt My Back?
Footnotes
Louise Cunningham RN BSN, Raymond Turley Jr PA-C, Thomas N Joseph MD. 'Good Sleeping Posture Helps Your Back', Health Encyclopedia. urmc.rochester.edu/encyclopedia, (accessed May 6 2022).
Laura Newcomer. 'The Mattress Industry is Evolving for the Future: Statistics and Trends', January 4, 2022. https://www.mattressclarity.com/news/mattress-industry-statistics/, (accessed May 6 2022).
Alan Hedge, PhD, CPE. 'Mattresses Matter: Ergonomic Guidelines', Sept. 17, 2017. https://www.spineuniverse.com/wellness/sleep/mattresses-matter-ergonomic-guidelines, (accessed May 6 2022).