Traditional office chairs are obsolete. Those have fixed components that force users into static sitting positions. In the computing era, people spend long periods engaged in screen-based sedentary time. Under those conditions, demand for ergonomic chairs has surged. Luckily for consumers, there are now three types of ergonomic office chairs to choose from.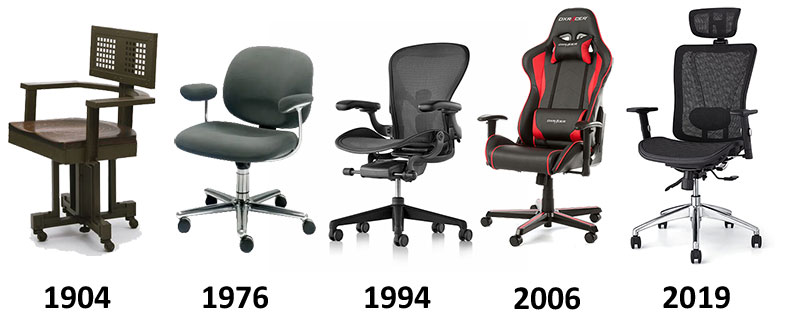 User-centered design (UCD) is a production process that focuses on the end user of the product. UCD design considers users, tasks, and environments. The goal is to address the entire user experience in the end product.
Ergonomic furniture design also follows the UCD approach. Humanscale defines ergonomics as designing for people. Ergonomic furniture is adjustable to the needs of the user. Good ergonomic design understands the user's needs. Then it fills those needs with adjustable features.
Per modern ergonomic seating standards, the point of adjustments is to promote good sitting posture and movement.
At present, the multi-billion dollar office industry is making a transition towards ergonomic, UCD designs. That's partly because enterprise demand for cheap office chairs has dried up in the lockdown era. Another reason is because of the rising popularity of ergonomic computing chairs.
Types of ergonomic office chairs
Today, there are three classes of ergonomic computing chairs to choose from. This section summarizes each one, starting with the most expensive option and ending with the cheapest.
Other types of computing chairs
There are two other types of computing chairs available. Both lack the essential ergonomic features demanded by most experts. Those features are:
Adjustable lumbar support
Adjustable armrests
Reclining backrest
Conclusion
Today, most experts lay out clear guidelines for ergonomic office chairs. These models should have an adjustable lumbar, adjustable armrests, and a reclining backrest.
That has been common knowledge among ergonomic experts for decades. OSHA (Occupational Safety and Health Administration) has similar standards for office chairs. They also demand that a chair has adjustable armrests, lumbar support, and a reclining backrest.
In our old, institutionalized world, seating in schools and offices was decided by corporate buyers. Ergonomics was never a factor. Instead, corporate buyers focused on price, durability, and style.
But now, 42% of the American labor force works from home. Many believe this trend is here to stay. For example, Stanford economist Nicholas Bloom says that once the pandemic passes, "…rates of people working from home will explode."
Work-from-home ergonomic chairs
In the work-from-home era, the institution no longer decides the working environment. People are free to choose the furniture that best suits their needs.
Luckily for consumers, there are now three types of ergonomic office chairs to choose from. Expect the selection of options to grow quickly over the next twelve months.