The work-from-home era made ergonomic seating ubiquitous. As a result, hundreds of new products have flooded the market. There are gaming chairs, ergonomic office chairs, and emerging gaming office hybrids. Making sense of it all can be confusing. To help, this article defines ergonomic seating standards for the modern era. Then it classifies all types of ergonomic seating into three easy-to-digest categories.
In the simplest terms, 'ergonomic' means 'adjustable'. Many regard Frank Lloyd Wright's 1938 office chair as the world's first ergonomic model. Its main adjustable quality was a foam cushion seat that compressed as the user sat down.
It wasn't until 1976 that the Herman Miller Ergon moved ergonomic seating forward. Eighteen years later, Herman Miller's Aeron ergonomic office chair landed in 1994.
The first gaming chair dropped in 2006. Last year, Cougar released a revolutionary gaming office hybrid. This year, the DXRacer Air takes the gaming office genre further with a modular hybrid concept.
Ergonomic industry in flux
When the pandemic struck, ergonomic seating because a red-hot global phenomenon. In 2020, the gaming chair industry enjoyed its most successful year ever.
At the same time, the multi-billion-dollar office chair industry saw its BSB client base collapse. To compensate, that juggernaut industry began focusing on direct client sales.
That brings us to 2021, where consumers face a dizzying array of ergonomic options. Swimming through all of the jargon can make it hard to choose wisely.
To address that knowledge gap, arm yourself with ergonomic fundamentals. That will allow you to make an informed purchase best-suited to your needs.
Ergonomic desk chair fundamentals
All ergonomic chairs on the market use the same features to support the same objectives. Here is a summary:
Dynamic neutral postures are healthiest
When a human sits down, the body distorts. In particular, the lower back curve flattens. That curves the upper back and rotates the hips forward.
Over time, sitting this way can cause serious health problems. Common posture-related ills include frequent migraines, chronic fatigue, constipation, and depression.
Most ergonomists agree that the best way to avoid problems is by using neutral sitting techniques.
Three chair components support neutral sitting
The point of any type of ergonomic chair is to support dynamic neutral sitting positions. A default neutral posture looks the same in all types of ergonomic chairs:

Key aspects:
Plant feet firmly on the floor. This provides the power to keep the back straight.
Adjust the seat height so the hips angle slightly higher than the knees. At the same time, the knees should bend at 90 degrees.
Rest your body weight into the chair's backrest. Your spine should be straight but relaxed.
To support sitting this way, all ergonomic chairs come standard with three essential features:
Here is the point of each feature. See this article for a more detailed explanation:
Adjustable lumbar: light pressure in the lower back reflexively keeps the upper back straight. Since all bodies are different, a lumbar should adjust to fit the individual (learn more).
Adjustable armrests: each human arm weighs around 10 pounds. Without support, that weight drags on the neck and shoulders, resulting in back pain. Armrests that can adjust to support the arms fix that problem.
Reclining backrest: a perfect sitting posture doesn't exist. In fact, sitting in any fixed position can overwork muscles and stress the spine. A reclining backrest addresses that by enabling movement while sitting.
Almost every feature beyond the three basics are luxuries, not necessities. How much you spend will depend on how much luxury you desire.
Ergonomic office chairs
Credit Herman Miller for starting the ergonomic office chair industry with its iconic Aeron chair in 1994. That model was such a hit that it spawned an entire industry of copycat designs.
| Type | Price range | Features |
| --- | --- | --- |
| Cheap ergo office chairs | Less than $300 | 1D armrests, adjustable lumbar, recline to 120 degrees, mesh upholstery. |
| Standard tilt task chairs | $300-$600 | Add 4D armrests and a 3-year warranty. |
| PC gaming chairs | | Premium models have 4D armrests, a multifunction tilt-lock, and 2-5 year warranty. |
| Sync-tilt task chairs | $600-$1500 | Add sync-tilt, ultra-adaptive backrests, and a 12-year warranty. |
Today, you can spend over $1000 for a genuine Herman Miller chair. There are also several Aeron knockoffs that cost under $250.
This section explains the key differences between price ranges.
Synchro-tilt task chairs ($600-$1000)
All models in the $600 to $1500+ range also offer synchronous tilt. That tilts the seat up as the user reclines. Beyond sync-tilt, most models at the higher end of this price range add two extras.
The first is an ultra-adaptive backrest. For example, the $1495 Herman Miller Embody has a responsive backrest that resembles a human spine. As the user moves, the entire backrest adapts to provide consistent support.
The second extra is a longer warranty. Most chairs that cost over $1000 usually come with a 12-year warranty or better.
The top models come from either Herman Miller or Steelcase. Slightly cheaper variations come from brands like Sidiz and Humanscale. Check out all of the best task chairs in the high-end price range:
Conventional tilt task chairs ($350-$600)
Price range: $359 to $799
A step down from synchro-tilt task chairs are conventional tilt models. Instead of sync-tilt functionality, these have seats that stay fixed at all times.
As well, instead of high-tech ultra-adaptive backrests, these models use conventional mesh. It works the same and the fancy stuff, but not as spectacularly.
The third big cutback is warranty protection. Most models in this price range come guaranteed for only 3-5 years.
By trimming out those luxuries, you get a high-end chair for half the price of a sync-tilt model. For example, the Sidiz T50 costs $358.58 on Amazon.
It comes with an adjustable lumbar and headrest, 3D armrests, and a 3-year warranty. It also has a downward sloping seat feature tailored to those who prefer leaning forward at a desk.
If looking for high-end features for reasonable prices, this category is for you:
Affordable ergonomic office chairs (under $350)
The cheap ergonomic office chair market is one of the fastest-growing sectors. Most models in this price range offer 1D armrests, adjustable lumbar support, and a 1-year warranty.
These models support neutral sitting positions as well as pricier chairs. On the downside, the comfort level is basic, not spectacular and luxurious. As well, most are only guaranteed for one year.
One of the cheapest options is the Staples Hyken ergonomic office chair ($176.41 on Amazon).
Like most models in this price range, it comes with 1D armrests and a 1-year warranty. If you're looking for solid back support on a budget, these models are ideal:
PC gaming chairs
Racing seat developer Recaro launched their first racing style ergonomic seat in 1967. That featured a body-hugging seat shell, adjustment options, and foam upholstery. In 2005, they revolutionized seating design with a new lightweight PU leather shell.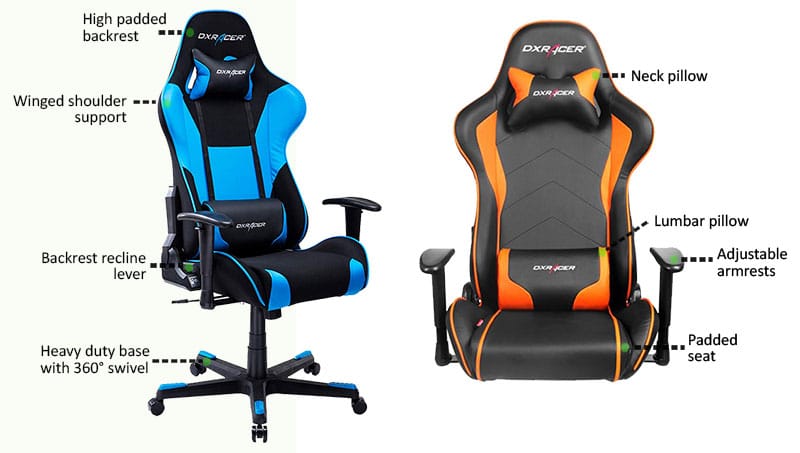 A year later, DXRacer stood on the shoulders of race car seat giants. They borrowed the rich ergonomic development and modified it for gamers.
Today, we can classify PC gaming chairs into three price categories:
| Type | Price range | Features |
| --- | --- | --- |
| Cheap | Under $200 | 1D armrests, recline to 180 degrees, 1-year warranty. |
| Mid-range | $200-$300 | Add 3D armrests and a 2-year warranty. |
| Premium | $300-$550 | Add 4D armrests, a multifunction tilt-lock, and a 2 to 5-year warranty. |
There's less variation between cheap, affordable, and premium gaming chairs. Paying more generally gets you slightly better adjustability and significantly better durability.
Cheap gaming chairs (under $200)
Cheap gaming chairs are best for small-sized part-time users. These models offer less adjustability than premium chairs and use lower-grade materials.
Used full-time, expect cheap gaming chairs to wear down fast. But as a part-time bedroom or gaming seat, these work a treat. They're cheap, effective, and comfortable enough to support a few hours of use per day.
One of the top models in this price class is the GTRacing Pro Series Red ($109.99 on Amazon).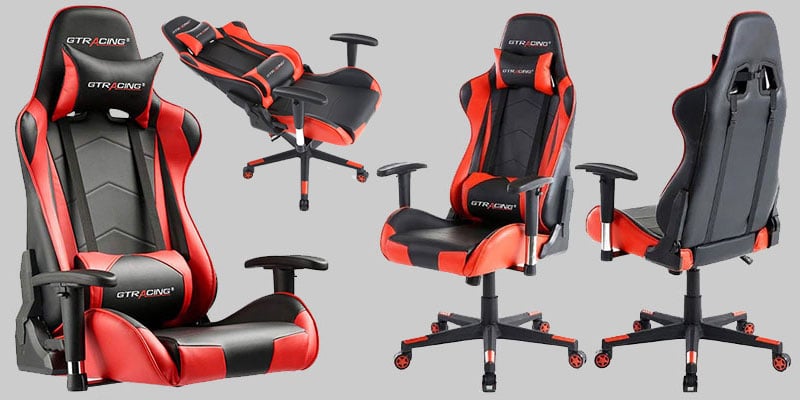 That model comes with 2D armrests and a 1-year warranty. Many comparable models exist with similar styling and features:
Affordable gaming chairs ($200-$300)
A small number of gaming chairs fit between premium and budget classes. Most models combine pro-tier features with cheap gaming chair durability.
For example, the Fantasylab 8331 chair costs Price not available on Amazon. It comes with 3D armrests, a multifunction tilt-lock, and support for 400 pounds. The reason it's so cheap is because it only comes with a 1-year warranty. If used full-time, it will likely degrade quickly.
Luckily, a few models in the sub-$300 price class come with 5-year guarantees. Check out all models in this review:
Premium gaming chairs (over $300)
These models are ideal for full-timers and power users. The best pro esports chairs have the richest ergonomic features.
Those come with 4D armrests and a multifunction tilt-lock. That lets you tilt and lock the seat at different angles. It's like a manual version of synchro-tilt.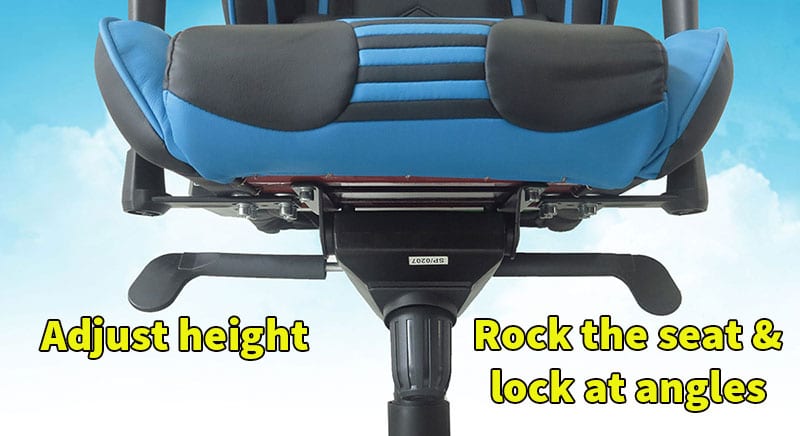 Higher-end models from brands like Secretlab and AKRacing also come with 5-year warranty protection.
Hybrid gaming office chairs
This is a recently-emerging ergonomic class. It fuses ergonomic office chair features with gaming chair concepts. The result is ergonomically sound and aesthetically striking.
At present, there are two noteworthy brands offering hybrid chairs. The most spectacular model in this genre is the DXRacer Air. This model is slated for release in July, 2021.
It has the frame of a gaming chair, the upholstery of a task chair, and a range of modular add-ons. You can add a footrest, laptop holder, or cup holder.
Luxury ergonomic brand Sidiz is also focused on the hybrid market. It recently released Iron Man and Captain America office chairs. Both blend traditional ergonomic features with gaming chair design elements.
Coming in June, the company will drop new Black Panther and Spider-Man T50 gaming chairs.
If you prefer ergonomic office chairs with flashier aesthetics, keep hybrid chairs in mind. Once this genre develops further, we'll write a comprehensive review.
Non-ergonomic computing chair types
There are two other types of computing chairs available. Both lack the essential ergonomic features offered by the other chairs. Those are:
Adjustable lumbar support
Adjustable armrests
Reclining backrest
Traditional office chairs ($70-$200)
Ergonomic scientists have long been pointing out office chair health hazards.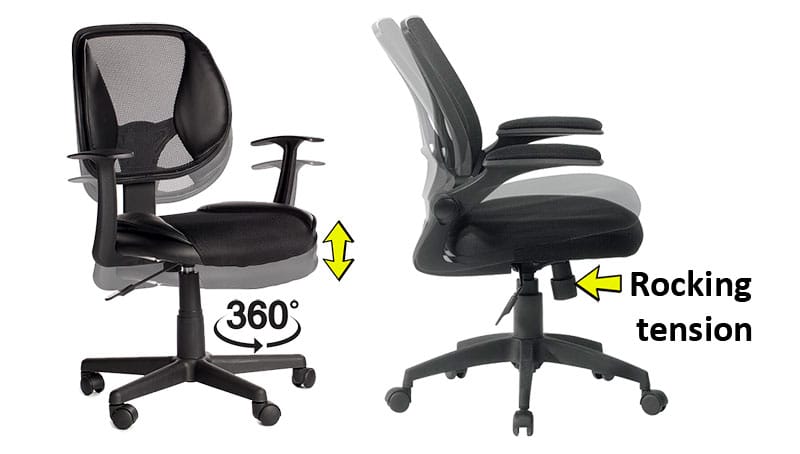 Traditional office chairs only let you adjust the seat height and rock the chair. They have fixed backrests and fixed armrests. These limited features promote static sitting positions.

The problem is that sitting for long periods in fixed positions is bad for your health. Sitting that way promotes muscle strain, slouching, slower circulation, and lethargy.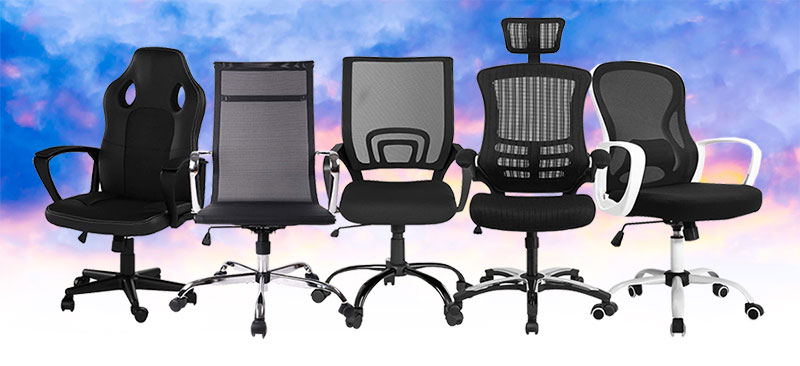 The attraction is the price. You can get a cheap office chair delivered to your door for less than $50. If you only need a seat for a few hours a day, these models might suffice.
Console gaming chairs ($100-$400)
Price range: $40 to $350
Console gaming units attach to televisions. Most users play console games in the living room. Usually, options while playing are to sit on the floor or on a sofa. Both of those options are bad for your back over long periods of gaming.
As a result, console gaming chairs arose as a popular living room option. These are better for your back than the floor or sofa, but not ideal. Over long periods of sitting, these chairs will flatten the lumbar area and curve the spine into the shape of a boiled shrimp.
On the positive side, they're cheap, portable, and better than sitting on the floor or sofa. There are four types of console gaming chairs to choose from. These are floor rockers, pedestal rockers, recliners, and racing simulators.
Conclusion
Today, most experts lay out clear guidelines for ergonomic office chairs. These models should have an adjustable lumbar, adjustable armrests, and a reclining backrest.
Luckily for consumers, there are now many types of ergonomic office chairs that meet the criteria. Expect the selection of options to grow quickly over the next twelve months.
When choosing a type, pay heed to its effect on your planned workspace. For a broader look at that aspect, check this feature: