Console gaming while sitting on the floor or sofa can be bad for your health. Console gaming chairs are a potential solution. Options include floor rockers, pedestal rockers, and gaming recliners. The problem is that most types of console gaming chairs are very bad for your back! Are there any console gaming chair types worth considering in 2022? This article investigates.
What are console gaming chairs?
Console gaming chairs are living room chairs designed for use while gaming in front of a TV. This section explains what need these chairs fill, and how they go about doing it.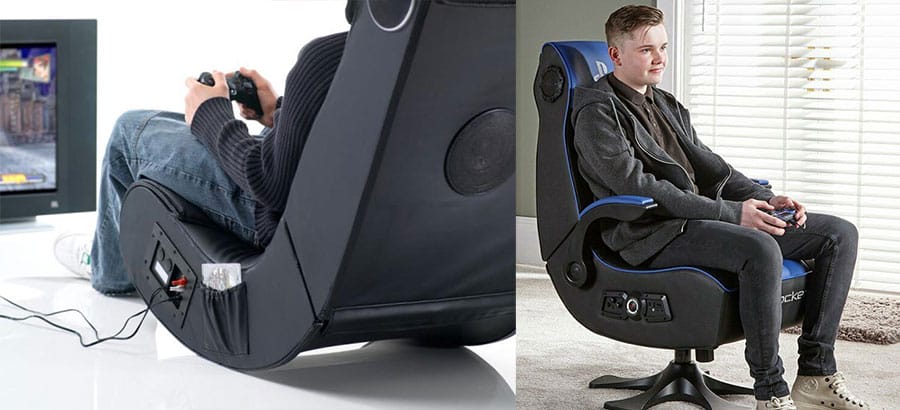 Sofa gaming posture problems
Sofas with thick, fluffy padding tend to more harmful than helpful for your back. When console gaming on a fluffy couch, your body gets very little support. As a result, it needs to expend more energy to hold itself upright. That places a lot of strain on your shoulders, neck and back muscles.
Consider the mechanics needed for console gaming on a sofa. Without adequate back support, the body burns energy to hold itself upright.
A 130 pound woman's spine needs to hold up 54 pounds while gaming on a sofa
As an example, 42% of a woman's body weight is the upper body (trunk, arms, head). A 130 pound woman's spine thus needs to hold up 54 pounds while slouched on the sofa gaming.
Add to that concentrated stress in the arms. Both limbs need to exert constant pressure to grip controllers and press buttons.

For most people, chronic gaming on the floor or sofa is harmful to health. Over time, muscle strain will degrade posture, tighten limbs and make sitting painful.
Console chairs for back support
A video game console is a gaming box that connects to a television. In 2019, around 60% of Americans played video games. Among adults, 49% gamed on dedicated gaming consoles. On average, adults spent around 12 hours gaming per week.
Gaming consoles connect to televisions. Most living rooms have sofas with a television as a centerpiece. The problem is that gaming 12 hours per week on a sofa can ruin your health.
This study found that the average adult in the UK spends 44 days (1,060 hours) sitting on the sofa each year. At the same time, 24% of Brits admit to suffering back pain every day.
Console chairs provide a solution for people used to gaming on the sofa in their living room. These support your back while you play games better than is sitting on a sofa or the floor.
Top consoles in America
This section looks at the console gaming market in America. These figures are helpful to understand console gamer habits and playing patterns.
Three consoles dominate the market, with Sony and Microsoft in a lengthy dogfight for top spot:
Xbox One: launched in 2013; 41 million units sold to date. Will be replaced by Xbox Scarlett in late 2020.
PlayStation 4: released 2013; 102 million units sold to date. Playstation 5 slated for release in early 2020.
Nintendo Switch: released 2017; 102.8 million units sold.
Top games, average playing times
Here are three of the most popular console games in 2019, with an idea of playing time:
Minecraft: 10-20 hours per week (source)
Fortnite: 6-10 hours (source)
Grand Theft Auto V: one game takes 30-50 hours (source)
In all cases, we see dozens of hours spent per month, on average. Do you or your kids play console games in your living room? If all you have is a sofa for support, prepare for all the problems that come with poor posture. These include lethargy, weight gain and loss of confidence.
So well do console chairs support the back? Let's find out…
Types of console gaming chairs
In the console gaming chair market, there are four types of popular chairs. This section summarizes each type.
As of 2020, X Rocker is the dominant console gaming chair brand. This North American company debuted in 2005 with a basic floor rocker.
2005 was a huge year in console gaming, with releases of the Xbox 360 and PS3. Top console games of that era include Madden NFL 06, Pokemon Emerald and Gran Turismo 4.
Since then, X Rocker has gone unrivaled. Today, they are the dominant brand for both floor rockers and pedestal rockers.
Floor rockers
Console gaming floor rockers look like a recliner without legs. Cheap models come with pockets on the sides to hold game controllers and snacks. Advanced models offer better upholstery and extra features. The most popular extras for floor rockers are music systems and massage units.
Gaming rockers work very well in the living room because they're portable. When finished gaming, you can fold them in half for easy storage.

On the downside, floor rockers support your back, but don't promote optimal posture. They're a better option than gaming on the sofa or floor, but not perfect. Gaming too long or with sloppy posture in a floor rocker can wear down your neck and shoulder muscles. For optimal use of floor rockers, limit each gaming session to 30 minutes.
Then, pause the game to take a break. Stretch your legs, do a few jumping jacks, take a walk with a drink of water. When you come back for another round of gaming, you'll feel fresher and more energetic. As a result your gaming performance will improve, and you'll have more fun.
Best floor rocker
At the highest end of the floor rocker scale is the X Rocker Pro Series H3. It's not available on their website, but is one of the top-selling floor rockers on Amazon. It's a padded leather vinyl model that sits on the floor. The highlight feature is Audio Force Modulation, or AFM technology.
AFM Tech involves four forward-facing speakers plus power subwoofers inside the chair. This creates bass vibrations all around you as you watch movies or game. It's a deeper level of immersion than any other chair can offer.
You can also connect audio to several X Rocker chairs. This allows for multi-user immersive gaming.
Specs:
Pro Series H3 weight: 17.34 pounds
Height: 36″
Seat width: 24″
Other features include a fixed lumbar pillow and fixed armrest supports. The X Rocker Pro Series H3 comes with a basic warranty. Returns allowed within 30 days (customer pays shipping fees).
Pedestal rockers
These chairs are floor rockers attached to a base. They sit higher off the ground than floor rockers. They also offer 360° swivel functionality. The top model on the market is the X Rocker Pro Series 2.1.
The Pro Series 2.1 has all the features of the Pro Series H3, with one key extra. This model also includes a built-in radio wireless receiver. This allows connection with any source that has RCA stereo outputs.
Specs:
Pro Series H3 weight: 17.34 pounds
Height: 42″
Seat width: 25″
Recliners
For console players, recliners are the next level up from pedestal rockers. Like rockers, recliners can also fold up and stash away, but they are bigger and heavier.
At the top of the line is the 73-pound X Rocker 2.1 Recliner. This model can work as a portable or permanent part of the living room. Single gamers and those without sofas will enjoy these.
The X Rocker recliner comes with the same features as the pedestal version. Those include outward-facing speakers, a back-mounted subwoofer, plus wireless and Bluetooth connectivity. You also get a reclining backrest and retractable La-Z-Boy style footrest.
The chair cover is easy cleaning faux black leather with suede grey trim. Twin cup holders in the armrests help with hydration. This model supports 400 pounds.
Racing simulators
Racing simulators are for hardcore fans of racing games. One of the most popular models is the Openwheeler Advanced Racing Simulator Seat. It sells on Amazon for $399.00.
The Openwheeler Advanced Racing Simulator is compatible with all consoles. That includes PS4 through PS1; Xbox One, Xbox360, GameCube, N64, Sega, PC and more. It comes with an adjustable racing seat, a gear shift mount and foot pedal space.
To make use of it, you also need addons. For example, the Logitech G920 Driving Force Racing Wheel is available on Amazon for $327.99.
The Logitech G920 is compatible with PS4, Xbox One and PC. You get a realistic steering wheel, a responsive foot pedal. There's also an option to add a 6-speed shifter.
Compared to sitting on the floor or sofa, the Openwheeler Racing Simulator is better for your back. But back support is incidental — the point of these chairs is racing thrills.
Console chair FAQ
This section adds additional insights into the uses and benefits of console gaming chairs.
Console chairs don't offer good back support
Console chairs are better for your back than sitting on either the floor or a sofa. Both the floor and sofa provide very bad back support. When gaming on either, your back must work harder to hold up the weight of your torso and arms.
Console gaming chairs provide ample padding and decent back support. They will help to relax your back and neck muscles while gaming, instead of straining them.
That said, back support in console gaming chairs is a secondary feature. Most manufacturers only have vague claims of "good ergonomics".
In contrast, PC gaming chairs are great for your back. All features work to enhance back support as the main priority.
If you're looking for premium back support, PC gaming chairs are the best. If you only need a comfy seat for casual gaming, console chairs are fine.
Console chairs vs PC chairs
For PC gamers, a traditional PC gaming chair is the best option for good back support. PC gaming chairs support the legs, back and upper body while keeping your posture on-point.
The problem is that PC gaming chairs work best with a desk. That makes them less than ideal for living rooms.
This is where console gaming chairs are supposed to fit in. In a perfect world, console-style chairs would provide the benefits of PC ergonomic chairs — while fitting within the concept of a living room. Using one is better than sitting on the floor or gaming on a sofa.
But they don't compare to the level of back support that PC gaming chairs offer. One reason is that PC gaming chairs are more adjustable than console chairs.
One adjustment is that you can raise or lower the seat. By doing so, you can position the chair at the same height as a console rocker. In doing so, you can enjoy the same level of enjoyment in front of the TV. But using a PC chair will enhance the experience, because of the healthy back support.
Learn more on this topic in our analysis of the best PS4 and Xbox gaming chairs. It explains in detail why console chairs can be bad for your back. It also reviews the five best cheap PC chairs that you use for console gaming.
Who are console gaming chairs for?
Console gaming chairs are for people who play console video games at home. Most people who game at home do so on the couch, or while sitting on the floor.
Over time, both can lead to poor posture, chronic pain, and health issues. Console gaming chairs provide a better alternative. These chairs have two key selling points. First, they provide better back support than a sofa. Second, they're easy to fold up and put away when done gaming.
Pros and cons of console gaming chairs
Console gaming chairs get young gamers out of the habit of gaming on the floor. For adults, they provide a more comfortable gaming experience than sitting on a sofa.
In both cases, they will support the back and help ward off ills like poor posture and muscle strain.
But console chairs are not good for your back in the way PC gaming chairs are. Rather, they are better for your back than squatting on the floor like a savage.
Conclusion
Console gaming chairs are for Xbox, Nintendo, or PS4 gaming in front of your living room TV. X Rocker is the dominant brand. Their top models focus more on immersive gaming features than back support.
The crudest style of home gaming is to sit or lie on the floor. Sofas are a step up, but not designed for gaming. As console gamers use hand controllers, they tend to lean forward. Doing so over long gaming sessions can degrade posture and lead to muscle pain.
Console chairs are cheap and convenient. But they don't offer the best back support. For young children or adolescents just getting into gaming, they make decent starter gaming chairs. If that's your buying intent, check out the best-selling models on Amazon:
Best selling console chairs of 2020
But for anything more than casual part-time gaming, a console chair can do more harm than good. If gaming passions continue, consider buying your kid a PC gaming chair.
Our review of the best PS4 and Xbox gaming chairs covers five models. Those chairs share a few features. They're cheap, good for your back and adaptable to most living rooms.