The New Xbox Series X and PlayStation 5 each brings the power of a high-end gaming PC into the living room. Both consoles arrive with new games, better graphics and more processing power. To enjoy gaming on either console, you will need a good chair. Here are the best gaming chairs to support living room or desk-based console gaming.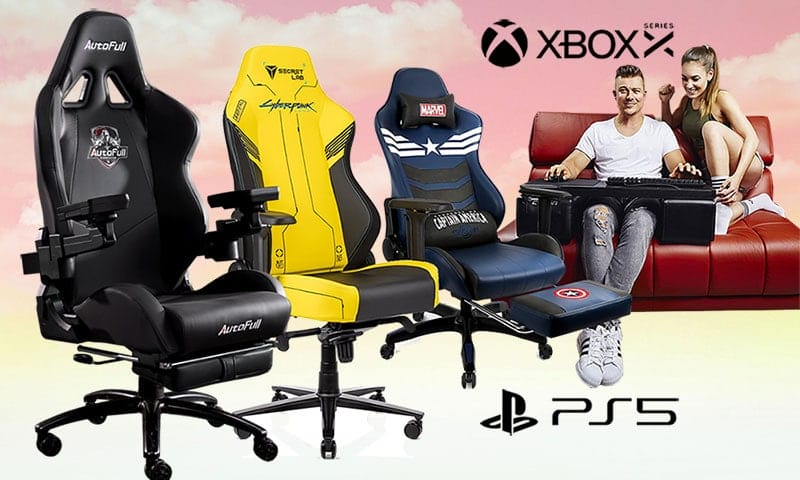 Major-league competitive esports demands the power of a high-end gaming PC. That's why pro gamers play at desks. In contrast, the Xbox and PlayStation were both designed as entertainment hubs for the living room. That leaves console gamers with two basic setup options. They can game at a desk like a PC-gaming pro, or lounge in the living room like a hobbyist.
Seating options for console gamers
Before reviewing the best console chairs, this section summarizes the different setup options. Choosing the right chair will depend on your preferred setup.
Best Xbox X and PS5 desk chairs
With the right accessories, a PC gaming chair is the best seating option to go with your console. These models support good posture and movement while sitting. When comfortable and relaxed, gamers perform at their best.
Gaming with your console at a desk will also yield these benefits:
Smoother streaming with less lag than on a gaming monitor, versus a living room TV.
Sitting closer to the screen will give you a better view of small graphic details.
Both the Xbox and Playstation can integrate with a laptop or desktop PC.
Better sitting support than a Couchmaster.
If you don't want to game at a desk, get a height-adjustable TV stand. Lower it to use your TV from the couch. Raise the TV to between 40-50 inches high to enjoy comfortable play in a gaming chair.
There are dozens of solid gaming chair options on the market. This article covers the highlights.
Summary: best seating for console gamers
This section breaks down our top seating options for living room or desk scenarios.
Conclusion
The best seating option for Xbox Series X or PS5 gameplay depends on your playing preferences. Casual gamers playing racing or sports games infrequently can do fine using a couch. In contrast, those who play competitive FPS games tend to perform better at a desk with a gaming monitor.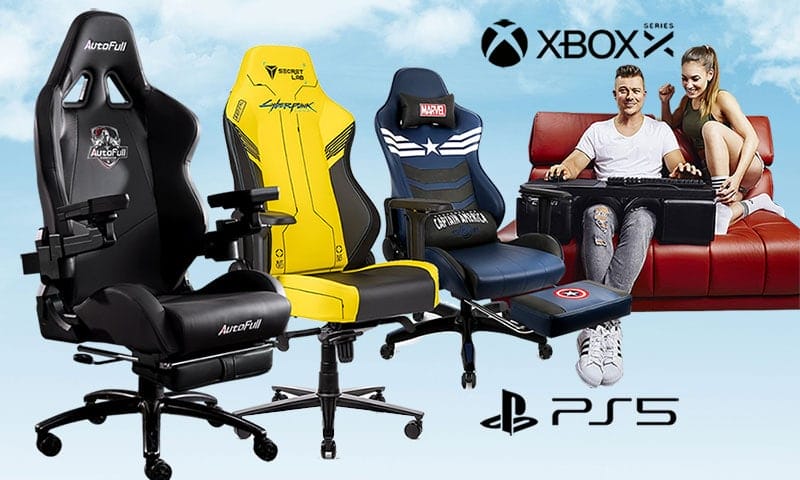 Choosing the right chair will depend on your setup. For instance, gaming chairs work well in the living room if you add a lapboard. If you play lots of sports and fighting games, a 4K living room TV is ideal. In contrast, if you play first-person-shooter games, a desk and monitor setup is preferable.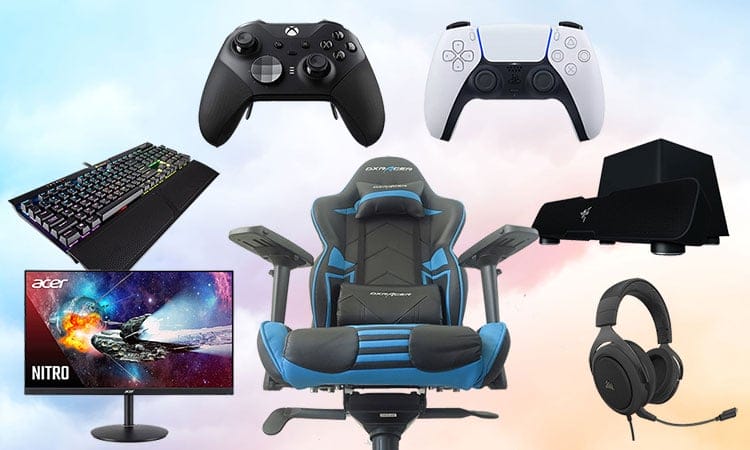 Check out our comprehensive list of Xbox and PS5 accessories to enhance your gaming chair. Our report looks at the best addons to support healthy living room or desk-based console gaming.