These days, the term 'gaming chair' refers to any type of ergonomic desk chair. Even so, the classic racing-style gaming chair is the original. If you're decided to invest in a high-back racing-style gaming chair, which type should you choose? This article makes it easy for you to decide. Here we summarize the world's best racing-style gaming chairs, broken down by genre.
They're called 'gaming chairs', 'racing seats', 'PC game chairs', and many similar descriptions. The world's first model came out in 2006. Every year since, this type of seating has grown in popularity. Today, the Racing-Style PC Gaming Chair stands out as one of the most versatile and affordable options on the market.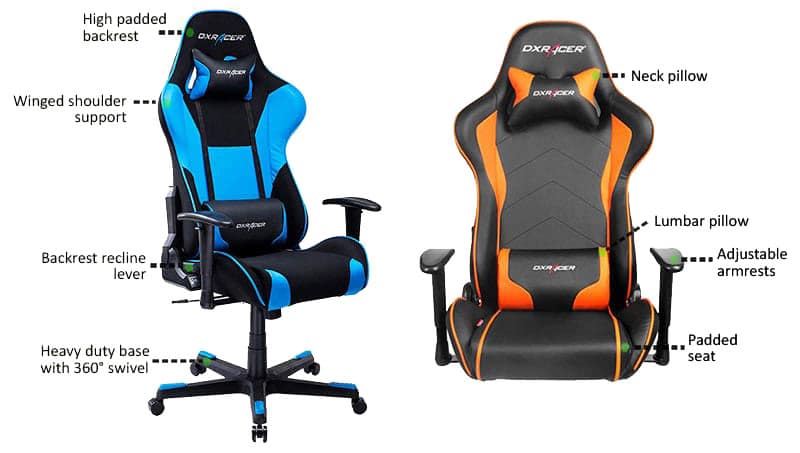 All types of racing-style desk chairs use the same design concept. The build starts with a 5-point base and caster wheels. That attaches to a steel-framed bucket seat coated in resilient foam. Over the top, adjustable ergonomic features support the back over long sitting periods.
Types of Racing-Style Gaming Chairs
As chair designs become popular, other brands often come out with their own versions. Over time, many racing-style chairs of the same type become available.
To date, ChairsFX has boiled down 15 viable types, grouped into five categories. Click on any type to jump directly to its summary.
Which Type of Gaming Chair is Best For Me?
Here we break down each of the 15 types of racing chairs. Skim through the list will find your perfect chair type in a flash.
Premium PC Game Chairs
If money is no object, a premium gaming chair is your best bet to ensure a luxurious sitting experience. We define these models as 'premium' for three reasons. First, all come with a full suite of premium ergonomic features. These include 4D armrests, a multifunction tilt-lock, and deep recline functionality.
Second, all use a higher-quality foam padding better-suited to supporting full-time sitting. For both pro gamers and full-time desk workers, long-term consistency makes a difference.
Third, all models come from established brands with proven service records. Beyond longer warranties, you also get legit after-care support.
ChairsFX has reviewed three types of premium racing-style chairs. All come with similar ergonomic features but differing aesthetics. If you're looking for the very best racing-style gaming chair, find it in this section.
Affordable Gaming Chairs
Inexpensive gaming chairs have come a long way in recent years. Improvements in PU leather and foam production give cheaper chairs a similar look and feel as premium models.
Some brands have also pushed the envelope on features. As a result, it's now possible to buy full-featured racing chairs for less than $250.
The catch is durability. Less expensive chairs use cheaper materials and production techniques. Over longer periods, the padding will flatten out. Then, you'll receive uneven, inconsistent support.
The bottom line is that cheap chairs won't last as long as premium chairs. They are also less adjustable. Even so, these models support the back just as well as pricier models.
That makes affordable gaming chairs a smarter option in several cases:
For part-time use: if you only need support for a few hours a day, cheap chairs provide adequate support. Used part-time, a cheaper chair will also last longer.
For adolescents: young students can develop healthy sitting habits without spending much.
As short-term seating: affordable support for frequent travelers or temporary projects.
Gaming Chairs For Specific Users
This section contains comparison reviews for small sizes, extra-large ones, and students.
Gaming Chairs with Special Functions
Beyond gaming chair aesthetics, some models set themselves apart with added functionality. The most popular extension to a racing-style gaming chair is a retractable footrest.
Over the past few years, integrated lumbar support systems have also become popular. Recently, DXRacer has pushed things even further with modular design concepts.
Gaming Chairs with Specialty Aesthetics
Most ChairsFX gaming chair comparisons group products by price, size, or functionality. From our view, there are only a couple of aesthetic collections worth mentioning.
This section covers both of them, plus one example of a less relevant collection. Options in all classes include both premium and affordable gaming chairs.
Racing-Style vs Office-Style Desk Chairs
Before the first gaming chair emerged in 2006, ergonomic seating was mainly for rich people. The racing-style gaming chair changed that by bringing ergonomic seating to the masses.
These days, the best ergonomic task chairs cost over $1000. In comparison, the best gaming chairs cost around half that. Despite the pricing disparity, gaming chairs offer comparable back support. On top of that, they offer a lot more versatility than their office-styled counterparts.
Conclusion
If you've decided to buy a racing-style gaming chair, this article makes it easy to find the perfect model. It includes 15 different collections spread over five different genres. Choose by price, sizing, quality of features, functionality, or aesthetics.
No matter which types you choose, stick with neutral sitting basics for best results. Refer to our Gaming Chair User Guide for step-by-step instructions.
Related Pages