Sitting all day in front of a PC is bad for your back. When PC makers failed to address that, the ergonomic seating industry arose to fill the gap. Meanwhile, using a cell phone for any period of time places severe stress on the neck and shoulders. To date, no one has fully addressed this. As a result, text neck syndrome has become endemic and normalized. Check out famous people with excellent texting technique — and others suffering from text neck syndrome.
Most people hold cell phones at waist length, then bend their necks to see the screen. A 45° forward tilt exerts 50 pounds of extra pressure on the neck and shoulder muscles.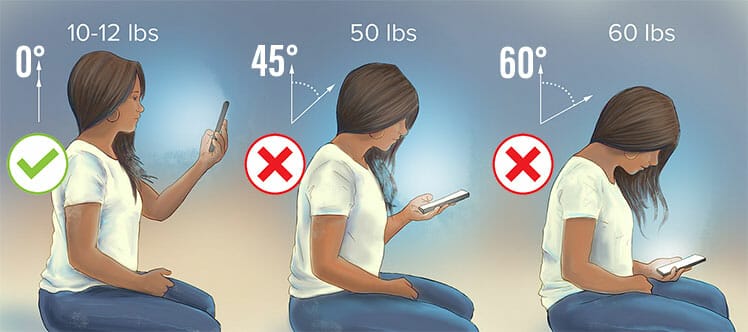 Over time, this pressure manifests as stiffness, pain, and eventually, chronic musculoskeletal disorders. This condition is called Text Neck Syndrome, the unfortunate results of an excessive neck tilt.
I first became hyper-aware of text neck syndrome after taking two photos of my posture. I exerted my back muscles in the first shot to sit comfortably straight. Then I relaxed my muscles in the second to reveal my natural resting posture.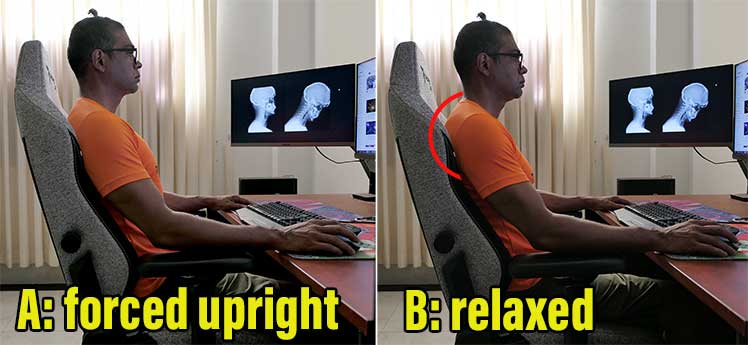 After that, I sent the photos to three prominent esports physical therapists. The most alarming feedback I got was from Dr. William Duncan. He explained why sitting with a forward neck tilt was my most comfortable position.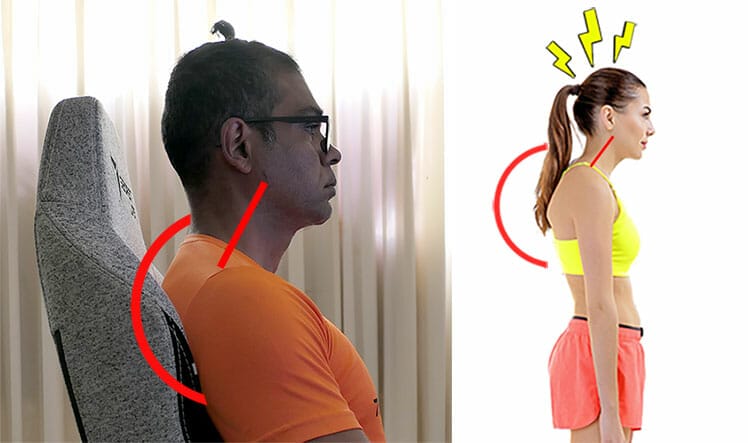 "As you utilize more cervical extension (increasing the curve), you're resting more on the shape of the joints/bones rather than using soft tissue (muscles, tendons, ligaments) to actively create support."
Over time, muscle memories adapt to the positions the body holds most often. As a result, it will feel more comfortable hanging your neck on the joint, rather than holding it upright.
Celebrities With Good Neck Posture
Two celebrities stand out with excellent neck posture and sound texting habits.
Apple CEO Tim Cook: his method combines limited phone use plus regular exercise.
David Beckham: shows off superb texting form and ropey, bull-like neck muscles.
Tim Cook (Apple CEO)
Apple CEO Tim Cook used to get high on his own supply. Back in 2014(1), he was a 54-year-old skinny-fat geek with terrible texting posture — and a severe case of turkey neck!
Constant bending of the neck weakens it. Skin loses its elasticity under flaccid muscles. 'Turkey neck' describes sagging skin under the neck. This usually happens as people age. But in the cell phone era, it also happens to all ages with weak neck muscles.
In the past, Cook admits he used his phone recklessly(2). "I'm doom-scrolling a little on the New York Times here. Like I've got to stop this. And — I just got pulled into another random evening of Instagram. Get me out of here."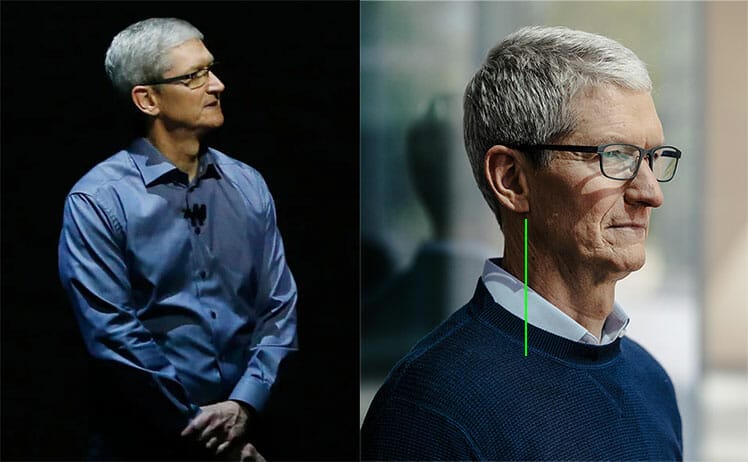 Now 61, he's done a fantastic job of turning his habits around. First, he's become a health nut who works out religiously. Second, he enjoys taking long hikes — without his phone. "There's no better meditation than, in my view, walking out in nature."
In fact, he recommends time-outs for all iPhone users. "We do not want people using our products too much. We want to create them in such a way people get the most out of them in short periods of time."
Text Neck Solutions From Apple?
Apple promotes limited use of iPhones with features like a screen time logger. Cook also claims responsibility for the effects iPhones have on the populace:
We take responsibility for how people are using our products. And we want to help people use them in the best possible way for themselves.
In fact, Apple does have the means to invest in text neck solutions — but does it have the desire? In the last 3 months of 2021, the company generated $123.9 billion in sales. Net quarterly profit was $34.6 billion(3). iPhones made up 57.8% of sales for the quarter.
For the fiscal year ending Sept. 2020, Apple allocated $19 billion(4) to R&D (7% of sales). Later this year, the new iPhone 14 comes out. Upgrades include a faster processor and a pill-shaped camera cutout — but no ergonomic tweaks.
As a result, it's been left to researchers in the developing world to propose solutions.
David Beckham
David Beckham became famous for his incredible football skills. After retirement, he became a philanthropist and global fashion icon.
This man has his entire life on-point — including his phone habits. Beckham's phone form is as sublime as his bending free-kicks.
Instead of bending his neck, he raises his chiseled arms. As a result, he's able to use his phone without hyperextending his cervical spine.
The results speak for themselves. Beckham has impeccable posture with a straight neck that looks as strong as a bull's!
Golden rule: don't bend it! Be like Beckham!
Celebrities With Text Neck Syndrome
On the other side of the texting spectrum are famous people who indulge in sloppy texting habits.
Barack Obama (Former U.S. President)
At the start of his 2009-2017 presidential run, Barack Obama was 47 years old. He had pretty good neck posture at the time. However, he often used his iconic Blackberry with a sharp forward head tilt.
Now 61, Obama is in very good shape for his age. Even so, we can see the effects of an excessive forward neck tilt – most likely caused by his Blackberry!
As Dr. Duncan described, properly balancing a head atop the shoulders uses neck muscles for support. In contrast, an unhealthy forward-leaning posture rests the neck over the cervical joint. That weakens neck muscles and promotes a forward neck tilt.
As Obama shows, a forward tilt can get more pronounced as age sets in. However, he also shows how keeping fit can help to mitigate some of the damages.
Boris Johnson (UK PM)
Like Obama, the UK PM has sloppy texting habits. However, this 57-year-old is in much worse shape. Back in 2020, he packed 112 kg (246 pounds) of massive girth on a tiny 5'7″ frame. He claims to have lost weight since then(5) and is now "fit as a butcher's dog."
Even so, his texting form is atrocious. He hangs his arms very low, forcing his neck and jowls into an ugly forward slump. From the side, we see that his kyphosis has advanced to near-Quasimodo levels.
AOC (Millennial Politician)
32-year-old Alexandria Ocasio-Cortez is the youngest woman ever in the U.S. Congress. She's also hailed as the first 'Millennial' politician, repping those born between 1981-1996.
She also represents the text neck challenges faced by young people in the modern era. At present, she's in excellent shape. As a result, her excessive forward neck tilt hasn't yet distorted her posture.
That said, if she follows the same trajectory as Obama, her Text Neck issues may get worse. Without changing her habits, she could end up like Emma, the office worker of the future!
Lebron James (Basketball Star)
Lebron James looks to be built from a block of chiseled granite. He also keeps his money maker in peak form with a battalion of physical therapists. But even his finely-tuned masterpiece of a body cannot resist the siren call of text neck.
Now 37, the signs of his degraded neck are starting to show. In the old days, he sat in every interview with a ramrod-straight posture. But these days, a forward tilt shows up more often than not.
Healthy Texting Biomechanics
Last year, researchers at Khon Kaen U. (Thailand) tested various cell phone usage postures. Then, they took muscle activity readings using electromyography (EMG) devices. Based on their findings, they built a prototype that supports healthy texting.
A 0° neck flexion + 30° shoulder flexion proved the best compromise of activation levels among relevant muscle groups.
Ergonomic Chair Text Neck Fixes
There aren't any viable ergonomic support systems on the market for phone users. At present, the two best methods I've found use full-back gaming chairs.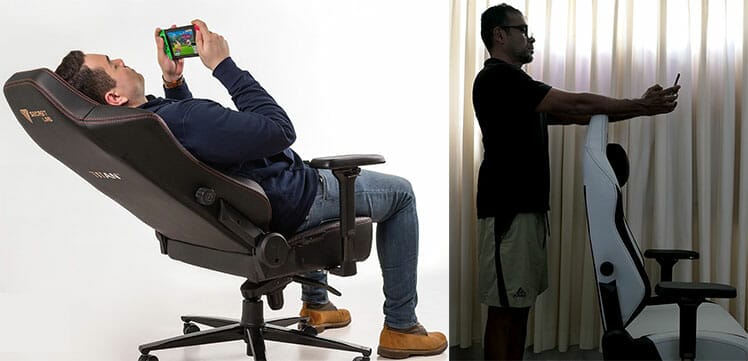 Both methods prevent a forward head tilt. But neither is ideal as a long-term solution. However, a solution is urgently needed for hard-core smartphone users. Excessive texting without support clearly alters body mechanics.

For instance, a study of pro mobile esports players found that many have extremely poor posture and weaker spinal mobility (stiffness).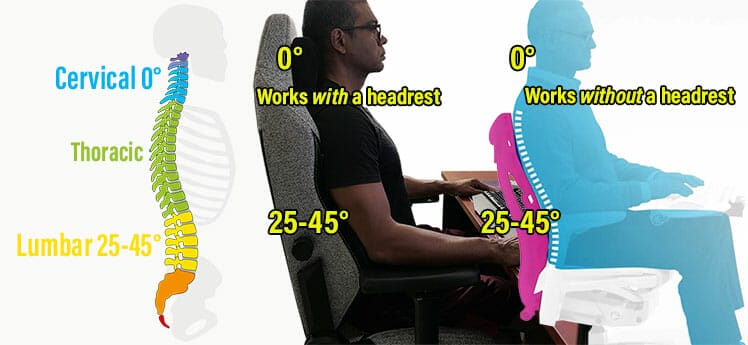 The best fix I've found (and tested) is to deploy text-neck therapy using your ergonomic chair. That means making an effort to sit with a consistent 0°. The method varies depending on the type of ergonomic chair you use.
After a week of practice using either method, muscle memory should kick in. Then, sitting with a straight neck will become a subconscious habit that runs on auto-pilot.
Ergonomic office chair: removing the headrest will compel the head to balance evenly above the shoulders. Then, all you need to do is focus on sitting straight.
Full-back gaming chair: set your backrest to a 100° recline; press your neck against your headrest; consciously prevent your neck from tilting forward.
Conclusion
The life of a desk worker in 2022 is riddled with ergonomic challenges. As employees grind all day on desktop PCs, they also juggle a steady stream of smartphone data.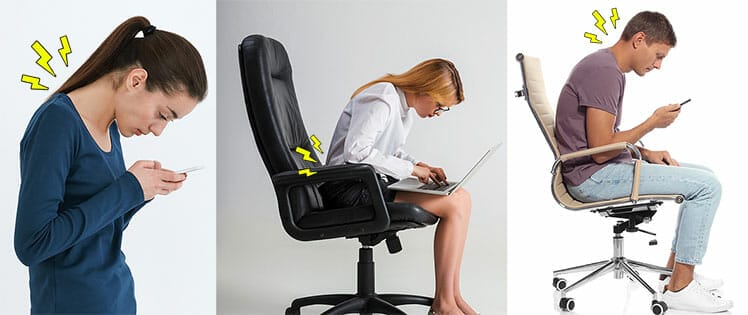 Without proper support, working in a multi-device style can cripple musculoskeletal health. Here are the most common musculoskeletal disorders faced by modern desk workers in 2022:
Unsupported sitting: tightens the lower back; bends the spine into a 'c' shape.
Forward neck tilt: bends the spine more severely.
Anterior pelvic tilt: tight lower back + bent neck = tilted hips.
Chronic pain: back pain, neck pain, migraines, and tingling limbs are common.
Sedentary death trap: once rendered immobile, users face serious threats. These include diabetes, hypertension, weight gain, and depression.
Alarmingly, the ergonomics industry only has solutions for lower back pain. None exist to address text neck!
Until viable text neck solutions emerge, health-conscious phone users have three options to help them get by:
Tim Cook method: first, limit your phone usage. Second, get plenty of exercise. Third, raise your arms instead of bending your neck while using a device.
David Beckham method: first, stay lean and fit. Second, raise your arms instead of bending your neck while using a phone.
Ergonomic chair method: use muscle memory to develop a consistent 0° neck while sitting. This will strengthen your neck as a countermeasure to texting.
Footnotes